A longer article (in parts), on the Liquidation of Gunns Plantations (GPL), and the disclaimed Managed Investment Schemes (MIS) trees grown on Gunns (GNS) freehold land. MIS growers' trees were sold in a joint sale with Gunns (GNS) Tasmanian assets. PPB Advisory (PPB now part of PwC) (lawyers Arnold Bloch Liebler (ABL)) acted as Liquidator of GPL in its personal capacity, and as Responsible Entity (RE) for the MIS schemes. KordaMentha (KM) (lawyers Ashurst), acted as Receivers and Managers for Gunns secured creditors (the ANZ Capel Court bank consortium.) 
3.1 But MIS grower-investors were not at fault 
Gunns Plantations MIS grower investors were not shareholders of Gunns Ltd and the collapse of Gunns was not of their making. Growers owed nothing and had they defaulted on payments, their scheme assets were transferred to Gunns. The Receivers' Joint Sale Process, however, exposed growers to Gunns liabilities and the costs of tidying up the whole mess.
Adverse findings against Gunns Directors and Officers, or Auditors KPMG, would have supported a separate MIS valuation being respected, unencumbered by the pooling with the Receiver-held Gunns Ltd assets. The prudence of the bank consortium would have been questioned too, given they had routine access to Gunns books at each extension of the loan facility. Any DO and A culpability was to be determined at a future date, and after the plundering of growers' assets. 
As of 1 Feb 2019, and five years later, no fewer than nine directions hearings have been listed in the Supreme Court of Tasmania for SC TAS 2015 1355, Gunns & others v KPMG & others. The trial hearing is currently set down for 16 Sep 2019, giving auditors, KPMG, another 9 months to mediate in private without suffering the inglorious glare of a public hearing. 
The Gunns Annual Report 2018 declared Gunns insolvent from 6 March 2012, a full 6 months before entering voluntary administration. It makes no mention of the Pulp Mill Opportunity liability to growers, but states "It is unlikely that there will be any return to unsecured creditors". PwC has failed to confirm whether any claim for growers is tabled. Late in proceedings they revert to similar tactics as they use at the start of them – that is, just don't respond.
On entering administration, Gunns Plantations was a separate company with its own Board and solvent. According to its last Annual report it held $99M of net assets including $84M of current assets held by Gunns and comprised of surplus grower proceeds swept from GPL's accounts. It had provided for maintenance with a $23M reserve and held an undrawn $4M loan facility its own right.
GPL management was of the view that it was far from "hopelessly insolvent" as characterised by the Liquidators, and that services relied upon from Gunns could be filled by external private providers, as did Macquarie Bank. GPL management supported an alternate RE proposal by Macquarie, noting that the MIS estate held the very certified product that the export market was choosing over native timber – some harvest ready each year that would keep the schemes viable. The Macquarie exercise captured the overwhelming preference of growers. Across schemes from 2002-2008, 62-82% of eligible voters voted and 97-99% of them were in favour of the restructure. Predictably, the Macquarie proposal was challenged and quashed by the insolvency kleptocracy. Far be it from them to break from script and forgo their eye-watering fees.
The Receivers', acting for the banks, attitude was 'you're in this with us pal'. Their senior counsel's "growers are looking for a get out of gaol free card" did prompt an inappropriate objection from me. The inevitable capture of the $84M and $23M under fixed and floating charges, and then the Receivers claim on the $4M meant GPL's days were numbered. No Liquidation or RE negotiation with Macquarie and no further evidence of restructure alternatives was submitted.
The sun set on evidence authorities that grower rights were paramount in MIS liquidation.
The Receivers eyes were firmly fixed on the growers MIS forestry rights, for here lay an opportunity to recover more for themselves, and the disclaiming or dispossession of grower rights and the unique, crafty, pooled joint sale with pre-determined proportions delivered. Grower assets were now bundled with Gunns assets!
With considerable effort, at no point did the Liquidators or Receivers disclose the status of growers lots – no yield or annual increment volumes or any performance figures for their trees. Historical online references and reports were pulled from view by the Receivers, and an external harvester, who shared some figures, was quickly silenced with the immediate termination of some of his contracts with Gunns. The initial URS Forestry valuation requested by the Liquidators and paid for by growers remains confidential. It is not held by the Court or referenced in the ABL online records.
Thousands of growers not party to the Proceeding were intentionally placed in a position where they could not knowledgably challenge the Liquidator and Receiver cabal.
3.2 Revision of the socialisation of Gunns losses.
From the top down, however, over 13 Million Green Metric Tonnes (GMT) on 100,000 ha were for sale in the joint sale. On weighted averages the MIS trees were a little older than Gunns own plantation trees. At current, weaker prices of ~$30/GMT for woodchip at stump, the 50,000 ha of MIS trees had an estimated fibre value of $180M – ignoring the growth increment being added each year.
Arguably, had the growers' entitlement been respected with no fault, its value should have held irrespective of the sale price of the whole estate, and growers shared in any sale achieved above valuation.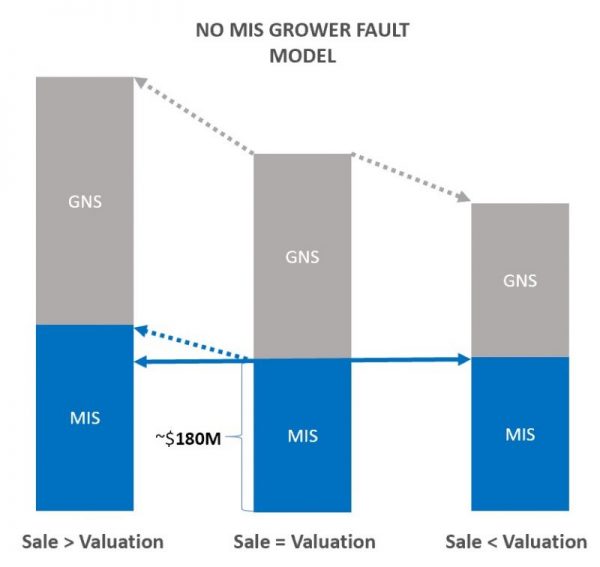 Collectively Gunns Directors, Officers, Auditors and Bankers managed a former ASX 100 company through to insolvency. Not only have their shareholders paid handsomely as would be expected, but so have the at-arms-length MIS investors. A revisionist view is worth considering.
If one is fair-minded and:
accepts Gunns was trading insolvent and at fault;
accepts Gunns should shoulder any firesale discount;
accepts Gunns should pay the cost of liquidation of MIS scheme trees;
knows Growers were contingent creditors not debtors;
accepts an alternate approach was feasible;
rejects that an unbuilt, unsold PMO should receive any sale share;
suspects no PMO sale share is forthcoming;
… then in the pooled sale growers have subsidised the Receivers by $140M ($180M – $40M) in foregone value of their trees, and in the allocation to the PMO assets by a proportionate share of $50M or $36M ($50M x 180/(300-50)), and in liquidation of their own assets by $20M.
At no fault, MIS growers may have subsidised Gunns bankers by $196M. The ANZ consortium has socialised its private loss and recovered the same from grower investors, who were not Gunns Ltd shareholders and had no debts themselves. Six thousand investors had no relationship with ANZ Capel Court but have lost $32,666 each to them from their personal assets – facilitated by Liquidators and Receivers, and overseen by the Court.
ASIC, Senate References and the Financial Services Royal Commission have my complaints and submissions. Insolvency practice driven at the behest of the banks needs to curbed. An extended FSRC 2 is warranted.
Trevor Burdon is a Business and IT Consultant, who most recently was decommissioning Telstra's Silver Lining cloud. Resident in Melbourne he expects to return to Tasmania when he can see a clearer sky over a better government. Uniquely, as an individual he is a party in the Liquidation of Gunns Plantations, Supreme Court of Victoria SCI 2013 2095. He is appalled at the justice meted out there.
EARLIER on Tasmanian Times …
Insolvency, a predatory practice – GPL Liquidation (Part 2) – $13k stolen from each of 6,000 investors
Insolvency, a predatory practice – GPL Liquidation (Part 1)
STT ~ GPL Settlement – A self-imposed cone of silence …
STT ~ GPL Settlement: silence is inexcusable
Re: STT – GPL Settlement: No Board Response …
A fact's a fact . . . now give it back!
We serfs, indeed, have a new feudal landlord …
The Heart of Gunns' collapse (2)
The heart of Gunns' collapse (1)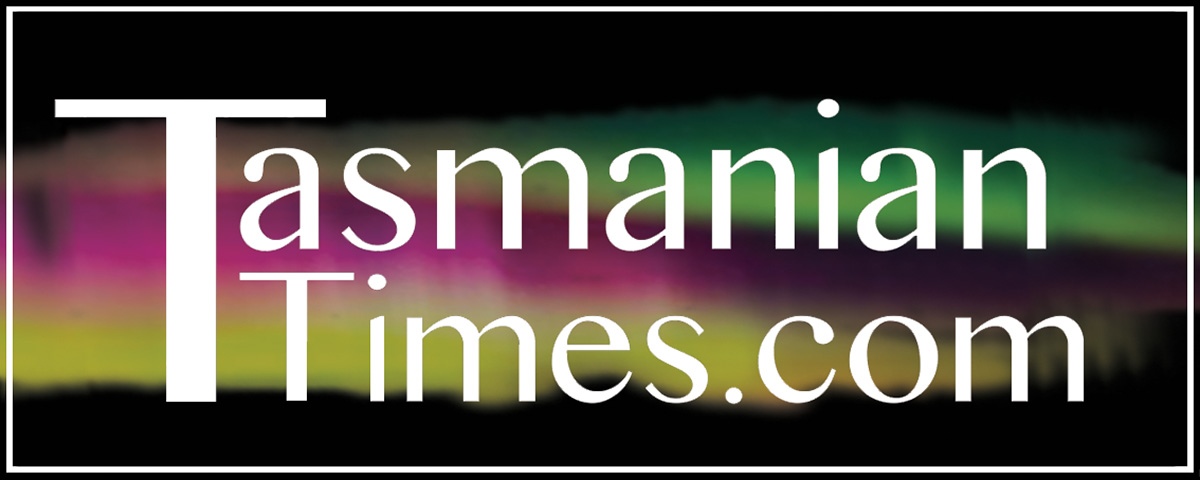 Author Credits: [show_post_categories parent="no" parentcategory="writers" show = "category" hyperlink="yes"]