Letter to: 
GPL 2002 Woodlot Investors
22nd November 2018
Dear Investor,
RE: STT ~ GPL Settlement – silence is inexcusable
I am a fellow grower investor concerned over the secret settlement reached between Sustainable Timber Tasmania (STT) and Gunns Plantations (GPL) (PPB Advisory acting and now part of PWC) for your MIS trees grown on Crown land.
Any observer of the Supreme Court of Victoria proceeding into the Liquidation of Gunns Plantations will be aware of the travesty of justice committed upon us. Grower investors have been abused in the socialisation of losses incurred by Gunns Ltd and STT (formerly Forestry Tasmania). Yes, that's right, growers have been repaying Gunns bankers and State Treasury for debts not of their making and for which they were never liable. Just consider the miserable distributions you have received from PPB.
Justice for growers remains elusive. Pursuing an appeal in the Courts is difficult and expensive, though proceeding SCI 2013 2095 has been kept open, despite the Liquidators and Receivers desire to close it. Further, my Submission PWF.0001.0001.619 HERE to the Financial Services Royal Commission requests an extension of its terms of reference to include insolvency practice. The commission is yet to confirm either way, but such an extension is unlikely.
Meanwhile, Sustainable Timber Tasmania is complicit in the theft of your forestry rights. Their actions are contrary to the high governance standards Government Businesses Enterprises are bound by, and they refuse to respond, let alone justify the settlement with PPB for your MIS trees. Further both are likely to have acted in contradiction of the stewardship obligations of the PEFC endorsed plantations, which includes economic and social, as well as environmental criteria.
As a party to Proceeding SCI 2013 2095, I procured the 2002 Register of Growers for a proper purpose, and am mailing both significant investors and Tasmanian investors that are likely to have the concern, influence and contacts to pursue STT. As I invested in 2002 Option 1 Pulpwood and Option 2 Clearwood I have focussed on that year, however the issue is larger and at least includes 2002 (Options 1 and 2), 2003 (Options 1 and 2), 2004 (Options 1 and 2), 2005 (Option 1), and 2006 (Options 1 and 2).
The Tasmanian Times has kindly published my recent articles and copies are being forwarded to Fairfax Business. Please review them here:
1. Invest in Tasmania – Bah!, 4 Oct 2018: HERE
2. A fact's a fact . . . now give it back!, 25 Oct 2018: HERE
3. Re: STT – GPL Settlement: No Board Response …, 9 Nov 2018: HERE
Briefly, for each 2002 Option Woodlot on Crown land you received an estimated $100, that STT immediately resold for $2070 in a pulpwood firesale to Reliance Forest Fibre. An unencumbered sale could have returned $9300 per lot, and an alternate RE sale as completed for 2001 schemes could have returned $6800 (Option 1) and $8400 (Option 2). The Auditor General's 2012 valuation adjusted for annual growth gives an estimate of $5600/ha or lot. Option 2 held to full term by STT for veneer and clearwood may yet realise $50,000+ per lot for STT but not you.
After my repeated approaches to the accountable parties, I can only assume all have been briefed by now. The response as of 21st Nov 2018 remains unchanged:

Please add your voice to the request for disclosure and justification of the sale terms.
You can call, email or write – if you have a direct line use that first.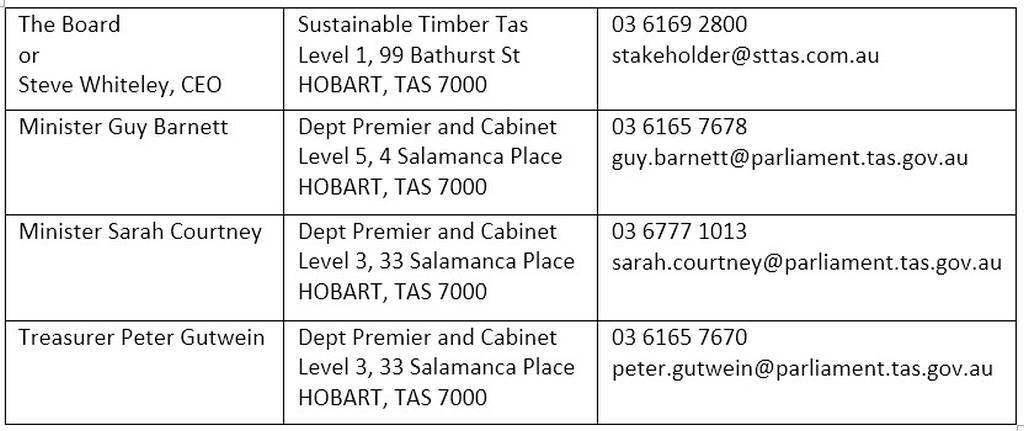 Starter questions could include:
• Why did STT pay so little for the MIS forestry rights?
• Who is ultimately accountable for the settlement?
• Has STT been fencing stolen goods to prop up the State Budget?
• Can STT maintain its sustainability credentials under the circumstances?
• What commitment do you have to investigating the settlement further?
As the Royal Commission is reminding us daily, corporations have a duty to act transparently and with integrity. Ultimately, I expect remediation could be sought via any of the Supreme Court of Victoria, ASIC, the Tasmanian Integrity Commission, Ombudsman Tasmania, or the Tasmanian Auditor General.
Silence from a Board wholly composed of independent directors, and overseen by Ministers is inexcusable. Your financial investment in Tasmania was not respected and the opprobrium is warranted.
Yours sincerely,
Trevor Burdon,
GPL Woodlot Investor 2001, 2002
Trevor Burdon is a Business and IT Consultant, who most recently was decommissioning Telstra's original Silver Lining cloud. Resident in Melbourne he expects to eventually return to Tasmania when he can see a clearer sky over a better government. He invested in early MIS schemes to protect heritage forest and provide resource for new value-added industry. On ASIC's pathetic advice that he complain in Court, he appeared at the commencement of the Gunns Plantations Liquidation (Proceeding SCI Vic 2013 2095). Uniquely, as an individual grower investor, he has been in attendance ever since, alongside the properly-resourced Liquidators and Receivers' counsel at the bar.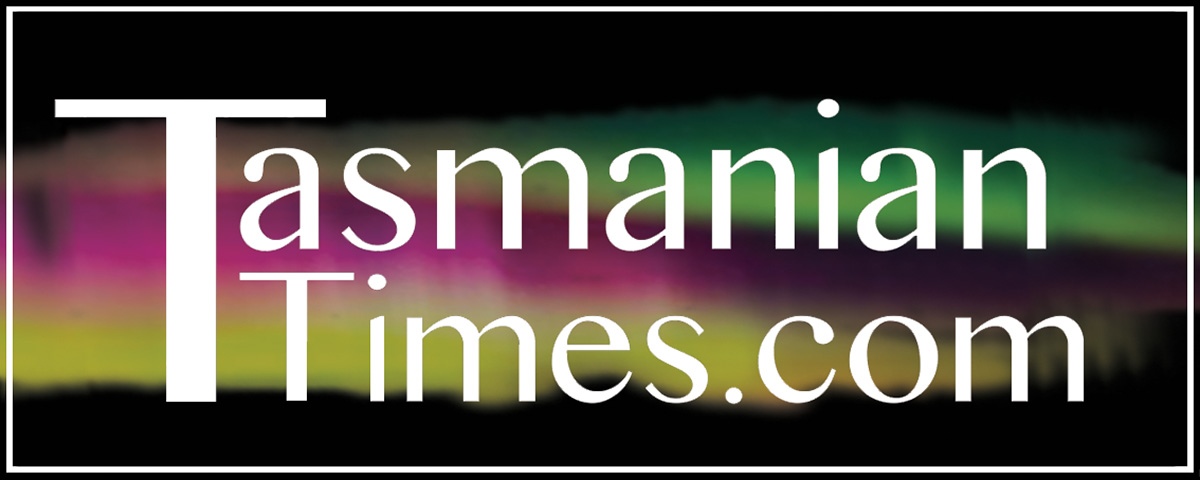 Author Credits: [show_post_categories parent="no" parentcategory="writers" show = "category" hyperlink="yes"]