In a travesty of justice, Liquidators PPB Advisory (now PWC) and Forestry Tasmania (now Sustainable Timber Tasmania STT) are hiding behind their self-imposed confidentiality agreement to the detriment of actual investors in Tasmania, and contrary to the high principles both espouse. It applies to the settlement agreement for MIS investors' property on State lands. It's purpose is not to protect growers interests but for the negotiating parties to avoid scrutiny.
Even without disclosing the settlement terms, STT parties remain unwilling to justify the poor settlement, which to this observer's mind constitutes theft.
Letter from STT Board – will not correspond further
(Finally, but only forthcoming on the initiation of a Right To Information (RTI) request by the author.)
14 December 2018
Dear Mr Burdon
This letter is in response to your letters to me and the members of the Board of Sustainable Timbers Tasmania dated 8 November, 2018.
In your letter you raised your concerns over the settlement reached between Forestry Tasmania (now Sustainable Timber Tasmania) ("STT") and Gunns Plantations ("GPL") (in Liquidation).
Any continuing concerns you have with the settlement itself should be directed to the Liquidator for GPL whose obligation at law was to act in the best interests of the investors when seeking Court approval of the settlement.
In relation to your specific requests regarding details of the Settlement, as you have been previously advised by management, STT is subject to a legal obligation contained in the Settlement Deed to not release any such details. To do so would expose STT to legal action.
Given the multiple previous communications from management, it is the View of the Board that to the extent that STT is legally able to respond to your queries it has done so. Accordingly, it is not proposed to correspond with you any further on this matter.
Your sincerely
[signature]
Jaqueline Puig
Company Secretary & General Counsel
Sustainable Timber Tasmania
An analogy
In discussion with fellow investors, I have been refining an analogy. This seeks to counter the simplistic view that all accountability for the apparent theft should lie with the Liquidators PPB Advisory (PWC).
I beg to differ.
(Disclaimer: PWC's review was sought but was not forthcoming. It is my personal, first-hand view and not intentionally mis-representative.)
Scenario
Daniel PPB tells Trevor he needs to sell Trevor's expensive iPhone to sort out Trevor's telco's liquidation.
Daniel PPB reaches across the table and takes Trevor's $2,000 iPhone, promising he will protect his interests.
Daniel PPB puts it in the warehouse with all the iPhone stock from the telco.
Steve STT owns the warehouse where the iPhones are held and will not permit access for a sale.
Steve STT, now at the table, offers $0/iPhone for all the stock, because he was owed rent by the telco for storage of roughly $150/iPhone and other unrelated, undisclosed sums.
Steve STT and Daniel PPB settle on $100 each for all the iPhones including Trevor's.
Daniel PPB hands them over to Steve TT, takes the money, and passes $100 to Trevor.
Steve STT and Daniel PPB declare the settlement a success, and agree that the sale terms should remain confidential indefinitely.
Questions …
Q. Has Daniel PPB protected Trevor's interests?
No – Trevor is $1,900 short
No – but he has brokered a single line sale, saved much effort, and charged Trevor for his services
Q. Has Daniel PPB acted competently?
No – he let the warehouse lease fall into default
No – he has not contested Steve STT's offer in Court
Q. Has Daniel PPB acted with integrity?
No – he exposed Trevor to the telco's liability
No – he is relying on confidentiality to shield himself from public scrutiny
Q.  Has Steve STT acted with integrity?
No – he knows the value of Trevor's iPhone and that the telco's debts are not Trevor's
No – he prevented any partial sale to prevent the lease default
No – he has concurrently on-sold Trevor's iPhone for $2,000
No – he has comingled and laundered stolen goods. This behaviour rewards theft and is illegal.
No – he is relying on confidentiality to shield himself from public scrutiny
The STT and Ministerial Tracker – Updated
All parties have received multiple communications directly and via their staff. They know of my concerns. Whether they have chosen to be briefed on the issue details remains uncertain, however, given Messrs de Fegely's detailed contribution on STT asset valuations to the House of Assembly Government Business Scrutiny Committee 6 Dec 2018, Whiteley's long tenure and executive position in negotiations, and Bull's coordination of the sale to Reliance, it is almost a certainty these individuals are.
Importantly the Board has had at least one and perhaps two Board meetings, and their secretary has responded with their presumed consent and input. (The afore-mentioned RTI, RTI18/6, is seeking any related Board minutes.)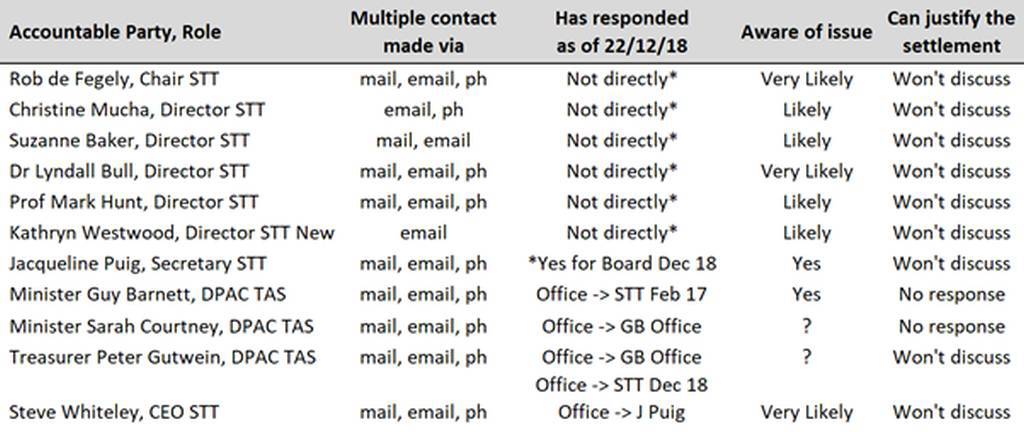 Disappointingly, the high governance standards to which Ministers should hold their Government Business Enterprise have not been met. They are content to refer back to STT, while gushing over the apparent STT return to profitability. The political need to tell a good news story takes precedence.
Even under sustained questioning by MHA O'Connor in the Scrutiny Committee, the government would not concede the $113M transfer of STT superannuation liabilities to the State was in fact a further subsidy, and contrary to the new STT guidelines.
So desperate has STT and the government become that it is prepared to fleece private investors as well. That was $30,300,000 – now give it back! https://tasmaniantimes.com/2018/10/a-facts-a-fact-now-give-it-back/ HERE 
As if we wouldn't notice, this self-imposed cone of silence suggests an ongoing and deep cultural problem.
Trevor Burdon is a Business and IT Consultant, who most recently was decommissioning Telstra's Silver Lining cloud. Resident in Melbourne he expects to return to Tasmania when he can see a clearer sky over a better government. He invested in early Gunns Plantations schemes to protect heritage forest and provide resource for new value-added industry. On ASIC's pathetic advice that he complain in Court, he appeared at the commencement of the Gunns Plantations Liquidation (Proceeding SCI Vic 2013 2095). Uniquely, as an individual grower investor, he has been in attendance ever since, alongside the properly-resourced Liquidators and Receivers counsel at the bar.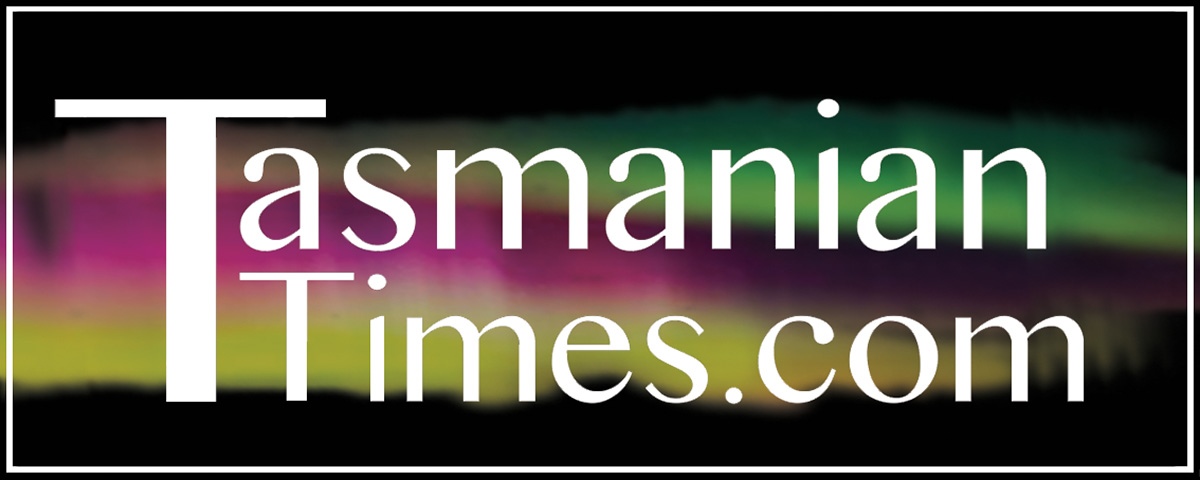 Author Credits: [show_post_categories parent="no" parentcategory="writers" show = "category" hyperlink="yes"]