On 27 March 2020, four days into a week-long bushwalk, two of us summitted a mountain in the Spires region of south-west Tasmania, deep in the Tasmanian Wilderness World Heritage Area (TWWHA). A long-sought-after feather in our respective bushwalking caps, we were elated. This was a difficult place to get to on foot. Previous attempts in our time poor lives had fallen short or had to be abandoned due to flooded rivers, poor timing or logistical problems. Needless to say, a satisfying moment!
After taking photographs and basking in that summit glow, the ubiquitous mobile phones came out to check for a signal and the chance to message loved ones. To see what the weather forecast held for our remaining days in the bush and maybe even to gloat to some mates that would love to be with us. That's when the message came through.
COVID-19 had prompted the Tasmanian Government to close the state's National Parks. We weren't meant to be there. It was a strange feeling.
We were three days walk from our car, in perfect health and good spirits. In perfect isolation.

We came here with a deep knowledge of this area, we'd been hereabouts many times, and the notion of it being unsafe due to a virulent pandemic agent seemed entirely ridiculous.

However, home we must go.
Camped at a place called Lake Curly that night, named after the twisted and folded stone in the mountain that hovered above its eastern shore, we contemplated the strange situation we found ourselves in. Ultimately, we came to the conclusion that we were in fact among the luckiest humans on earth. Lake Curly is a uniquely peaceful place. It's also the source of the Gell River. That name is familiar with Tasmanian bushwalkers and rafters, but after the wildfires of the summer of 2019 the term 'Gell River Fire' became commonly heard on news reports and fire updates several times each day.
The Gell River fire ignited on December 27, 2018. The evening it erupted I was, once again, bushwalking, a bit further north. I witnessed first-hand the lightning storm that sparked the fire. Lightning and thunder clamoured all around my mountain-top vantage point accompanied by a few drops of fat rain, barely enough to cover the tent fly. The lightning continued for an hour or two but the rain stopped. The Gell River fire went on to raze over 35,000 hectares of the TWWHA, without doubt Tasmania's most valuable asset. The blaze threatened to wipe out vast areas of timber plantations and Mount Field National Park. The nearby town of Maydena was evacuated. Under catastrophic fire conditions at the wrong time the Gell River fire could have become a megablaze that would have rivalled the horror of the 1967 blazes. We were lucky.
On the latest trip, it would take us the best part of three days after Lake Curly to exit the TWWHA, our journey out taking us through much of the Gell River fire ground. We had already seen devastation in the Denison Range on our way in – the famous Lake Rhona had been saved the previous year by remote area fire-fighters armed with sprinkler systems amid pressure from the bushwalking community. Bushwalkers understood only too clearly what could happen when a wildfire raced into a sensitive montane environment. We were already traumatised from witnessing 2000+ year-old pencil pines (Athrotaxis cupressoides) on the Central Plateau be destroyed in the 2016 fires. We were desperate for authorities to act quickly to protect the Denison Range.
After the Gell River fire started, bushwalkers and conservationists screamed into the ether via their keyboards for authorities to act fast and squash the fire immediately. Unfortunately, crucial days passed with insufficient action and on January 4, 2019 the predicted catastrophic fire conditions hit Tasmania. The Gell River fire flared. It raced into the Denison Range and sped down the Vale of Rasselas. All our warnings had once again been ignored. At least that's what we thought. Some lessons were learned from 2016… sprinkler systems were placed at Lake Rhona, and later, below the North East Ridge of Mount Anne. I guess that's a form of progress.
Just a week or two before our walk, another bushwalker, Loic Auderset was able to get into Crooked Lake (immediately north of Lake Rhona) to find a baffling scene. More sprinkler systems, but – a badly damaged area. This was the place in the Denison Range we knew had the most sensitive, vulnerable natural heritage.
What had happened here?

Why, when we were so desperate to hear news of Crooked Lake, and made clear our concern so desperately, were we not informed about what had happened?
And what had become of Lakes Wugata and Malana just to the north? Extraordinary mountain treasures. We needed our parks service to inform us, but all we got were images of hard working Remote Area Trained Specialists (RATS) doing what they do at Rhona, and on Mt Wright further south. We needed more information. Spin, when we needed substance.
This is what became of Lake Wugata and Lake Malana…
And this is the scene Loic found at Crooked Lake.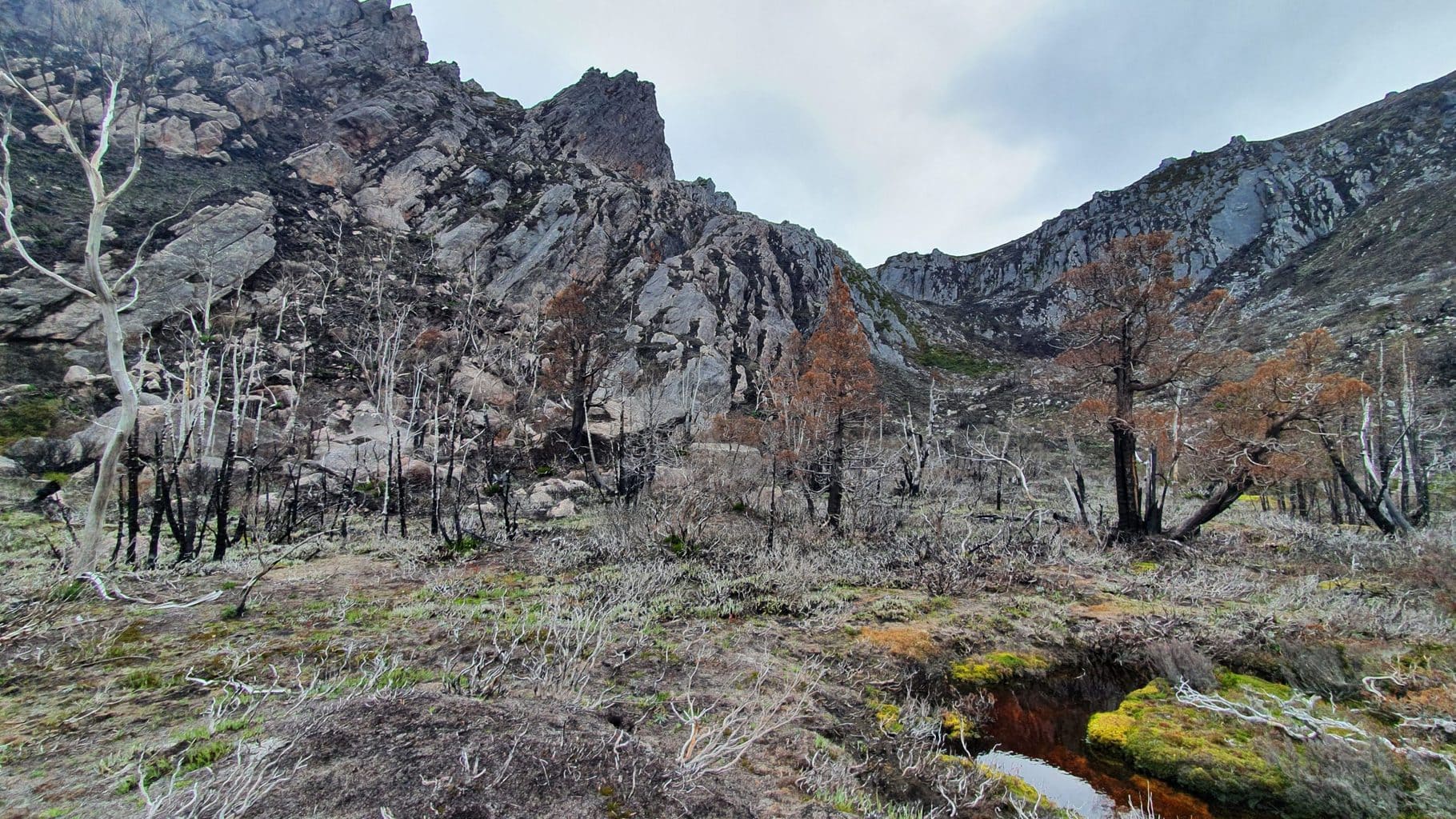 Dead pencil pines at Crooked Lake. Image courtesy Loic Auderset.
We inspected the area around Lake Wugata to find the peat soil had burned intensely in many places and destroyed much of the seed bank. Fire is however a fickle beast, and some areas of permanently sodden ground remained singed, while other areas were recovering herbs and grasses. Some shrubs were striking from their bases while others were completely dead. Most of the area is decimated: rock burned clean of lichen and moss, soil excavated by a fire that burned and burned for possibly weeks. The Denison Range is a mess of life and death and everything in between.
After we left Lake Curly we traversed the Battlement Hills rather than going over the much higher Denison Range again. Crossing vast areas of buttongrass affected and unaffected by the 2018/19 fire, it was clear some of the fire ground was extremely healthy with fungi appearing en masse and herbs and grasses thriving. Other areas were obviously struggling, usually where the fire had burned so hot the soil had been diminished. Our second-to-last day saw us descend the Battlement Hills to the Denison Gap and in one very long day we walked to Gordonvale under persistent rain. This is where we got to really inspect the Vale of Rasselas.
The Vale is a place that strikes my very amateur eye as a vegetation mosaic that tells a tale of thousands of years of cultural burning.
The many creeklines seem to be a network of remnant rainforest or wet forest, with large patches of grasslands interwoven.

It 'feels' like a place designed by a centuries-old cool fire burning technique the original Tasmanians had mastered.
However this land has lost the people that looked after it and as a result the Vale of Rasselas has suffered a number of hot wildfires that have damaged that network of wet forests and diverse grasslands. These include a poorly-managed fuel reduction fire in 1982 that ran out of control and damaged large areas, including at Lake Rhona. The subsequent neglect has allowed buttongrass to dominate the gentler grasses and herbs of the mosaic. Eucalypts, melaleuca and other fire-promoting shrubs have invaded the old rainforested creek-lines. Seemingly that has created an incendiary environment, a perfect storm for climate change-driven dry lightning events and the subsequent catastrophic fire conditions. A perfectly dangerous recipe for wildfires, just as we saw on 4 January the summer before last.
On that long day we crossed creek after creek, grass patch after grass patch, pushed through forest and scrub. What became apparent was the dwindling number of wet forest species, and the evolutionary brilliance of fire-tolerant species to recover post-fire. It was confronting. The shocking number of weed species, thistles and ragwort in particular was upsetting in the riparian zones. In places where the wet forests were still thick, they had fought the fire, damaged in the battle on their edges, martyrs for those left hugging the creeks. A true battlefront for species that historically, through cool fire cultural burning practices, were allowed to thrive. 200 years of neglect is very apparent in this country.
Walking through this scene sets one's own mind on fire. I care for this country. Looking at it deeply I can see back through time, to see how wonderful it must have been to walk on and to live in. It makes me intensely sad that the people who cared for it were brought to the brink of destruction by the colonisers, just like the country is struggling now. This country, like its people, may have been brought to the brink, but it is not gone and they are still here. Beautiful opportunity lies in this place, for all of us. In this post-COVID world we are entering we must take opportunities that present themselves and ask the right questions.
What can be done for the Vale of Rasselas and the Denison Range?
What can be done for our mountain environments in the face of climate change?
What can be done for all the people who have lost work with the overnight collapse of our tourism industry?
How do we get the present day custodians of our land allied to look after it as we need it to be?
For once, can our government make decisions that benefit Tasmanians for generations to come rather than three-yearly cycles of shallow profiteering?
The United Nations General Assembly has proclaimed 2021–2030 as the Decade on Ecosystem Restoration. Sounds cool. The UN initiative calls for: "Strong commitments and efforts by countries, the international community, civil society, businesses, and others to achieve transformational ecosystem restoration. All ecosystems are addressed, including forests, grasslands, croplands, wetlands, savannahs, inland water, coastal and marine ecosystems, and even urban environments."
A forward-looking government should be able to see the unifying opportunities this idea proposes. Perhaps a 'land army' formed from those who have lost work in other industries to help restore our fire-affected landscapes? They could eradicate the weed problem, including invasive natives, consequentially reinforcing our riparian environments to make our urban fringe safer from wild-fire. They could build tracks for nature-loving tourists. Could we support the Aboriginal community to work with fire authorities to reduce fuel loads and encourage safer species to revegetate neglected country such as the buttongrass plains?
In Tasmania we have a ready workforce of outdoor-savvy unemployed wilderness guides to lead these programs, standing side by side with a Parks service that desperately needs to find its way. A properly-funded Parks service should be a custodian of country, not an exploiter. This would be a Parks service its foot soldiers will be proud to work for, unlike this develop-at-all-costs real estate sales office we see today.
The Tasmanian Fire Service and a hugely bolstered rural fire service could stand together with tourism leaders and the parks service to protect our communities from the scourge of climate change-driven firestorms.

And then the final agency would need to step into line: forestry.
Sustainable Timbers Tasmania must acknowledge the facts and science, and stop logging wet forest species – species that keep us safe from fire. STT must locate the plantation estate in areas that will not endanger communities or sensitive landscapes when the inevitable dry lightning events occur. The science has been done, the people are ready and we just need a government who's interested in leading for a common good.
The Tasmanian and federal governments must invest in our safety, in our communities and in our environment. They must engage with the international community and the UN to be a shining light of hope in a bleak world. This hope is that we can restore damaged environments, turn around climate change and protect the people. In the meantime we hold our breath and cross our fingers, summer after summer. Our political leaders are employed to lift us up and unite us. This is their chance to do something truly special.
Just one chance to ignite some hope from among the ashes.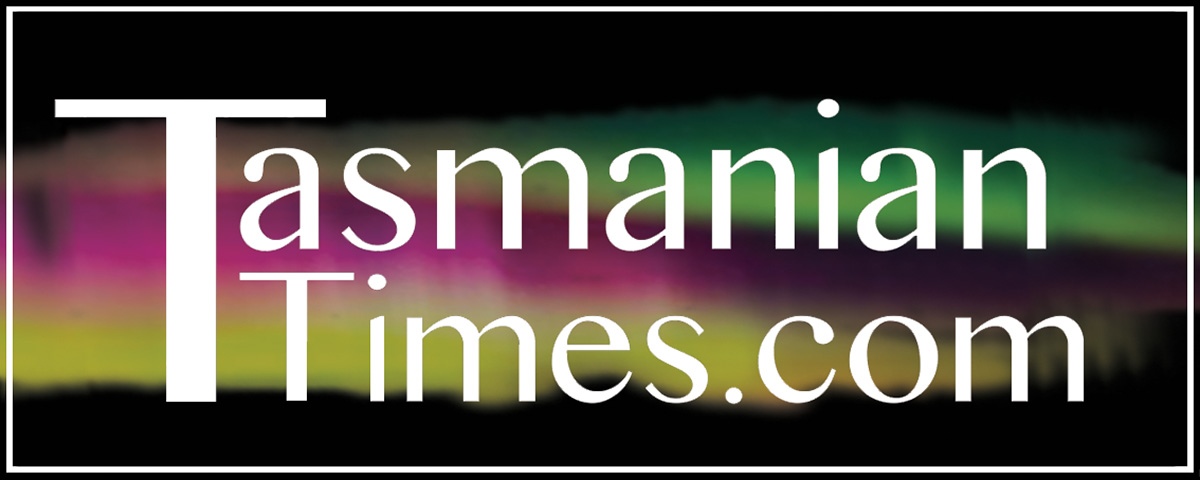 Author Credits: [show_post_categories parent="no" parentcategory="writers" show = "category" hyperlink="yes"]