Tasmanian Liberal leader Will Hodgman votes at Margate Hall in Margate south of Hobart, Saturday, March, 20, 2010.  (AAP Image/Julian Smith) 
---
Will Hodgman has resigned as Premier of Tasmania today. He has also resigned as an MHA for Franklin. He was leader of the parliamentary Liberals for 14 years and Premier for almost 6.
"I leave this job with Tasmania in a better place," he said at the press conference at Parliament House this afternoon with his family by his side. He said he only just made the decision after reflecting with his family over the Christmas break. "What they read in the paper and what they see in the news affects them," he said, acknowledging it had been 'a tough year'.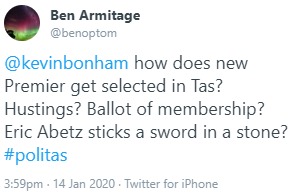 He stated that he does not know what is next for him and that he does not have another job lined up. He also spoke about wanting to find 'financial independence'.
The new Premier will be decided by the parliamentary Liberal Party, probably next week. Mr Hodgman declined to endorse anyone for the position, saying it was a matter for the party room.
Nic Street, who lost his seat at the 2018 election, is likely to replace Mr Hodgman if he contests the Franklin recount. Mr Hodgman has been a Liberal representative in the 5-member electorate for 18 years. He was just the fifth non-Labor Premier since 1934.
Mr Hodgman also mentioned the reality of climate change, saying Tasmania is leading the country in its response to changing weather patterns. "As we face the reality of climate change, the fact is that, under my government, we are delivering a Tasmanian climate action plan," Mr Hodgman stated. "We are on track to be 100 per cent self-sufficient in renewable energy generation by 2022."
The resignation announcement was somewhat unexpected as the Premier had outlined in December that he planned to contest the next state election in 2020. During today's press conference however he indicated that the timing of his decision was to allow the new leader time to 'build a rapport' with voters. "I think, at this halfway point in the term of government, I think there's a great opportunity for new leadership."
The most prominent candidates for the job as Premier appear to be Deputy Premier Jeremy Rockliff and Treasurer Peter Gutwein, with Minister for State Growth Michael Ferguson an outsider.
FULL TEXT of the Premier's resignation speech.
LABOR LEADER REBECCA WHITE'S press conference the following day is in this audio.
---
Reactions – click links to go to full statements
"Will Hodgman leaves the position of Tasmanian Premier and Leader of the State Parliamentary Liberal Party at the top of his game, and the Tasmanian Division of the Liberal Party is sorry to see him go." – Tasmanian Liberal Party
"There's no question Will has left his mark as a popular Liberal Premier. On a personal note, I've always found Will to be very likeable and excellent company outside Parliament. We have clashed in the House over the direction his government is taking Tasmania – but that's politics, a sometimes fierce contest of values … The changing of the guard is an opportunity for a fresh approach." – Cassy O'Connor, Tasmanian Greens' Leader
"Outside the cut and thrust of parliament, Will and I have always respected each other despite our political differences. I recognise Will's love for Tasmania and his passion for this great state and I know that has driven him. It's a passion we share. Will Hodgman has given a long period of service to the state and I respect his decision to spend more time with his wife and kids." – Rebecca White, Labor Leader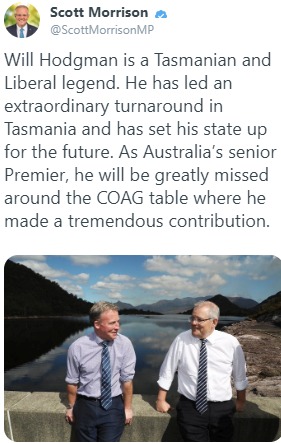 "Will Hodgman is the kind of leader the Liberal Party needs more of: compassionate, inclusive, willing to listen to those who are disadvantaged and willing to stand up for equality. We didn't always agree, including on hate speech laws and transgender equality, but we were able to disagree in a way that was respectful. I hope Will Hodgman's successor carries on his legacy of equality and inclusion." – Rodney Croome, LGBTIQ activist
"His record in office speaks for itself, having led Tasmania through a time of unprecedented economic and cultural growth that has improved the lives of all Tasmanians … Will leaves a legacy that all Tasmanians can be proud of." – Senator Jonathon Duniam
"Happy to have my brother back, sad to have lost a great Premier." – Tori Hodgman, comedian
"I wish outgoing Premier Will Hodgman all the best for his future. While from different parties, we both always want the best for Tassie and our shared electorate of Franklin." – Julie Collins, Federal MHR for Franklin
"Having shared the House of Assembly chamber with Will for many years I'm sorry to see him leave State politics, but totally appreciate the toll that it takes on family life." – Paula Wriedt, former State government minister
"We didn't always agree but you can't question @WillHodgman's political success and longevity in the toughest of pursuits. I wish him, Nicky and the family all the very best for the next phase of their journey." – David O'Byrne, Labor MHA
"Will Hodgman is one of the most decent people in politics I've met and worked with. As decent as the day is long." – Terry Barnes, former Howard government advisor
"Hodgman got elected & started attacking workers. Tried to freeze their pay & override the Industrial Commission, cut nearly 1000 public sector workers, has since overseen low wage growth, rising under-employment, widening inequality. I won't be gushing about any legacy." – Jessica Munday, Secretary Unions Tasmania
"He is definitely going out while on top, but leaving mid-term will also give his successor time to change course and establish themselves before the next election. This provides an opportunity for whoever the new leader is to change direction on some of the least popular policies of the current government. TAI research has shown the government's policy of privatising Tasmania's wild places, as well as growing secrecy and a lack of transparency, are deeply unpopular with the Tasmanian people." – Leanne Minshull, Director of The Australia Institute Tasmania
"Buying an election win with pokies money in 2018; presiding over widening inequality despite economic growth; pandering to the every whim of the tourism lobby; having zero reform spine. Oh and leaving Tasmania heading back to economic gloom." – Greg Barns, lawyer and columnist
"Thank you Will Hodgman for leading a Govt that has overseen great reforms in education for students with disability. From the worst resource model in the country to a nation-leading one starting in 2020." Kirsten Desmond, disability educator
"We welcome the resignation of Will Hodgman as Premier of Tasmania. He has done absolutely nothing for the Aboriginal community of Tasmania. He's had a smile on his face but a vacant brain when it involved improving conditions for Aboriginal people. He has done the bidding of Eric Abetz and the far right of his party especially by intruding into the affairs of the Aboriginal community and deciding any white person who cares to fill out a form can get services designed for Aboriginal people. Very pleased to see the back of him. Smiling assassin comes to mind when it comes to Aboriginal issues." – Tasmanian Aboriginal Centre
"Without doubt Will Hodgman has been the most consequential and outstanding state tourism minister in Australia over the past decade. Will's legacy to our industry is that he restored tourism and our visitor economy right to the very center of Government policy and industry strategy in Tasmania, for really the first time since Jim Bacon twenty years-ago." – Luke Martin, Tourism Industry Council Tasmania
"Greg Farrell loses his deputy. Luke Martin to continue in his role as as Tourism Minister. Federal hotels to appoint new deputy premier in coming days." – Rick Pilkington
"Looking forward to running into Will Hodgman and not talking about tearing up the forest peace deal, bulldozing tracks on takayna coast, anti-protest laws, special cable car laws and secret tourism deals in reserves, among other things. Will be good to simply wish him well!" – Vica Bayley, former Tasmanian Wilderness Society campaigner
"Hodgman's record: Housing waiting list 67+ weeks.

• Family Violence counsellors now taking 6,100+ referrals yearly, zero new staff.

• Ambulance ramping 20+ hours.

• Public Sector wage cap. • Privatisation of world heritage. • Unconstitutional anti-protest laws." – Community & Public Sector Union Tasmania
"Am remembering now that Will Hodgman was always much better off-the-cuff or face to face than in press conferences, when he always sounds like he doesn't want to be there. Of course the point of this press conference is that he literally does not want to be there, but still." – Calla Wahlquist, journalist
---
What is Will Hodgman's legacy? Have your say in the comments below.
For discussion about who should or will be the next Premier, please see our new Forum topic: https://tasmaniantimes.com/forums/topic/who-should-be-the-next-premier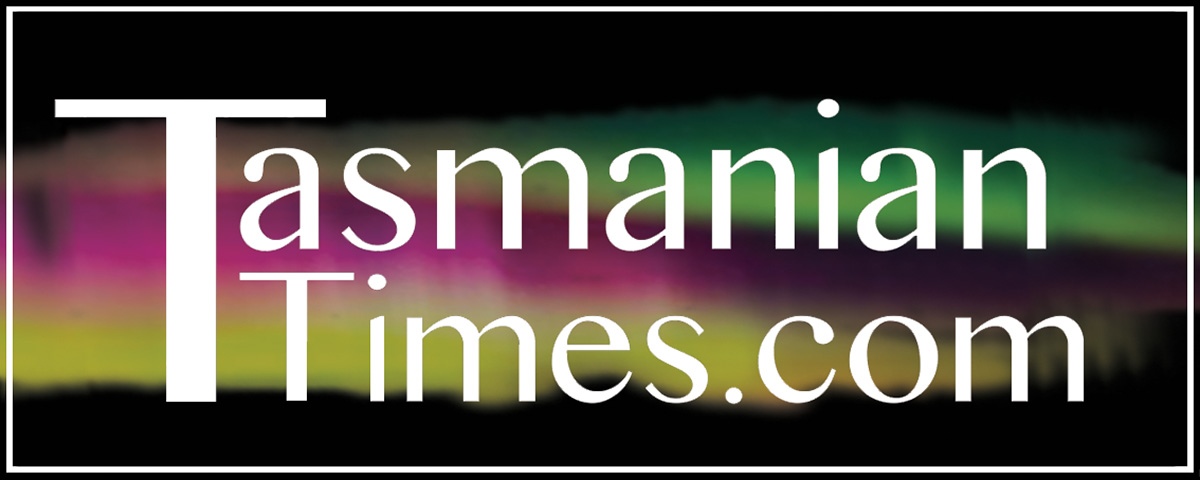 Author Credits: [show_post_categories parent="no" parentcategory="writers" show = "category" hyperlink="yes"]