Following the Hobart City Council's recent decision to disallow the cable car proposal, the Lord Mayor observed that, in now moving on: "The first step is to refresh and revitalise the Wellington Park Management Trust and fund it properly so it can do a better job."
That task is very long overdue.
At just over 18 250ha, Wellington Park is one of Tasmania's largest reserved areas outside the Wilderness World Heritage Area and it has the same legal status as a National Park. However, because it includes land owned by the city councils of Hobart and Glenorchy it cannot be reserved as a National Park. Instead, the Wellington Park Act 1993 stipulates that its management is to be co-ordinated by a Wellington Park Management Trust with on-ground work being carried out by the city councils of Glenorchy and Hobart, the Parks and Wildlife Service and TasWater.
The Management Plan for Wellington Park clearly states that the park was established to protect ecosystems and geodiversity; aesthetic landscapes and significant landmarks; good quality drinking water; cultural landscapes; and opportunities for appropriate tourism and recreation.
However, several key problems preclude translating these aims into effective management, one of which is the very composition of the Trust.
The 1993 Act stipulated that the Trust must comprise a chairperson, two representatives nominated by the Hobart City Council; one person nominated by the Glenorchy City Council; one person nominated by the Hobart Regional Water Board (since subsumed into Taswater); and the heads or nominees of three government agencies, namely Lands (since re-organised); Tourism Tasmania and the Parks & Wildlife (the latter today being effectively an arm of Tourism Tasmania rather than the conservation agency it was originally created to be).
There has never been any representation within the Trust's membership of those who use the mountain for other than administrative/commercial purposes; nor of those who love the mountain for what it is; nor of those who have special knowledge concerning it. Nor is there any voice for the palawa people who have dwelt here for many millenia before European colonisation.
The statement on the Trust's website that: "Wellington Park is … co–operatively managed by land owners, management agencies and the community" is thus patently false.

The community is explicitly excluded from any representation on the Trust, and it always has been.
A second key problem is that the present Trust membership is also hugely deficient in terms of expertise. At no stage has it ever included any scientific specialists properly versed in identifying, understanding or evaluating the wide range of natural or cultural values which the park was established to protect.
It is critical that the Trust is restructured to include scientists who possess the specialised knowledge that is essential before effective heritage management strategies can be formulated, but there is also another very critical need. However technically knowledgeable about important values they may be, very few theoretical scientists have expertise in actually managing the safeguarding of those values. Very few possess knowledge of, or experience employing, the sorts of practical management techniques that are needed if the values about which they are concerned are to be effectively safeguarded amid day to day reality.
Scientific knowledge needs to be translated into practical administrative and on-ground management. Once again, the Trust has never included any professional specialist scientific expertise in actually managing either the important natural or cultural heritage values of the mountain.
The latter point brings us to a further problem, namely that the support staff employed by the Trust authority is minimal, grossly under-resourced and similarly lacks expertise.
The Trust employs a manager to administratively service the its membership, and who also has some formal expertise in some aspects of fire management, and one on-ground Education and Regulation Officer – but it employs no full-time specialist natural or cultural heritage professionals to provide adequately informed advice regarding many of the things he should do. Until recently there was also one very part-time cultural heritage officer, until they ultimately resigned in despair at the persistent disregard and neglect of the historic heritage on the mountain.
Now let all that sink in for a moment: the agency responsible for coordinating management of one of Tasmania's largest conservation reserves, for which the stated management priorities are the protection of the natural and cultural values and water quality, doesn't have any full-time professional staff with the critical necessary specialist expertise to direct or to do that job properly.
Nor does the master of that agency, the Wellington Park Management Trust, possess sufficient specialist natural or cultural heritage management expertise to recognise how deficient the whole situation is – assuming of course that a body composed entirely of vested interests actually cares.
There might still be some hope of reasonably functioning park management if the city councils possessed the range of expertise necessary to fill the void, but another key problem is that sadly that is not the case.
With no coherent direction or leadership being shown by either the Trust or by the tokenistic agency that is theoretically responsible for putting the Trust's (lack of) will into effect, actions taken by the various councils are uncoordinated. Council staff are left to muddle through key decisions by themselves.
The results may be fine in some cases, but too often blind-spots that result from a failure to appreciate their own lack of the necessary specialist expertise allow ad hoc individual actions or over-enthusiasm for personal or work-group ideas that leads to quite unsatisfactory consequences. When coupled with insufficient external specialist advice and a capacity to operate without oversight or any apparent accountability, sometimes the consequences can be worse than simply bad.
The current leadership and expertise vacuum allows what happens in Wellington Park to be driven simply by the most powerful internal voices within council bureaucracies that, however well versed they may be in the management of urban parks, have insufficient background or experience for management of what is essentially a large national park.
There is a big difference between the style of management required for a park or garden in the city or suburbs and the management approach required for a national park. A feel for the job, training and experience are essential for effective natural area management. Two or three examples of the problems that can arise from urban park managers being put in charge of this large non-urban natural area might usefully illustrate the point.
Dissatisfaction with the council's management of the mountain has a long history. Opposition by the Hobart council and water authority stymied attempts to make it Tasmania's first national park. Even earlier, Sir Joseph Hooker, director of the Royal Botanical Gardens, Kew, was assured by the Secretary of State for the Colonies that 'every facility' would be offered to ensure the success of a visit to Tasmania in 1880 by the renowned botanical artist Marianne North. But before she had even arrived here the Mercury newspaper had cause to thunder about "the vandalism of the City Council and its Director of Waterworks…having cut down in front of the Fern Tree Inn the very group of trees which would have most likely attracted the attention of Miss North".
Well over a century later not much had changed. A few years ago Hobart Council staff proposed that a safety fence should be erected along the top of Sphinx Rock. The logical extension of such thinking would be that fences should also be erected along the top of the Organ Pipes and any other steep drop from which an incautious visitor to the mountain might fall. This strategy that might be suitable to stop an inattentive child falling down a park embankment onto concrete steps or a city street, but it is hardly appropriate in what is effectively a national park, places where bushwalkers are reasonably expected to exercise a degree of awareness and common sense while visiting the environment on its own terms. Fortunately knowledge of the Sphinx Rock proposal reached concerned mountain users and a combination of public opposition and wiser counsel ultimately led to a more sensible solution to the safety problem perceived by council's urban-thinking park bureaucrats.
A more recent example is provided by the removal a couple of years ago of the intriguingly-shaped eucalypt that features on historic photographs of the St Raphaels church at Fern Tree, and beside which generations of local children have played. This occurred because Hobart Council functionaries with a couple of million dollars to spend redeveloping the area around the start of the track to Fern Tree Bower decided that the few square metres directly beneath that tree was the only possible place in the entire park where one set of their new BBQ and picnic facilities could be installed.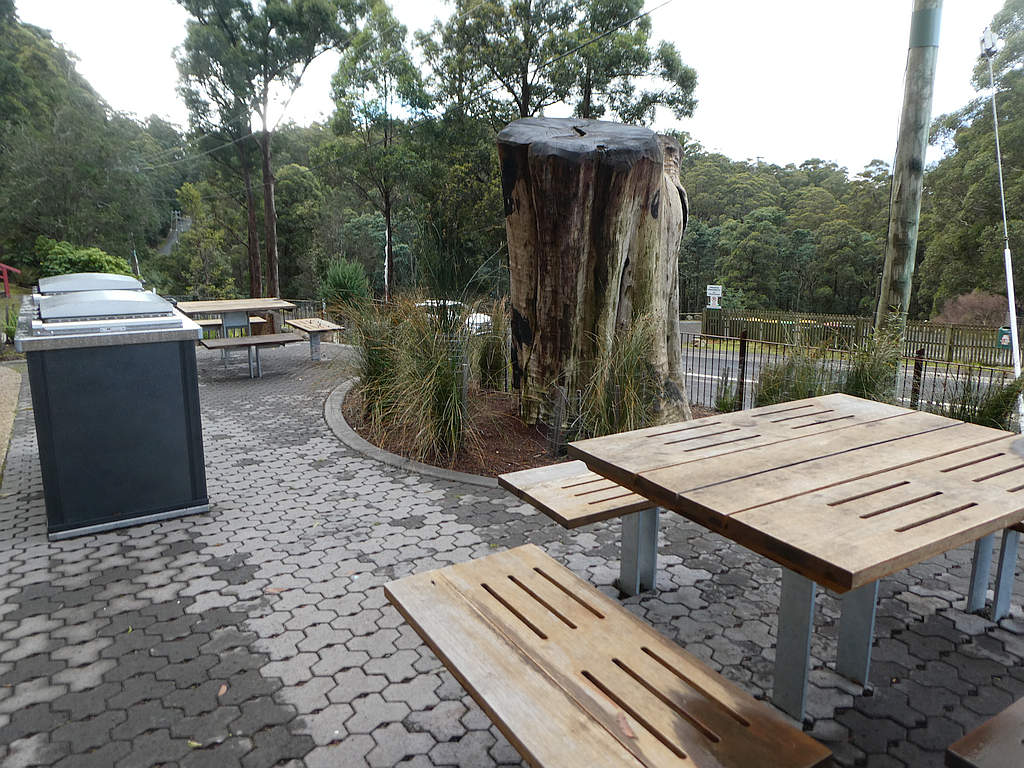 This decision triggered bureaucratic fears of legal liability should a tree limb fall on some unsuspecting picnicker, and so to remove a hazard created by their own unfathomable siting decision, the most noble tree in the park was chopped down; its stump is now ironically but fittingly emblazoned with the image of a thylacine.

It had survived the axes that laid waste to the great trees Marianne North had sought in 1880, only to fall prey to the chain saws of a later generation of Hobart council bureaucrats.
This urban park thinking by those in charge of managing the mountain now sees walkers along the Pipeline Track regularly treated to such sights and sounds as diligent council workers having their time wasted through having been told to keep the tracks nice and tidy by using leaf-blowers, an exercise common in some city parks and gardens but which on the mountain is a complete waste of time, money, and peace and quiet, and is entirely inappropriate in what is essentially a national park.
No matter now long individuals capable of directing such ludicrous endeavours may be allowed to continue to do so, if it is without oversight and training they will never become experienced natural area managers. Accruing experience requires not only time but also aptitude and a feel for the job, preferably with the sort of informed encouragement that at present seems sadly lacking.
And so, in the absence of an effective Wellington Park Management Trust, unaccountable sectional interests within council bureaucracies are presently able to exert their will, informed or otherwise, and internal political machinations dictate what happens in Wellington Park. Under such circumstances, the Hobart City Council's decision to employ specialist consultants to examine the proposed cable car development was entirely appropriate, indeed in my view it was the most professional decision regarding the management of Wellington Park that has been made for a very long time.
But however professional that process and the subsequent decision of our elected councillors to disallow the cable car, and however worthy the Lord Mayor's interest in a better functioning Wellington Park Management Trust, the Hobart City Council cannot itself entirely hide behind the glaring inadequacies of the Trust. Its own internal operations are just as much in need of professionalising and energising.
Neither should the cable car headlines be allowed the hide the Hobart Council's lackadaisical failure to respond to other important issues of which it has repeatedly been made aware, such as the historical cultural heritage of the mountain.
In a state where logging is so often a subject of major political controversy, it may seem odd to consider that evidence of past logging could have heritage value, but the slopes of kunanyi are one of only two locations in Australia where a rich assemblage of physical relicts of early colonial logging, including convict logging, remains extant.
Such considerations are a glaring omission from the Lord Mayor's recent suggestion that "We can conserve the natural values that make the mountain so special while also ensuring that access is improved." To permit these historical logging tracks, sawpits and snig-lines to be ignored and destroyed simply because of a preoccupation with nature alone would be about as responsible and forward-thinking as the ambitions of earlier Tasmanian politicians to bull-doze the ruins of Port Arthur because they perceived the convict era as a distasteful stain on Tasmania's history. History is history, whether we like what happened or not, and our historical heritage needs guardians, not grader drivers.
Similarly, the relicts of early recreational use of the mountain include some of the earliest public recreational walking tracks ever constructed in Australia. Recent 'upgrading' of some historical tracks has been promoted as supposedly 'restoring' them to a 'former glory' that they never actually had in the first place, in the process destroying the very physical fabric that made them important heritage.
It is not appropriate that important heritage be blindly erased simply because it may lie in the path of some new development ambition. The capacity to cause damage is not confined to the sorts of harm that would be inflicted by a cable car. Damage can equally arise from such situations as important features lying athwart a proposed new fire trail or the trajectory that an ambitious mountain bike enthusiast may have for a new track. All it takes is for the proponents to never pause to consider the possibility that values other than their own instrumental or recreational activities may also exist and deserve respect.
And it is particularly inappropriate for the councils or the Trust to allow potentially damaging proposals to progress without providing sufficient resources to first consider other values; to identify such things as historical sites; to delineate and evaluate them; to formally list them if appropriate; and to plan accordingly – thereby allowing adequately informed route selection and appropriate design adjustments.
It is way past time for management of kunanyi/Mt Wellington to be spear-headed and effectively coordinated by a properly professional and adequately-resourced Trust that is fit to be called a park management authority, and which doesn't keep its teeth in a glass by its bed as it snoozes while the park's future crumbles.
But in the meantime, the laudable cable car decision by Hobart's elected councillors should not be allowed to obscure the fact that the Hobart council administration is also a very long way behind the eight ball, and that it is also in very dire need of getting its act together.
---
Kevin Kiernan has variously worked with environment groups; as a national park planner; as a consultant; in the Tasmanian forestry system; and in academia. He is a geomorphologist by training and has published widely on aspects of mountain geomorphology and various other topics. Apart from a 15 year eviction by the 1967 bushfires, he has lived at Fern Tree and played on the mountain since the early 1950s.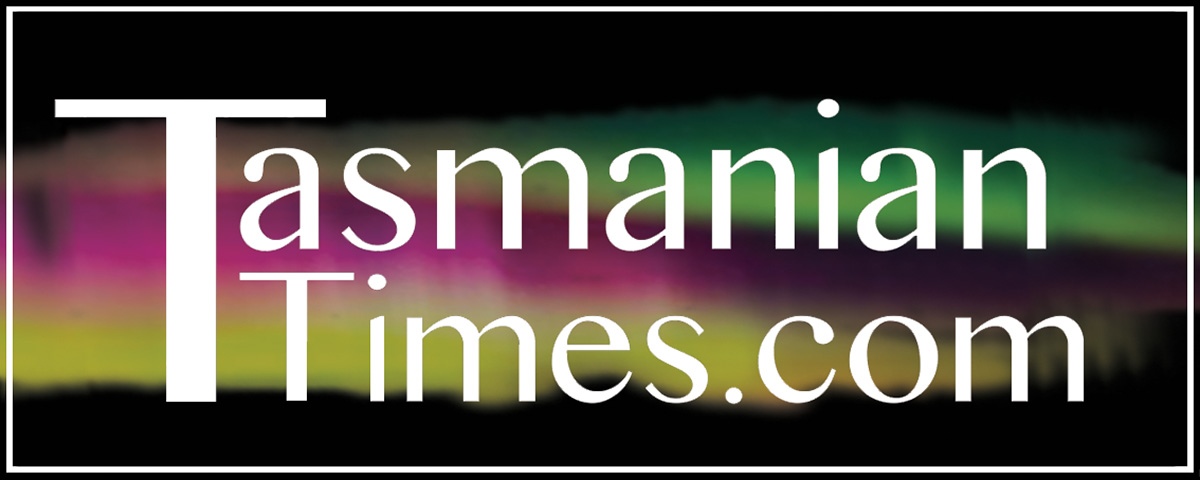 Author Credits: [show_post_categories parent="no" parentcategory="writers" show = "category" hyperlink="yes"]