There has been a massive failure of good governance by a third-rate federal coalition and our Tasmanian state Liberal Party while sharing centre stage with their assorted scapegoats, there to be blamed when things go wrong. It must not be allowed to continue.
The Liberal government in Tasmania started the COVID crisis with a neglected and under resourced hospital system that has made the Gutwein government culpable by its resulting inaction.
In March 2020 one patient unknowingly managed to infect not one hospital, not two hospitals but three hospitals in the north-west of the island. This placed the north-west in total lock-down and the day was only saved by a federal medical intervention with soldiers and doctors flown in from the mainland. The result: more than ten deaths and the Gutwein government reeling in panic and chaos.
Gutwein's whitewashed report of 29 April 2020 states that: the  Ruby Princess passengers were the most likely source of the infection. This is pure and absolute obfuscation made to dodge the bullet of responsibility. The two words most likely were a parasol against accountability for of a then sagging Liberal party and its political spin doctors.
All this is now conveniently forgotten. See my report on Tasmanian Times: Heads Must Roll, 3 May 2020.
The English saved the day by Oxford University and its researchers producing a vaccine that enabled the British government to announce that AstraZeneca's COVID-19 vaccine has been approved for emergency supply in the UK, with the first doses being released that day. Public vaccinations would begin in January 2021, the announcement continued:
The authorisation recommends  two doses administered with an interval of between four and 12 weeks. This regimen was shown in clinical trials to be safe and effective at preventing symptomatic COVID-19, with no severe cases and no hospitalisations more than 14 days after the second dose.
AstraZeneca is working with Public Health England and National Health Service England to support the deployment and roll out of the vaccine in the UK, in line with the MHRA and the UK's Joint Committee on Vaccination and Immunisation dosing recommendation. The company aims to supply millions of doses in the first quarter as part of an agreement with the government to supply up to 100 million doses in total.
A government spokesman: "Today is an important day for millions of people in the UK who will get access to this new vaccine. It has been shown to be effective, well-tolerated, simple to administer and is supplied by AstraZeneca at no profit. We would like to thank our many colleagues at AstraZeneca, Oxford University, the UK government and the tens of thousands of clinical trial participants."
Eight months later on 17 August 2021, the British Government issued a statement that more than 47 million people in the UK had received at least one dose of a coronavirus vaccine – part of the biggest inoculation program the country has ever launched and that these high vaccination levels have created a 'protective wall', sufficient to end all legal restrictions on social contact.
Progress there, but what about in the colonies?
On the 28 February 2021 the Morrison government announced that the first 300,000 doses of the Oxford-AstraZeneca vaccine had arrived in Australia and that 50 million doses would be manufactured in Australia by multinational bio-pharmaceutical company CSL, in partnership with the developer (international pharmaceutical company AstraZeneca).
This proved to be a combination of spin and misdirection designed to keep the Australian public onside as the Morrison government locked the world out. One of the world's richest countries was now isolated from the real world, stranding its citizens.
It was in November 2020 that Morrison first lied in person to Australians when he stated: "Australia is at the front of the queue for a safe and effective vaccine."
Morrison lied again when he stated that four million would receive the jab by the end of March 2021, and that all Australians would be vaccinated by October.
When AstraZeneca blocked 250,000 doses coming to Australia Morrison lied again when he stated that: "this particular shipment was not one we'd counted on for the roll-out."
At the start of March 2021 Morrison was forced to admit that Australia had received only 700,000 of the 3.8m expected AstraZeneca doses.
It was at this point that the continual stream of lies started to catch up with a Prime Minister who as a failed and sacked ad man had predicated his life on spin and bluster with no substance.
A change of course was required by a man not born to lead. He then fed the brain dead with a different spin and a change of tack; now he would under promise and overproduce.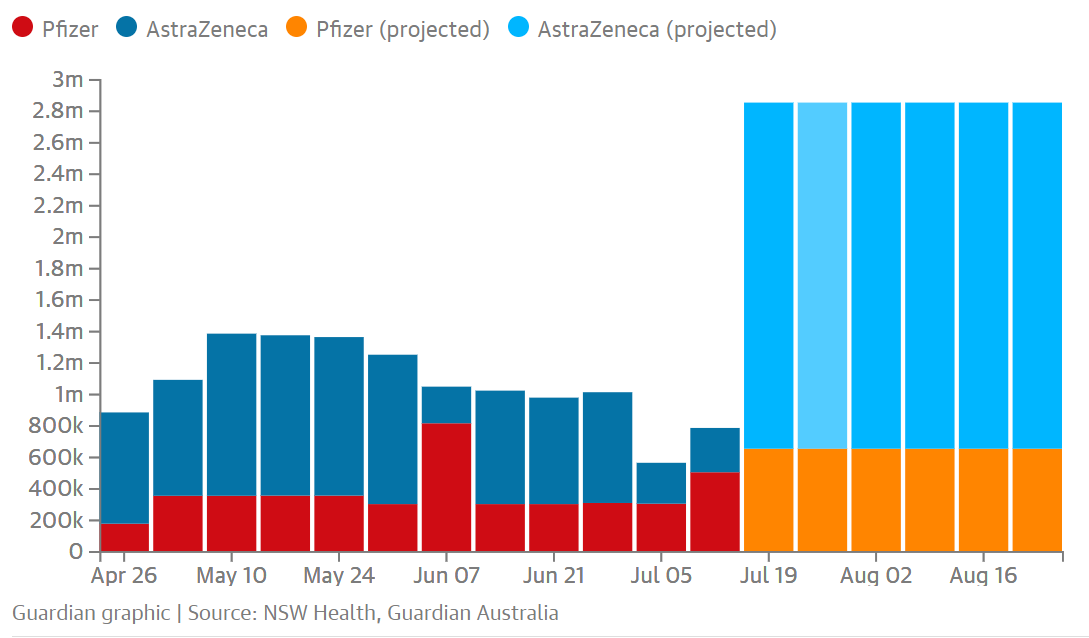 A graph that is indicative of how Morrison over promised and under produced.
In less than 12 months, more than 750 million doses of the Oxford-AstraZeneca COVID-19 vaccine have been released for supply to 170 countries. All this when Australia, one of the richest countries in the world, manufactures under licence the very same vaccine here in Australia. The Morrison government has many questions to answer but few other than the underfunded ABC are willing to ask them.
Meanwhile as of the end of July 2021 38,000 Australians were locked out waiting to return home, many thousands of them identified as vulnerable; India and the UK topped the list. Morrison issued a directive that from the beginning of May 2021 Australia would prosecute any of its citizens who attempt to return from India, a crime punishable by five years jail or a A$66,000 fine.
Good one Morrie! Targeting a minority always wins the hearts of the Australian voters, just ask your mentor Rupert Murdoch.
Tasmania, a small island of 500,000 people, should with good leadership have been completely vaccinated by now. Instead, we lock out our friends and lock in our people. Our university is virtually closed, our tourist industry is a shadow of its former self, and there is no JobKeeper to persuade employers to hang on to their staff. As a result, the edge of the cliff beckons.
Peter Gutwein, go out and beg, borrow or steal supplies of the vaccine. Immunise all those who wish to be immunised, then open up this small island state to all who wish to come. That is your job, we must be able to get on with our lives.
Is this too much to ask?
Gutwein stops and thinks. I am addicted to all that lovely exposure on nightly on TV and the consultants say that the run of the mill Tasmanian loves a COVID free state.
So yeah nah…lock 'em out and lock our lot in. Stay safe my hearties.
---
John Hawkins was born and educated in England and now calls Tasmania home. He is the author of 'Australian Silver 1800–1900' and 'Thomas Cole and Victorian Clockmaking' and 'The Hawkins Zoomorphic Collection' as well as 'The Al Tajir Collection of Silver and Gold' and nearly 100 articles on the Australian Decorative Arts. He is a Past President and Life Member of The Australian Art & Antique Dealers Association. John has lived in Australia for 54 years.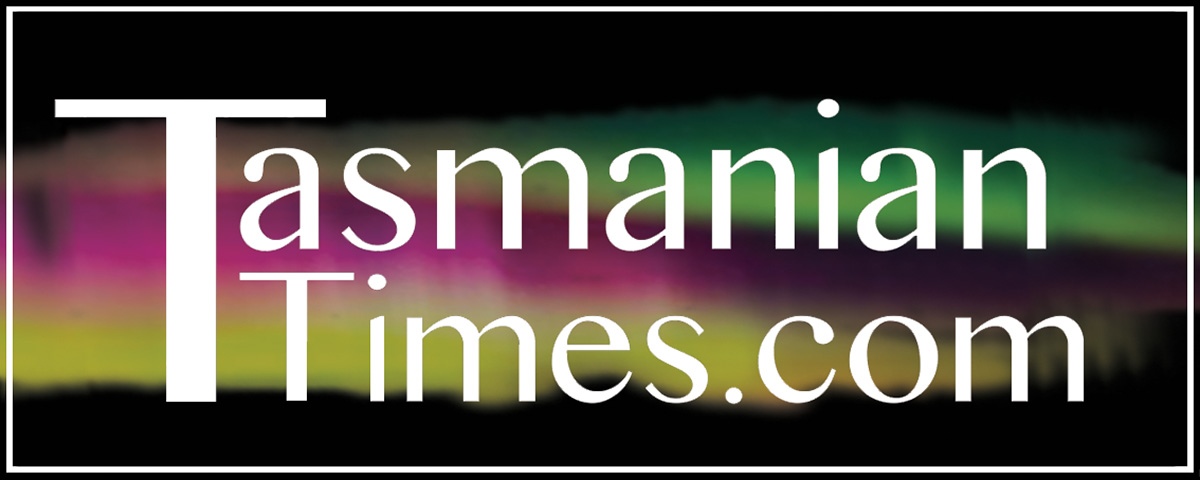 Author Credits: [show_post_categories parent="no" parentcategory="writers" show = "category" hyperlink="yes"]