TasWater Triumphs!
The TasWater media guy has the habit of sending emails that say "Please find attached a media release you may find of interest." Yeah, well, I find things of interest if/when I know what they are. 'Media release' in the subject line does not help either.
At least this week the media release – arrggh, not a PDF again, but that's another story – had a title:
Engineering triumphs at Prince of Wales Bay Sewage Plant
A triumph! Have we created a vaccine for COVID-19?! Solved forestry?! Turned around the juggernaut of state debt?! Got everyone back into jobs jobs jobs?!
No, apparently we've overhauled Prince of Wales Bay Sewage Treatment Plant (STP) "to enable TasWater to accommodate the
increasing demand for sewage treatment from the growth in development across Moonah and Glenorchy, as well as protecting the environment."
"BE STILL MY BEATING HEART," crowed Sir Shitalot from the rooftops, relieved that his panic buying of 24-packs has not been in vain.
"The confines of the site made it tricky, but two cranes in a single lift, carried the old 50-tonne roof, measuring 16 metres in diameter, off the digester tank, a significant engineering achievement," TasWater project guy said, who is clearly better at removing roofs than superfluous commas. "As well as the replacement of the ageing roof, TasWater has also replaced some vital infrastructure including the biogas systems, sludge heater, heat exchangers and all the biogas pipework along with new electrical control systems."
Sludge heater. Sing it with me, good people of the Van Diemen's Land, sludge heater!
disinformation
A new report by The Australia Institute's Centre for Responsible Technology has identified coordinated networks of pro-Trump and QAnon social media clusters at the centre of coordinated efforts to disseminate disinformation about COVID-19, particularly the conspiracy theory that China engineered the virus as a bioweapon.
The research, conducted by researchers from Queensland University of Technology (QUT), shows that the spread of the (Chinese bioweapon) theory on Twitter resembled a coordinated astroturfing campaign, with networks of accounts retweeting identical content repeatedly and within very short timeframes.
The QUT researchers analysed more than 25.5 million retweets of 2.6 million tweets over a 10 day period in March, focusing on accounts that retweet each other within one second or one minute, to track the systematic spread of disinformation about COVID-19. "This deep data dive provides a real-time snapshot of how a conspiracy theory is politicised and spread from the margins to the mainstream," said Peter Lewis, Director of the Centre for Responsible Technology.
"The QUT researchers are building incredibly valuable models that expose the vulnerability of social media networks to this type of coordinated disinformation. While this research won't stop conspiracy theories being dreamed up and exploited for political gain, it does expose the coordinated hubs where disinformation gains momentum and potency. By identifying coordinated clusters of accounts, this research can help social media companies improve the standard of information on their platforms."
Along related lines, troll farms in dubious countries been used to push misinformation during the coronavirus pandemic. Ben Collins and Brandy Zadrozny reveal that Facebook has blocked links from the 'Natural News' website — a frequent purveyor of conspiracy theories — after it was found to be using 'troll farms' based in North Macedonia and the Philippines. According to an NBC News analysis, the website is "by far the worst spreader of health misinformation online" and has been using content farms to artificially inflate the reach of its social media posts.
NBC also details findings from Avaaz, an activist organization that campaigns against disinformation online, that Natural News' content generated more engagement on Facebook than links to the World Health Organisation and Centers for Disease Control and Prevention combined over the last year. As the platform cracks down on the outfit, medical professionals and disinformation experts alike welcome the move but say more needs to be done to stem the tide of health misinformation on the platform.
Beer with me while I get this off my chest
Carlton & United Breweries roll out the barrels to keep pubs afloat sang a media release at TT in late May. What's going on?
"Carlton & United Breweries will roll out 2000 barrels or 200,000 pints (more than 100,000 litres) of beer to struggling pubs and clubs across Australia to help them survive the coronavirus crisis." Mmmkay. We were also invited along to meet a genuine endangered species, the pub owner, at a venue in either Hobart or Launceston. "CUB's For The Love of Your Local has raised and injected $1 million of much-needed cash into pubs and clubs over the past month.  The brewer hopes by rolling out more barrels of donated beer it will raise an additional $1 million in cash for club and pub tills in coming weeks." Translation: CUB is hoping that a very tiny handout will gain them some kind of public pardon as a big part of the distribution network they rely on is swept away.
Here's the maths. Last year CUB was bought by Japanese drinks giant Asahi Group for $16 billion. According to the Australian Financial Review, "the sale price represents an implied multiple of 14.9 times earnings before interest, tax, depreciation and amortisation, suggesting CUB's underlying trading profits were in the order of $1 billion." There you go, 1 billion, or to spell it out, a thousand million, ie. 500 times its spend on this barrel giveaway. So the Australian subsidiary is injecting about 0.2% of its profits into the frontline battlers who sell its product, 'to help them survive'. As publicity stunts go $2 million is big in dollar terms, but a drop in the beer ocean.
Cynics might also say that this is a ploy for market share. Just imagine, you're a cash strapped pub owner and it's time to re-stock for the reopening. CUB is offering a few free barrels to get you started, while the independent brewers – still locally owned and operated – don't have that kind of largesse to swing and you'll have to pay them in cash. Tough choice? An understandable choice, perhaps. So it could well be a comp-stomp (competitor eradication program) disguised as charity as much as anything.
Tasmanian Times did not cover this 'story'. By the way the other racketeers with their name on this media release were the Australian Hotels Association. For The Love of Your Local is a creepy echo of the Love Your Local slogan so prominent in the corrupted 2018 Tasmanian state election. Read about their Tasmanian branch's pokie fix over here.
climate fail, ABC fail
It's not often that flagship current affairs and investigative program Four Corners gets accused of being a flog, but here we go. Adam Lucas of Michael West media reckons Australia's utter failure on carbon emissions was glossed over, and corporate machinations were ignored, in the recent feature on climate policy and politics.
Based on interviews with former senior politicians and bureaucrats, Climate Wars provides no new insights into what could have or should have been done in this train wreck of a policy space over the last three decades.

Fronted by the ABC's Chief Political Correspondent, Michael Brissenden, we are told nothing about the current state of play with regard to Australia's emissions, or where they are located, or whether any of the policies other than Labor's price on carbon had any significant impact on those emissions.
"In light of the various shortcomings with the Four Corners' narrative, let me proffer an alternative explanation of how climate change policy has unfolded over the last ten years," he says. Well, you can read it all over here and make up your own mind.
bricks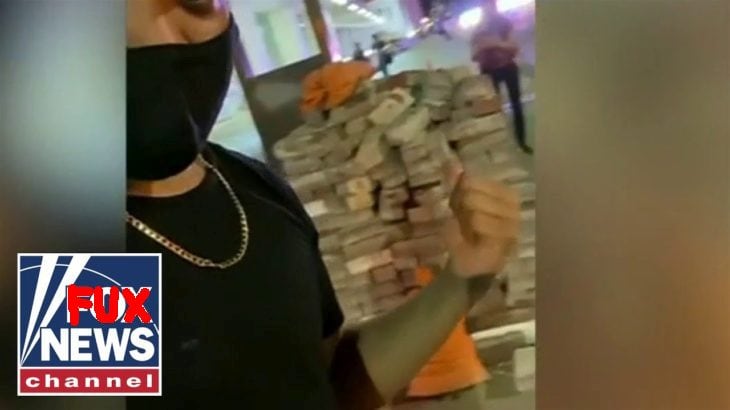 Many reports have surfaced online of mysterious pallets of bricks showing up in US cities that have had large demonstrations. The unevidenced implication on social media is that the bricks are being intentionally placed to goad people into destroying property. Some Twitter users blame the bricks on the police, while others, including the White House on Twitter, claim that they have been distributed by 'organized looters'. Most rudimentary investigations into the origins of the bricks have determined that they are from ongoing construction. Reporting that links brick placement to a particular cause or actor is inaccurate and undermines the reality that the majority of demonstrators have been peacefully protesting for an end to police brutality. Truth is a major casualty amid the chaos.
Feral Pest Lives Matter…wtf?
Last week, there was a protest in Australia that made headlines: A passionate group of citizens came together in Victoria to demonstrate against 'senseless killings'.
We're not talking about the Black Lives Matters protests. No, something much, much less important: the fight to stop brumby culling in Victoria. It's been (insensitively, FCOL) dubbed #BRUMBYLIVESMATTER by its army.
For those of you who aren't too familiar with brumbies, here's the low-down: a brumby is simply an Australin term for a feral horse. They were introduced when Europeans invaded Australia and quickly established themselves as a pest because they destroy native habitats with their big dumb hooves, compete for food with native animals, ruin waterholes and make for mediocre westerns based on yee-haw epic poems.
Cameron Wilson takes up this story on Substack, and it's a ripper! He cuts right through the horseshit so to speak and comes up (inadvertently, he admits) with the best milkshake-ducking you've seen in long time. Don't miss it…and subscribe to his Substack thing and support independent journalism.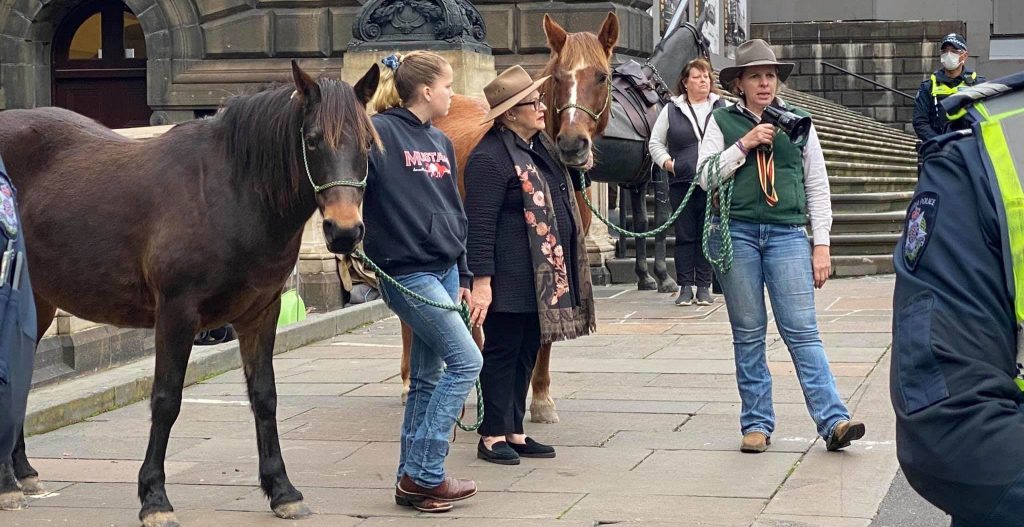 ---
This is an TT occasional column calling out public relations spin, egregious stunts and media manipulation. The 'news' doesn't just magically come into being, it is created. We want to lift the lid on some of the shenanigans that go on behind the scenes. Tips are welcome! Send your information in to submit@tasmaniantimes.com.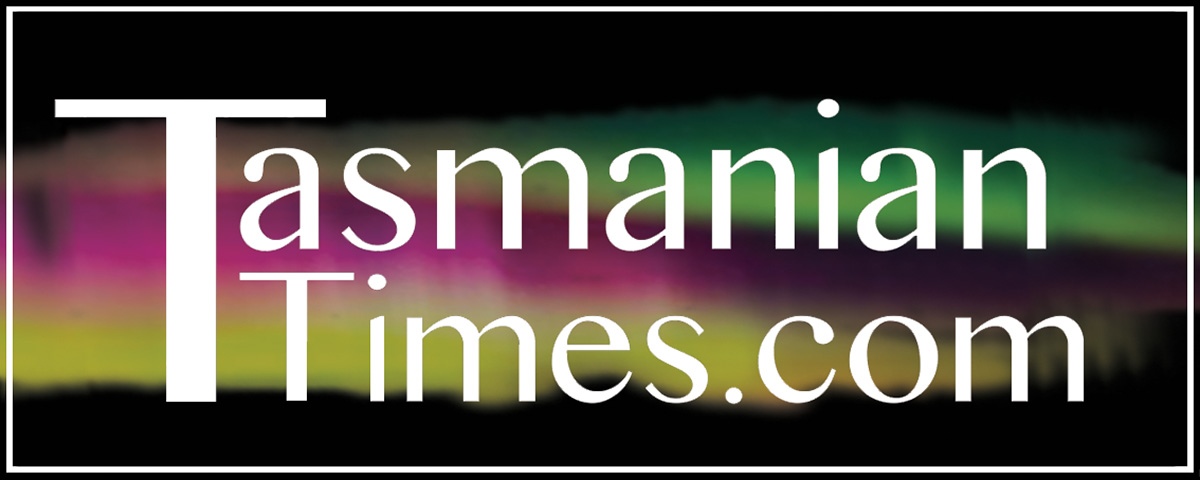 Author Credits: [show_post_categories parent="no" parentcategory="writers" show = "category" hyperlink="yes"]