"Don't talk to me about that disgusting man. He's a criminal and a disgrace to Tasmania. He should be locked in Risdon until he learns to conform. Damnation, he will go to hell!"
"No, no, no, you've got that wrong. Tommy is harmless, an eccentric who loves his freedom. He makes people smile and visitors love him.'
Opinions always raged on Tommy; everyone had a view and it divided families and friends. Most had seen Tommy at least once, could name the place and some had photos to prove it. It was the Risdon Prison guards who had seen Tommy more than most. How many three month stretches had he served? Everybody had lost count. One time there was a groundswell of support for Tommy. A letter in The Mercury said,
He is not violent, he is not dangerous and he is not dishonest. He is not a murderer or a terrorist. Tommy is not a sexual predator. He has never tried to smuggle drugs or guns. He does not commit bribery or blackmail. So why has the state spent so much public money locking up this poor, eccentric man? What on earth is the justification for making him live his life behind bars?
An Editorial in The Advocate asked,
Is Tommy to be treated as a criminal who must stay in prison until he dies or conforms, or as a harmless eccentric who poses no threat to anyone?
It was a good question but the answers were elusive.
At UTAS a philosophy lecturer discussed Tommy with his students. They grappled with challenging questions about freedom and even wanted to get Tommy to talk to the undergraduates but he could not be found. Many people in the community were puzzled by Tommy. Although he drew attention to himself in the most effective way imaginable, he was obviously shy and wanted to be ignored. Nobody could really get their heads around it.
Tommy had always walked the tight rope between damaged madness and eccentricity. He grew up in Campbell Town but nobody there seemed to know much about him. An uncle said the family knew from a young age there was something strange about him. He was a loner who talked to objects, was nervous of shadows and whose hands often shook. What abuse the young boy suffered nobody knew.
School really didn't happen and Tommy got cash in hand seasonal work crutching sheep, picking fruit and on the spuds. He bought himself a beat up van and left home without looking back.
All went well until the van died. Tommy lived in it for a few more years but some people grew suspicious, the police thought he might be a paedophile and moved him on.
So began his life on foot.

He packed all he could into a trolley made from pram wheels and wood then set off, abandoning the van to the kids and the wreckers.
Tommy's beard was a matted nest, his greying hair straggled to his shoulders, his shy smile revealed crooked front teeth and carved sharp valleys into his weather beaten face. His clothes and blankets came from City Mission in Youngtown and sometimes they also fed him. When the weather was good he slept rough in the bush and when the frosts started he holed up in abandoned farm houses.
Home was the open road, deserted back roads and rough sheep tracks. Far from people Tommy was at ease, his own best company and would endlessly chat to himself, to the birds and sheep and passing trees. Sometimes he would stop still, an invisible man in the Cat And Fiddle or the Devonport Mall and people would flow around him. He did not go to cities very often.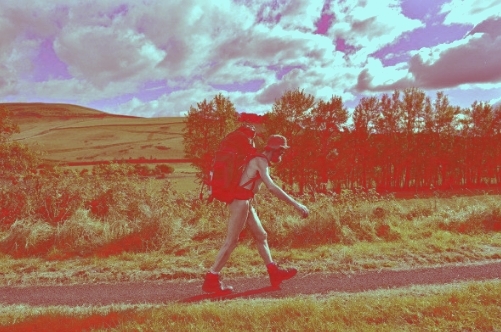 One sticky, humid January, Tommy was trudging the east coast heading north. He had left Bicheno and could see the blue of the ocean dancing with light in the distance. On sultry days like this he had got into the habit of taking his shirt off but the rope acting as a belt around his oversize trousers was chafing.
Without thinking about it he stopped and took them off. It was easy, done in seconds. He hadn't worn underwear for ages and chuckling to himself at the novelty he continued, naked except for his walking boots and hat. He liked the the air on his body, it made him feel freer and more comfortable.
Then the first tourist car stopped ahead of him and he saw Chinese eyes looking back. Doors opened and they were taking photographs and laughing nervously. The car accelerated away as he approached. Tommy felt the changes; somehow he was no longer invisible.
Next day he walked naked through Scamander and Beaumaris and got a few interesting reactions. He was approaching St Helens when a police car stopped. Tommy agreed to put on some clothes, but took them all off when they had gone. Straight through the main street completely naked at the height of the holiday season. Some laughed, a few got angry, others were wide-eyed with shock. Strangers asked each other, "Did I really see that?"
Leaving St Helens on the Goshen Road feeling the sun and breeze over his whole body was exhilarating, and he felt for the first time in his life fully-free and part of the natural world. Some strangers stopped vehicles to talk with him, some abused him and others shook his hand when he joined them for photos. They called him the Naked Walker and in his quiet way Tommy liked that.
That day changed Tommy's life forever as it dawned on him that his body and clothes were his affair and he had every right to walk the state in his birthday suit if he chose to. When he felt like it and he was hot he would walk naked, at other times he put on clothes. It was his expression of freedom. He became known around the world on social media, but was oblivious to the fuss and wanted nothing more than a quiet life. In Tasmania expect a hefty fine or three months for behaving in what they call an indecent manner. Of course Tommy could pay no fines. The police all knew him and the guards in Risdon were old friends. '"He's back. How are you Tommy my boy?" naked walkers
Tommy was no trouble, he did his time, liked the meals and the beds but missed the smell of freedom, the mountains and streams. When released he would walk fully clothed for a while before slipping out of his clothes, sometimes still within sight of the barbed wire. One time two police officers were waiting behind some bushes and they had the unenviable task of either making him wear trousers or arresting him.
As Tommy's fame spread there was much discussion of naturism and the links with the natural world.
News started to come in of naked walkers causing a sensation over in Strahan near the Gordon River Cruise terminal; down in Huonville by the river and crossing the convict bridge in Ross.

How many Naked Walkers were there?
It was the talk of Tasmania in the lead up to the state elections. Brian Clarke had been a candidate for the Naturist Party several times and never got more than a handful of votes. Now this was different and Brian rode the wave of naturist interest right into the lower house. When it was discovered that the Naturist Party held the balance of power it was news around the world.
Things changed rapidly in Tasmania. Nudity laws were relaxed and many naked events were organised: Naked Restaurants Week, Naked Sports Week, Naked Shopping Week and Naked at Work Week. Not everyone was comfortable with it but you would be amazed at the people who joined in, and the tourists loved it. The vehicle number plates proudly proclaimed 'Tasmania Nudist State' and all credit should go to Tourism Tasmania for their famous and hugely successful world wide 'Nude in Nature' marketing campaign. If truth were told the Queensland climate would probably be more suitable for naturism as in winter there was little enthusiasm for exposing the flesh, but come the first warm days of spring everything was revealed.
Tommy never really understood what he unleashed on that hot January day near Bicheno. Into his old age he continued his slow naked rambles and was shocked when he noticed police cars passing by with a friendly wave and when he saw other naked walkers he cried in disbelief.
Brian wanted to officially honour Tommy during a naked sitting of the Parliament in Hobart but the famous Naked Walker could not be found. Some said he was on the Bay of Fires heading for The Gardens, others that he was below Dover making for Cockle Creek.
There was talk he could be on the back road to Paradise but the strongest rumour came from the Corinna ferryman who said he was on the Road to Nowhere heading to the Edge of the World.
---
plough wright: n. maker or repairer of ploughs
Stephen Plowright was born on the east coast of England. He taught in Nottingham before an exchange to Sorell School that led to settling, marrying and having children. Mainly writing short stories since 2016, The Missing and Other Short Stories was published by the People's Library in 2018.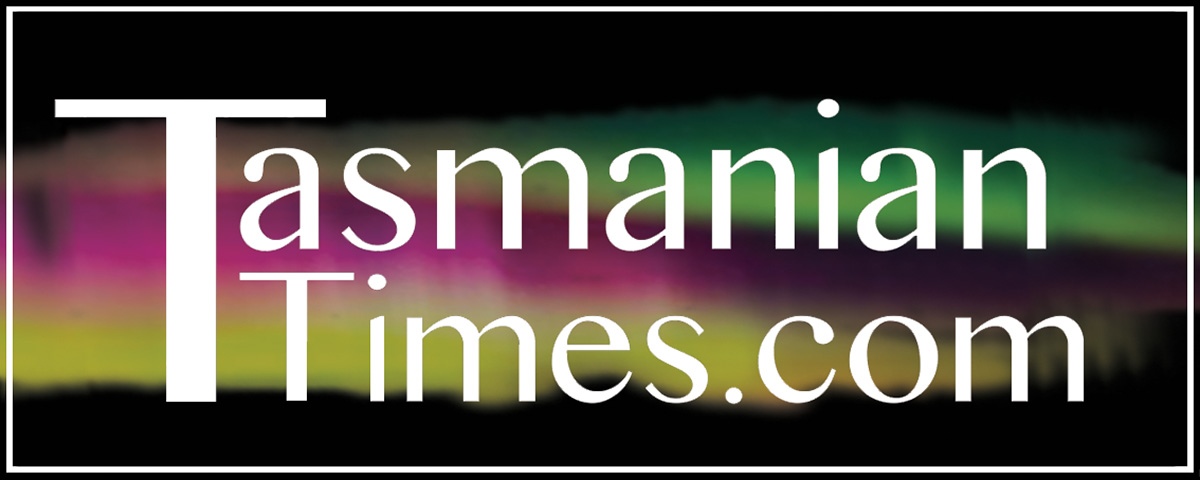 Author Credits: [show_post_categories parent="no" parentcategory="writers" show = "category" hyperlink="yes"]