Dame Enid Lyons was the wife of Joseph Lyons and the first female member of the House of Representatives.
Early life
Enid was born in Smithton on 9 July 1897. She was the second of four children born to William Burnell (a sawyer) and his wife Eliza. Eliza taught her elocution, and encouraged her to perform whenever she had an audience.
During her childhood, William was transferred to Glance Creek Mill, and the family moved to Stowport. Enid and her two sisters walked two miles (3.2 km) each day to the local school, where Enid revealed an early dramatic talent in the school concert.
There were long separations as her father pursued work at various timber mills. The family later moved to Cooee, and Eliza opened a store and a post office there.
Enid attended the Burnie State School, and later decided to study at the Training College in Hobart to become a teacher.
Meeting, courting, and marrying Joseph Lyons
When Eliza visited Enid in Hobart, she would take her to state parliament. This was where Enid met Joseph Lyons, who was the Labor member for Wilmot at the time.
Joseph was eighteen years Enid's senior, but they nonetheless feel in love and began courting.
Enid and Joseph were married on 28 April 1915. They had twelve children together, one of whom died of pneumonia at the age of ten months.
Early career and the Depression
Enid stood for the seat of Denison in 1925, but lost by sixty votes.
After the Great Depression began in 1929, Australia plunged into a financial crisis. Joseph, who was Acting Treasurer at the time, developed a recovery plan, but the Labor caucus rejected it in favour of Edward Theodore's more sweeping proposals for credit creation. Enid encouraged Joseph to leave the Labor Party because of this, and he eventually did so. He subsequently helped form the United Australia Party (UAP) with her support.
The UAP went on to win the 1931 election, and Joseph became Prime Minister.
Spouse of the Prime Minister
A Prime Minister's spouse has no official duties. Therefore, he/she does not receive a salary or staff. Despite this, Enid remained politically active after Joseph became Prime Minister. Her politics were pragmatic and undogmatic. She dedicated most of her time to touring the country and giving speeches.
Enid abhorred the widespread opinion that she was the one who made the decisions while Joseph was Prime Minister. In truth, Joseph simply drew on her self-confidence, shrewdness, and determination at critical moments during his prime ministership.
Enid lived modestly at the Lodge. She rarely entertained guests, and served her family simple but wholesome meals.
Joseph's death and her own career
Enid was grief-stricken when, on 7 April 1939, Joseph died of a heart attack. She only recovered from her grief when someone convinced her to stand for the House of Representatives.
On 21 August 1943, Dame Enid Lyons was elected to the House of Representatives as member for the Tasmanian seat of Darwin (Braddon). She was the first female member of the House.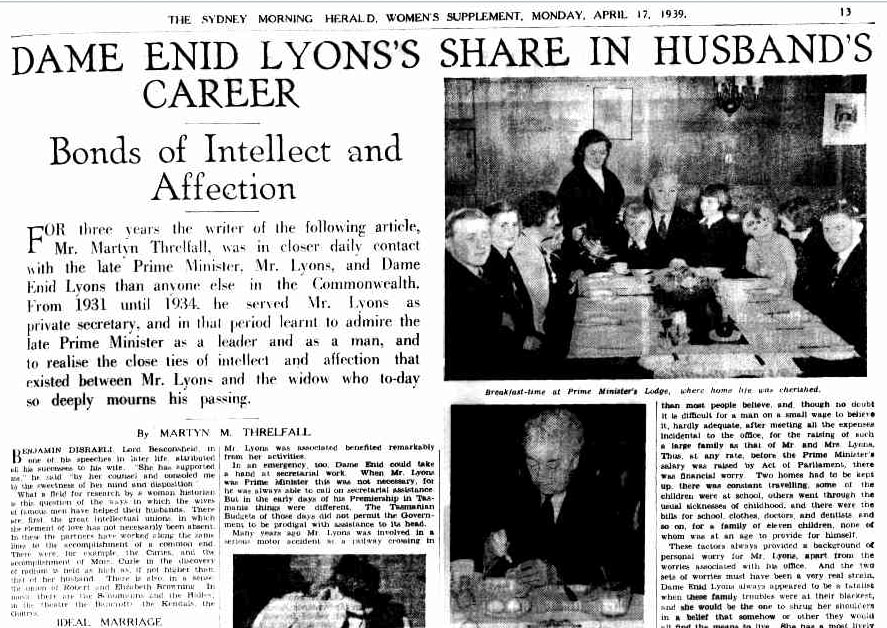 In her maiden speech on 29 September 1943, Enid spoke about various topics and issues, including social security and housing. She also highlighted the importance of adopting post-war policies.
Her metaphors were homely but her speech was thoughtful and substantial, compassionate, and visionary.  The response, from politicians, the press and the public, was overwhelming.
"In that place of endless speaking . . . no one had ever made men weep. Apparently I had done so, without desire or intention."
While part of the response was to the significance of the moment and the novelty of a female member of Parliament, it was also a tribute to her oratorical skills.
Enid would go on to address the House on many subjects relevant to women, including (but not limited to):
pensions and benefits;
housing;
baby foods;
child endowment;
maternity services;
the plight of housewives;
service women's pay; and
widows' pensions.
Having said this, she didn't restrict herself to women's issues. She also spoke on a number of other subjects, including finance, industry, and international affairs.
Enid was re-elected to the House in 1946 and 1949.
Vice President of the Executive Council
In December 1949, Enid became the first female member of a Federal cabinet when she was sworn in as Vice President of the Executive Council. She was disappointed, however, because she was hoping for a portfolio. She later complained that the vice presidency was 'a toothless position'.
Resignation
Enid had for a long time suffered from a thyroid problem and a persistent cancer on her nose, as well as pain from a pelvic fracture. Unable to keep up with the demands imposed on her because of these medical conditions, she resigned from cabinet on 7 March 1951 and did not contest the next election.
Life after politics
Enid received treatment for her medical conditions, and eventually recovered from them.
She wrote three memoirs: So We Take Comfort (published in 1965); The Old Haggis (published in 1969); and Among the Carrion Crows (published in 1972). She also wrote a twice-weekly newspaper column between 1951 and 1954.
Enid was appointed as a Dame of the Order of Australia on Australia Day in 1980.
Death and legacy of Enid Lyons
Dame Enid Lyons died in Ulverstone on 2 September 1981. She was 84-years-old.
She was given a state funeral, and was buried beside her husband at the Mersey Vale cemetery in Devonport.
Her much loved home was acquired by the City of Devonport and its contents by the National Trust of Australia (Tasmania).
Enid Lyons was courageous, compassionate, light-hearted, charming, self-disciplined, industrious, and ambitious. She displayed warmth, approachability, a high sense of duty, and a common touch during her political career, despite having an almost regal presence.
At her death, colleagues praised her intelligence, courage, compassion, humour, vivacity, and charm.
*   *   *   *
In the memory of Dame Enid Lyons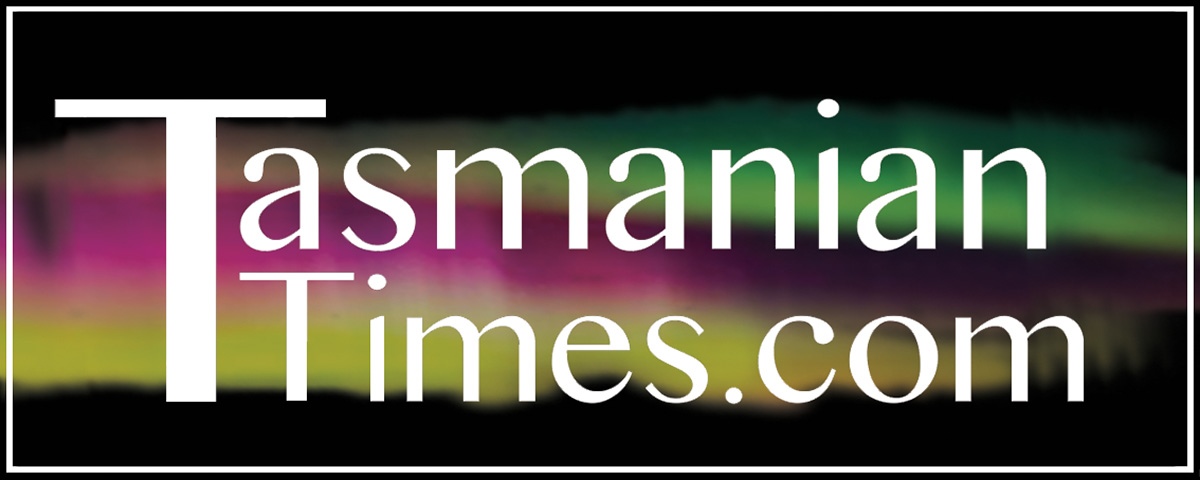 Author Credits: [show_post_categories parent="no" parentcategory="writers" show = "category" hyperlink="yes"]