3 word weirdness
Hi Tasmanian Times
I wanted to share a breaking story with you about how three words were all it took to rescue a traveller who was injured whilst exploring the Northernmost tip of Flinders Island in Bass Strait. 
Imagine yourself in the rugged wilderness of Flinders Island, miles away from the nearest road, with no addresses, and no nearby landmarks to refer to. The rugged mountain ranges, deserted beaches and abundant wildlife make Flinders Island is the perfect playground for an outdoor adventure. But how would you describe your location to the emergency service if something were to go wrong?
This is exactly what happened when a female traveller injured herself atop a windy cliff-face earlier this month.
This media release came through earlier this week. It seemed like it might be of interest, so we dumped some of the text into a draft post and got to work. That's where things got a bit sticky. For a start the publicist is using a @gmail account. Not against the law, but weird that she's the point person for what's the worldwide rollout of a supposedly magical life-saving system.
Secondly. Pare back the travelogue and she's saying 'earlier this month'. Right. One imagines that such a dramatic rescue would have been big news…and that's news to us. A search for Flinders Island rescue only brings up some old stories and a (probably very worthwhile) wombat shelter. Nothing like what she was saying actually happened. Fair enough the tech she's flogging might be interesting, but please don't peg it to something that never happened or about which you can't provide real details. TT called Ambulance Tasmania, twice, and we were unable to confirm that the miracle rescue of remote wanderer in time of curfew did happen.
We did get a confirmation that this was not going to be the cornerstone of their rescue protocols, but something that "may be useful."
Nick Bradford, Operations Team Leader from Ambulance Tasmania as commenting that "Having what3words in our control room is rapidly changing the way we work. We don't have to ask – 'Where have you come from?', 'Where are you going?', 'What can you see?' etc. These questions take time and aren't always that accurate – especially for visitors. Asking for a what3words address or sending an SMS, means we can save valuable time responding to emergencies."
Rapidly changing? After one (reported) rescue? The whiffy aroma of PR manipulation here.
"The system covers the entire world, never needs updating, and works offline. A three words address is a 'human-friendly' way to share very precise locations with other people, or to input them into platforms and machines such as ride-hailing apps or e-commerce checkouts."
Good-o, but remember that the gold standard is still an EPIRB (emergency position indicating radio beacon). They're not that expensive, work well, are easy to use, don't require language at all and are very well integrated into emergency response after having been around for many years.
What 3 words appears to have been around since 2015, with the company now focusing on attempting to introduce the system to corporates and public utilities after overall response by the public was cool. Reviewer Joanna Kwong of GeoAwesomeness found she stopped using the app after a while when she tried it last year. "While I still think that the many applications of What3Words are valid, it did not drastically change nor improve my every day navigation experience," she wrote.
The download site for Android gives the app a 4 star rating (out of 5) based on ten thousand reviews.  Recent reviews have warned of crashes and instability. "I have just wiped my system and reinstalled everything," said Allen Meredith. "W3W was suddenly crashing before the wipe, and is still crashing continuously after the wipe, even though it has not been opened and should therefore not even be running!"
Hydroxymoronhazbine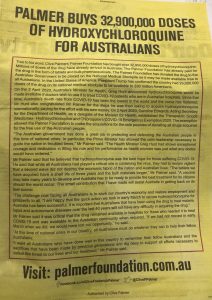 Twice federal political feather duster Clive Palmer is at it again. Recently he announced – with typically modest full-page newspaper ads – that he'd purchased 32,900,000 doses of hydroxychloroquine, and donated the supply to the National Medical Stockpile. The controversial businessman believes the much-hyped malaria drug is the 'best hope' for those suffering COVID-19.
Yeah nice gesture to give us a metric shit-tonne of quite ineffective medication for which we'll need to deploy scarce resources for receival, transport and storage. The American College of Physicians said "evidence does not support the use of chloroquine or hydroxychloroquine alone or in combination with azithromycin as prophylaxis for COVID-19 or for treatment of patients with COVID-19."
Regarding the efficacy and safety of chloroquine and hydroxychloroquine in the treatment of COVID-19, the World Health Organisation says "these medicines are currently authorised for malaria and certain autoimmune diseases and it is important that patients do not face shortages caused by stockpiling or use outside the authorised indications. " (our emphasis)
It's one thing to do a political stunt, it's quite another to pull one that is going to get poor people in malaria-prone countries killed.
And don't forget, if you happen to do something nice for someone, like put out the bins for your elderly neighbour, FULL PAGE AD IN THE PAPER BRAGGING ABOUT IT OR IT DIDN'T HAPPEN.
Guy Barnett loves trees
Who would have thought? The stalwart of a government that kissed the Give-It-Back coffin as it rode into power on a rip-up-the-Tasmanian-Forests-Agreement platform in 2014 has had a conversion. Maybe. "Trees can play an important role in improving productivity and profitability through shelterbelts, delivering bio-fuel, boosting carbon balance and improving water quality and efficiency," said the Minister for Primary Industries and Water in a media release titled Trees Increase Productivity. "Trees help protect the land for future generations while also providing immediate ecological benefits for farms and the wider environment." The Greens have been having a few words about that 'wider environment' thing for a decade or five, Guy. You listening now?
It's like pee, see
If there is still any confusion about the importance of face masks, this graphic should help. Kudos to the Public Health Department of the city of Philadelphia for this ripper bit of communication. It's always a pleasant surprise when public authorities throw the toys out of the cot and decide to take a brave approach: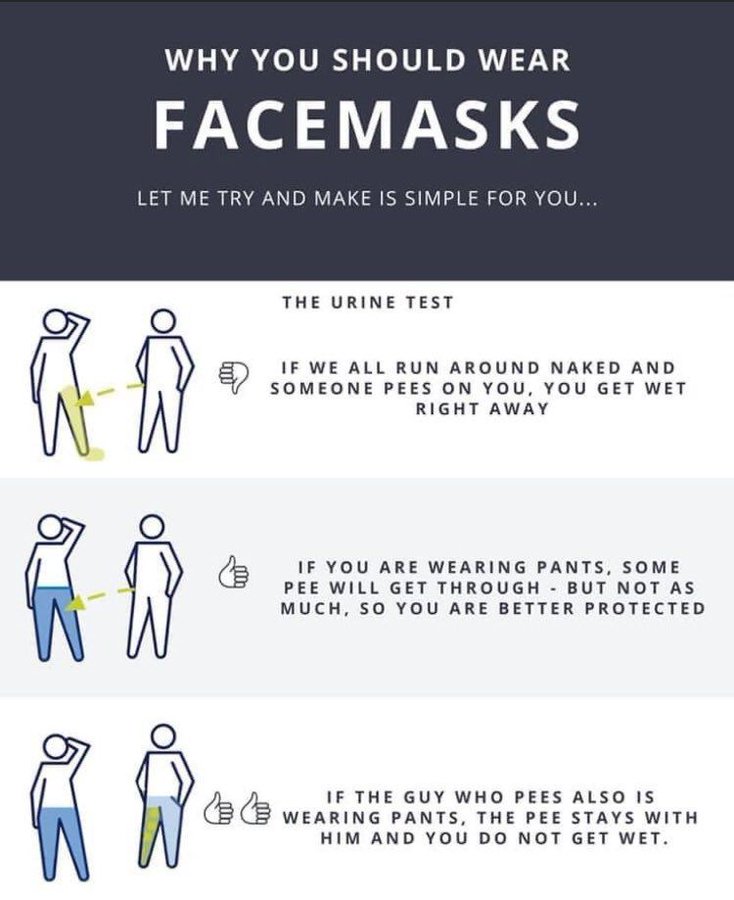 Qantas frequent f***er
For your sins, maybe you too have a Qantas Frequent Flyer account. But wait, with interstate borders mostly closed we're all bravely singing that Bob Marley standby No Aviation No Cry.
All except the f***ing kangaroo: And now more than ever, Australians are dreaming of travel. That's why even while you may not be stepping on board our planes, we're still committed to getting you closer to your dream trip with hundreds of ways to earn on the ground now, to get you in the air later. You could say it's the Qantas Frequent Dreamer Program.
So no worries about unemployment heading for its highest level since anyone in long pants can remember, or wages being frozen/slashed/nonexistent, what your family needs more than food on the table is Qantas points. So 'get out from under the doona' and go online shopping in the Qantas MallTM, dudes!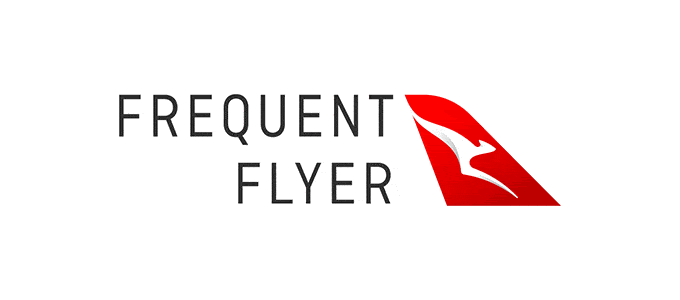 Nothing can save you
Palmer was a wagon of nightsoil as usual, but at least he was delivering something. US Vice-President Mike Pence, on the other hand, was caught on a live mic delivering empty boxes of COVID-19 supplies. An empty box of PPE a day keeps that nasty old commie virus away!
Mike Pence caught on hot mic delivering empty boxes of PPE for a PR stunt. pic.twitter.com/IduvGhiPwj

— Matt McDermott (@mattmfm) May 8, 2020
---
This is an TT occasional column calling out public relations spin, egregious stunts and media manipulation. The 'news' doesn't just magically come into being, it is created. We want to lift the lid on some of the shenanigans that go on behind the scenes. Tips are welcome! Send your information in to submit@tasmaniantimes.com.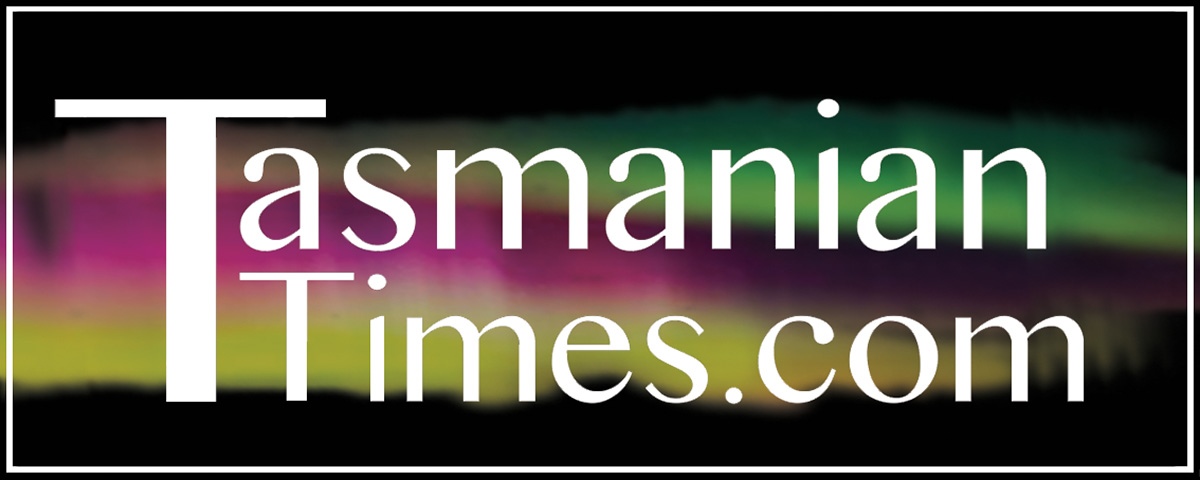 Author Credits: [show_post_categories parent="no" parentcategory="writers" show = "category" hyperlink="yes"]