Guy Barnett, Minister for Energy, 13 May 2020
Draft Renewables Energy Action Plan to help rebuild economy
The Tasmanian Liberal Government has identified renewable energy as a key economic driver as we rebuild a stronger Tasmania.
Tasmania can harness the immense potential in renewable energy to grow our economy, attract investment, create jobs and transform Tasmania from being Australia's renewable energy powerhouse into a world leader of clean, reliable and affordable energy.
To help achieve this plan, the Government is releasing the draft Renewable Energy Action Plan which outlines our vision and suite of actions to develop renewable energy generation in Tasmania over the coming 20 years.
Our Plan will benefit Tasmania through defining the pathway to securing a renewable energy future, creating thousands of local jobs, strengthening our economy and ensuring energy remains affordable and accessible.
Tasmania will soon achieve the status of being one of the few jurisdictions in the world to achieve 100 per cent self-sufficiency in renewable electricity generation and there has never been a more important time to manage the transition to renewable energy.
But we plan to do much more.
We have set a Tasmanian Renewable Energy Target to double our renewable generation to a global-leading target of 200 per cent of our current needs by 2040.
Through setting clear targets and actions, the Action Plan will build on Tasmania's natural competitive advantages and leverage existing and planned investment to grow the renewable sector for the benefit of all Tasmanians.
Importantly, Tasmanians will always come first and are central to our goal to deliver Tasmanian residents and small businesses the lowest possible regulated electricity prices.
The Government welcomes feedback on the draft Tasmanian Renewable Energy Action Plan which represents a unique opportunity to be a world leader while using investment and job creation to help build a stronger Tasmania.
The draft Action Plan can be viewed at: https://www.stategrowth.tas.gov.au/energy_and_resources/energy/renewable_energy
---
For comments, see the Renewable Energy in Tasmania topic in the Forums.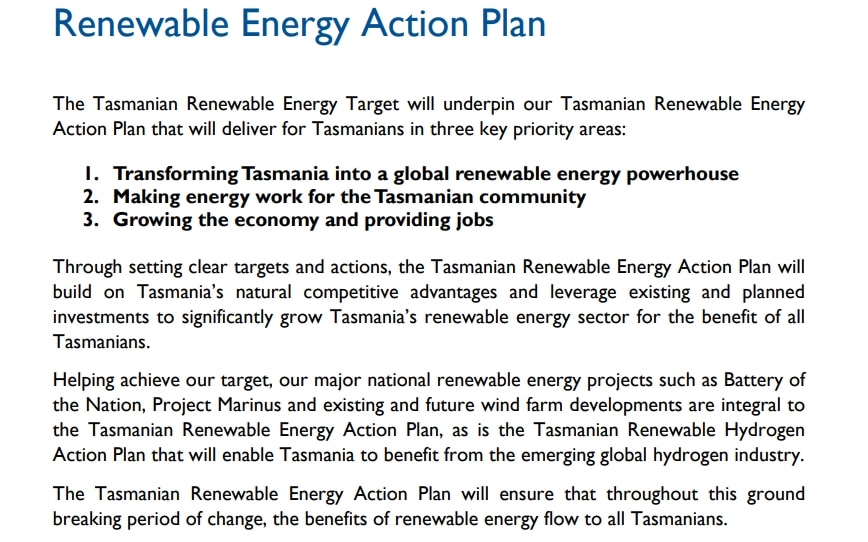 ---

Rosalie Woodruff MP | Greens Energy spokesperson, 14 May 2020
Renewable Energy Action Plan Must Rule Out Biomass
The Greens welcome the Draft Renewable Energy Action Plan's aim for our island to become a world leader in renewable energy. That said, there are glaring issues.
In the race to prevent global climate heating, Tasmania must first and foremost reduce carbon emissions. The Draft Plan has missed this central point.
Consideration of burning biomass for renewable energy is absurd doublespeak. It is no more than a destructive plan to continue native forest logging under the guise of renewable energy.
The creative accounting and weasel words used to justify the logging of carbon sinks have no place in our renewable future.
The Draft Plan leaves the door open to investment in transport electrification and small-scale rooftop solar, but provides no details about deliverables. Instead of the proposed, entirely unexplained, new unit "Renewables Tasmania" focusing on biomass, it should fast-track the electrification of transport.
The Plan correctly identifies energy efficiency programs as critical for Tasmanian households and businesses to reduce both emissions and power bills, but does not set energy efficiency targets. It is essential the State Government steps up its ambition and focuses economic investment towards this area.
The Draft Plan does project Tasmania will become self-sufficient in renewable electricity generation by 2022. We look forward to the end of the state's continued reliance on brown coal-generated power imports and burning gas during dry months.
Recent statements from the Australian Energy Market Operator cast doubt on the cost-effectiveness of future pumped hydro projects compared to the emerging competition of battery technology. Many questions still remain unanswered about the profitability of Tasmania's first undersea interconnector, Basslink.
With the proposed start date for Marinus Link of 2028, the government must have its eye on emerging technologies to ensure Tasmania is not left with an expensive white elephant.
Tasmania's commitment and contribution to reducing the nation's carbon emissions must be balanced by the reality of what is on offer elsewhere in the highly competitive mainland electricity market. There are many smaller, diversified renewable energy opportunities for our State.
We must ensure a rushed entry into large-scale project financing does not us leave us in a poorer budgetary position for decades to come – especially as we recover from COVID-19.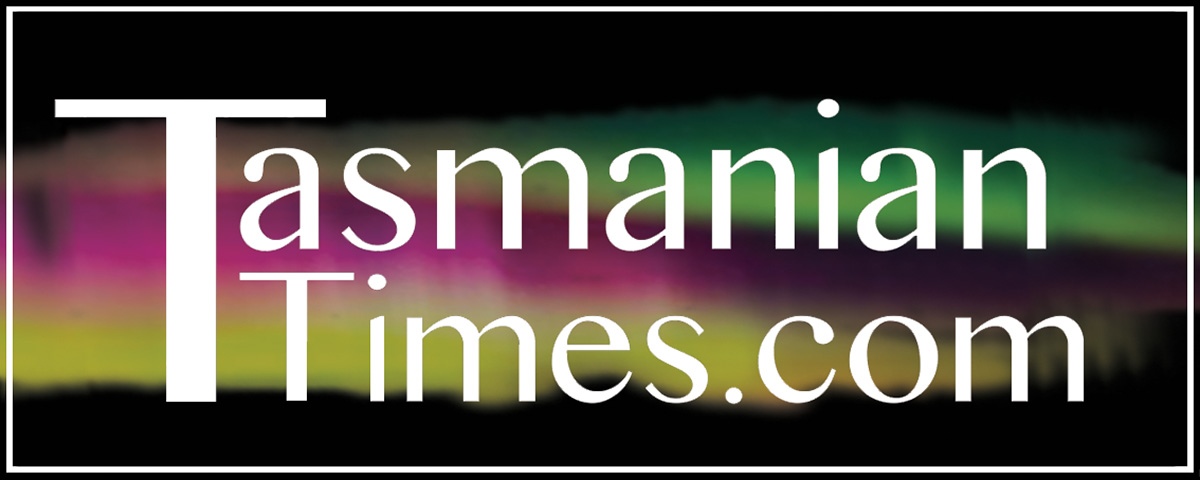 Author Credits: [show_post_categories parent="no" parentcategory="writers" show = "category" hyperlink="yes"]