"We are at war against an insidious disease."
These were the words of Tasmanian Premier Peter Gutwein as he opened his media conference in Hobart this morning (full audio above).
"We must bring the weapons we have to fight it. This weapon is social distancing. It is not a training drill."
He said he expected all Tasmanians to play their part.
Sunday saw five new coronavirus cases in Tasmania, lifting the total to 22. He said there was no community transmission yet, but we have to do everything we possibly can to beat the disease.
"Social distancing is the weapon we have," he said. "The failure of people to heed the rules and follow the law will put people's lives at risk."
The Premier confirmed that all Stage I restrictions declared by the National Cabinet on Sunday night will apply in Tasmania from mid-day today (Monday).
CLOSED: pubs, registered and licensed clubs (excluding off-licence bottle shops attached to those venues), hotels (excluding accommodation), gyms and indoor sporting venues, cinemas, entertainment venues, casinos, nightclubs. religious gatherings, places of worship.
RESTRICTED: restaurants and cafes (take-away service only), funerals and other indoor gatherings (1 person per 4 square metres).
UNAFFECTED: everything else, however other facilities will be considered at National Cabinet on Tuesday night.
"I know that these restrictions will change the way we go about our daily lives," the Premier said. He said he sympathised deeply with the people impacted but that the measures were necessary to reduce the spread of the virus.
He explained that the measures were likely to be in place for at least six months, being reviewed on a monthly basis.
He said they had to to brought in quickly.
"We are not going to go through the farcical situation that we saw in Britain were 'last drinks' brought hundreds of people together for one last night, which must have – there is no doubt in my mind – further spread the virus in that country. We need to act now."
The Premier has made the point that private gatherings were to be avoided, and that guidelines for these would also be considered by National Cabinet.
"Do not gravitate to holding parties in back yards or other facilities. The rules of social distancing apply. This cannot be a migration from the pub to the back yard."
Aged Care Facilities
The Premier said restricted access rules would be in place for aged care facilities from mid-day today.
The restrictions are:
visits no more than 2 hours
maximum 2 persons to visit together
no visits by children under sixteen unless for 'end of life' goodbyes
no visit by a person who arrived in Tasmania in the last 14 days, or has had contact with a person with confirmed coronavirus diagnosis, or has symptoms such as temperature above 37.5C, or does not have up to date vaccination against influenza.
There are exceptions for carers, support workers and for providing goods and services.
Schools
(See below for the letter sent out to parents.)
"Tasmanian schools will remain open for the time being."
The Premier acknowledged there has been community angst about the schools issue.
"We recognise the incredibly important role that our schools play supporting the education and wellbeing of Tasmania's children and young people. The advice of the Australian Health Protection Principles Committee has not changed on this matter.
The Premier cited the arguments put forward by the AHPPC.
"The AHPPC has not supported the closure of schools given the lack of evidence of significant disease in children and the lack of reported major disease spreading in schools."
Premier Gutwein thanked school staff for the job they are doing.
He clarified that parents and carers could keep their children at home if they preferred. "Where this occurs, parents and carers will be provided with opportunities to learn from home by their school, as far as it is practical to do so," he said.
The Premier emphasised that children 'at home' must be at home, and not out and about.
Tasmanian term dates remain the same and will be reviewed after the Term 1 break.
Research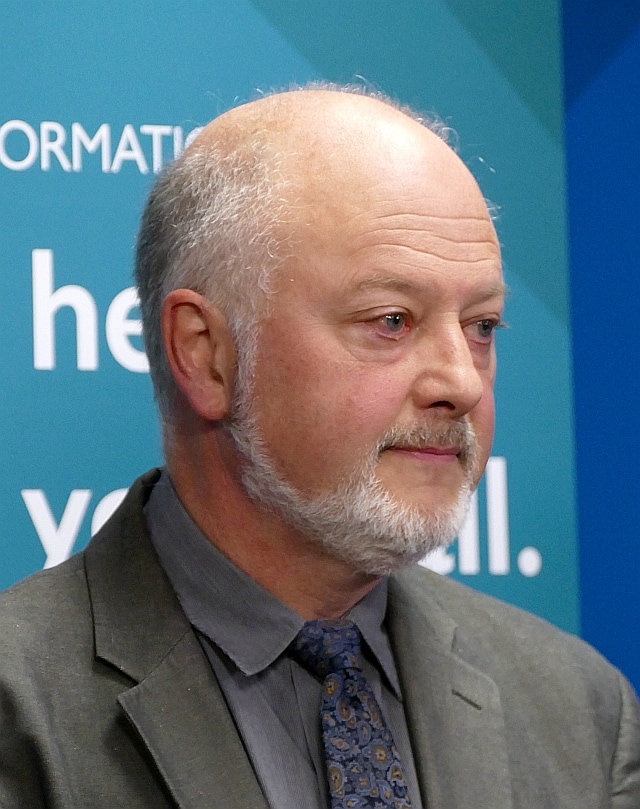 In response to a question from Tasmanian Times, Director of Public Health Mark Veitch said that urgent cooperative research was taking place in Australia.
"There's a research group called APRISE which is a collaboration of a whole lot of universities around Australia that cover a whole lot of fields, from testing to therapeutics, to epidemiology, and even the social consequences of people being in isolation," he said.
"They are rolling out a whole range of research projects to enhance our ability to respond to coronavirus, and to respond to future epidemics like this. There is excellent research being done by good people as we speak."
He also explained that a number of Tasmanian residents, about 250, were among people who had arrived in Australia on recently-arrived cruise ships. All are being traced and contacted.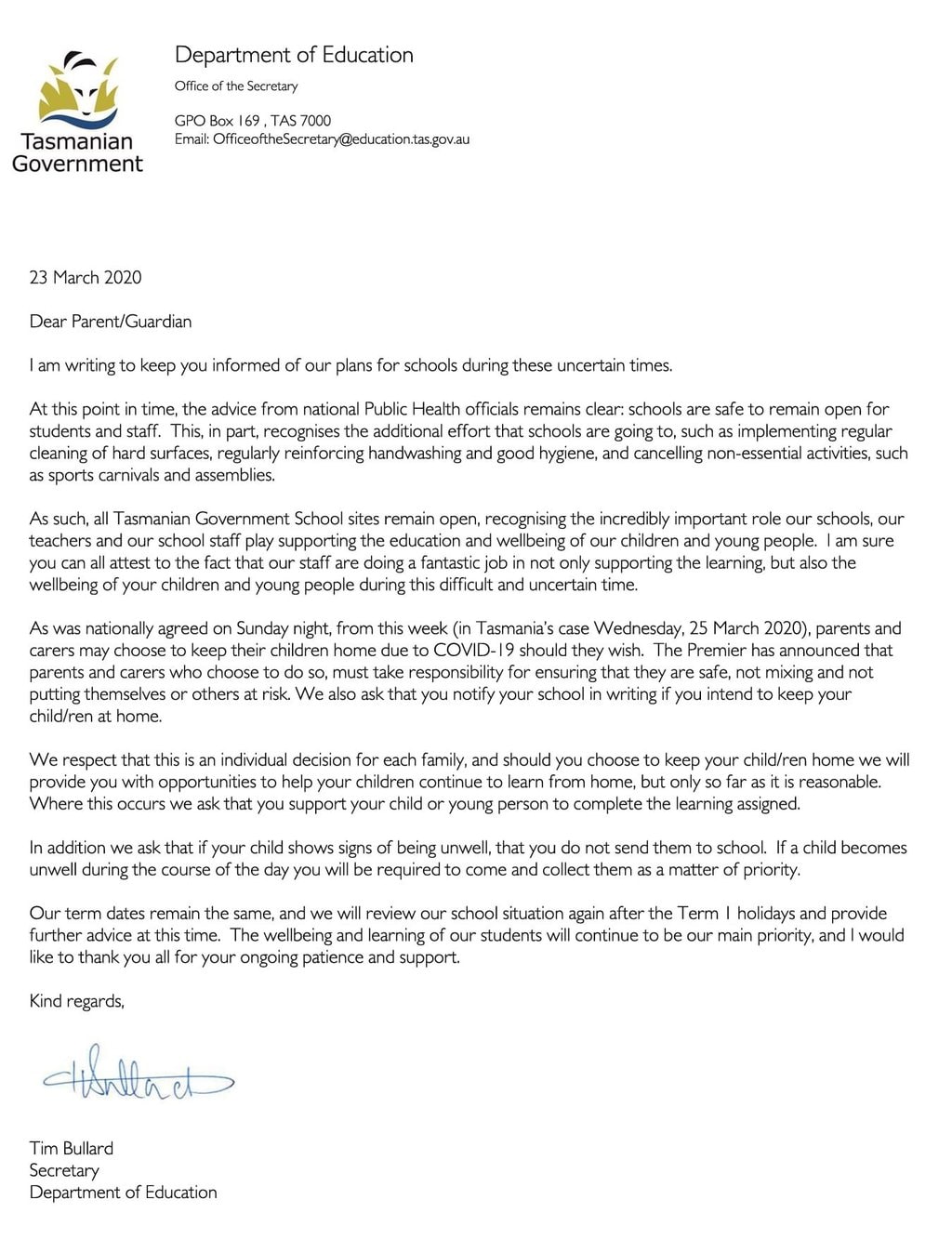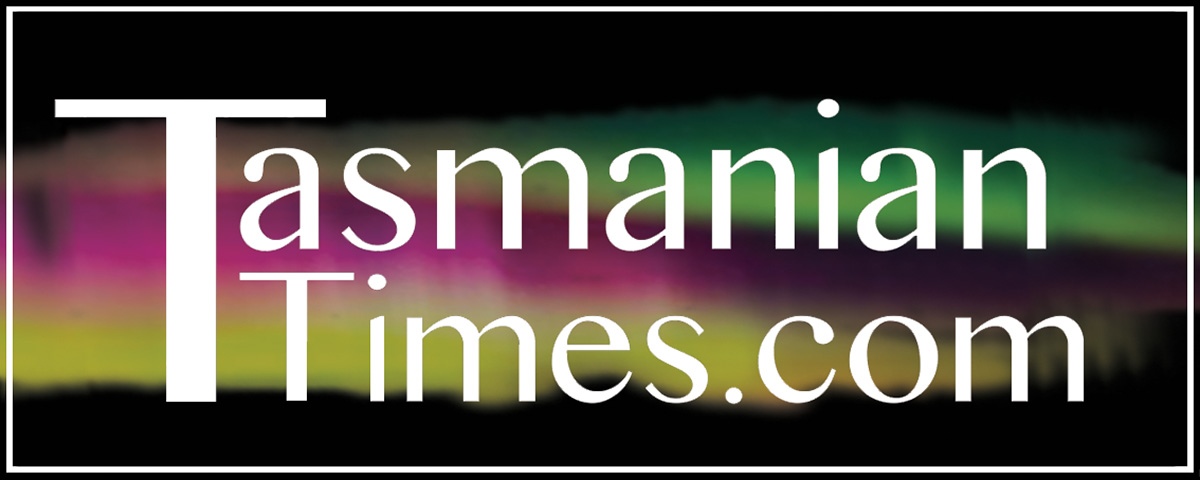 Author Credits: [show_post_categories parent="no" parentcategory="writers" show = "category" hyperlink="yes"]