---
Peter Gutwein is the new Premier of Tasmania. Jeremy Rockliff is Deputy Premier. The pair were sworn-in this afternoon at Government House by Her Excellency Kate Warner AC.
The leadership was not put to a vote as the Michael Ferguson and Elise Archer ticket announced this morning they were withdrawing their candidacies.
At his first media conference the new Premier admitted that the government 'could do better' on health, housing and climate change. He also indicated a steady-as-she-goes approach in most areas in a continuation of what he called 'the government's long term plan'. "I will hard to make sure I continue the excellent work of my predecessor, Will Hodgman," he said.
"Our government will be one of conviction, of compassion, and importantly one of opportunity for all," said the Premier. "Our plan has worked, and I see no need for radical divergence from that plan." Gutwein mostly read from a prepared script and then took questions from the press gallery.
Although the cabinet reshuffle is yet to come, the Premier said he has the expertise and desire to continue as Treasurer. He expects to announce the line-up later in the week and sees Sue Hickey continuing as Speaker. Jeremy Rockliff said he felt he was best-positioned to serve the party by continuing as Deputy rather than challenging for the top job.
Labor leader Rebecca White congratulated the new leadership team and promised to hold them to account. She was skeptical the Liberals could actually show the compassion that Gutwein had said would be a keynote of his tenure. White called on him to reverse budget cuts to frontline services. "First and foremost is the health crisis," she said. "There are challenges in housing affordability, preventing a growing number of people from accessing secure accommodation. My concern is that the new Premier will be too distracted looking over his shoulder working out where Michael Ferguson is."
Greens leader Cassy O'Connor wished the new Premier and Deputy well. She said the new cabinet should have a Minister for Climate Change given the crisis we are facing. "We need to see a new Peter Gutwein as Premier … less of the brawler we see in Parliament, more of the statesman, and someone who is prepared to make change." she said.
The new Premier Peter Gutwein
Peter Gutwein is in his 18th year in Parliament, representing the north-western seat of Bass. He served as Treasurer since 2014 under outgoing Premier Will Hodgman.
He praised challengers Ferguson and Archer for the way they had conducted themselves and said he had long-admired Michael Ferguson. "The team I lead remains united and focused," the Premier declared.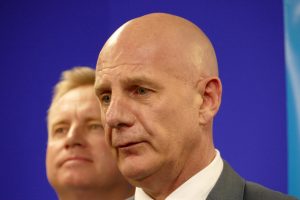 He declared he wanted to 'stay the course' and deliver the policies that the party took to the last state election. Health was a matter of 'elevated demand' and the government consequently needs to do more, as they do on housing.
"A rapidly-changing climate is now the new normal," he said. "We must learn from the recent lessons of the mainland bushfires, and and once again we must do more."
He described himself as a man coming from humble circumstances. "I'm the son of immigrants who came to this country fifty years ago on the promise of a better life."
In describing his vision for the state he echoed Prime Minister Scott Morrison's have-a-go-get-a-go dictum. "No matter where you live, no matter what your background, no matter what your circumstances are, opportunity will be there. And if you want to grasp those opportunities a better life will be within your reach."
FULL TEXT of the Premier's speech.
Tuesday update: Premier Gutwein has appointed Andrew Finch as his Chief of Staff. "Andrew brings significant leadership and policy experience having held a number of senior positions in Government." The appointment follows the resignation of former Chief of Staff, Tim Baker, prior to yesterday's Parliamentary Liberal Party meeting. He will return to his substantive position in DPIPWE where he will continue to undertake an important role in the State Service.
Jeremy Rockliff
Jeremy Rockliff said he was honoured to continue as Deputy Premier of Tasmania and also paid tribute to Will Hodgman. He noted that Hodgman, Gutwein and himself were all elected in July 2002. "We all were elected to make a very positive difference, not only for the lives of the electorates we represent but also for all Tasmanians."
The member for Braddon described the incoming Premier as a big hearted person who would be 'a great Premier for Tasmania'. "We have been a very strong, united government, and that will continue," he stated.
Reactions
"In addition to the attacks on workers in the public sector, Peter Gutwein has been absenior member in a Government that has shown no appetite to tackle the big issues facing Tasmanian workers. These include low wages and rising living costs, casualisation of jobs, high youth unemployment and workers not being able to get enough hours in their jobs to live on. Workers will be watching closely to see if the a new Premier has any policy plans or desire to tackle these issues and bridge widening inequality that is hurting too many Tasmanians." – Jessica Munday, Unions Tasmania Secretary.
"Congratulations to Peter Gutwein on becoming the 46th Premier of Tasmania. Peter has made a huge contribution to the State in his role as Treasurer & I look forward to working with him & his Government closely in the infrastructure & regional development space in the future." – Michael McCormack, Deputy Prime Minister.
"Whenever the Liberal Party has had a conscience vote on LGBTIQ equality, Peter Gutwein has voted in favour, while Jeremy Rockliff has been a strong supporter of LGBTIQ inclusion. We hope to meet Mr Gutwein soon to make the case for him taking strong and effective leadership when it comes to greater inclusion and equity for LGBTIQ Tasmanians." – Rodney Croome, Equality Tasmania.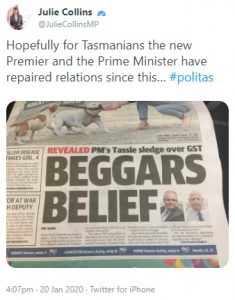 "We look forward to fostering an ongoing and productive relationship with the government, with health firmly remaining a key priority for the Tasmanian community. AMA Tasmania stands ready to provide advice and support to achieve the best health outcomes for all Tasmanians. As a group, we recognise this as a possibility to reset the agenda, a greenfield opportunity if you will." – AMA Tasmania President Prof John Burgess.
"The ARA looks forward to working with Mr Gutwein as Premier to continue the good work that's been done in partnership with the government in the retail sector." Russell Zimmerman, Australian Retailers Association.
"Congratulations to Peter Gutwein on being sworn in today as Tasmania's new Premier, taking over from Will Hodgman. I have spoken to Peter today to wish him all the best." – Scott Morrison, Prime Minister.
"#politas saved from the door to door bible salesman in the cheap suit aka Ferguson." – Greg Barns, Mercury columnist.
"We welcome Peter Gutwein's recognition Tasmania must do more on climate change. Tasmania was carbon neutral but is now going backwards because Tasmania's CO2 emissions are rising again. – Premier Gutwein also needs to reform tourism EOI process in favour of community collaboration, transparency, community-based tourism endeavours & keeping tourism developments beyond national park & world heritage area boundaries." – Tasmanian Wilderness Society.
Quotes from the Premier and Deputy Premier's media conference, Mon 20 January 2020
Q: Have you decided on your cabinet, will there be a reshuffle?
"I will be announcing the new cabinet later on this week."
"There will be minimal disruptions in terms of the new cabinet. I want to have those conversations with my colleagues."
"All of the ministers are doing a good job. They're across their brief and delivering for Tasmanians."
Q: When did you find out that Michael Ferguson was not running?
"Michael came and saw me this morning."
Q: What did Michael Ferguson say to you when he met with you this morning?
"Look, Michael, I want to say this very clearly, is a man of integrity, he is man that has worked enormously hard for this state, and will continue to do so. Michael took the view that in the best interests of the team, of the state, and of the people he represents that there would be no need for a vote this morning, and I thank him for that."
Q: Was there anything that you offered people who might have been undecided to get them over the line and onto your side?
"No I can absolutely say that I didn't. There will be no radical divergence from our policy position."
Q: How will you, as a leader, differ from Will Hodgman?
"Well every leader brings their own style. You've become accustomed to my style over the last number of years that I have been treasurer."
"One thing that I do bring to the table, in terms of the … (long pause) … commitment I will give to the Tasmanian people, one thing that I have a burning desire to do, is to ensure that the opportunities that Will Hodgman worked so hard to create, have been shared across all of the state, and that is a fantastic opportunity that we have as a government. We have the strongest growing economy, we have jobs growth, but not every Tasmanian is able to share in that, and we need to understand what the mechanisms are that are going to provide those opportunities to all people."
Q: To what extent will that style that we've become accustom to, change, now that you are Premier?
"Well with me what you see is what you get. I will continue to do so in the same manner that I have done so in the past."
Q: You will be a northern based leadership team, what changes can we expect?
"I'd like to see that we have some cabinet meetings in the north."
Q: You often frustrate opposition parties by not answering their questions directly – will that style change as Premier?
"Look, I would say that, perhaps they need to work on the questions that they were asking."
Q: Will Hodgman was a popular premier, do you think you have the popularity to get the (Liberal) party across the line?
"Well, he's certainly a better looking bloke than I am, but I will work hard in every corner of the state, to ensure that all people understand very clearly that what we want to do as a government is to ensure that there is opportunity for all."
Q: How are you going to be a compassionate government?
"We need to look at education, and the levers we have available to us."
Q: Is compassion something that has been lacking in your government?
"I think everybody has a degree of compassion, I think one of the key things that we need to do is to ensure that people understand that there's a government, that when they need help, when they need a hand up, that we're there and we are standing firmly behind them."
Q: What conversation have you had with your own family about the pressures of being Premier?
"We'll work together as a strong family unit, to ensure that we can manage the challenges."
Q: Is there any tensions within the party given whats happened over the past week?
"None whatsoever."
"We are a united team."
Q: Are you expecting to bring anyone into the cabinet who hasn't been in there previously?
"I will work through those matters, obviously the Premier leaves and we will be one minister down."
Q: Do you expect Sue Hickey to keep her role as Speaker?
"I do expect Sue Hickey will remain as Speaker."
Q: Do you think being Treasurer and Premier is too much for one person?
"In the past, other Premiers have done so – Lara Giddings, Paul Lennon, Tony Rundle."
"I have an affection for the treasury portfolio, I've held it for a number of years and understand it well."
---
Tasmanian Times contributors have had a casual obsession with Peter Gutwein over the past decade, and we encourage you to explore our archives for all of the articles.
Here are a couple from the archives to get the ball rolling – Gutwein says Piss off to residents & Gutwein refuses to answer questions.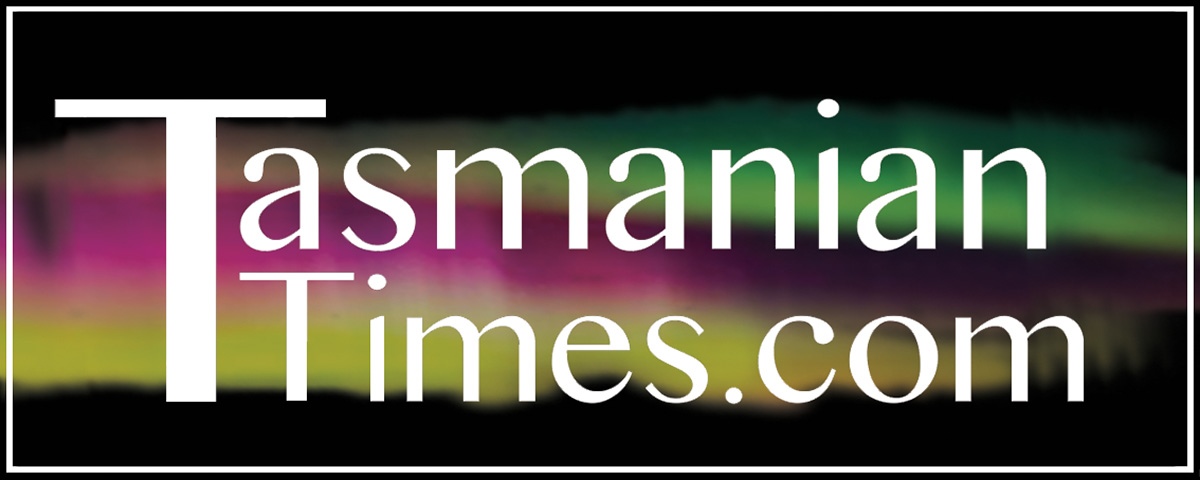 Author Credits: [show_post_categories parent="no" parentcategory="writers" show = "category" hyperlink="yes"]