Editor's Introduction
Coal has had a significant history in Tasmania since the early days of European colonisation.
The race to find, mine, use, and export coal was a priority for many people in Tasmania over the past 200 years, resulting in exploration and mining in pockets across the island.
Over the 20th century, with changes in technology, globalisation, and many other factors, the coal industry in Tasmania fluctuated, according to a 1986 recollection from Mineral Resources Tasmania, which states that:
The Tasmanian coal industry was drastically curtailed in the 1960s when industrial users converted boilers to use oil instead of coal and the railways phased out steam locomotives in preference to diesels. The prime use for the coal was that of a boiler fuel, and with the loss of local markets many small mines were forced to close. In recent years a reversal of this policy, converting boilers from oil to coal feed, has been evident and the demand for coal has grown.
Fast forward to 2019, there has been a recent push for coal exploration plus new mining potential in the Midlands. In October, Midland Coal's managing director, Daniel Macri, detailed on ABC Hobart Mornings about their 89 million tonne coal resource, spread across their mining exploration leases around Woodbury and Jericho.
In recent state parliament sittings whilst debating new coal mines in Tasmania, Minister for Energy & Resources, Guy Barnett, relished in the opportunity to highlight quotes from Bob Brown during the Franklin Dam campaign, which appeared to support the case for generating electricity via thermal coal instead of damming a wild river for renewable hydro power. The Greens members claimed this was before the understanding of the consequences of long-term burning of coal. This typical never-ending political game is a prime example of the ideological divides that harm collaborative approaches to solving problems through parliament.
Despite being part of the Tasmanian economy since the early stages of the European invasion, coal mining has suffered some critical press since the emergence of coal's contribution to climate change. Nationally and internationally, a strong voice has emerged to oppose actions that further contribute to climate change. At a local level, this united voice comes from small, but vocal organisations who do not want new coal mines in Tasmania.
The question for Tasmanian's is – does coal represent life or death? How this question is answered is dependent on personal knowledge and awareness, respect for certain traditions, political bias, willingness to change and adapt, future aspirations for Tasmania and the world, and value for future generations. Each side of the coal debate brings their arguments and their strategic persuasive tactics, and only time will tell what future societies in Tasmania and abroad will believe and decide. Will the consequences be life or death?
---
Coal: Life or Black Death?
Reminisce
I grew up around coal.  In my part of Yorkshire, England, great seams of it ran under the sea, and the mines followed for miles underground.  Often after a storm we would go to the beach and scrape "sea coal" into bags. The coalman came each week with sacks to every house, and it kept us from the cold.  There was iron ore too, and our town, Middlesbrough, was where the Sydney Harbour Bridge was made before being shipped to Australia to be assembled like a giant Meccano set.
All that ended when Margaret Thatcher's Government stopped the subsidies, which had propped up the industry in its dying days, not for any climate reason but because of cold hard economics.  There are very few coal fired power stations in England now, and government regulations will force closures over the next 5 years, so that electricity generation using coal ends by 2025.
Thankfully, nobody's dad dies in his forties with a hacking cough and blackened handkerchief.
Reality
All this came back to me when Scott Morrison hefted a lump of coal in parliament, in a stunt for which it's fair to guess he will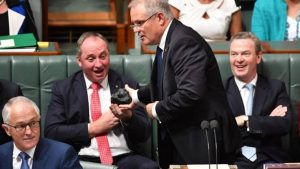 best be remembered. Coal was once a friend to the human race, but those days are gone.  It was never a wholly good friend – the World Health Organisation (WHO) estimates air pollution related deaths – to be seven million deaths per year, many the result of coal use, and these figures were close to that for most of the 20th century.
     "During 2012 – the year in which the data was collected – WHO estimate that 4.3 million global deaths were linked to cooking over coal, wood and biomass stoves. They also estimated that 3.7 million global deaths occurred as a result of outdoor air pollution."  – Medical News Today
And in another report, "coal is responsible for over 800,000 premature deaths per year globally and many millions more serious and minor illnesses." Source: https://endcoal.org/health/
However, it's an entirely different problem – the heating effect of its natural product, CO2, that now alarms many, if not most scientists on the planet.
Coal is carbon, pure, dense and black. Burned cleanly it makes carbon dioxide, the gas that wraps our planet in a warm blanket. Oxygen, by comparison is a kind of summer shirt that lets excess heat escape. On our neighbouring planet Venus, where carbon dioxide predominates, you can melt lead on the surface of the ground.
Burning coal and oil, along with deforestation, and methane escaping the arctic tundra, the earth will heat up by four degrees in the lifetime of children being born today. We know that in such heat, agriculture in most countries will collapse; famine will lead to war, and war to massive refugee flows. One in a hundred human beings today is a refugee, but in 50 years that figure will be one in ten. Both the Brexit disaster, and the Trump ascendancy can be credibly sourced to fears of refugees, and the issue has dominated, even possibly decided, three of our federal elections. This summer, bushfires are making refugees out of some of us as well.
Reverse
If science delivered a miracle, and found a way to capture carbon from the air, compress it densely and put it somewhere safe, with as little energy cost as possible, it would look exactly like coal mining in reverse. It's the ultimate carbon capture, and all we have to do is leave it where it is. If we want a world that our kids can live in, then we shouldn't mine another piece of it. But even a five year plan to shut it down, with no new mines opened, and the workers cared for properly, would be a reasonable start. Currently, thermal coal employs between 0.25 & 0.4 percent of the Australian Labour force (30k to 50k range), and they need help, but so do those in drought starved farms and waterless communities across the country, and people facing death and destruction from fires. (The countries our coal goes to are harmed by it too – one hundred and thirty million Indian farmers abandoned their land in the last year due to climate change. It's almost beyond conception how much trouble we are in).
 Rethink
The coal industry has been good for Australia – just as clearing forests was once 'good'. The problem of being human is of knowing when to stop.  In a static world, we would not need politicians at all, and so conversely, in a world that keeps changing, we need them for one core purpose – to manage transitions. Politicians should manage these transitions by taking on board expert advice and prepare for the future. This is where our leaders have failed in their gravest responsibility, and people are dying.  Coal has had its time; we can no longer afford its terrible cost.
---
Steve Biddulph AM is an author, activist and psychologist who lives in Tasmania. His books include 10 Things Girls Need Most, Raising Girls, Raising Boys; Complete Secrets of Happy Children, and The New Manhood.
---
Additional references, not by article author, of current anti-coal campaigns
Critical voices concerning the future of coal mining in Tasmania have dwindled since the peak of media and protest during the Spring, but there is no doubt that this was just another chapter in the ongoing conversations and tensions that exist between supporters of and those who oppose new thermal coal mines in Tasmania (and beyond).
Greens Parliament ePetition  – October 2019 to March 2020
October 2019 – Motion debating of no new coal mines in Tasmania – (state parliament)
December 2019 – GBE's Analysis December 2019 https://tasmps.greens.org.au/content/public-be-shut-out-transport-planning-if-thermal-coal-projects-go-ahead
The Australia Institute
8 October 2019 – Analysis of Potential Tasmanian Coal Projects
"New coal mine proposals in Tasmania appear to be aimed more at increasing the value of the company and extracting government subsidy than at developing a mine that could deliver value for the Tasmanian community."
https://www.tai.org.au/sites/default/files/P812%20Coal%20in%20Tasmania%20%5BWeb%5D.pdf 
October 2019  – Petition against new coal mines in Tasmania 
The petition has achieved 964 signatures, below is a petition comment from campaigner, Rosemary Farrell:
"I was in the House of Assembly public gallery when the Rosalie Woodruff Green MHA proposed a motion for "no new thermal coal mines in Tasmania". This failed due to complex and silly amendments by Resource Minister Guy Barnett. The Mercury Newspaper gave a short report on the session but made NO mention of the public gallery being full and overflowing into the parliamentary reception room (to watch this on video). I complained to the journalist and later went into The Mercury office in Salamance (sic) Square. Today I have just returned from an inspiring talk by Richard Denniss and David Barlett in the Hobart Town Hall hosted by the Australia Institute's Hobart operative, Leanne Minshull. I heard the response which the Will Hodgman Liberal government and, sadly Labor, failed to give caring and aware Tasmanians. New thermal coal in the Tasmanian Midlands makes no sense whatsoever! Those 100+ present were warm in thanking these 2 speakers for their common sense and commitment to a sustainable and clean future for an improved Tasmanian environment, economy and employment. This new coal mine, if built, already consuming our taxpayer dollars, will produce the very opposite!"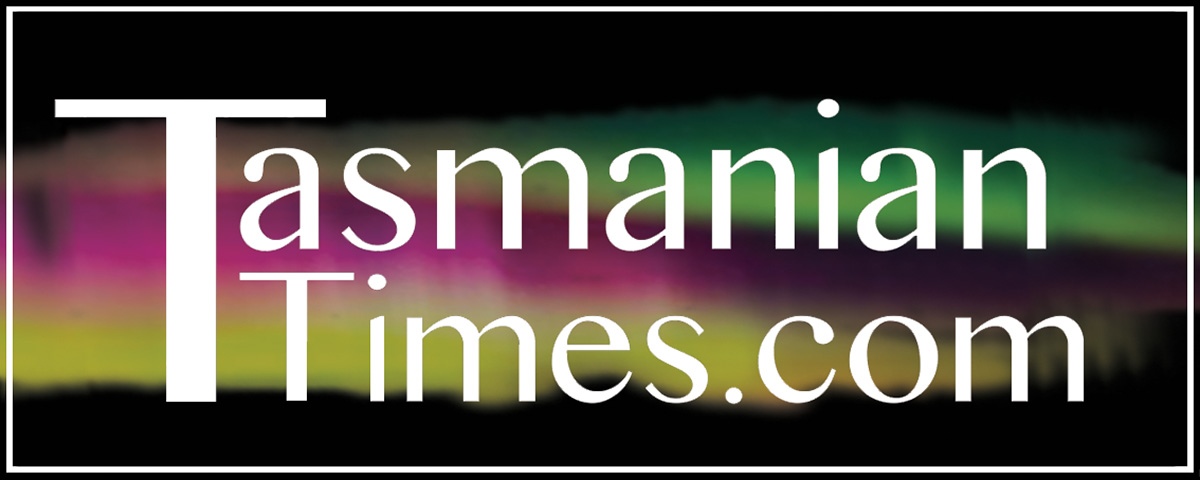 Author Credits: [show_post_categories parent="no" parentcategory="writers" show = "category" hyperlink="yes"]