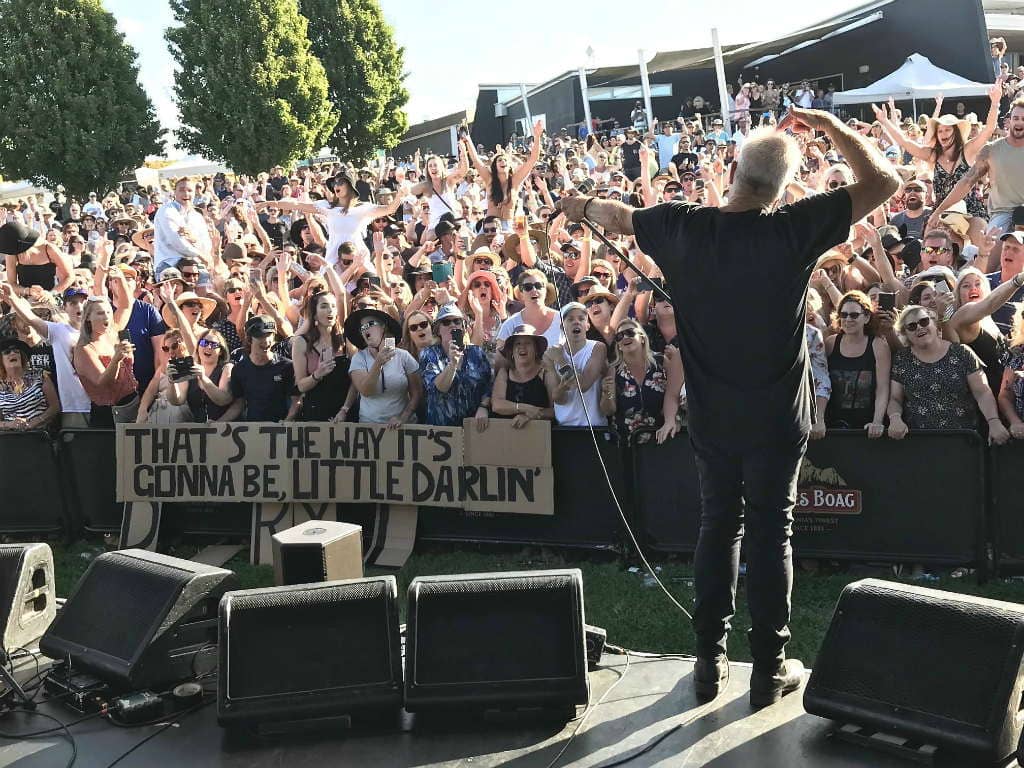 Ghost Rock 2019 Concert in the Vines. Image supplied.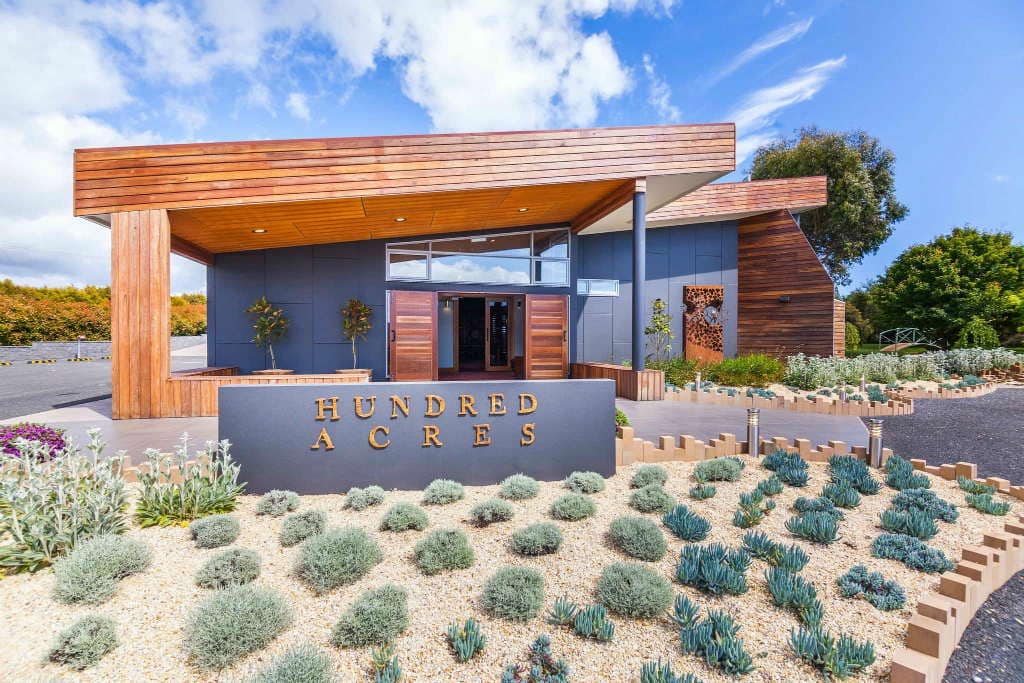 Ghost Rock wine and food centre Hundred Acres. Image: Harriet Stevens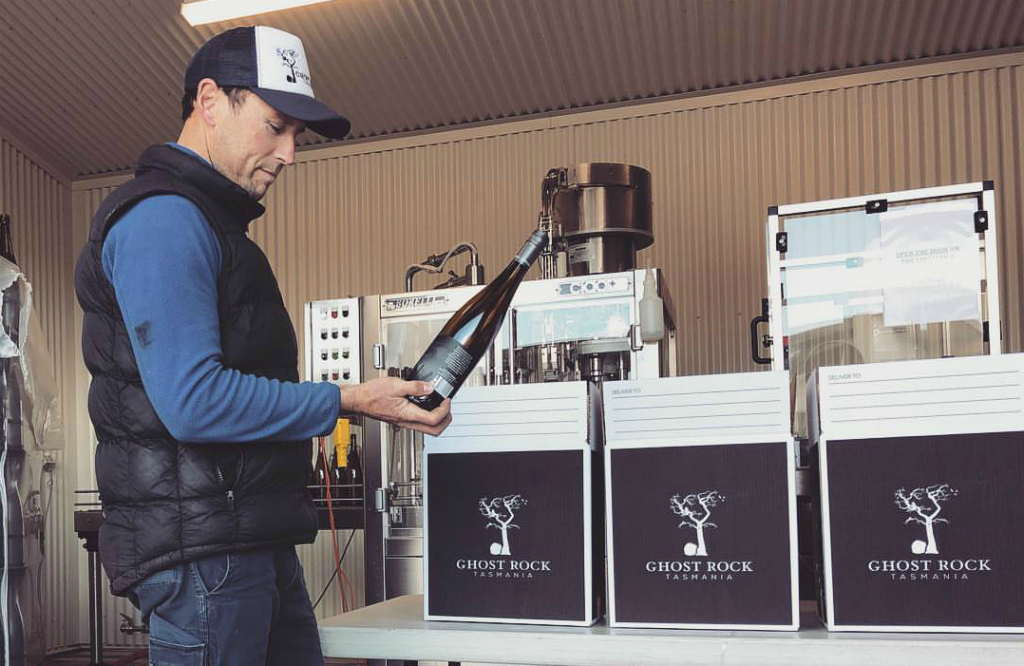 Ghost Rock winemaker Justin Arnold. Image supplied.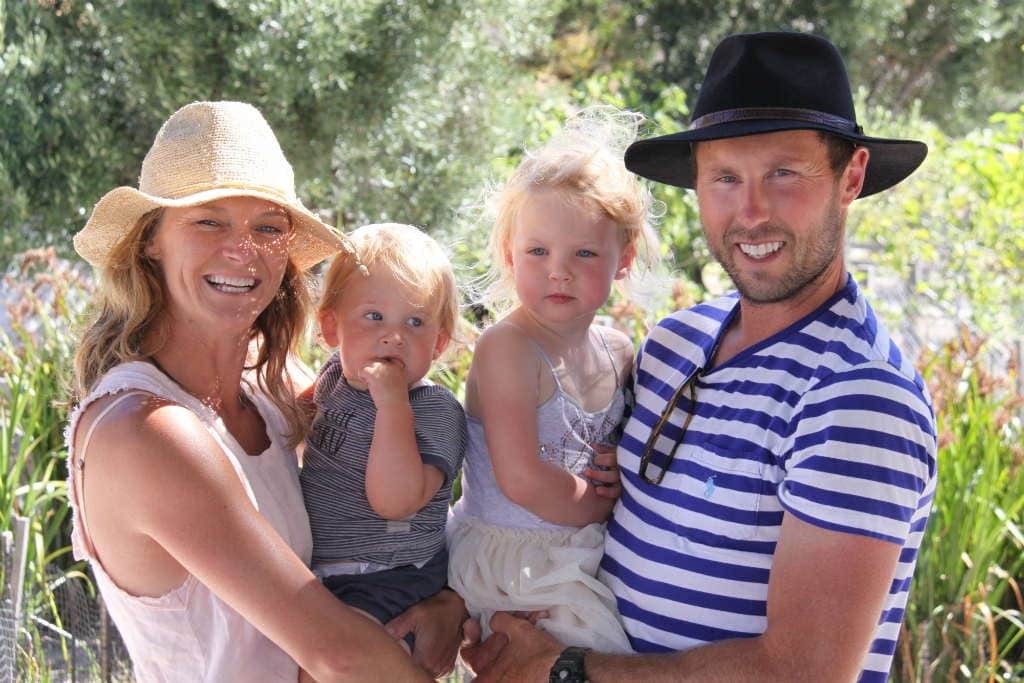 Ghost Rock owners Alicia Peardon and Justin Arnold with daughters Zoe and Poppy. Image supplied.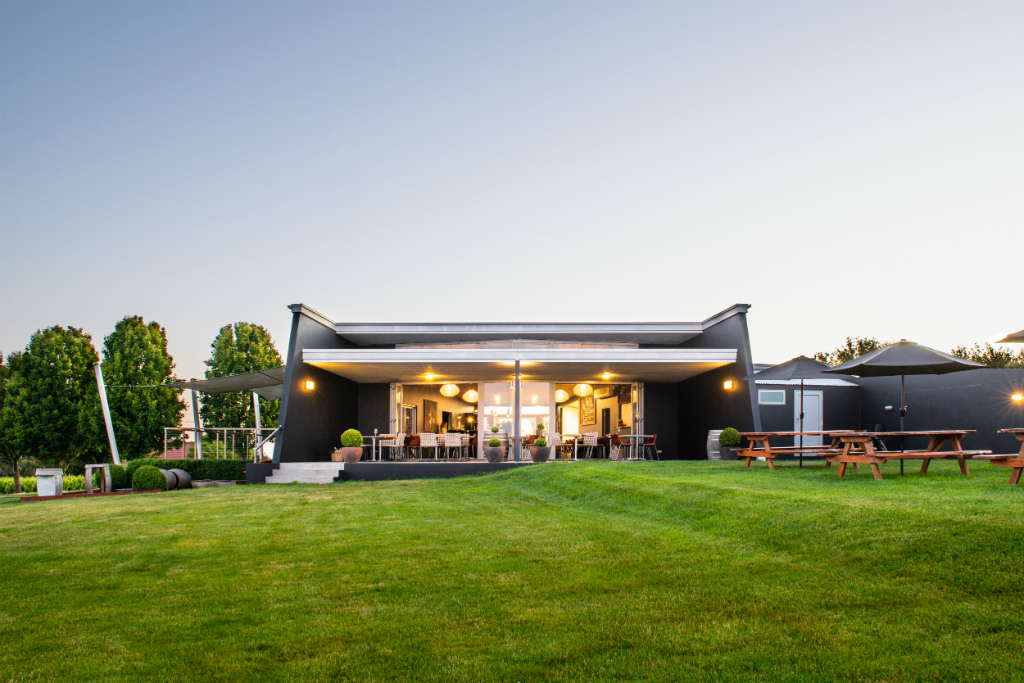 Ghost Rock cellar door and eatery. Image: Jeremy Scott, Think Creative.
Vineyards are renowned for transforming people's lives. One minute they're all sticks and ploughed earth, and the next thing you know they're a maze of shoots and leaves, with grape bunches galore.
For Ghost Rock owners Alicia Peardon and Justin Arnold, that's the fun part.
Then comes the hard slog of making and selling the wines that result from their vineyard harvests.
It's a good thing the couple already knew a fair bit about marketing and business management when they took over the reins of Colin and Cate Arnold's 3ha North West Coast vineyard back in 2015.
Ghost Rock sprang into being in 2001, when its founders purchased a small vineyard called Patrick Creek at Springfield Park, outside Port Sorell. Not only did the Devonport printing business operators change the name of their acquisition, within a few years they abandoned its challenging production base altogether and moved two kilometres west towards Northdown. There they established a 2ha vineyard on a green field site on Port Sorell Road.
Ghost Rock 2.0, if you like, put the embryonic wine business on the main thoroughfare connecting the seaside towns of Shearwater and Port Sorell with nearby Devonport. Construction and opening of an attractive cellar door tasting room on the family's Clairdown Vineyard in April 2006 then pitched the Arnolds into a whole new world of wine tourism.
"When I first finished school, Ghost Rock was pretty much a hobby project for Mum and Dad, and there was really nothing for me to do in the business," Justin Arnold recalls.
"I was heavily involved in sport and fitness at the time. Eventually, I moved into sports marketing and management. With a marketing Masters degree under my belt, I then worked in Melbourne for a big multi-national marketing and advertising company. But as Mum and Dad expanded their vineyard and grew their wine tourism business, my interest in wine science grew with it."
In the Noughties, the one-time Tassie Mariner and AFL footballer chose to enter a new field of play. Arnold completed a Masters degree in Wine Technology and Viticulture at the University of Melbourne. He followed that with a year's winemaking in Western Australia's Margaret River. Three additional years at the Yarra Valley's iconic Coldstream Hills, and a short stint in the US wine region of Los Carneros, just outside Sonoma and the Napa Valley, gave Arnold the confidence and skills he needed for a bold new wine project.
"My first vintage in Tassie was 2010," Arnold recalls.
"I've done every vintage since."
In early 2015, the prodigal wine son moved back home permanently. He had good reason. The preceding year, Ghost Rock's founders devised a business succession plan that would see Justin Arnold establish and then operate North West Tasmania's first commercial winery. The multi-million dollar development was to be augmented by the creation of a food and wine interpretation centre called Hundred Acres, with Alicia Peardon at the helm.
Subsequently opened in June 2015, the centre is seen as a natural extension of the family's vineyard and winemaking operations.
Peardon says the opportunity to create a new focus on food was a way of value-adding, while also providing memorable wine tourism experience for visitors coming to the North West Coast.
"It's essentially a soil-to-bottle and paddock-to-plate program, with the interpretation centre offering workshops hosted by our executive chef, or by guest chefs specially engaged to conduct workshops here of a practical, hands-on nature," explains the former CEO of Jamie Oliver's Australian-based Ministry of Food.
"Hundred Acres also keeps us busy through regular use as a venue for weddings and events. We source much of our produce for these workshops and events from local suppliers and producers."
Almost four years on, Peardon and Arnold's dynamic management of Ghost Rock is reaping handsome rewards for the couple and for the surrounding Cradle Coast tourism region. Between October 2017 and September 2018, for example, more than 320,000 visitors travelled the bustling Cradle Coast Touring Route, a 16% increase on the visitor numbers recorded there by Tourism Tasmania in September 2015.
Ten days ago, another 2,000 visitors voted with their feet to attend Ghost Rock's annual Concert in the Vines, and to drink in the magnificent views offered by the 30ha of vines that have been established on the couple's six carefully managed vineyards.
These are early days for the Cradle Coast business, its owners admit.
"Our oldest vines are only 15 years old," Justin Arnold observes.
"We're only young. This project has barely started."
PICK OF THE CROP

2017 Josef Chromy Riesling $28
Who doesn't love a good Riesling? Tasmania's Tamar Valley has had great success with the variety over the years, and in any given vintage you can count on Josef Chromy to produce a topnotch wine that can be enjoyed in its youth, or kept in the cellar for a decade. The 2018 is a cracker, while this current release won a trophy at the recent Tasmanian Wine Show. It delivers hallmark varietal characters of lemon and lime in a rich and powerful house style. Superb value. josefchromy.com.au

2017 Freycinet Wineglass Bay Sauvignon Blanc $27
Freycinet's Claude Radenti is a quiet, self-effacing winemaker that relies on the quality of his handiwork to do the talking for him. The East Coast property has a terrific track record for producing great sparkling, Riesling and Pinot Noir, but Radenti has shown here that he's capable of adding a fourth string to his company's bow. His discrete use of barrel fermentation adds another dimension to tried and true Savv, while tropical fruit elements steer it well past the hazards of greenness. freycinetvineyard.com.au
2017 Ghost Rock Bonadale Pinot Noir $60
Ghost Rock winemaker Justin Arnold is a man on a mission. His family's North West Coast operations now comprise six vineyards, with small, high quality parcels of Pinot Noir being directed to a program of Single Vineyard releases that began in 2016. Bonadale is a relatively young site, but has produced a very grown-up Pinot with hallmark dark cherry flavours. It shows excellent length and intensity, with a touch of firmness. It should evolve very nicely indeed over the next 5-8 years. ghostrock.com.au

2017 Bream Creek Cabernet Merlot $36
Success with Cabernet Sauvignon in Tasmania is restricted to warm years and well-managed vineyard sites, as the variety needs plenty of heat and sunlight to ripen properly. Bream Creek has developed a loyal following for the variety over the years, and incorporation of a good dollop of Merlot in recent times has brought some richness and refinement to this trusty red. There's plenty to like in the glass. Its curranty, dark fruit characters and moderate tannins will complement succulent Tasmanian roast lamb. breamcreekvineyard.com.au
Hobart's Mark Smith (@thatwinesmith) wrote his first weekly wine column back in 1994. Now more than 1600 features and 24 years later, he continues to chart the successes of Tasmania's small scale, cool climate wine producers with regular contributions to Australia's leading industry publications.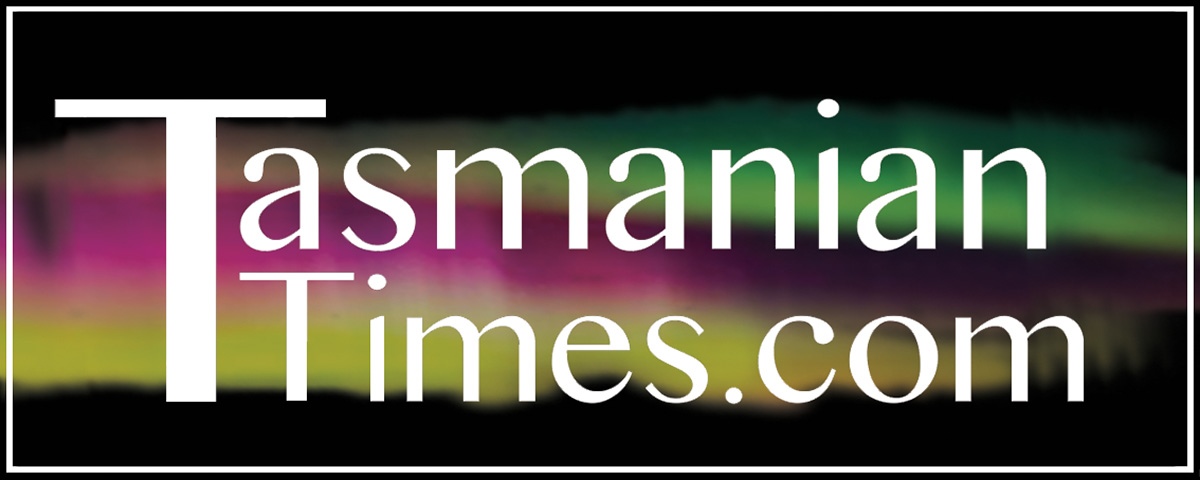 Author Credits: [show_post_categories parent="no" parentcategory="writers" show = "category" hyperlink="yes"]