Smoke menace… clouds of bushfire smoke fill the sky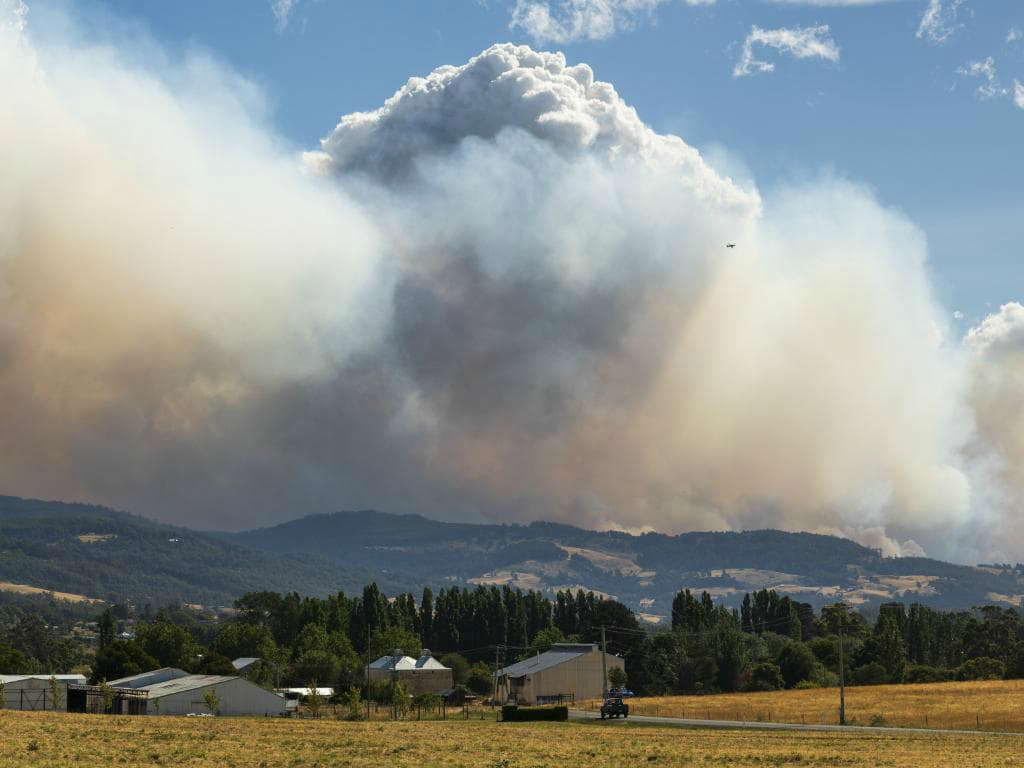 Ranelagh fire, 2019. Picture, Kate Hill Wines.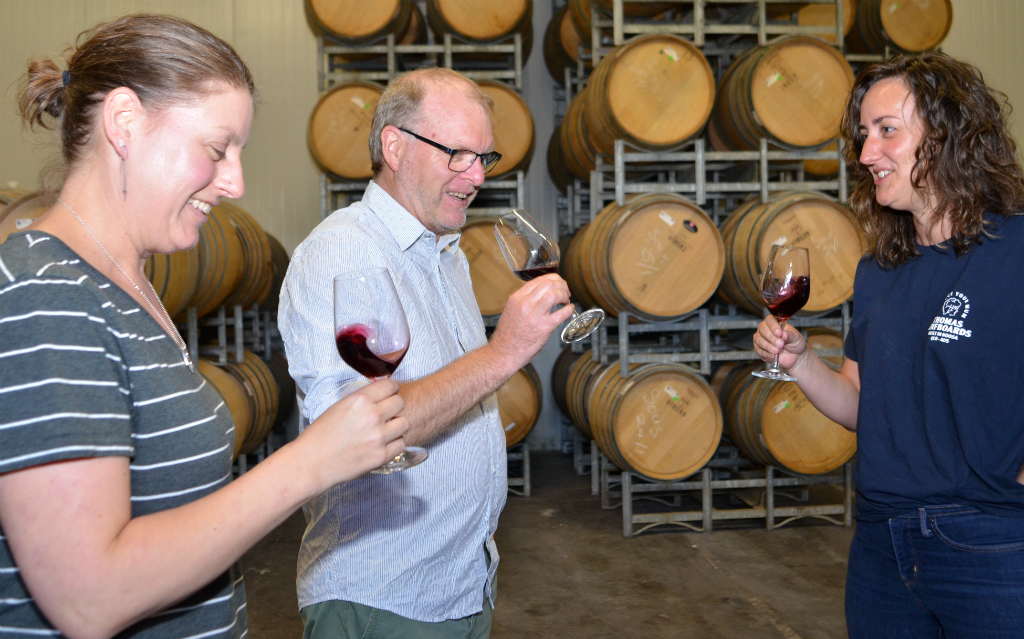 Winemaking Tasmania team … Melissa Fettke, Glenn James, Keira O'Brien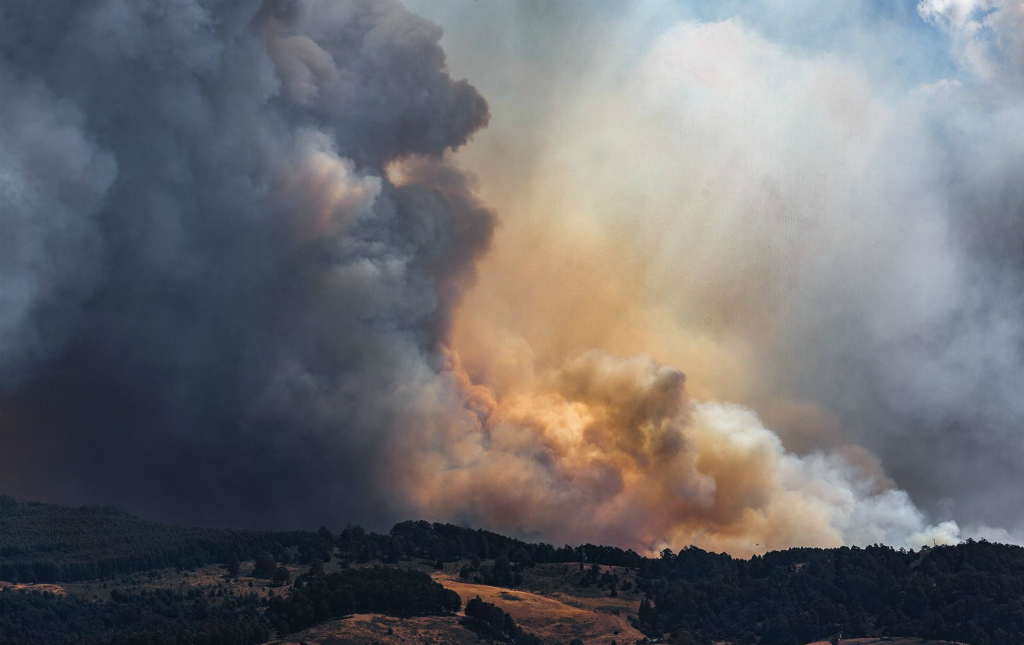 Ranelagh 2019. Picture, Tony Schrapel, freelance photographer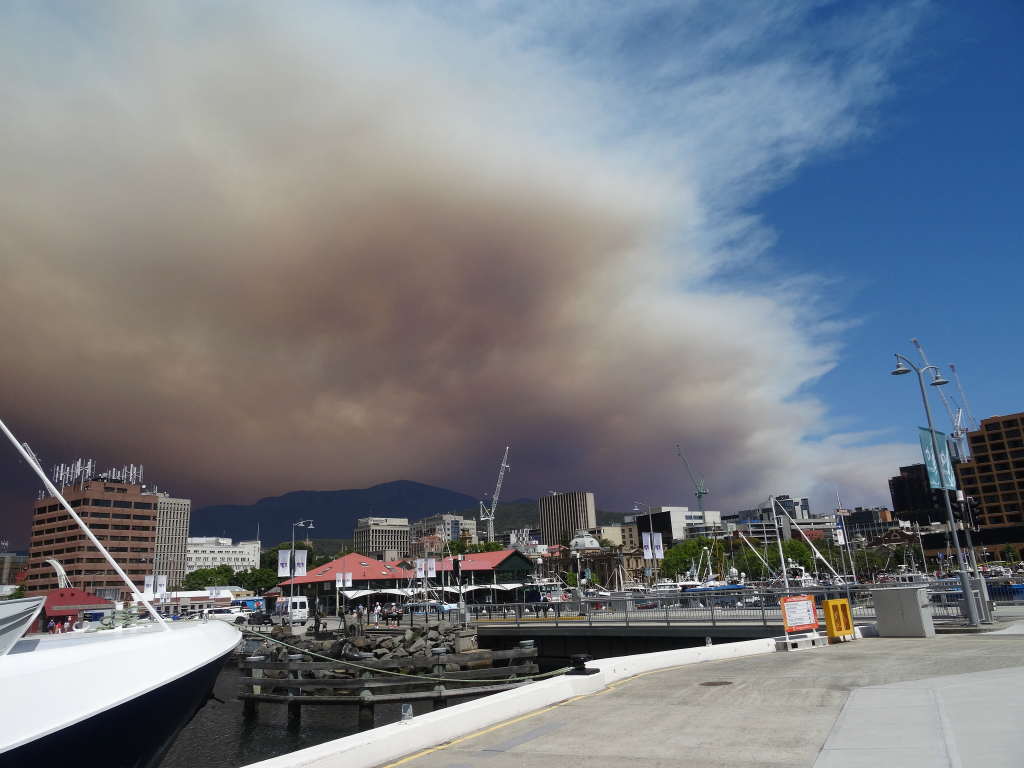 2019 bushfire smoke over Hobart. Flickr – jo.bloor
The critical harvest months of March and April loom large in the minds of wine producers in Australia's south-east, cool climate wine regions.
With that comes the prospect that grapes may not be the only things that are crushed during vintage 2019. So too may be the aspirations of vineyard owners who have laboured long and hard in the face of this summer's abnormally low rainfall and record-setting heatwaves.
In the country's coolest wine State, Tasmanian producers have had to contend with additional viticultural risks – those created by prolonged bushfire activity.
The island has already experienced one of the most severe bushfire seasons it has seen since the dramatic summer of 2013. Back then, high winds and extreme temperatures helped create a firestorm that destroyed 65 properties in the township of Dunalley and another 15 properties at Boomer Bay, overlooking the Tasman Peninsula.
Copping's Yaxley Estate lost three quarters of its vines to the massive wall of fire that swept through the 5ha organic vineyard in early January 2013, despite valiant efforts to save it by local residents and volunteer firefighters.
This week sees the start of a concerted effort by Tasmanian wine producers to tackle a far more insidious threat posed by bushfire activity – smoke taint.
"When vineyards and grapes are exposed to smoke, this can result in wines with undesirable sensory characters that are usually referred to as smoke tainted," explains Winemaking Tasmania's chief winemaker Glenn James.
"These smoke tainted characters may be described as smoky, burnt, ashy or medicinal. Consumers have been shown to respond negatively to smoke tainted wines. In some extreme instances, smoke tainted wines may even be commercially unsaleable."
Today, the Adelaide University graduate and former Treasury Wine Estates group winemaker will welcome producers from across the State to a special information session on smoke taint being held at Winemaking Tasmania's production facility at Cambridge, outside Hobart.
The aim of the forum is to communicate to wine producers the science behind smoke taint in wine grapes, in order to better understand the potential risks of smoke taint affecting their vineyards and the wines that will be made from them this vintage.
Working in partnership with the Australian Wine Research Institute and Melbourne's La Trobe University, James and his production crew at Winemaking Tasmania have developed what they believe is a world's best practice framework for addressing the necessary sensory and scientific assessments of potential smoke taint. These assessments will be applied to all wine grapes received from the company's client vineyards across that State deemed to have experienced some risk of smoke taint.
"This framework will comprise four independent components, which when collated, will provide the best available information with which to make an informed judgement or decision on the likely presence and effect of smoke taint on any grapes suspected of being tainted," James adds.
Sharing the podium with him will be Con Simos, AWRI Group Manager (Industry Development and Support); Mark Krstic, AWRI Business Development Manager; and Dr Ian Porter, Research Professor (Animal, Plant and Soil Sciences) at La Trobe University.
Dr Porter has had extensive research experience in Victoria. He heads a four-year project being undertaken there by the Australian Government Department of Agriculture and Water Resources. Recent published work reveals smoke taint has cost the national wine industry as much as $100 million per year since 2003.
Dr Porter arrived in the State early last week and spent time setting up smoke detector equipment at several locations in the Huon Valley.
The equipment takes frequent accurate measurements of smoky air samples, in order to measure the complex set of volatile phenol compounds that are produced when trees and other vegetative matter are burned in bushfires.
These compounds can compromise grape and wine quality by coming into contact with individual grape berries and then latching on to grape sugars during their fermentation into wine.
Wind speed, wind direction and distance from the burn are believed to be key environmental risk factors. Brief exposure to dense fresh smoke also appears to be more of a problem than prolonged exposure to peripheral smoke haze.
However, exact causes of detectable smoke taint are still not fully understood.
"When the levels of particular phenols found in smoke get to high levels in grapes, they affect wine quality," Dr Porter told ABC Radio Hobart last Tuesday.
"But you can also get elevation of phenol levels that don't cause smoke taint. The wine is quite safe to drink. (Why?) We don't have all the answers yet."
Hobart's Mark Smith (@thatwinesmith) wrote his first weekly wine column back in 1994. Now more than 1600 features and 24 years later, he continues to chart the successes of Tasmania's small scale, cool climate wine producers with regular contributions to some of Australia's leading industry publications.
PICK OF THE CROP

2018 Holm Oak Arneis $28
Tasmania's Tamar Valley produces outstanding Chardonnay and Riesling, but excels with other whites, too. Holm Oak planted the State's first Arneis vines there over a decade ago, offering talented winemaker Bec Duffy opportunities to display her skills and creativity with the northern Italian grape. Attractive minerality combines with white nectarine and almond notes to provide delicious, fresh drinking. holmoakvineyards.com.au

2018 Moores Hill Pinot Rosé $30
Rosé wines are perfectly suited to relaxed, al fresco entertaining over summer. The style is a halfway house between white and red, with ripe berry flavours being augmented by a very fine tannin grip and lively, palate cleansing acidity. A light chill will highlight its vibrancy. Winemaker Julian Allport gets full marks for meeting all those requirements, with bonus points for cleverly judging a neat balance between dryness and fruit sweetness. Smart work. mooreshill.com.au

2017 Frogmore Creek FGR Riesling $29
From the mid-1950s to the late-1970s, medium-dry wines marketed as Spatlese Riesling comprised some of Australia's best ever whites. Changes in fashion then saw them almost disappear, only to re-surface two decades later with more politically correct labels like FGR (40 grams/litre residual sugar). Frogmore Creek's off-dry wine is refined and citrussy, with well handled acidity giving it versatility alongside Thai seafood dishes and Euro-styled patés and terrines. frogmorecreek.com.au

2016 Stefano Lubiana Ruscello Pinot Noir $110
In 2017 and 2018, Gourmet Traveller Wine named Stefano Lubiana Wines as Southern Tasmania's Cellar Door with Best Food. A meal there with UK wine writer Anthony Rose suggests it features some of Tasmania's best reds. Officially sold out, Ruscello is one of three small volume, single block Pinot Noirs available at the family's wonderful Osteria. It is astonishingly good, with finesse and fruit intensity combining to deliver a knock-out wine. Remember: drool nicely. slw.com.au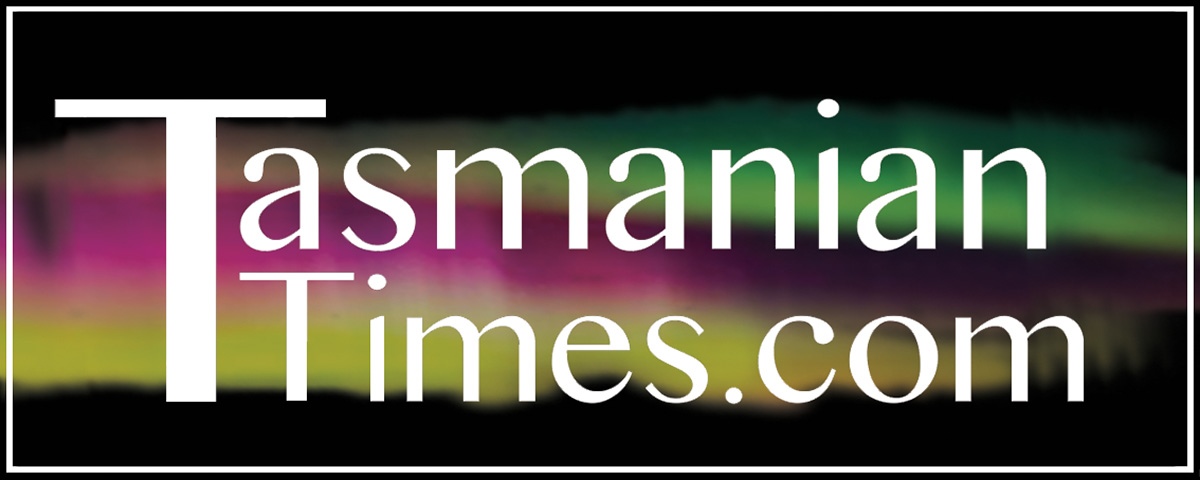 Author Credits: [show_post_categories parent="no" parentcategory="writers" show = "category" hyperlink="yes"]