International judge Anthony Rose in action at the 2019 Tasmanian Wine Show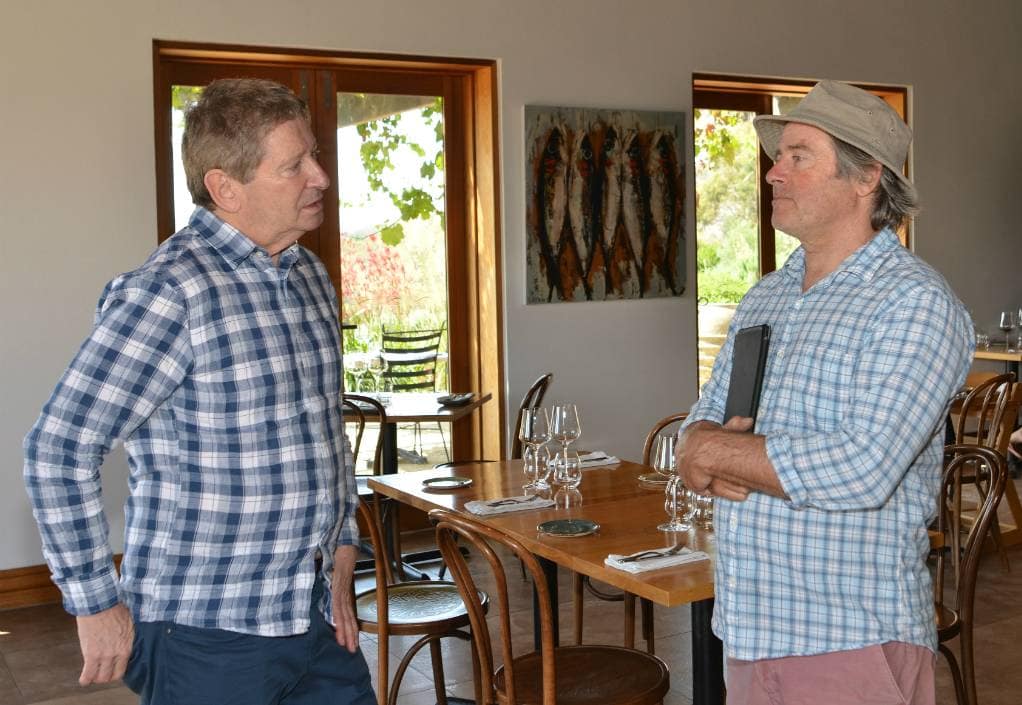 Anthony Rose and Steve Lubiana engaged in sparkling conversation at Stefano Lubiana Wines
With literally thousands of products vying for attention on restaurant wine lists and retail shelves, choosing a good bottle of red, white or sparkling can be a real challenge nowadays.
Want sound advice from the experts? Buy Tasmanian.
That's the conclusion you reach after hearing chairman of judges Huon Hooke and fellow panellists Anthony Rose and Courtney Treacher recall their four days of wine assessment at the 29th annual Tasmanian Wine Show held in Hobart recently.
"This year's show was a terrific event," Hooke observed at the Awards Presentation Dinner, held at Riversdale Estate on January 18th.
"There were 460 entries this year – an increase of more than 10% on 2018 – and we saw wines from 83 producers… I think the results that we got were quite outstanding. It was one of the highest quality shows we've ever had in Tasmania."
Importantly, sheer weight of numbers isn't the ultimate measure of a wine show's success, Hooke went on to explain.
"I have judged in a lot of wine shows over the years, but I seldom see the high standard of winemaking that exists in Tasmania. This year, it was especially noticeable that there were very few sub-standard wines in any class, and even fewer faulty wines. The medal strike-rate (the percentage of medal winners) in each class was extraordinarily high.
"It was an amazing result, reflecting not only the quality of the viticuture, the maturation of the vines, the sorting out of what vines do best in each region – and on what sites within each region – but the quality of the winemaking that has matured over the years."
Visiting UK author and international wine show judge Anthony Rose chimed in with his observations on sparkling wine quality during his 15-minute address to the 100 or so industry stakeholders that attended the dinner.
"As far as I can see, I think one of the best things you're doing is to have sensible pricing here," he said.
As someone who had visited the State three times during the past 30 years, Rose noted the 'amazing changes' that had taken place in the wine industries that had developed in both England and Tasmania over that period.
"I read somewhere that Tasmania has been referred to as 'the little Champagne.' Excuse me. I'm from England and we're 'the little Champagne.'
"That said, I think it is going to be very interesting to see the cross-pollination that will occur in the future between England and Tasmania in terms of sparkling wine. Quite clearly, right now, we are the two regions outside of Champagne that are producing sparkling wines that are as good as Champagne, if not better than Champagne. And that will continue for some time to come.
"We both have very interesting and comparable recent sparkling wine histories. Importantly, you haven't made the same mistakes here that we've made in England, which was to start by using the wrong grape varieties. Up until 1988 – which was when Nyetimber Vineyard came along and planted Chardonnay and Pinot Noir – we were using these dreadful 'Frankenstein' Germanic varieties that really did not step up to the sparkling wine plate at all.
"The sparkling wine industry in England then is really only about the same age as Tasmania's. Our industries are also about the same size. After three waves of plantings, we're now up to 2500 hectares in England, and you have about 2000 hectares or so in Tasmania. That equates to around six million bottles each year.
"The industry in the UK has a plan to get to 20-25 million bottles by 2040. If you could do the same here, we could then go sabre-rattling to the Champenoise and really tell them where to get off," Rose jested.
In addition to judging at the Tasmanian Wine Show, the man from Southfields, London, spent four days touring the State as a guest of the Department of State Growth and Wine Tasmania. The well-respected author of a new book entitled Sake and the Wines of Japan (Infinite Ideas, 2018), Rose is now undertaking research for a new work on Champagne and the sparkling wines of the world.
It should provide great reading for fans of Tasmania and its cool climate wines.
STOP PRESS: A public tasting of all gold medal wines will be held on Thursday 14th February (4.30pm to 6.00pm) at Pinot Shop, Paterson Street, Launceston. Tickets at the door cost $30.
PICK OF THE CROP

NV Stefano Lubiana Brut Reserve $39
Champagne and sparkling wine expert Tyson Stelzer named this wine among Australia's best in 2018, calling it a benchmark style for southern Tasmania. Tasmanian Wine Show judges agreed in 2019, awarding it their trophy for Best Non-Vintage Sparkling. Steve Lubiana has achieved an incredible feat – offering Champagne quality at an Aussie battler price. Freshness meets complexity. slw.com.au

2017 Freycinet Riesling $28
Freycinet's Claudio Radenti is one of Tasmania's wine gems – quiet, genuine, unassuming but endowed with unquestionable integrity and gravitas. You could say that of his Rieslings, too. Often superb quality wines, they are rarely showy youngsters but their tremendous poise and intensity sets them up for the long haul. Tasmanian Wine Show gold winner and a must-buy for Riesling fans.  freycinetvineyard.com.au

2018 Gala Estate Pinot Gris $30
Gala Estate on Tasmania's East Coast opened their Tasmanian Wine Show trophy innings at the 2016 event with three trophies for their top-flight Constable Amos Pinot Noir. In 2019, this delicious young white provided Adam and Grainne Greenhill with another well deserved trophy – for Best Pinot Gris. Rich and sumptuous, it offers a neat mix of ripe pear and spice characters with a lingering finish. galaestate.com.au

2017 Pipers Brook Vineyard Pinot Noir $50
This striking blend from five different Kreglinger vineyards in northern Tasmania earned one of the five gold medals awarded in a 'very exquisite class' of 74 Pinot Noirs from the 2017 vintage, entered in January's Tasmanian Wine Show. That followed a Sydney gold in July 2018, confirming the company's steady progress in refining and elevating its intense and very stylishly crafted Pinot portfolio. kreglingerwineestates.com
Hobart's Mark Smith (@thatwinesmith) wrote his first weekly wine column back in 1994. Now more than 1600 features and 24 years later, he continues to chart the successes of Tasmania's small scale, cool climate wine producers with regular contributions to some of Australia's leading industry publications.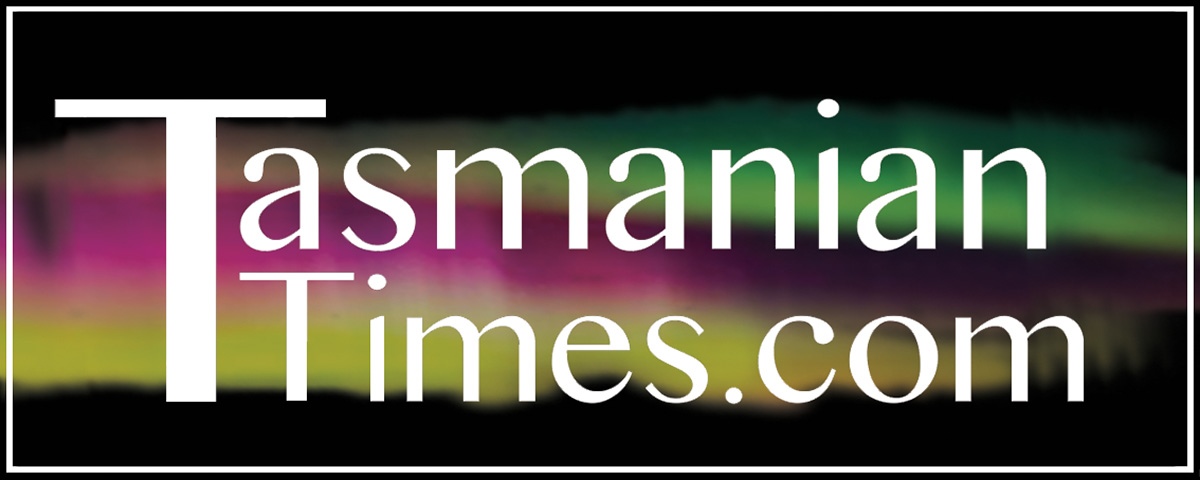 Author Credits: [show_post_categories parent="no" parentcategory="writers" show = "category" hyperlink="yes"]