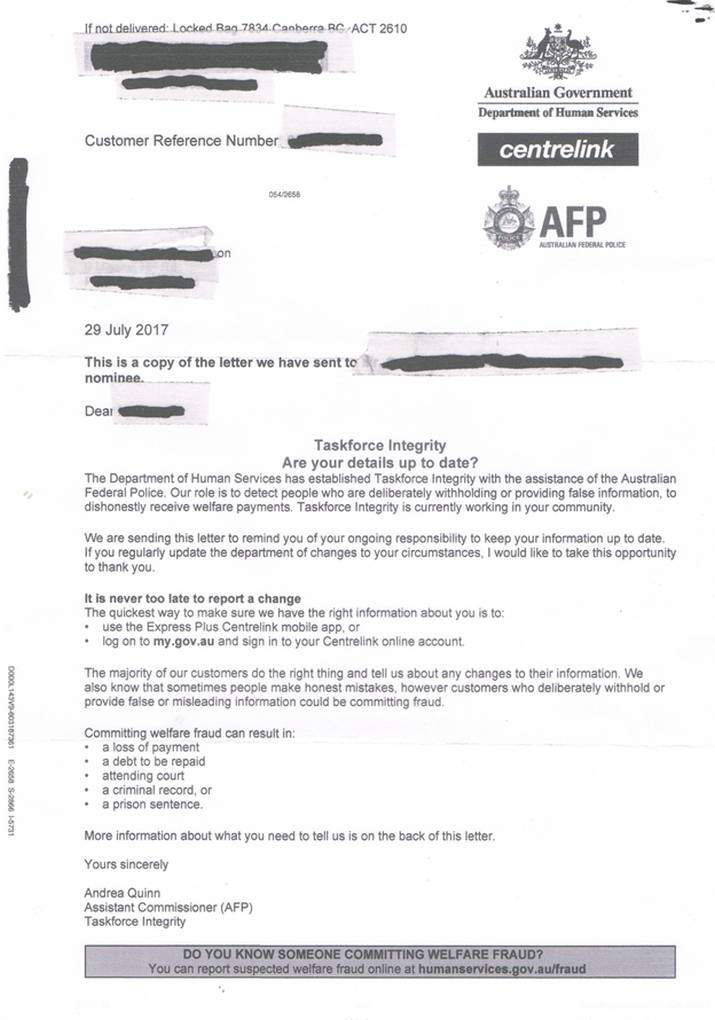 The Centrelink robot … see Kim Peart's 'Dawn of the Centrelink Robot' HERE
The present Australian neo-Liberal government has a clear focus as to who their many enemies are.
It's not just the past Labor government's deficit ( which the Liberals have now exceeded ) but also the ABC and above all, the poor.
But do not fear, to deal with the enemy of the "insidious, undeserving poor" they have the resources of the "Department of Human Services" plus their ex-back-slapping treasurer Joe Hockey and ex-refugee internment camp Commandant, Scott Morrison leading their attack.
For their fight they have an arsenal of armory including increased doctors' fees for pensioners, reduced subsidies for medication, increased waiting time for eligibility for the dole, abolition of penalty rates and – just you wait – many more.
In April last, the right-wing government organised a robotized distribution of alleged over payment notices by Centrelink to some of the poor but this has now been trumped by a recent letter, informing Centrelink payment recipients that …
"The Department of Human Services has established Taskforce Integrity with the assistance of the Australian Federal Police," Our role is to detect people who are deliberately withholding or providing false information to dishonestly receive welfare payments. Taskforce Integrity is currently working in your community ."

WOW!

Not only that, on the letterhead are the emblems of the Australian Government, Centrelink and you guessed it, the emblem of the Australian Federal Police.

For those who remember a time where failure to report enemies of the state was punishable by death or internment in concentration camps, this letter heading appears as threatening as the German orders headed by the Eagle and Swastika during the German occupation.

Bad memories will be awakened by the notice on the bottom of the Centrelink letter where it states in highlighted and capital letters,

DO YOU KNOW SOMEONE COMMITING WELFARE FRAUD

You can report suspected welfare fraud online at humanservices.gov.au/fraud

*Bob Lubout is a 'climate refugee' from Perth WA. He has been living in Penguin on the NW coast of Tasmania with his artist partner Sandra and their two dogs, Tessie and Winston since 2013. Bob's work history includes owning his own TV/Electronic repair and maintenance business for many years and travelling all over the world servicing and installing analytical mining and industrial X-ray equipment. He went to Curtin University as a 'mature age student' where he gained a Bachelor of Education majoring in Sociology and Politics and then onto Murdoch University where he gained a Graduate Diploma of Science and Technology Policy. This led him to a career as a TAFE lecturer, teaching electronics, maths, science and aviation. Bob now enjoys spending his time researching and writing and flying around this beautiful part of the world in a small aircraft.