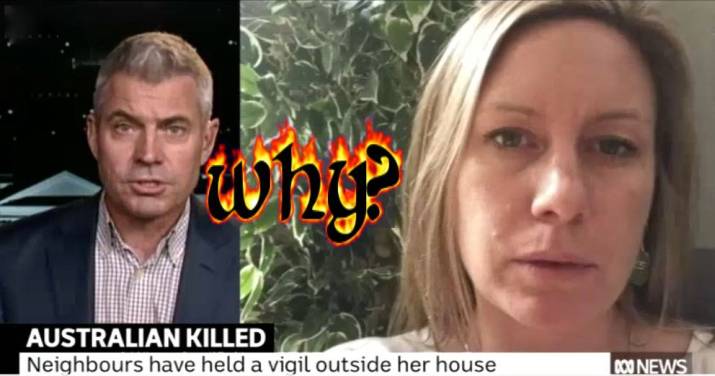 *Image: ABC News report of the tragic police shooting of Justine Damond from Sydney, in the United States … http://www.abc.net.au/news/2017-07-17/australian-woman-justine-damond-shooting-sparks-tears-confusion/8716414
There are moments in life when we are shocked into asking "Why?"
In Australia we have a pretty high level of trust when it comes to dealings with the police.
If we heard a disturbance near our home, we may call 000 to have the police check it out.
We may go out when we see a police car turn up, even in our pyjamas, because we would not expect to be threatened by the Police, or shot and killed by a police officer still sitting in his car.
In a Herald Sun report we can read of a tragic police shooting of an Australian woman in the United States. ~ "The shocking final moments of how an Australian woman was shot dead by police in the US have been revealed. Justine Damond, from Sydney, was killed by police in south Minneapolis on Saturday night. According to the Star Tribune, three sources said Ms Damond was in her pyjamas when a police car responding to a 911 call pulled into the alley behind her family home in the city's Fulton neighbourhood. Ms Damond, 40, approached the driver's side door in her pyjamas and spoke to the driver. The officer in the passenger seat then shot Damond through the driver's side door, according to the publication. No weapon was recovered at the scene." [1]
Ordinary citizens in two nations around the World are now asking "Why?"
"Friends of a Sydney woman killed in the US on Saturday night say they cannot understand why someone who taught meditation and "spread love" was shot by Minneapolis police. Justine Damond, a qualified vet and yoga instructor, was remembered as an "angel on earth" and "a guiding light" by loved ones." [2]
Do we need to start living in fear of the police?
Not in Australia, surely?
We may continue to trust the police to come to our aid to help in times of danger, but is this trust changing to a state of fear?
The Australian government has opened the barrack gates for Australian soldiers to take action against terrorists in our midst. [3]
So what happens when we call the police because of a disturbance behind our house, but this crosses paths with someone else calling in the army?
Would we be safe?
Consider the recent report on Australia's special forces solders ~ "More than anything, what these new revelations demonstrate is that somewhere along the way our military, and our special forces in particular, simply lost the ability to effectively counter an insurgency. Once upon a time, "the best of the best" were trained to operate like "phantoms" — treading lightly and prudently alongside their local partners. Today, however, the legacy they will leave behind in the minds of Afghans will be a brutal one. The civilian cost of the Special Operations Task Group's operations in Afghanistan is now apparent for all to see." [4]
The disturbance over our back fence may be in the outside shed of a neighbour's house, in the playroom of a 14 year old chatting about a video game on the Internet, picked up by the ADF's new cyber arm, misunderstood, and acted on like a military operation.
"… the information warfare team — part of a $400 million investment — would be authorised to conduct self-defence and active defence operations, as well as offensive attacks. It will see the integration of existing cyber teams across several agencies." [5]
Should we speak to the police, do we now wonder if that conversation may be our last, even in Australia, as we return to the convict days when the military ran the colony with an iron fist?
Don't go to a fancy dress party with a toy gun, or those who just turned up dressed as police, may have real guns.
"A man and a woman have been taken to hospital after being shot by police while attending a swingers costume party at a nightclub in Melbourne's CBD. Police said they received reports a 35-year-old man was armed with a gun in an upstairs room during a Saints and Sinners "erotic fancy dress" Ball at Inflation nightclub on King Street shortly after 3:00am. Critical Incident Response Team officers said they tried to talk to the man when they arrived, but he pulled out what they thought was a handgun from his pants and aimed it at police. The man was then shot in the torso by police. A woman also suffered a gunshot wound to the leg. Superintendent Lisa Hardeman said venue security were told earlier in the night the gun was fake, and that information was given to police. "But when the firearm was levelled at police, and police asked the man to drop it and he didn't, police at that stage were not aware whether it was an imitation or a firearm," she said." [6]
We can ask why people end up getting shot by the Police, in places and circumstances where they thought they would be safe, but if we wish to stay alive in this new and dangerous environment that is rising around us, we may be best advised to take cover, and hope the ADF special forces are not about to arrive because of a tip-off to the Cyber arm.
Like the Centrelink robot issuing random debts that have entrapped honest Australians, that incidence response may be generated by a robot, and Police and the ADF may turn up with armed robot drones. [7]
Is this darker future that we are now entering being driven by politicians out to save a buck and prove how tough they are?
With leadership contention between Abbott and Turnbull reaching crisis point, why would the Prime Minister use a backdrop of ADF special forces to announce that the barrack gates are open again, just like the old convict days, only with more powerful weapons to use against us, if for any reason we are perceived as a threat to the nation, or simply standing in the wrong place at the wrong time.
"Prime Minister Malcolm Turnbull has been criticised on Q&A for having masked soldiers in the background while making an announcement on Monday about increased defence powers during domestic terrorist attacks." [8]
Why is a super ministry being set up ~ "The new proposed ministry is likely to mirror the Home Office in the United Kingdom which oversees all domestic security agencies." [9]
While we can, while we still feel relatively safe in our Great Southern Land, should we be asking "Why?"
REFERENCES ~
[1] Australian woman killed by US police in Minneapolis
Staff writers, 17 July 2017, Herald Sun
http://www.heraldsun.com.au/news/world/australian-woman-killed-by-us-police-in-minneapolis/news-story/8436a3e44ec239b49c5b5bc1aa927a1f
[2] Australian woman Justine Damond's friends, family shocked and confused by police shooting
Riley Stuart, 18 July 2017, ABC News Online
http://www.abc.net.au/news/2017-07-17/australian-woman-justine-damond-shooting-sparks-tears-confusion/8716414
[3] Terrorism: Prime Minister Malcolm Turnbull gives Defence Force power to help police during attacks
Louise Yaxley, 17 Jul 2017, ABC News Online
http://www.abc.net.au/news/2017-07-17/australian-defence-force-given-call-out-powers-terrorism/8715878
[4] 'Land, kill and leave': How Australian special forces helped lose the war in Afghanistan
C August Elliott, 12 July 2017, ABC News Online
http://www.abc.net.au/news/2017-07-12/how-australian-special-forces-helped-lose-the-afghan-war/8700272
[5] Elite Australian Defence Force unit tackles cyber crime
Tom Minear, 30 June 2017, Herald Sun
http://www.heraldsun.com.au/news/elite-australian-defence-force-unit-tackles-cyber-crime/news-story/707ae015ff830686bf1b0c5a98fbf1c7
[6] Man shot by police after 'pulling out gun' at swingers costume party in Melbourne nightclub
ABC News Online, 9 July 2017
http://www.abc.net.au/news/2017-07-08/two-shot-by-police-at-melbourne-nightclub-costume-party/8689944
[7] See my story on the Centrelink robot ~
Dawn of the Centrelink Robot …
Kim Peart, 24 January 2017, Tasmanian Times
http://oldtt.pixelkey.biz/index.php?/weblog/article/dawn-of-the-centrelink-robot/
[8] Q&A: Was the PM using special forces soldiers as a political prop?
Daniel Colasimone, 18 July 2017, ABC Newsx Online
http://www.abc.net.au/news/2017-07-18/qanda-pm-questioned-over-soldiers/8716818
[9] Federal Government to propose Home Office-style super-ministry to oversee border security
Louise Yaxley, 17 Jul 2017, ABC News Online
http://www.abc.net.au/news/2017-07-17/government-to-propose-home-office-style-super-ministry/8716830
*Kim Peart is an observer of events in Australia, around the World, and beyond, living in Ross, Tasmania.
• Guardian: Minneapolis protests as police chief quits over Justine Damond shooting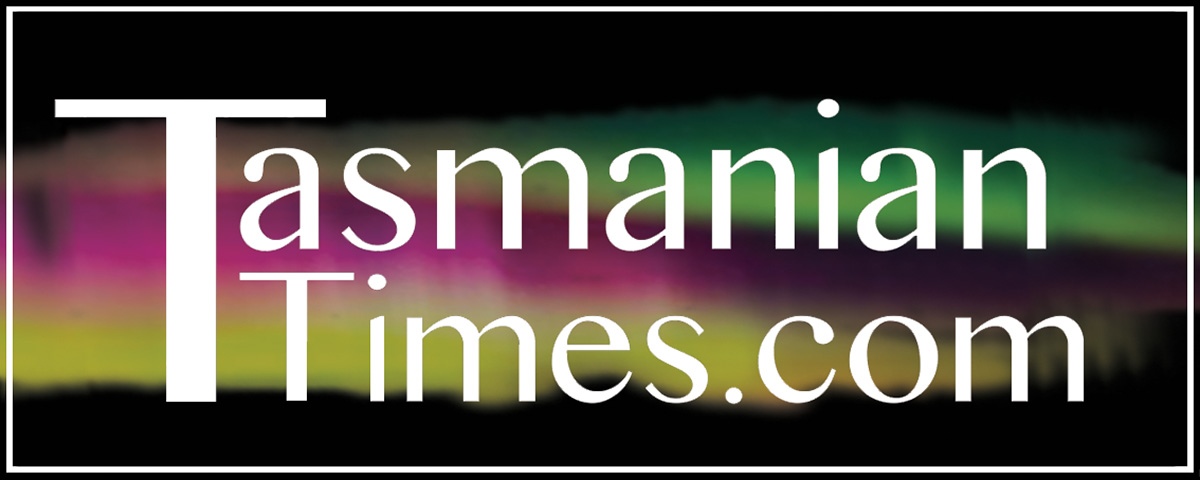 Author Credits: [show_post_categories parent="no" parentcategory="writers" show = "category" hyperlink="yes"]