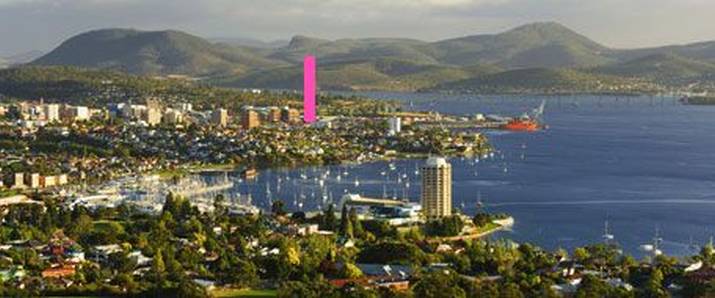 *Pic: An anonymous architect's portrayal of the scale of the hotel …

Pic: Digital image of Fragrance Group's proposed hotel at 28-30 Davey St, Hobart.
First published May 6
Flanagan hits out at skyscrapers …
Rome, Paris, Amsterdam, and Barcelona, have one thing in common. They do not allow the construction of high rise buildings in their cities' historic heart. No one can argue their tourism or name has suffered in consequence.
And as they have a history we have a history; as they have a culture we have a culture, and it is for us to honour these things, to act as guardians of our world, and to create a new world that draws and builds on them.
There is a square mile of old Hobart — Battery Point, Salamanca, the wharves, South, West, and North Hobart, the Glebe, and the city centre — that forms Australia's only remaining historic city.
The development that has occurred, whether good or bad, has taken place within the human scale of our old city. The still remarkable nineteenth-century streetscapes remain, and a medium height, urban and urbane city, remarkable and much loved, has arisen.
In a world of ever more, ever larger megacities, Hobart's charms become increasingly unique, valuable, and, for those business minded, profitable. As Melbourne and Sydney hurtle towards an increasingly difficult high-rise future, Hobart's competitive advantage grows.
There are some fine examples of recent remarkable commercial developments that enhance our city, from the Macq1 Hotel opposite the Art School — already receiving international praise even before opening — to the recently approved "super green" 30-apartment complex in Bathurst St, which developers claim will be the world's first carbon-positive apartment building.
But with the proposals by the Singaporean company, Fragrance Group, to build two skyscrapers in Hobart we are confronted with something unprecedented in the history of Hobart.
These buildings come out of Singapore culture — the buildings you get on a tiny island crowded with many people. They do not come out of Tasmanian culture. Their immense height and bulk do not respect or compliment a cityscape where the tallest building is 14 storeys.
The proposed buildings — in the few notional images we have been allowed to see — are not iconic buildings, but stock standard corporate towers like thousands of others elsewhere, from Las Vegas to Singapore to the Gold Coast, blinged-up kitsch. They are best described as Singapore by the sea.
Unremarkable, unfriendly, and ugly, they show no respect for our city. Much of the waterfront will be thrown in shade. Erratic wind patterns will become the norm in our city's most popular district.
Yet even if the designs were brilliant, even if Renzo Piano or Norman Foster were the architects, it would not overcome the fundamental problem: they are not the scale of our city. They are out of all proportion to any other building in Hobart.
Our future great buildings need to be of our city, not hostile to it, developed in imaginative, contemporary and dynamic ways that make our world richer and our lives better. The Fragrance high rises do none of these things.
And that is why we face with these high-rise buildings not simply the choice of approving them or not. We face a much larger, more fundamental choice about what city we wish to live in, a medium rise city or a high-rise city.
It is the choice between building a 21st century city drawing on all that is best and unique about our world, or replacing it with a pitiful clone of what is ubiquitous everywhere else.
Because if these high rises are built, an unstoppable precedent is set, and more high rises will inevitably follow.
Now is the moment we decide what sort of city we want to live in; when we decide whether we want a city on the European model, with medium-rise buildings, or whether we want to live in a sad and broken town where the scale and amenity of our city is destroyed, and where the distinct nature of the old town will have begun to crumble, leaving the waterfront looking like a mouth of meths-rotted teeth.
There are further problems with these proposals, not the least being that even at this stage the public is not being told the truth about them.
While the media has, for example, been told the massive Collins St high rise will be 75 metres high, internal Council documents reveal it to be 83 metres high, and 92.3 metres high to its tip, 30 metres higher than the Tasman Bridge.
The Davey Street proposal, at 120 metres high (47 metres higher than Tasmania's tallest building, the 73 metre, 14 storey casino), has been revised from 40 storeys to 41 storeys.
What else haven't we been told?
Well, this for one.
According to the Straits Times of 26 April 2017, Koh Wee Meng, the Singaporean founder and owner of Fragrance Group, was recently fined $12,000 "after constructing a wall to fence off his Toh Crescent property without planning permission." The fine itself was unusual, given "Koh could have been fined up to $200,000."

The two-tier wall surrounding Koh Wee Meng's house that sits at the junction of Toh Crescent and Toh Avenue. Straits Times PHOTO: FELINE LIM. HERE: Tycoon Koh Wee Meng fined for putting up wall at home.
Will Koh Wee Meng show more respect for Tasmanian planning laws here than he does in his home of Singapore?
And what happens if the high rises are approved but Fragrance Group chooses to make changes never approved and simply cop fines?
Stopping these high-rise horrors won't be easy. Koh Wee Meng is one of Singapore's richest men, a major Asian developer, powerful and influential.
He has recruited as his Tasmanian public relations spokesperson, Tony Harrison. A tough streetfighter, Harrison first made his name as a spinner for Robin Gray, later for his work for Gunns, and made headlines for his involvement with the shadowy 'Tasmanians for a Better Future' group that in 2006 ran a highly controversial campaign at the height of the pulp mill controversy.
Yet what is best and most beautiful in our city exists because Hobartians stood up for it again and again in the past against such money and power.
This folly is up there with so many other destructive delusions we have stood firm against over generations: the demolition of Battery Point and Salamanca, the destruction of North Hobart, the flyovers along Davey Street, Oceanport.
Each generation should make its mark. Our challenge is to make it well, and not as an act of vandalism.
On Monday night alderman will vote on whether to grant landlord approval for Fragrance Group to use Council land associated with their massive Collins St high rise. If you care about our city's future, ring your aldermen and tell them not to grant this approval. It is the first chance we have to tell developers what we wish our city to be — and not to be.
It's the moment we decide whether we want to create a city that is celebrated around the world, or whether we make one that bears the scars of other places, its old city a broken mouth dominated by a handful of oversize buildings and the dust that blows in the shadows between them.

*Richard Flanagan, above, a writer, won the 2014 Man Booker Prize. He lives in Hobart and is one of the finest authors of his generation …
• change.org: Sign a Petition Here
• Examiner: TICT releases infrastructure wishlist
• Mercury: New state planning laws a disruptive attack on communities
• Mercury: Essie Davis says Hobart will be sad and broken with skyscrapers
• Cassy O'Connor: Hobart City Council Needs to Reject Inappropriate, Ugly Skyscrapers
EARLIER on Tasmanian Times …
• Gutwein's wrecking ball over land use planning continues
• First Day: The Future of Hobart … ? Architects' scribblings found in a dumpster …
EARLIER in Mercury …
• Mercury: $250m hotel developments to change Hobart skyline TWO hotels that will change the Hobart skyline are planned by the Singaporean group Fragrance …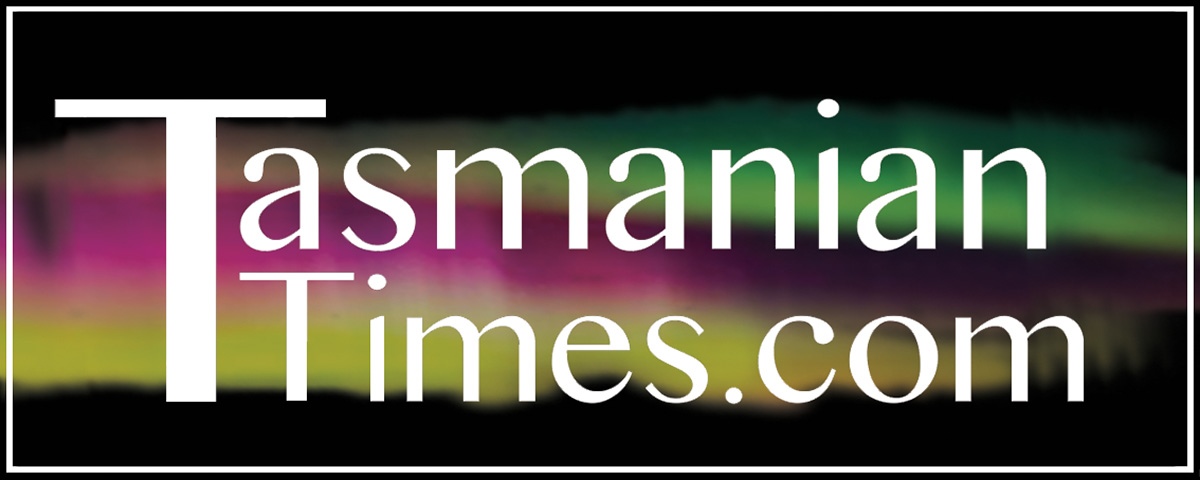 Author Credits: [show_post_categories parent="no" parentcategory="writers" show = "category" hyperlink="yes"]