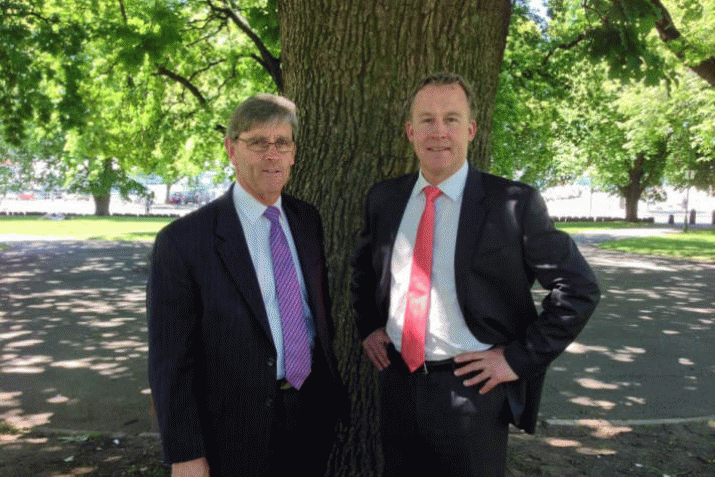 *Pic: The buck (should) stop here … Premier Will Hodgman with Forests Minister Paul Harriss …
TUESDAY February 2 …
• Mike Buky … Dear Friends of a Dying Lapoinya …
Last Wednesday, I entered the 'Business Area' and stopped work for barely 30 minutes before the Sergeant pictured below asked me to 'move on' or risk fine and arrest.
Calling the destruction depressing inadequately expresses the deep sadness I felt as hundred year old trees soaring into the canopy were brought crashing down with a shock that was felt a kilometre away.
Slow-growing, hence small but beautiful species such as myrtle that are a carpenter's dream are not considered commercial so will be wood-chipped for Chinese paper mills. I even saw a Tasmanian Devil in the path of the bulldozers skittle out of the forest.
This was a living and breathing forest that, after fire bombing with napalm dropped by helicopters will be converted into a WWI wasteland – and for what? To keep a forest bureaucracy and forest contractors in taxpayer-subsidised employment. How in the 21st century can a developed country such as Australia, which is threatened environmentally from so many aspects, commit such an appalling act? When our local Liberal MP was told that there are nearby residents who would suffer from the smoke during the burning, she stated, 'Well, they can always move away for three days'.
While the Tarkine and other World Heritage areas burn, instead of Forestry Tasmania helping to control the fires, they continue to destroy forests and add 700 tonnes of CO2 per hectare felled.
The logging in Lapoinya can still be stopped if enough people protest on the ground.
Drive 3km along Nelsons Rd (off Lapoinya Rd) and follow the signs to 'Parking' to find out how you can help.
Entering the 'Business Area' as I did does NOT incur a penalty as long as you leave as directed BUT it will stop work while you are there.
Regards,

Mike
• From the Bob Brown Foundation …
The Federal Minister for the Environment has washed his hands of the needless destruction of 49 hectares of the forest to feed Malaysian logging corporation Ta Ann's veneer mill.
The first people arrested defending the Lapoinya Forest were two locals: a grandfather and a young mother who told me through tears that "they are destroying the soul of the Lapoinyan community".
These were also the first arrests under the Hodgman government's draconian anti-protest laws, specifically designed to stymy people from peacefully defending Tasmania's forests and wildlife. Minister for Forests Paul Harriss' bullying and counter-productive invasion of Lapoinya may not be unrelated to the resignation of Forestry Tasmania's CEO and 3 board members this week. FT's efforts to get green certification risk being scuttled by Harriss' wanton destruction of this protected species' habitat.
But the invasion of the Lapoinya Forest is far from over. I was arrested on Monday for making a stand with the local community. More arrests are occurring. But you can help save Lapoinya and all Tasmania's life-filled forests too, without being arrested.
Please contact Prime Minister Malcolm Turnbull, or your nearest federal Coalition MP, and appeal for Lapoinya and its threatened forest and species. Let Tasmanian Premier Will Hodgman know what you think.
And please make a donation to our campaign for Tasmania's beleaguered forests including this gem at Lapoinya: HERE
Thank you for making a stand with me for Lapoinya and the living Earth.
Bob Brown
• The Japan Times: Tasmanian bush fires raze ancient World Heritage forests
• SMH: 'Like losing the thylacine': Fire burns Tasmanian Wilderness World Heritage Area
• CNN: Did ancient Egypt suffer from climate change? "(It was) a crucial period when the Old Kingdom started to face major critical factors: The rise of democracy, the horrific impact of nepotism and the role played by interest groups," he says, adding that climate change also played a role in bringing an end to not only the Old Kingdom empire, but those in the Middle East and Western Europe at that time. Within 200 years of the Queen Mother's death, the Nile no longer flooded and drought consumed the kingdom.
• ABC: Tasmania fires: First images of World Heritage Area devastation emerge, show signs of 'system collapse'
• ABC iView: Earth On Fire: A Catalyst Special
MONDAY February 1 …
• FT directors quit …
They've all gone.
All Forestry Tasmania's independent directors including chairman Bob Annells are heading for the exits.
Tony Ferrall, head of Treasury, is the sole remaining director of the Board which signed off last year's Annual Report.
Directors come and go but Boards work best if there's some continuity.
The three replacement directors are mainly from forestry academic backgrounds. Which is a little strange given that FT is chronically insolvent. Reconstruction and marketing skills might've been handy around the Board table?
Instead Minister Harriss has stacked the Board with forestry academics and is proceeding with his plan to sell immature hardwood plantations to cover operating expenses for the next 2 years so that it can concentrate on unprofitable native forest operations.
It does suggest the impotence of the Board given Mr Ferrall's role as de facto Voluntary Administrator.
It also suggests the government may have a plan for FT after the hardwood plantation sale? It's just that they're not telling us….yet. That plan is less likely to include running FT as a business. Why else would you stack the Board with academics if you were going to restructure FT into a sustainable business as Messrs Harriss and Hodgman once promised?
Read more, FT directors quit, Tasfintalk HERE
• Are Forestry Tasmania's losses even greater?
Assumptions of 80 to 90 year rotations in native forests formed the basis for estimating the future sustainable volumes that could be extracted from our public forests as part of the forest peace process.
It would be a pure coincidence if the sustainable rotations led to a sustainable FT.
If timber is sold with inadequate margins as FT does then it won't be financially sustainable regardless of whether the forests are sustainable.
Yet FT claims logging a small poorly-managed production forests like Lapoinya after 60 years of regrowth yielding only 245 tonnes of timber per hectare is a profitable exercise.
It's only profitable if a lot of costs are ignored.
When FT personnel talk about a coupe being profitable they are usually oblivious to the fact that from a strict accounting viewpoint, profits now accrue each year with changes in the value of trees brought to account
Harvesting a coupe is a cash realisation exercise not a profit making event. This is a crucial distinction which most fail to grasp.
The following is a discussion about the subjective assumptions that underpin the way FT values its forest estate which is the crucial determinant of whether FT is profitable.
Perhaps losses are even greater?
A slightly different set of assumptions would make FT irrevocably unsustainable as it currently operates.
Read more, Are Forestry Tasmania's losses even greater, Tasfintalk HERE

Paul Harriss meets the Ta Ann locals on a trip to Malaysia …
• Ta Ann dossier …
This is a background note on the financial aspects of Forestry Tasmania's (FT's) major customer Ta Ann Tasmania, as the new FT Board contemplates its future.
With a lack of continuity on the Board and uncertainty whether FT management will relapse back to the unfortunates ways of the Kloeden/Gordon era, this is a quick summary for new FT directors of tawdry Ta Ann, its profit-shifting activities and how it operates as part of a group which dwarfs FT in size and profitability yet is funded by the Australian taxpayer and partly underwritten by an insolvent FT.
Read more, Ta Ann dossier, Tasfintalk HERE
• Mercury Talking Point: … The loss of Bob Annells, who decided not to seek another term as FT chairman, needs to be viewed alongside the investor confidence trashing actions of Mr Harriss in revelling in an old-style "greens versus loggers" fight over a forestry coupe that no one thinks is particularly important, except the locals who live alongside it. Mr Annells is a highly experienced and politically savvy director with a strong track record in Victoria and Tasmania of understanding how government enterprises work. He has said nothing about his decision not to seek another term. Sometimes silence is the statement itself. Other directors who retired at the same time as Mr Annells include highly capable businessman Rob Woolley. The FT board has lost serious intellectual horsepower when it most needs it. What led to this untidy state of affairs? …
• Mike Bolan in Comments: 20 years ago Tasmania's forestry leaders were being heavily buttered up, flown around the world and congratulated on their 'world class' operations by Nordic hustlers for pulp mills. Harriss, Lennon, Gay, Gray and others were all in the conga line for international strokes. Supporters of 'industrial forestry' became so enamoured of their own far-sighted brilliance that they ignored the obvious contradictions in attempting to profit by trashing trees that took decades to grow, converting them to undifferentiable woodchips and putting them onto declining international commodity markets. … Enter Paul Harriss whose frown, pursed lips and accusatory speech is backed by laws (not designed to punish ordinary Tasmanians) that punish ordinary Tasmanians. Could this be the face of our future? "Revenge of the Suckers"?
• Mercury Talking Point: It's a special place called home … It's ludicrous and embarrassing on a global scale. We are not hippies or extremists chaining ourselves to trees. We are not even anti-logging, but we are against unsustainable logging such as clearfelling as proposed for the Lapoinya forest coupe. We are teachers, nurses, councillors, scientists, tourism operators, artists and the list goes on. We are everyday people who do not want to pay for the destruction of this forest, this habitat which many plants and animals call home …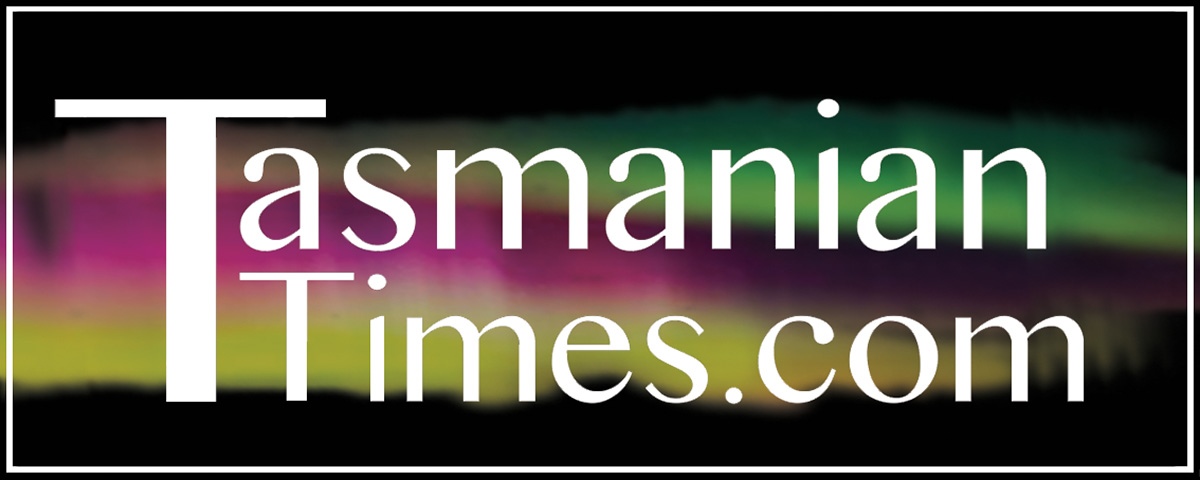 Author Credits: [show_post_categories parent="no" parentcategory="writers" show = "category" hyperlink="yes"]