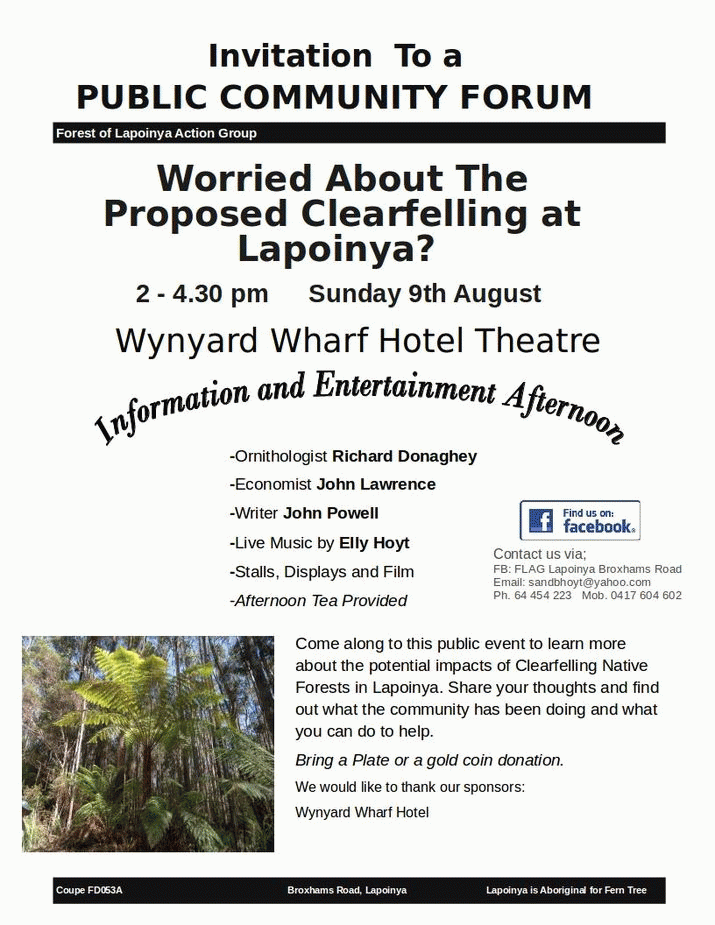 The Minister for the Environment Greg Hunt MHR has had a few problems in his short term in office.
ETS v Carbon Tax, RET, the Great Barrier Reef, Shenhua, Carmichael, Fracking, and of course the WHA and UNESCO.
These are all extremely difficult issues with large internal political and international implications. So difficult to make a decision and if you do ….. well …. I do not I send to a Committee!
Good news for the Minister however has arrived in the last few days with an astonishing letter from FLAG Lapoinya – Broxhams Road.
Letter to Minister Hunt:
Reproduced below …
The detail, the comprehension, the evidence, the science, the articulation, the proof, the argument etc just overwhelms the flawed proposal by our "sustainable forester" and the "open for business" Minister to proceed with the clear felling of Coupe FD0053 otherwise known as Lapoinya.
There is no point me walking through the many issues encapsulated in the letter. It is self–explanatory, and I am reliably told that the Minister (Hunt) breathed a sigh of relief when received.
"Whew! I have a simple one, too easy, rubber stamp stuff, a no brainer (TRUE), no political quagmire, no Opposition, community in favour, and local pollies in support ….. oh …. wait! " he reportedly said.
Minister Hunt has been invited to the a Public Forum in Wynyard on 9 August (see poster above) as have ALL the relevant Tasmanian Ministers, politicians and staff (including Federal representatives) to hear first-hand the concerns and feelings of the community.
Given the latest on the Federal Speaker I understand they will not be travelling by helicopter like Senator Colbeck did to review WHA forests a while ago ( eg, TT here ).
The Forestry Stewardship Council holds sacrosanct in its basic principles that those who seek FSC Accreditation "should listen to and understand community issues". Fail to do that and zero accreditation.
So of course they will ALL be there ?
So far we only have one acceptance….and he is bringing help …
Coda:
The interview with Adam Beaumont of FSC on the Country Hour of 3 August commenting on the release of the Second Draft of FSC Standard is absolutely revealing as to the need for triple bottom line accounting of Forestry activities, particularly community values. No need for me to comment, just listen!
HERE:
http://www.abc.net.au/news/2015-08-03/fsc-chief-executive-adam-beaumont/6667540
Anna Cleverley
PO Box 578
Wynyard Tasmania 7325
28th July 2015

Dear Greg Hunt, Minister for Environment,

The Community of Lapoinya, North West of Tasmania cordially invites you to a Public Community Forum on the 9th of August'15 at Wynyard Wharf Hotel Theatre to learn more about proposed clear felling of Coup FD053A by Forestry Tasmania and its impact on the environmental, social and economic fabric of the community.

The meeting is to inform local, state, interstate and international communities of the devastating impact the clear felling of this coup would have on the Biodiversity of the Flowerdale River Catchment, the Cultural Heritage and Community Wellbeing.

If you are unable to attend could you please delegate a member of your staff to attend?.

The Coup FD053A and its environs is a SANCTUARY to endangered and protected species of Flora and Fauna such as Tiny Fingers, Rough Blowngrass, healthy population of Tasmanian Devils, Giant Freshwater Crayfish, Wedge-Tailed Eagles, Grey Goshawks, Masked Owls, Spotted-Tailed Quolls, Platypus and Echidnas.

It is a local native growth forest and a vital natural habitat creating a wildlife corridor for the animals to feed and breed – any logging of the Coup FD053A will be detrimental to the survival of these rare, endangered and threatened plant and animal communities.

It provides a natural corridor for the animals to disperse into the upper reaches of the Maynes Creek watershed as this native forest is surrounded on three sides by plantations
(themselves to be clear felled shortly), agricultural land and already Forestry Tasmania clear felled areas.

Lapoinya coupe FDO53A contains significant forest biodiversity values. As well as the Eucalyptus obliqua communities identified, the coupe also contains an important stand of Wet Brooker's Gum E. brookeriana, a threatened plant community that is rare in the Northern Slopes Bioregion. As far as is known, this stand and another WBG community to the south-west, are the most easterly stands of the north-west populations of Brooker's Gum. Along the streams are Rainforest Vegetation Communities dominated by Myrtle-beech Nothofagus cunninghamii and Sassafras Atherosperma moschatum with occasional uncommon Leatherwood Eucryphia lucida. The 60 year old regrowth forest has layers of vegetation suitable for a high bird species diversity and has old-growth structural elements such as stumps and fallen logs on the ground, that provide potential den sites for two threatened keystone large predators, the Tasmanian Devil and the Spotted-tailed Quoll. This forest coupe has a rich bird species diversity of at least 34 species that includes diurnal top predators such as the Vulnerable Grey Goshawk and nocturnal predators such as Southern Boobook. The threatened Masked Owl has been seen nearby.

The bird assemblage also includes most of the Tasmanian forest endemics and many small to medium insectivores that nest in understorey. Another six bird species could be predicted to occur in the coupe. The presence of 34-40 bird species indicates a functional forest ecosystem.

The good condition of the forest habitat and the presence of common, uncommon and threatened bird species all indicate that this Lapoinya coupe is currently healthy and of high value for fauna conservation.

Clearfelling of E. obliqua forest around the Wet Brooker's Gum (WBG) community and subsequent regeneration burns pose a great risk to the health of the WBG community. In the short to medium term following harvesting and regeneration burns the more exposed WBG will be prone to increased damage from wind and drying out. To enhance the future viability, integrity and conservation value of the WBG and adjoining Conservation Reserve and for ecological, economic and social reasons it is better to leave the E.obliqua forest standing.

It is imperative that coup FD053A is EXCLUDED from clear felling in the current 3 year plan as it contains numerous class 2, 3, and 4 streams which contribute greatly to the overall water catchment and these streams are home to the precious Giant Freshwater Lobsters.

We understand that the Australian Government Department for Environment is developing Draft EPBC Act referral guidelines for the vulnerable Tasmanian Giant freshwater Lobster (Astacopsis gouldi) . The guidelines are applicable to actions and their impacts across the species' current and historic range in northern Tasmania. The guidelines are intended to assist proponents in determining whether their actions need to be referred to the Department for assessment and approval.

The key elements of the draft guidelines for the Tasmanian giant freshwater lobster are: information about the requirements of the EPBC Act in relation to environmental impacts; the distribution and habitat requirements of the species; recommended survey methods; options to reduce impacts where unavoidable; and guidance on significant impacts.).

From all our correspondence with FT we gathered that there is NO due consideration given to these species as they stand by their legislated right of EXEMPTION!?.
The Regional Forestry Agreement of 1997 RECOMMENDS that "areas be set aside …. to foster the recovery of the species (Astacopsis gouldi) …. include the Flowerdale River from below the Lapoinya Forest Reserve to the top of its catchment – this statement includes the Coup FD053A !!!.

Again FT insists upon it rights in accordance with their exemptions, granted and agreed to by your predecessors!?.

I would like to bring your attention to an article in the Cradle to Coastlines (Newsletter of the Cradle Coast Natural Resource Management Committee) Edition 2 – 2015 –
"The Flowerdale River is providing a safe haven for the protected Giant Freshwater Lobster. Recent survey work undertaken by Ecologist, Todd Walsh found healthy numbers of adults and juveniles living in the upper regions of the river. An increase in river sediment and loss of riparian vegetation has strongly impacted the species with their disappearance from many of the lower catchments.
Thankfully the Flowerdale River is bucking the trend and is home to a healthy population. Numerous large female lobsters were captured during the latest round of research and have provided pleasing data on moulting and growth rates. The Flowerdale catchment would be as important as any catchment in the lobster's range.".

Nick Mooney specialist in Tasmanian Devil habitat has said that this coup and its environs are veritable highway for the Tasmanian Devil.

Nick Mooney on a quick visit to the site in January 2015 covered approximate 1/6th of the coupe and found 9 sites that could potentially be used for breeding by devils or spotted-tailed quolls meaning that many more likely exist.

Photos from within the coupe recorded what appeared to be 3 and perhaps 4 devils including a large, old adult. There was no evidence of Devil Facial Tumour Disease (photos rarely are conclusive in any case). The abundance of log complexes (which both devils and spotted-tailed quolls will use for lay-ups and dens, eg Mooney 2014) gives many opportunities for lay-ups and dens. Devil density was moderate-high (cf a pre DFTD state-wide average of about 0.5/km2, DPIPWE 2010). DFTD has not been confirmed on site but the area is well within what are regarded as the disease distribution (Fig 6.) and there may have been more devils previously. It is arguable that devils persisting through DFTD are more valuable than those existing before exposure.

This coup has a lot of immature special timber trees growing (myrtles, celery top pines, sassafrases and blackwoods) excellent potential for future selective logging. As well this previously sensitively logged coup houses mature and old growth eucalypts along with juveniles which create a unique maturation mix which houses unusual biodiversity.

Our Carbon Sequestration data has proved that there is more value in allowing the coup to grow instead of having it clear felled and burned at this stage in its growth.

Our understanding is that Department of Environment is fully acquainted with work done by Professor David Lindenmayer from the Fenner School at the ANU.
An excerpt from the below mentioned broadcast – "Professor David Lindenmayer from the Fenner School at the ANU says potentially 190 million tonnes of low cost forest carbon is available over the next five years, if native forest logging is shut down. Based on the price the government paid in April, Professor Lindenmayer says it would be worth several billion dollars.".
Please see Gregg Borschmann broadcast on the Radio National – A Burning Question –
http://www.abc.net.au/radionational/programs/backgroundbriefing/a-burning-question/6616386 which fully supports are endeavour in protecting this special coup from clear felling.

Currently FT is operating at a massive financial loss.

PLEASE NOTE: FT reported more than a $30m loss in 2013/2014 financial year.
Please see the below link
http://cdn.forestrytasmania.com.au/uploads/File/pdf/pdf2014/financial_statements_2014.pdf).

An additional $10m of tax payers' money has this been allocated by the current Tasmanian government to FT to keep FT solvent into 2015 financial year – we are awaiting with great trepidation the final 2014/2015 financial year reports.

Coup FD053A is a very good example of why FT is running at a debilitating loss and Senator Andrew Wilkie's call for A Royal Commission into FT is very timely and should be supported by the Federal Government.

We, the community of Lapoinya have been providing the State Government and Forestry Tasmania representatives and the Minister for Resources – Paul Harris, The Treasure – Peter Gutwein, the Minister for Tourism Will Hodgman, the Minister for Primary Industries and Water – Jeremy Rockliff, The Chairman of Forestry Tasmania Bob Annells, the Executive General Manager Communications and Stakeholder Engagement – James Shevlin, the District Forest Manager for Murchison – Craig Butt with information to prove that the clear fell logging of coup FD053A would be uneconomical ( reported repeatedly by John Lawrence in Tas Fin Talk and The Tasmanian Times), and environmentally destructive
(report done by Dr Richard Donaghey) and detrimental to our community wellbeing and agricultural and tourist businesses.
Please check our website https://www.facebook.com/flaglapoinya and the petition https://secure.avaaz.org/en/petition/Bob_Annells_Chair_Forestry_Tasmania_Stop_the_Destruction_of_the_Lapoinya_Forest/ .

As the Federal Minister for Environment:

We beg you to support our community's endeavour, in any way you can, to exclude coup FD053A from harvest in the current 3 year plan as continuing study and lives of the rare, endangered and threaten species and continuing community wellbeing and businesses depends on it.

I do ask you to acknowledge and reply to my letter.

Yours sincerely,

Anna Cleverley ( on behalf of Lapoinya's Community )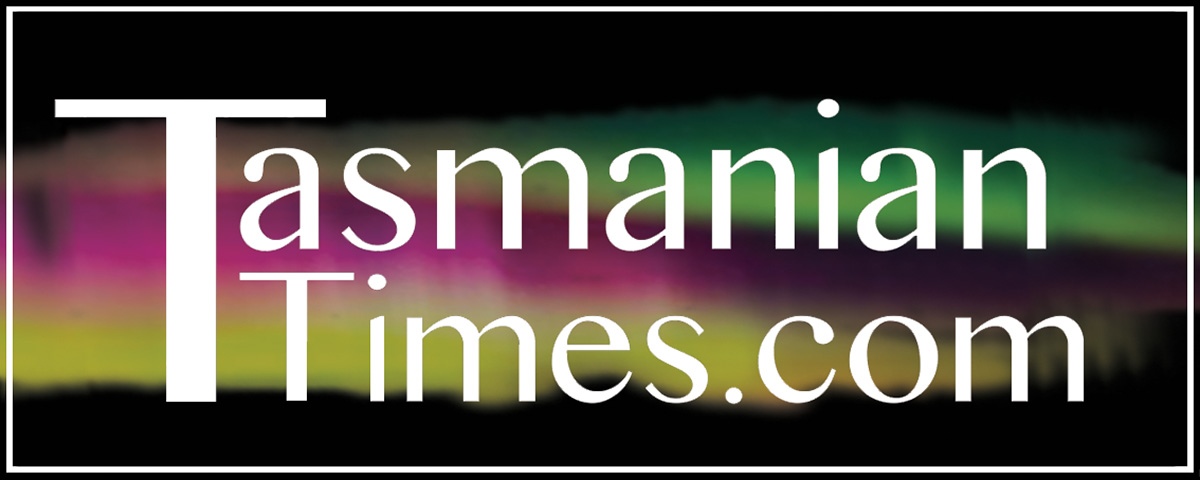 Author Credits: [show_post_categories parent="no" parentcategory="writers" show = "category" hyperlink="yes"]