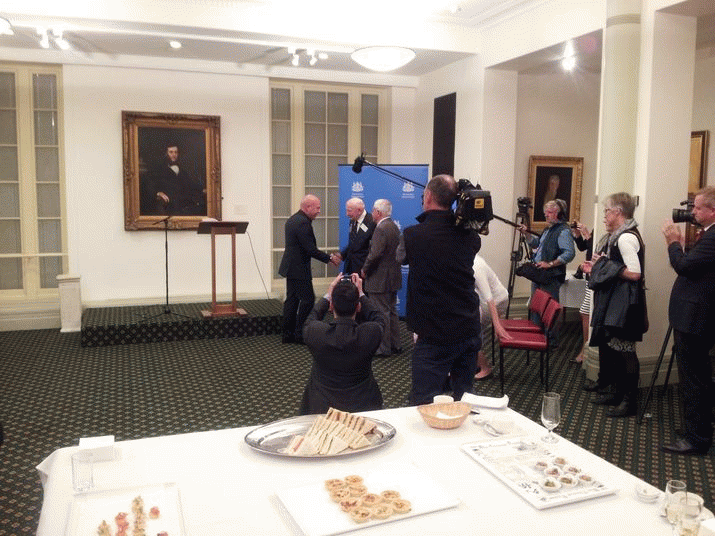 *Pic: Flanagan greets his very special guests, Burma Railway veterans (average age 90) and mates of his dad Arch. Flanagan gave away part of his Booker prizemoney to Rosebery Primary School (where he first learnt to read) … a gift received that day by two current students …
Promised since the event – March 24 – Text of a speech made at a state reception in his honour by Richard Flanagan, Parliament House, March 24
Thank you Premier for those generous misunderstandings, and for hosting this state reception and through your staff, most particularly Ms Angela Williamson, for organising it.
Standing here I feel like I've just eaten an onion off the Forth Valley processing line and am not quite sure what to say next. In fact, I've felt that way for the last five months.
My heartfelt thanks also to everyone who has made the time to be here today — friends, family, colleagues — so many people so very dear to me.
When I won the Booker, I said I didn't come out of a literary tradition, but rather out of a road leading out of a small mining town set in rainforest at the edge of the world. That town was Rosebery. Growing up there I loved it — the wild country in which it was set and the wild characters who tumbled in and out of the then three pubs onto the main street. I loved its smell and the sounds of the mine clanking, the rain, the heat, and the stories.
In the mountains that wrapped around Rosebery was the oldest living thing in the world, a 12,000 year old Huon pine, and in the pubs ex-POWs mixed with the survivors of the bloodlands of eastern Europe — Poles, Greeks, Italians, Yugoslavs and Germans. There was there wisdom and madness and despair and love and more besides, and early on I discovered that the universe lives in the smallest things —the brash smell of tea tree, the terrible silence of a miner's funeral.
And it was at Rosebery School that I learnt to read and write. I owe it a great debt. I remember watching that school burn down as a small child, and I remember watching it being rebuilt. And I learnt because something is ash now, it doesn't mean it has to remain ash forever.
Today we have with us three people who have made the same journey out on that long and windy road to be here in this room — the principal of Rosebery District School, Mr Duncan Murfet, and with him two students, Molly Krushka, the president of the Rosebery school SRC, and Korshyn Takawe, the vice president.
There is also here today two of the last few remaining survivors of the Death Railway, Lloyd Harding and Adye Rockliffe. Both were dear mates of my father, who shared with them that incommunicable experience of that terrible time and place.
I only wrote about the Death Railway. But Lloyd and Adye lived it, survived it, and survived much else besides. My Dad thought the world of them both. And I am greatly honoured to have them here today.
The great lesson of the Death Railway …
The great lesson of the Death Railway that my dad taught me and my brothers and sisters was that we must help each other, and that when you are strong you must help the less fortunate.
I'd like to ask Lloyd Harding and Adye Rockliff each to come up here, along with Molly Krushka and Korshyn Takawe, and I would ask if these two survivors of the Death Railway might each present a letter to these two students of the school where I first learned to read and write.
One letter is from me confirming that I am today donating $2,000 to the Rosebery District School to buy books for their school library.
The other is a letter from Mr Gavin Schwarz, the Sales Director of Penguin Random House, which will supply the books. In his letter Mr Schwarz confirms that Penguin Random House, the largest publisher in Australia, has generously agreed to effectively match my donation by agreeing to discount by half the books Rosebery Primary School buys from them with this $2,000, thus effectively doubling the value of the books bought to $4,000.
This donation is a small gesture, but if one or two kids in Rosebery in consequence feel as I did when reading books there for the first time, then I will think the money well spent. Perhaps it might also remind them not to be bound by the small opinions of others that sometimes can cripple us all.
For we read and hear often about how Tasmanians have the highest illiteracy rates in the nation, the lowest higher school retention rates. We are told we have a negative attitude towards education. And in consequence we still face the false stigma of stupidity and backwardness.
But when I read these things, when I hear these slurs, I can only make one reply: it's not the Tasmanians I know. The Tasmanians I know are proud, resourceful, and curious. Many of you in this room have extraordinary achievements of your own. All want a better future for our children. And those children that I meet love their island home.
It is true that our island is the poorest state on every measure. But it is also our home, and we can make it worse or we can make it something extraordinary. There is about us much ash, and it's our choice whether we continue to let things burn or begin to rebuild. The universe lives within each of us — we just need to find the courage to recognise it and honour in our own unique way.
Nothing has given me greater pleasure than knowing how much this prize has meant to my fellow Tasmanians. I feel the Booker was a symbol for so many Tasmanians of what they felt about themselves, of what they were achieving, and of all that was possible.
So I am honoured and delighted that I can be here today sharing the Man Booker prize with you. Because it really is a prize for us all.
I hope it can be seen as a symbol not only of one thing that has happened, but of many things that might yet be.
And so today, in concluding, I want to say if my Booker win means anything it is simply this: we are no less than anyone else, and we can do and we can be whatever we wish.
EARLIER on Tasmanian Times …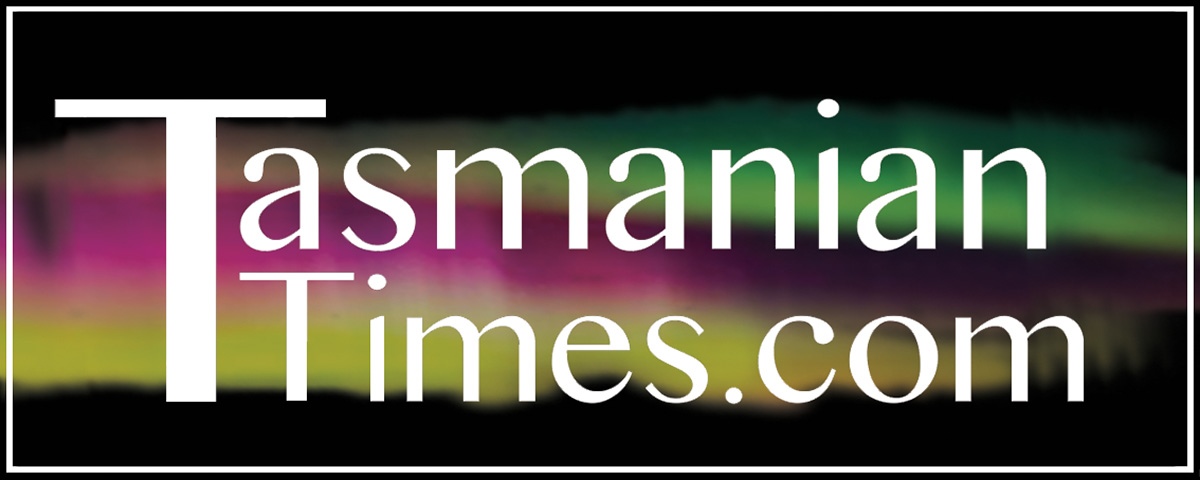 Author Credits: [show_post_categories parent="no" parentcategory="writers" show = "category" hyperlink="yes"]