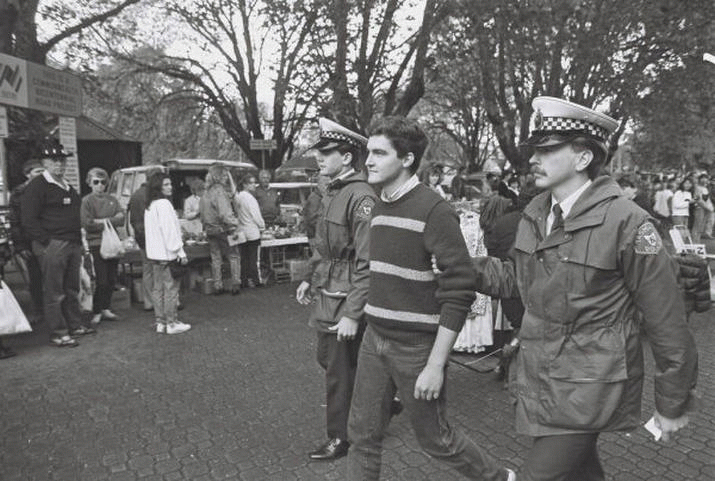 *Pic: An earlier HCC … Police arrest Rodney Croome for a gay rights protest in 1988 …
Advocates have congratulated the Hobart City Council on its unanimous support for a motion calling for the federal government to allow same-sex couples to marry.
Australian Marriage Equality national director, Rodney Croome, who lives in Hobart said,
"Hobart City Council has confirmed that our city is inclusive, and supports everyone being treated fairly and equality."
"I hope other councils around Tasmania and the nation are inspired to follow Hobart's lead."
Spokesperson for Rainbow Communities Tasmania, Deidre Murray, said,
"I am happy the Council has supported this important motion, but I'm ecstatic for my children and the other children of same-sex partners."
"Marriage equality is about recognising and supporting all families."
"I want to see a time when we no longer talk about gay marriage but marriage, not gay people but people."
The motion, that will see Council write to the federal government calling for a conscience vote, and to all Tasmania's federal representatives asking them to vote for marriage equality, was passed without dissent at this evening's Council meeting.
Aldermen Damon Thomas and Tanya Denison expressed concern the motion is not core business but supported it, in Alderman Thomas' case because of strong community representations in favour.
Addressing their concern Mr Croome said,
"Social inclusion is core Council business and marriage equality is all about ensuring same-sex couples and their families are included in one of our most important social and legal institutions."
During debate on the motion Alderman Anna Reynolds noted local government has led the way on marriage equality in other countries. Alderman Eva Ruzicka pointed out it is the role of local government to represent majority support for the reform. Alderman Philip Cocker said he looks forward to the time when all loving couples are treated equally. Lord Mayor, Sue Hickey, drew a parallel between the inequities faced by same-sex couples and the stigma attached to unmarried motherhood when she attended a Catholic school in the 1970s.
Alderman Jeff Briscoe said it is disappointing Launceston City Council recently missed the opportunity to take a lead on the issue by knocking back a similar motion. He added that 80% of the letters he had received were in support of the motion, a proportion he believes is representative of Hobart residents.
Mr Croome and Ms Murray both spoke to a special committee prior to the full Council meeting, along with Pat Gartlan and Campbell Markham who spoke against the motion.
Read Mr Croome and Ms Murray's addresses:
Address to Hobart City Council committee, Monday 13th April 2015
Deidre Murray
Chair of Rainbow Communities Tas Inc
Hello, my name is Deidre Murray & I am the Chair of Rainbow Communities Tas Inc.
Rainbow Communities Tasmania is a family of organisations who encourage individuals to come out with pride and to live in their community with dignity as fully respected and participating members.
I am a catholic woman who delights in the role of being a mum to 2 primary age children- & by the way I am gay. In our beautiful city and surrounds, families come in different shapes & sizes. Having 2 mums is perfectly normal for my children. Every child deserves to have their "normal" respected & valued.
For HCC to publicly support marriage equality says to me that you believe that my family and family's like mine are as equal and important as any other family in Hobart.
My son was born in Hobart, we own a home , we pay rates & work, shop & socialize in the area. My children are involved in the school community & I expect them to be accepted and considered no different to any other children in our community.
The fight for marriage equality for same-sex couples is quite possibly the most conventional, family-friendly equal rights struggle ever. At its core, this debate is simply about day-to-day life, where two people who are connected at the soul want to protect one another with basic legal rights.
History bends not only toward fairness and equality, but also toward common sense. Marriage strengthens couples and families, who in turn help strengthen their communities, one at a time — leading ultimately to a stronger, more robust nation. We will reach a time in this country when we value and protect all families equally.
Many people who believe in God — as well as fairness and justice for all — still ask the question. How can I support Marriage Equality ? They feel the tension between religious beliefs and democratic values that has been experienced in many different ways throughout our history. That is why the framers of our Constitution established the principle of separation of church and state.
That principle applies no less to the marriage issue than it does to any other. Indeed, the answer to the apparent dilemma between religious beliefs and support for equal protections for all families lies in recognizing that marriage has a significant religious meaning for many people, but that it is also a legal contract. And it is strictly the legal — not the religious — dimension of marriage that is being debated now.
Granting marriage equality to same-sex couples would not require any religious leaders to perform these marriages. It would not require religious institutions to permit these ceremonies to be held on their grounds. It would not even require that religious communities discuss the issue. People of faith would remain free to make their own judgments about what makes a marriage in the eyes of God — just as they are today.
Consider, for example, the difference in how the Catholic Church and the Government view couples who have divorced and remarried. Because certain churches do not sanction divorce, the second marriage is not valid in the church's view. The government, however, recognizes the marriage by extending to the remarried couple the same rights and protections as those granted to every other married couple in Australia. In this situation — as would be the case in marriage for same-sex couples— the church remains free to establish its own teachings on the religious dimension of marriage while the government upholds equality under law.
Marriage would continue to recognize the highest possible commitment that can be made between two adults, plain and simple.
I look forward to the day when we no longer talk about gay or straight.
It's not a gay wedding, it's a wedding,
It's not a gay marriage, it's a marriage.
Address to Hobart City Council Committee, Monday April 13th, 2015
Rodney Croome
Spokesperson, Tasmanian Gay and Lesbian Rights Group
National Director, Australian Marriage Equality
Tasmanian Australian of the Year
Australia has reached a critical stage in the debate on allowing same-sex couples to marry.
Overwhelmingly, Australians support the reform. According to a Crosby/Textor poll conducted in 2014 not only is it supported by 72% of Australians, it has more support than opposition in every demographic including people of faith, regional and rural people and older people.
Marriage equality is now in force in most other western countries and quite a few in Latin America. Even in Alabama same-sex couples are marrying. In May, Ireland is likely to pass a marriage equality referendum. In June, the US Supreme Court is likely to extend marriage equality across America.
Meanwhile, our federal government dilly-dallies by refusing to allow its members a conscience vote vote. When a cross-party conscience vote is granted we believe there is a good chance marriage equality can pass. That is why the motion you have before you asks for both a conscience vote and for Tasmania's federal members to support the reform.
Now is the time for local governments to speak up for marriage equality. Almost 40 councils across Australia already have. They are mostly regional and rural councils, including the council of tiny Buloke in rural NW Victoria. I expect more to do the same soon.
There are those who say this is not council business because only the federal government can change the Marriage Act and because local government has more important things to do.
I disagree. Local government is the tier of government closest to the people. It has a duty to represent the views of the community if other tiers of government fail to.
In particular, local government has a duty to foster greater social inclusion. This is why the Hobart City Council has such a strong commitment to social inclusion. That commitment is on show in the Council's Social Inclusion Strategy, in its liaison with the LGBTI community through the COPP Committee, in its 2008 apology for the Salamanca arrests 20 years earlier, and in its support for a state same-sex marriage laws in 2012.
My colleague Deidre Murray will talk more about the link between social inclusion and marriage equality. In the meantime, consider these words in support for marriage equality from former Tasmanian Social Inclusion Commissioner, David Adams:
"Marriage remains an important bridge between inclusion and exclusion for many people. It can represent increased commitment to spouses and bring increased feelings of acceptance by family and community. Children of same-sex parents feel happier having married parents and feel more secure and protected. Parents of same-sex people feel happier and more included in their community when their children can marry."
Of course social inclusion isn't the only reason the Hobart City Council should support this motion.
Marriage equality will see Australia's same-sex couples spend tens of millions of dollars on their weddings. With our wealth of heritage buildings and parks, Hobart can expect a significant share of this wedding spend, and the resulting boost to employment and the local economy, but only as long as we have already sent the message that we welcome same-sex couples aspiring to marry.
My final point today is about leadership. I frequently lobby federal politicians on marriage equality and grow frustrated with the way they abdicate responsibility by declaring the time isn't right, or they haven't heard from their electorate, or there are more important issues. Their message is basically "not us, not here, not now".
Meanwhile, couples are being forced to fly overseas to marry, elderly parents are dying without the chance to see their child wed, and children are growing up without the affirmation and stability that can come with marriage.
If federal politicians are slow to show leadership, leaders from other parts of the community have a moral responsibility to fill the gap. We have seen already seen state government leaders, major corporations and key NGOs come out in support for marriage equality. Now it's time for local government to step up, including the government of our beautiful city.
Thank you.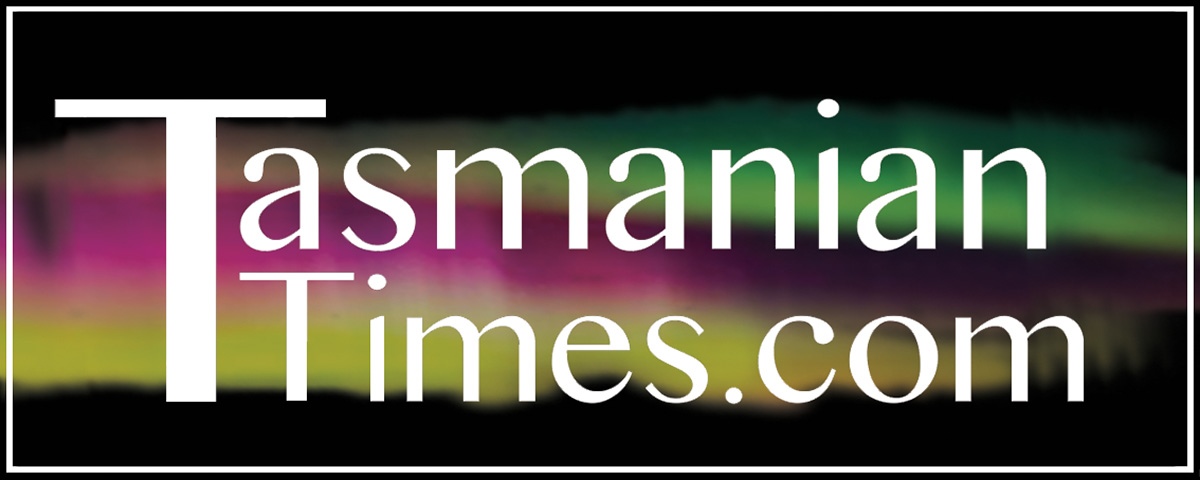 Author Credits: [show_post_categories parent="no" parentcategory="writers" show = "category" hyperlink="yes"]