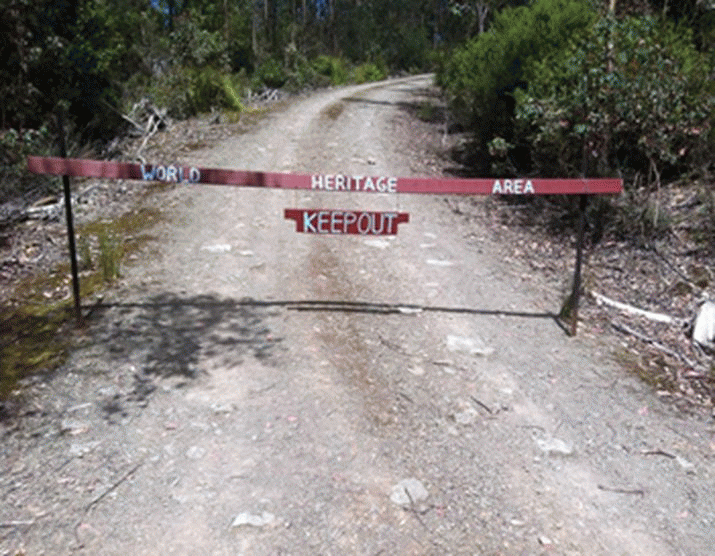 Readers will recall this post of 12 January: World Heritage desecration .
As indicated I made representations to Minister ( for State Growth, Minister for Energy, Minister for the Environment, Parks and Heritage. ) Matthew Groom et al on the 6 january and the following trail of emails have ensued. Names have been redacted for the protection of certain individuals.
Extarordinarily within only 16 minutes of my 3 Feb email below I received the following from DPIWE:
I am writing in response to your emails regarding signage and activities adjacent to the World Heritage Area near Liffey.

I have followed up on your concerns regarding the removal of the World Heritage Are sign on the highland Lakes Road. I have been advised that the sign was removed from its previous position as it was not located on the border of the WHA property. I am advised that the tenure of the land where you have requested a sign to be returned to is 'Permanent Timber Production Zone' (PTPZ), managed by Forestry Tasmania (FT). This area is available for timber production. The PTPZ land borders on to recently declared 'Future Potential Production Forest' land. It is this land that is now managed by the Parks and Wildlife Service (PWS) on behalf of the Crown.

A sign has not been re-established at the location you requested because it is not on the new boundary of the WHA and would be misleading to anyone passing through the area.

While I am not certain where the chain sawing that you refer to has occurred, I am advised that it is most likely within the PTPZ and is therefore likely to be a legitimate activity. I have requested PWS staff to follow this up with FT.

In short, I do not support erecting a sign on PTPZ land some distance away from the WHA boundary. The PWS will however carry out an on site inspection to determine if a sign is warranted in any other locations in this vicinity.

I have asked that the PWS contact you prior to this inspection.
The assertion that "I am advised that it is most likely within the PTPZ and is therefore likely to be a legitimate activity" is astonishing given that no observation has been made by either FT or PWS, at least to my knowledge.It is clearly within the WHA zone as I understand the area, although the internet maps are less than clear
This is unacceptable, and I have initiated my unilateral action as promised as per below. Note the clear evidence of multiple tyre tracks heading to the target zone.
I welcome the Minister for Resources and Forestry to visit and take down the sign! Perhaps Minister Groom could take photos for posterity.
P.S. The DPIPWE respondent above was previously a high level FT officer. His response denotes he may still be in that space!
P.P.S. As an aside, one would have to ask why FT and DPIPWE would allow logging in a zone where visual evidence of the existence of FTF devils is present . That evidence has been captured both by myself and an accredited DPIPWE officer .
This in an area where all hope had been lost 5 years ago!
I will comment more on this in a subsequent post on TT.
The email trail …
To DPIPWE various on 3 Feb
All,
OK the five working days are up!
In addition to being a WHA Guardian I have now become a rubbish collector – left over from the Australia Day massacre!
I am now taking unilateral action! (above)
Cheers,
j
To DPIPWE various on 27 Jan
All,
Just for your info, and as an increased matter of urgency, there was another chainsaw in action on the coup at 7.30am on Australia Day.
A lovely cacophony to welcome in Sir Prince the Duke of Phillip!
NO further tree down but more firewood collection from previously downed chip wood!
Please help me enjoy my retirement!
Cheers
To DPIPWE various
Subject: FW: World Heritage Area Liffey
Date: Fri, 23 Jan 2015 16:09:32 +1000
All,
please see the attached from the Minister seeking me to contact you re the request in my email and the attached commentary.
I will not communicate by phone as the Minister suggests, and request that ALL correspondence be in writing, preferably by email.
This is an issue outstanding since WHA listing in mid 2013, ( and before) and my request has been outstanding since that time.
As an adjunct to the original message I note that on Tues 20 January I sent the following message to close friends who had helped me in the battle for WHA listing, viz
Guys,
Some days are golden! Devil near the woodheap. Another smaller one (Juvenile) only 15 metres from house. Was so amazed I dropped the iPhone so missed that shot. How wonderful to see in daylight and free of Facial Tumour Disease!
Poor quality photo due iPhone at 50 metres. Will do better next time.
WOULD NOT HAVE HAPPENED WITHOUT YOUR HELP ON COUP BA388D!
Bureaucratic obfuscation will not be acceptable.
Please respond within 5 working days with a positive outcome and a sign placed on Highland Lakes Road where the original was.
Cheers
John Powell
From: Matthew.Groom@dpac.tas.gov.au
Subject: RE: World Heritage Area Liffey
Date: Fri, 23 Jan 2015 05:20:47 +0000
Dear Mr Powell
Thank you for your email of 6 January 2015 regarding the Tasmanian Wilderness World Heritage Area. Please find attached Minister Groom's response.
Dear Mr Powell
Tasmanian Government
23 JAN
Thank you for your email of 6 January 20 15 expressing your concems regarding the Tasmanian Wildemess Wodd Heritage Area.
t have referred this matter for the attention of the Parks and Wildlife Service as the managing authority under the National Parks and Reserves Management Act 2002.
Should you wish to contact PWS directly, please do so on 1300 827 727 or via mail to:
GPO Box 1751
HOBART TAS 700
Thank you for raising your concems with me.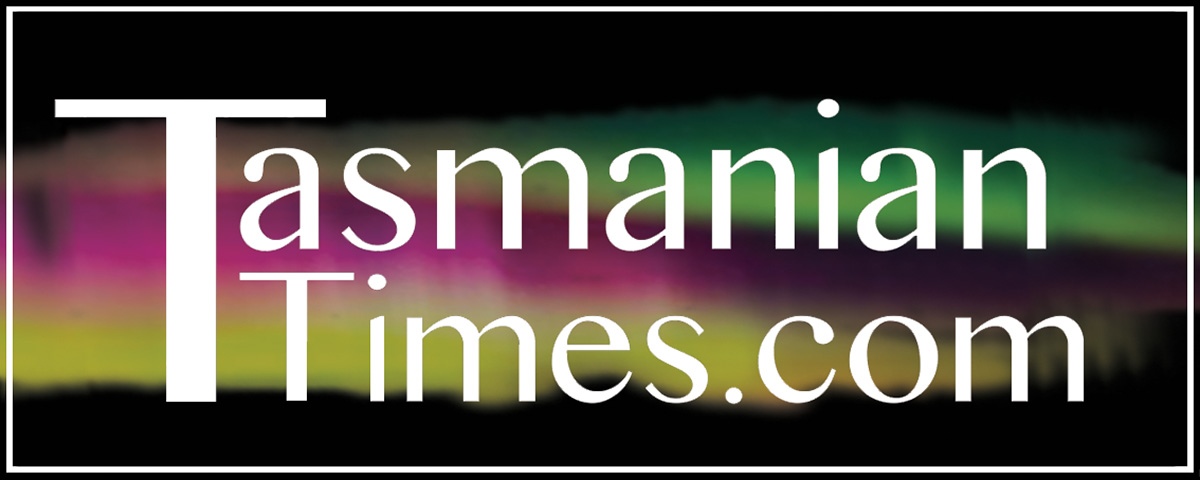 Author Credits: [show_post_categories parent="no" parentcategory="writers" show = "category" hyperlink="yes"]