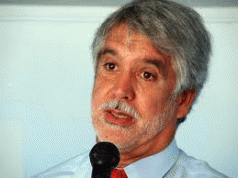 Ed: TT first published this interview on March 25, 2011. We are republishing it today because Enrique Peñalosa is running this Sunday to be President of Colombia in the presidential elections. He is the Green Party candidate. If no one gains 50% there will be a run off three weeks later.
Enrique Peñalosa, former ground breaking Mayor of Bogotá and re-founder of the Colombian Green Party, recently spoke at the Planning Institute of Australia National Congress, in Hobart. Few have achieved an urban transformation like that which began to take place in Bogotá under Peñalosa. Enrique took some time out to talk to Tassie Times.
Peñalosa argues that ´´the great city is not one that has highways, but one where a child on a tricycle or bicycle can go safely everywhere.´´ During his mayorship Peñalosa developed land banks for housing, a huge system of parks that include cycle ways and link to a co-developed system of libraries, the Transmilenio mass transit system (now the model for large cities) and other smaller projects that seamlessly combine social, environmental and economic improvement. In just ten years Bogotá has transformed from one of the world´s most dangerous and corrupt cities into a relatively peaceful city that many others are now trying to emulate.
The former mayor believes as humans we need to walk, to be around other people, beauty and nature. But above all, we need not to be excluded and to feel equality.
In 2009, with two other former Bogotá mayors, Peñalosa re-founded the Colombian Green Party. He explains that although they had been rivals, they were united by two things: they had all practiced clean politics in a country where vote buying and corruption is common; and they all placed a priority on equality and the construction of social justice.
Enrique explains that equality is much more than simply helping the poor, ´´Helping the poor could be giving them arms.´´ He and the other former mayors realised that the policies they were applying to construct social equality were often the same as green policies. The protected cycle network he began in the late nineties, which has now expanded to over five hundred kilometers, is more social policy than environmental policy. In addition to saving thousands of low income citizens ten to twenty percent of their wage due to riding to work, it also makes a powerful statement. ´´Someone on a $30 bicycle is as important as someone in a $30,000 car.´´
The same goes for footpaths and public transport. It is a powerful symbol of democracy and respect for human dignity, particularly in the developing world where most people don´t own a car, to restrict car use and give priority to public transport and pedestrians. The process helps to level the attention paid to high income and low income citizens.
Enrique tells me that most people think we achieve knowledge through reason, but that in fact we are much simpler than this and actually learn via symbols, rituals and ceremonies. This is why, says Enrique, it´s such a powerful symbol when affluent people are sitting in a traffic jam and a public bus zooms past in an exclusive lane.
He is adamant that more roads and parking leads to more cars and more traffic jams, and says that with the billions they saved in Bogotá by not investing in new road infrastructure, they have been able to invest heavily in schools, hospitals, libraries, parks and cycle ways. As a result of increasing these public services and the linkages between them, traffic problems have also lessened.

Bogota
Whilst Enrique is a firm believer in the capitalist market and private investment he suggested that the market does not work when it comes to land around cities. Supply and demand excludes low income earners when land is limited. Lower income people get pushed to city outskirts and are disconnected from important services. Huge amounts of energy is wasted getting services in and waste out, not mention getting people in and out. Most residential urban land should be government owned in a land banking system, according to Enrique, which makes it much easier to have well-planned, connected housing in appropriate areas and with access to parks and services. There is obviously a huge potential energy saving and environmental benefit to this system.
Mindful that dramatic and rapid change, such as Enrique achieved in Bogotá, would be near impossible in Australia, I ask him how he overcame opposition and resistance to change. Whilst he concedes that mayors have more power and longer terms in Colombia and don´t as often need consensus within their council, as Australian mayors do, he believes the most important thing is to effectively and constantly communicate your vision. This means getting as many people as possible involved and getting a few initial projects done so people can live it and understand it, then we are one step closer to the critical mass that will break entrenched habits and rituals.

The Colombian Green Party is now represented in Congress and gained 31 percent of the vote in the 2010 Presidential Election only a year after forming. Enrique is running for Mayor of Bogotá again in the upcoming elections.

Author Credits: [show_post_categories parent="no" parentcategory="writers" show = "category" hyperlink="yes"]