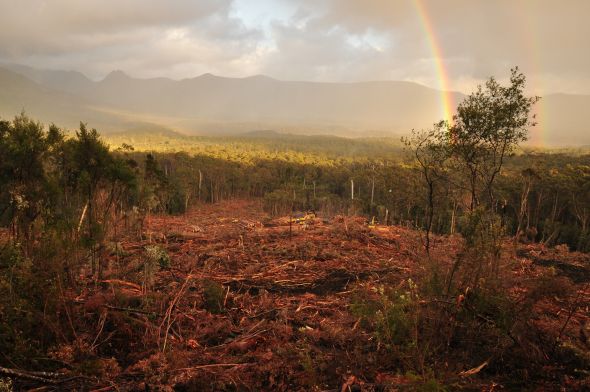 Wed, Nov 23, Catamaran.Image HERE
Prime Minister Julia Gillard is allowing her word to be trashed by logging in high-conservation areas that were supposedly protected under an agreement she signed with the government of Tasmania, Australian Greens Leader Bob Brown said yesterday (Thur).
"We have a serious dispute with Prime Minister Gillard over this matter. She signed on the 7th of August to say that logging would stop immediately in the 430,000 hectares of high-conservation value forest. And a compensation mechanism was put in place if logging were deemed to have been required," Senator Brown said.
"What we have now is broad-scale logging continuing in forests reserved for their high-conservation value. This is a serious breach of a written agreement by the Prime Minister and the Premier – the intergovernmental agreement."
"Every day their word on that document is being clear-felled by the logging activities of Forestry Tasmania, Ta Ann and the others involved in the Catamaran forests, in the Picton forests, in the Styx, the Weld and elsewhere."
"I cannot understand how she can allow her word to be trashed by the logging going on in these magnificent World Heritage value forests in Tasmania. It must stop."
• The threats:
Threats to Wild Tasmania – articles
Tasmania's Tarkine threatened by tin miming
• SENATOR THE HON RICHARD COLBECK
Senator for Tasmania
Shadow Parliamentary Secretary for Fisheries and Forestry
Shadow Parliamentary Secretary for Innovation, Industry and Science
M E D I A R E L E A S E
1 December 2011
New level of dishonesty from anti-forestry campaigners
Today's media hoax targeting Harvey Norman confirms that anti-forestry campaigners have no credibility, Coalition forestry spokesman Senator Richard Colbeck said.
"Anti-forestry campaigners have gone too far with today's dishonesty," Senator Colbeck said.
"This hoax is an appalling new low for activists whose credibility was already tenuous at best.
"We have long said the community is being misled about forestry by groups such as Get Up and Markets for Change and today's hoax confirms that anti-forestry activists cannot be trusted.
"Today's hoax is part of an orchestrated and coordinated campaign involving numerous anti-forestry groups that are well-funded by anonymous sources.
"Today's hoax must be investigated and the perpetrators must have the book thrown at them.
"Harvey Norman is a reputable company that already has traceability programs in place to ensure it is buying furniture built from timber that is legally harvested and sustainably managed.
"It is outrageous that Tasmania's native forest industry and reputable businesses like Harvey Norman must continuously defend against duplicitous and devious corporate sabotage.
"This hoax was elaborate. It was well-planned and it was designed to deliberately mislead the media, the markets and the general public.
"Environmental campaigns are afforded significant privileges in Australia under a number of pieces of legislation including the Australian Competition and Consumer Act but in light of today's events and the dirty tricks that have led up to it, perhaps it is now time for those privileges to be reconsidered," Senator Colbeck said.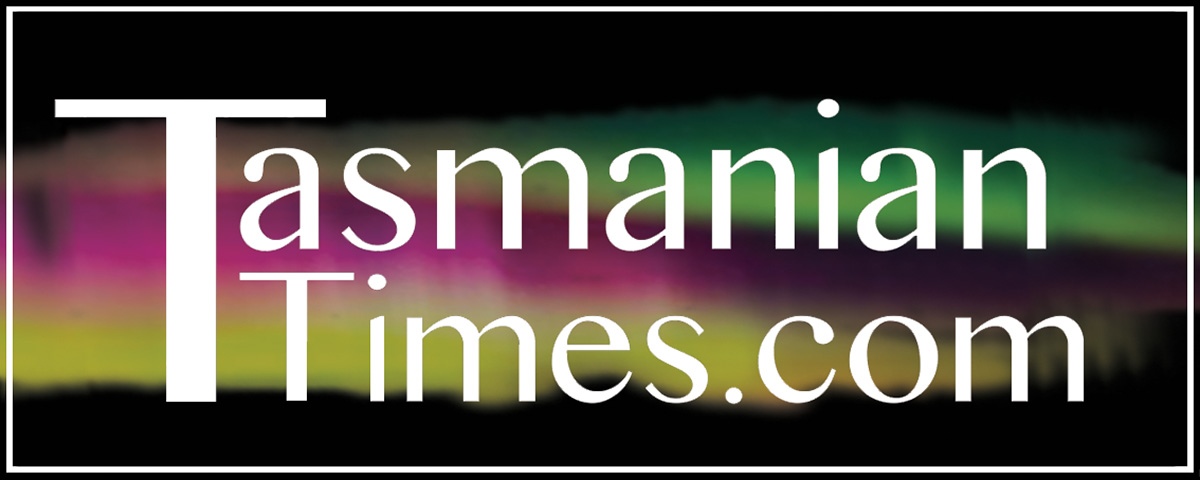 Author Credits: [show_post_categories parent="no" parentcategory="writers" show = "category" hyperlink="yes"]