Forestry chief Bob Gordon, left, and Minister Bryan Green
Forestry Tasmania is planning to clearfall timber above the famous Liffey Falls near sites which contain hugely significant Aboriginal and settler history. The area, according to local folklore, also includes a hideout of infamous bushranger Martin Cash.
The logging plan has outraged local landowner John Powell who has been told by Forestry Tasmania that it will use his only access road as a logging road – whether he likes it or not. They have already widened it, turning it into a "slush pit" when it rains, "which is most of the time".
In a bid to head off what he sees as an irredeemable desecration of Aboriginal and settler history John Powell even offered to buy the area planned for logging. He did not even receive the courtesy of a reply.
Despite numerous contacts with the Minister responsible Bryan Green and his advisers, Forestry Tasmania has remained defiantly intransigent, responding only with a bluff letter which effectively says they can do as they wish (letter from FT head Bob Gordon reproduced below).
John Powell sent Tasmanian Times an article from a 1994 Australian Post which describes the building of his property by John Stakk and suggesting there is a cave "used by the bushranger Martin Cash on the edge of the property" (pictures below)
John Powell sent the accumulated evidence – some of which has been reproduced below – to Michael Lynch of the Tasmanian Heritage Council in April/May this year. He dutifully responded that it would take "some years " to review. (A new head of the Tasmanian Heritage Council, Dr Dianne Snowden was announced at the weekend (HERE). Dr Snowden is the partner of Forestry Tasmania chief Bob Gordon).
Forestry Tasmania has placed blue tape around areas they consider sensitive, covering an expanded area only after being confronted by the comments by John Powell.
Now they plan to clearfall the rest for predominantly 70% chip … that currently cannot be sold.
In the words of John Powell, it is like placing blue tape around Ayers Rock and then building apartments around the base.
"The entire context of this magnificent example of a conjoined European/Indigenous/Convict landscape (some 2kms in length and 500 plus) metres wide will be destroyed forever and it will occur on the Minister's watch (and the Premier, and the others copied in on this communication)," said John Powell in a letter to an adviser to Minister Green.
• The proposed FT logging coupe is Coupe BA388D overlooking and abutting the Liffey Falls WHA. The area was included in the Kelty 572 but not in the IGA 430. It has substantial European (sawmill, tramway, logging track and remnants of camp) and a unique aboriginal heritage of rock shelters throughout the escarpment. "All of this has been whitewashed by the incumbent Government (except of course the Greens), by Heritage Tasmania, and by the bureaucracy. The great example of this is that under the FPP for the coupe, FT was going to complete the indigenous archaeological survey of the coupe after the clearfelling – nominally for chip feed = some 70%", says John Powell
The context, by John Powell:
I arrived in Tasmania very excited. My wife Annette and I had bought a fantastic 50 acre covenant block at 820 meters overlooking the Liffey Valley, just below Projection Bluff.
As we entered the new property on 3 June 2009, through the narrow access road off Highland Lakes Road, we saw the WHA sign on the corner and jointly sighed that at last we had found our perfect piece of heaven.
No more Brisbane traffic, humidity, noise and confusion…a perfect place to retire and enjoy our life together!
Then on the 29th of April 2010 that all changed as a Forestry Tasmania vehicle pulled up as we were having lunch in the sunroom.
That visit has changed our life completely!
That FT visitor informed us that within 60 metres of our property, a 44 hectare logging coupe (BA388D) was planned and indeed had been taped off.
"Surprised you have not been informed," said the FT officer.
That comment says everything that needs to be said about FT with respect to consultation.
It simply doesn't exist.
This adjacent forest was a World Heritage Area according to the Forestry Tasmania sign we photographed when we first arrived:
The sign designating WHA was supported also by the Real Estate Agent and the supporting solicitor.
This was shock enough.
But there was worse to come.
Forestry Tasmania imperiously announced that they were planning to use the only access road to our property for their logging traffic.
An immediate email inquiry resulted in what I now realise is the typical FT response:
Aggressive, argumentative and imperious: By the way "you do not have legal access to your property"!
We are the Overlords, We are the Masters. We can do as we want!
In late May 2010 I told Forestry Tasmania that we were planning to have an overseas holiday during June. We would have house-sitters they could contact. Or they could contact the previous owners.
When we returned on 3 July 2010 the access road had been widened, turned in to a slush pit, and a logging access road had been started into the coupe.
There had been no consultation – zero, zilch, nada. Our 75 year-old house sitters heard the chainsaws and were too frightened to confront. Did FT make an effort to explain – NO!
Over the past 19 months I have debated a number of issues with Forestry Tasmania and the Forest Practices Authority on the values associated with the coupe.
I have suggested there have been multiple breaches of the Forest Practices Plan and the Forestry Practices Code administered under Graham Wilkinson.
I have backed these up with personal, written, visual and audio evidence.
These breaches include:
• Lack of Consultation
• Failure to washdown vehicles
• Failure to recognize the existence of threatened species
• Operating machinery in wet conditions (it was like the Somme up there and they even put down duckboards to get the machinery off the coupe!)
• Failure to survey appropriately both European and Indigenous sites – they still have not done it properly
• Lack of consideration of visual landscape (from Projection Bluff lookout)
• Failure to apply appropriate silt trapping and production of sediment drain off, ultimately in to Liffey River/Falls WHA.
• Destruction of subsantive rock outcrops with moss (part of the FPP)
• Weed management – associated with the failure to washdown machinery
• Failure to acknowledge the existence of threatened species: Tasmanian Devils, Spotted Tail Quolls and the Green and Gold Frog, despite both photographic and audio evidence
There are more…..
The CFPO rejected all of these claims as "unsubstantiated allegations" and immediately firewalled all further email inputs from me.
So much for collaborative consultation … if you do not agree with me I will prevent you from communicating.
Of greater relevance to me, and perhaps even to the prior Minister (Lewellyn) who granted the covenant property licence, is … how is it that I am not allowed to move a rock, collect firewood, cut a tree, must eliminate foxgloves etc, protect endangered species etc, in the 17 hectare area adjacent to the Liffey Falls WHA, yet just 60 metres away, FT, sanctioned by the sycophantic CFPO, are able to clearfell 44 hectares abutting the WHA area, eliminate the astounding landscape of early Tasmanian history, create weed development, enhance silt intrusion to the Liffey Falls WHA, and eliminate endangered specied habitat??
Gobsmacking counter culture!
Minister Bryan Green are you able to explain this?
The following email (slightly sanitized to meet TT guidelines), was sent to the Minister for Forests as a result of the attached letter received from Forestry Tasmania in relation to the access to my property at 12474 Highland Lakes Road Golden Valley.
It clearly suggests that as a private citizen, I have no rights, save bowing to the almighty god of Forestry Tasmania and by the way paying for the privilege of that kowtow.
Bryan (Green),
I have received the following letter from FT …
Download: FT_response.pdf
… and comment as follows:-
This is an extraordinary extrapolation of FT's and the State's Legislative powers, which I will try to summarize as follows:-
• various private landholders have had access to their various properties or commercial activities along Mountain Road on the subject escarpment for at least the past 100 plus years, i.e they have unfettered access free of the encumbrance of the Government or FT.
• according to FT, in 1991, as per the following, "the Government of the day proclaimed the adjoining land was "State Forest" and the access road was then "considered" to be a Forest Road".
• I believe on my research "that the area surrounding Mountain Road, and thus the road itself, was gazetted unilaterally by the then Government as State Forest under the Public Lands (Administration and Forests) Act 1991 (Act 42), with amendments then incorporated into the Forestry Act 1920".
• I note the phrase that FT uses of "considered to be a Forest Road" is less than definitive, and the comment that the Solicitor General agrees is merely symptomatic that all Government Departments, and indeed yourself as Minister of Forests, are fearful of disagreeing with FT in any fashion.
• The action of the State/FT in removing the access rights of an individual to property that have been in existence for 100 plus years is an extraordinary action and needs to be tested in a legal framework.
• The less than covert threat by FT in their letter, (which is a repeat of an email from FT Mersey to in April 2010), that I do not have legal access to my freehold covenant land property, is reprehensible.
• Of even greater concern is the FT blackmail tactic of suggesting that "by the way we are able to charge you a fee for your access" is certainly something that the media should be interested in.
• The word "outrageous"springs to mind.
Minister there is little doubt that Forestry Tasmania has completely lost the plot.
Over the past 12 months I have variously offered to purchase from FT the subject Coupe on the same commercial terms that Jan Cameron bought her substantial native forest collection from Gunns in late 2010; I have suggested that I would maintain the entire 44 hectares of the Coupe at my cost and save the financially stressed GBE the $20 a hectare/pa ongoing expense; and to maintain their so called "Forest Road" that they have never maintained in 20 years (The last owners asked FT to help, were rejected, and spent some $4000 themselves to roadbase and grade).
FT has not responded to any of these reasonable commercial approaches.
It is very simple Minister.
Instruct FT that the Coupe is never to be logged; reinstate the WHA sign where it was on the corner of Highland Lakes Road and Mountain Road; declare the escarpment associated with the coupe is a Tasmanian Heritage Area of Significance (European/Indigenous/Convict); and fund DPIPWE for a complete Tassie Devil Survey of the coupe and the surrounding area.
Legend: Deep Green: Old dwelling remnants on my property. Purple: Road access to sawmill. Light green: Tramway to Liffey River. Yellow: Sawmill and associated activities. Orange: Rock Shelters. Dark blue: Martin Cash "caves (according to legend). This graphic puts it all in context: a 2km by 500m escarpment rich in European, Indigenous, and (perhaps) convict, cultural heritage … and Forestry Tasmania can – with the support of the Forest Practices Authority tape off the important bits, and Bryan Green will say they are protected … Could you also tape off Ayers Rock and destroy the external landscape with other activities (apartments, wind generators or clear felling). The entire context is lost and the heritage then becomes meaningless.

Shelter on coupe. Not identified by FT.


Martin Cash "caves"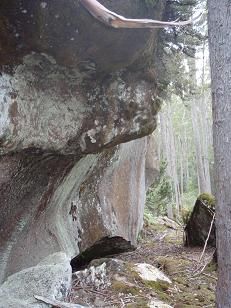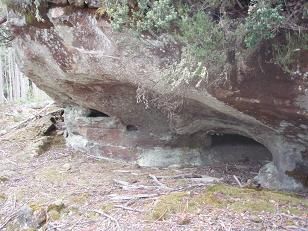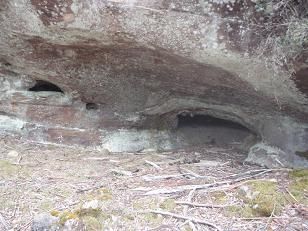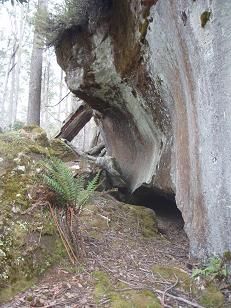 Indigenous shelters on coupe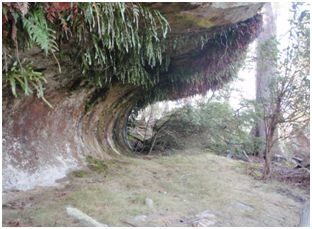 Rock shelter below sawmill

Rock shelter on coupe, not identifed by FT … with charcoal and probable aterfacts.

Sawmill remnants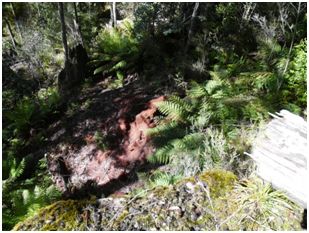 Tramway remnants

DPIPWE IR trapping photos of Facial Disease Free Devils atop the escarpment overlooking the Liffey Falls.

Now you see it…


… now you don't. FT removed the sign.
Dave Groves: Bob 'n' Bryan HERE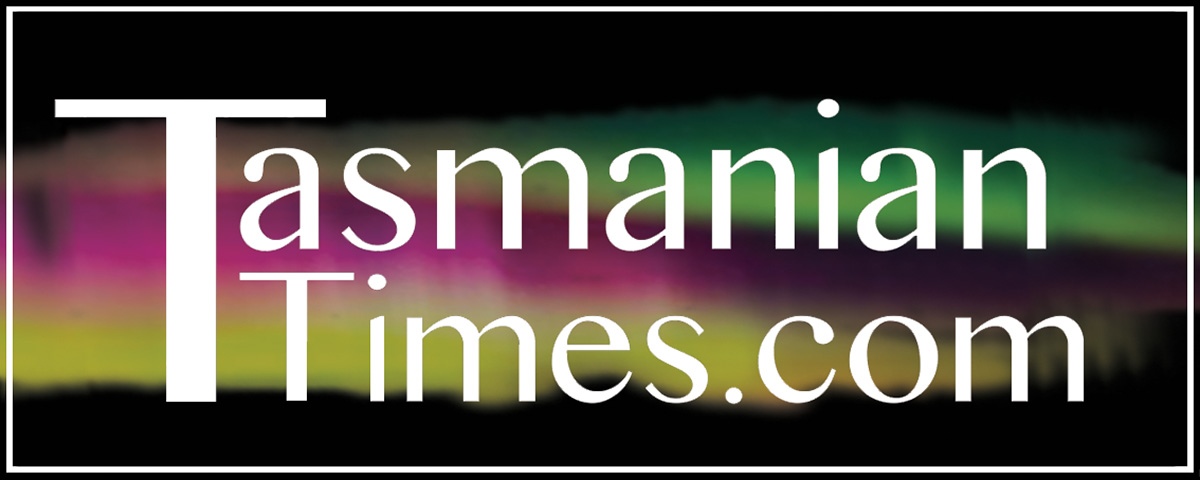 Author Credits: [show_post_categories parent="no" parentcategory="writers" show = "category" hyperlink="yes"]