Press conference:
8th August 2011 at 11 am
Parliament Lawns, Hobart.
This morning grassroots forest groups the Huon Valley Environment Centre, Still Wild Still Threatened and Code Green have taken action at the Ta Ann veneer mill in Smithton. 12 conservationists entered the site at 6am and two activists are locked on to machinery, halting operations. The protestors are displaying a banner reading "Ta Ann terminating Tasmanian forests.
This action takes place in response to Ta Ann's role in blocking a solution for Tasmania's forests. Grassroots environment groups are raising concerns over yesterday's Intergovernmental Agreement.
"We are aware of Ta Ann's shocking environmental and human rights practises in Sarawak and we are raising the question to the State and Federal government – why is this exploitative Malaysian company allowed to continue destroying our forests and threaten Tasmania's chance to move forward to a sustainable industry?" said Code Green spokesperson, Joanna Pinkiewicz.
"Yesterday's agreement guarantees Ta Ann's contract until at least 2027. This Malaysian logging giant have a deplorable record in Sarawak and are now entrenching large scale clear felling of native forests in Tasmania" said Huon Valley Environment Centre spokesperson Jenny Weber.
"The intergovernmental Agreement leaves open over 140,000 hectares of identified high conservation value forest to potential logging. Contracts with companies such as Ta Ann could jeopardise the future protection of high conservation value forests, with further reductions to the reserve area still on the table" said Still Wild Still Threatened spokesperson Miranda Gibson.
"While we look forward to seeing high conservation value forests protected, the real hurdles are yet to come. This agreement is a first step that has not yet guaranteed the formal protection of these forests that is now long overdue" said Ms Weber.
Huon Valley Environment Centre: Jenny Weber; Still Wild Still Threatened: Miranda Gibson; Code Green (Launceston) Joanna Pinkiewicz; Ali Alishah (locked on at Smithton mill)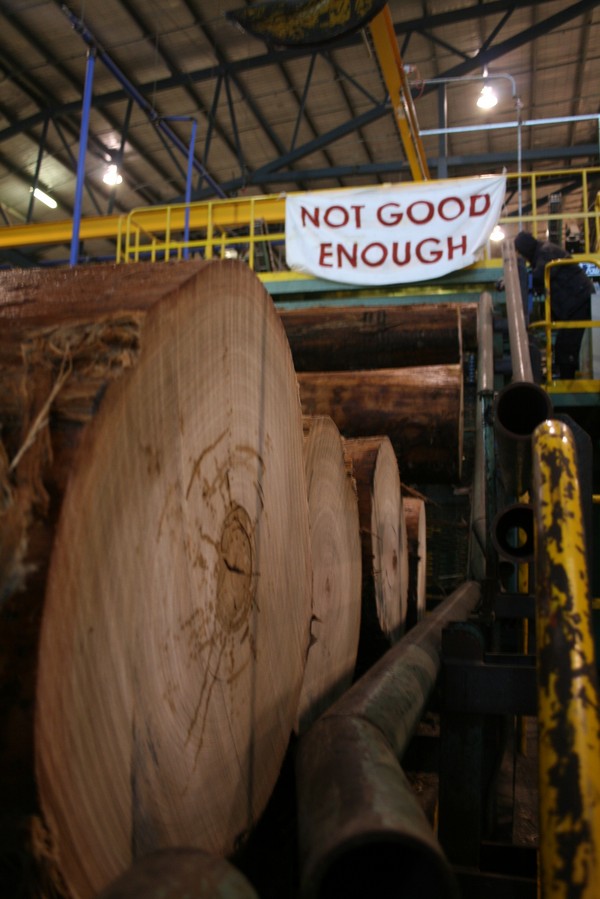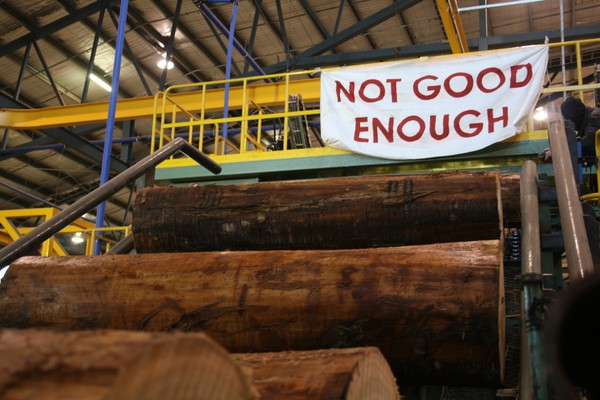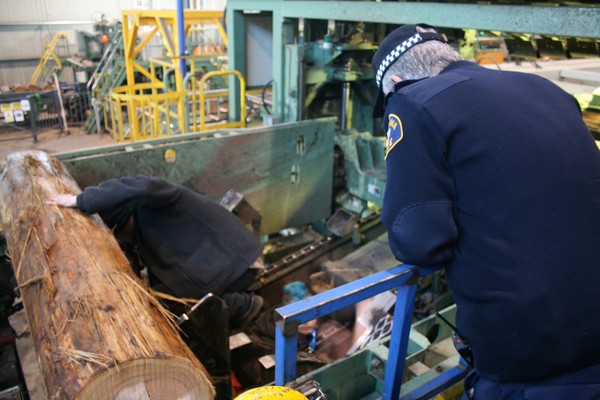 Action photos from Smithton Ta Ann mill
Jenny Weber
Huon Valley Environment Centre
And HVEC response to the iga.
Huon Valley Environment Centre responds to the Intergovernmental Agreement.
Huon Valley Environment Centre welcomed the long awaited statement by Gillard and Giddings that the Weld, Huon and Picton Valleys would be protected. At least for now we will be keeping a very close watch on the bulldozers moving out and logging ceasing. Though the test will be that logging does not recommence ever.
Huon Valley Environment Centre does still have concerns over yesterday's Intergovernmental Agreement and Ta Ann's role in blocking a solution for Tasmania's forests. There is a very real lack of detail about a transition out of native forest logging in the agreement, and a guaranteed wood supply for Ta Ann's 265 000 cubic metres of billets.
We intend to monitor that the legislation to secure it's wood supply does not rear it's ugly head in the future. And what a relief that the Greens and the ENGO's had power of influence to prevent that being locked in to the agreement.
The facts remain that Ta Ann's has a shocking record of environmental and human rights practises in Sarawak. This agreement is backing the destruction of native forests by a company that is participating in illegal logging in Sarawak. A subsidiary of Ta Ann is the subject of a number of legal cases from native people defending their homes from logging. While this is occurring Ta Ann should have no place in the Tasmanian community.
The Intergovernmental agreement guarantees Ta Ann's contract until at least 2027, and beyond. This Malaysian logging giant are at the helm of entrenching large scale clear felling of native forests in Tasmania.
When the national parks that have been promised are in place, if the hurdles of the conservative Legislative Assembly and political stability is overcome, there will remain a large area of primary forest in Tasmania.
Further to that, with our associates Still Wild Still Threatened, we are concerned that the intergovernmental agreement leaves open over 140,000 hectares of ENGO identified high conservation value forest to potential logging. Contracts with companies such as Ta Ann could jeopardise the future protection of high conservation value forests, with further reductions to the reserve area is still on the table.
Huon Valley Environment Centre is looking forward to the world heritage values of the tall eucalyptus and old growth forests of the Weld, Picton and Huon Valley's, along with a large tract of forest in the Huon district, having a future without the destructive logging.
The real hurdle is national park protection of these ancient forests being delivered. Huon Valley Environment Centre has spent the past decade highlighting the ongoing logging of these areas and unfortunately we have lost so much. Their legislated protection and World Heritage nominated status is long overdue, we will be keeping a close watch on their protection being realised.
While Huon Valley Environment Centre looks forward to seeing high conservation value forests protected, the real hurdles are yet to come. This agreement is a first step that has not yet guaranteed the formal protection of these forests that is now long overdue. Prime Minister Gillard and Premier Giddings has promised the Weld, Picton and Huon will be protected. The Weld was once promised for protection by John Howard, and it has also been a deferred forest before.
Our campaign will go on to advocate for full national park protection for the full 572 000 hectares of forest. And our campaign will continue to put a spotlight on the Malaysian logging giant Ta Ann, who has a stronghold in the southern forests. The campaign to end the native forest logging in Tasmania is also going to continue to highlight the time is now for deforestation of native forests to end and help mitigate climate change impacts.
• Media Update: Peaceful protesters receive harsh sentences.
Today, two protesters were arrested at Ta Ann's timber mill in Smithton, in Tasmania's north west. After being chained to machinery for over 4 hours. The pair were both charged with trespass and appeared in Burnie court this afternoon. The two peaceful protesters received suspended jail sentences and 18 month good behaviour bonds.
"The treatment of these two peaceful protesters in court is shocking. To consider putting people in jail for standing up for our precious native forests and taking part in a peaceful non-violent protest is a harsh and undemocratic response" said Huon Valley Environment Centre spokesperson Jenny Weber.
"These individuals should have been afforded the opportunity to have the Court determine their matters at a later date, which is the usual course" conservation lawyer, Vanessa Bleyer said. "They should have had the time to seek legal advice and be legally represented, rather than be taken into custody and taken straight to Court following the alleged incident. The penalties are excessive. A significant injustice has occurred today, and there are courses that can and should be taken to correct it."
In further developments today, Ta Ann's manager David Ridley has suggested that Forestry Tasmania may not be able to meet Ta Ann's contract if 430 000ha of promised national parks is granted.
• What HVEC's Jenny Webber told Saturday's Hobart rally
I would like to acknowledge the indigenous people of Tasmania and their legacy as custodians of this land.
Tasmanian Aboriginal people have visited, occupied and understood the Weld Valley for at least 24 000 years.
The Weld Valley, where threatened forests flank the wild weld river, a river that rises at Mt Mueller, draining the Anne Range, the snowy range and Mt Weld.
There is a large tract of threatened forest in the North Weld, where the gullies are steep, massive eucalypts tower above dense rainforest, and an understorey of leatherwood, myrtle, sassafras, celery top pine and manferns have existed for many generations before us.
In one pocket of the unexplored tract of the North Weld, there is an extraordinary collection of seven giant eucalypts growing within 30 metres of each other.
In the Middle Huon, where beneath the soil, decomposing leaves and deadwood, runs a massive karst system. An outstanding cave-system, a fragile ecosystem that is globally significant.
A karst system that has significant cultural values to Tasmania's Aboriginal people. Evidence of continuous Aboriginal occupation and use of the area for at least 35 000 years and potentially much longer. And occurs in threatened tall old growth Eucalyptus forests within three kilometres of the boundary of the World Heritage Area.
A karst system that was only discovered when a bulldozer fell in to part of it in early 2002 and still the area remains unprotected.
I am here today to remind us all of what is out there in Tasmania's threatened and wild forests.
The giant trees, wildilfe habitat , the valuable karst systems, the ancient rainforests, the natural landscapes that have evolved over millions of years.
The healthy Tasmanian Devils, they who are on the brink of extinction. They who will benefit from protection of their forest habitat.
I am here to remind us of the dense forest species such as the Myrtles, the dominant species in Tasmania's cool temperate Gondwana derived rainforest. A tree that can reach 500 years of age.
Tasmania has species which are found nowhere else on earth. The endangered Tasmanian wedge tailed eagle, and the endangered Tasmanian masked owl, who both require large old growth trees for nesting and breeding and are endangered due to ongoing habitat loss.
The endangered swift parrot that breeds only in Tasmania, and migrates to mainland Australia outside the breeding season.
Urgent protection is not only needed for the icon forests that have been given international recognition, it is also about the large tracts of high conservation value forests across Tasmania that have not been given the same attention.
And it is also about all the native forests in Tasmania.
Native forests that face a doomed future in the hands of Ta Ann who has a contract secured till 2027.
Native forests that are of global importance to reducing climate change, consumers of carbon, purveyors of water, treasure houses of species. Shelter and nests for wildlife; platypus, frogs, wombats, bettongs, pademelons and wallabies.
We keep being asked to compromise. We compromise every day another wild forest falls, another tree hollow smashes to the ground, endangered species habitat vanishes.
Reflecting on all that we have lost, the forests that people have lived in, have stood in the middle of roads as the bulldozers arrive, they have climbed the tall trees, and slept in their branches on tree sits, attached themselves to machines, and traversed dense wilderness forests, sat atop tripods and cable logging machines, those forests that are now gone.
And we have seen them on the back of log trucks, as large looming piles of woodchips, on the wharf being loaded as veneer and whole logs and in the ash cloud that rises to the sky and blankets our homes each regeneration burn season.
We have not participated in these acts of civil disobedience because we thrive on conflict and have extremist views. We are not the agents of conflict.
We see the value of leaving the forests standing and the tragedy of the violence against these wild places that is perpetrated every day.
Our campaign is a cry to honour life, to respect the ecosystems that support us and the many animals and plants that share our earth.
• Gunns seeks and the ASX delivers a suspension: HERE
• What George "Woodworker" Harris says about the deal:
H folks,
Many of us change our position on things over time, and some of the beliefs and associations you have in your younger days may not be the same as what we would opt for in our current circumstances.
However, there are some deep cultural and philosophical positions that, once established, would probably remain to some extent, no matter how one's circumstances change. This certainly could be the case with the person nominated to guide the process of verification of the areas under consideration for removal from the forest industry and placement into yet more formal reserves, national parks, and possibly even extensions to the World Heritage Area.
It has been revealed that Professor Jonathan West was for a short time in the mid 1980's the National Director of the Wilderness Society, and in that time was highly successful in achieving results for that organisation's point of view, and contrary to the interests and preferences of the timber industry at that time, which was in the early days of the thirty year conflict over the forests.
The revelation of this information is not going to go down very well in some quarters, and probably none more so than among the families that remain in the Jackey's Marsh area, and some of those are sixth generation timber industry people.
I received this information recently, (Download below) and I know a number of people were interested to circulate it to see if it could have altered or prevented the selling out of the timber industry in the form of the signing of a less than helpful document in Launceston on Sunday August 7.
Whatever happens, the process that follows has to not only be appropriate, but be seen to be appropriate, and that includes being forged by people of the highest levels of competence and integrity, and without any hint of duplicitousness. The process has to be open and transparent, and have a far greater level of integrity than the Statement of Principles that brought about this dubious situation.
Download:
the_umpire.docx
the_independent_umpire_ws-1.pdf
• ABC Online: Deal under threat
…
The Forest Industries Association's Terry Edwards says Labor has sold out the timber industry to stay in power.
"Nick McKim is the the true Premier of Tasmania today," he said.
Mr Edwards says the resource security the industry was seeking was in a draft document he saw Thursday night, but was not in the document signed on Sunday morning by the Prime Minister and Premier.
He has called on the federal opposition and members of the state and federal upper house to block legislation for the deal.
"We will ask the legislative council members to reject this outright we are hoping that they at least have the independence of thought and mind to try and protect Tasmanian workers," he said.
"And not simply do what both governments have done cling desperately to power in minority governments just for that purpose alone."
…
Forest Contractors Association spokesman Ed Vincent is concerned about those restrictions as well, but says he supports the deal in general terms because it provides the way out contractors need.
"Those who needed to get out could do so with some dignity," he said.
But he says under the agreement, the State Government needs to set up the new reserves first and that could drag the process out.
"Until something is done and signed off, there's always some risk but there's a lot of goodwill from the Government and other people involved in this process so we'd hope it can be done quickly," he said.
He wants the State Government to set up the new forest reserves quickly because under the agreement, Commonwealth payouts cannot start flowing until that's done.
Independent MLC Paul Harriss says the multi-million-dollar assistance package for Tasmania's struggling forest industry will struggle to get the support of the Upper House.
The $276 million deal provides immediate support for sacked forest workers and locks up 430,000 hectares of native forest in informal reserves which will not be used to help meet wood supply contracts.
Legislation to formally protect areas of reserve must be introduced into state parliament by the end of June next year.
Mr Harriss told ABC local radio the process had been flawed.
"The government has a lot of ground to make up in terms of its own credibility," he said.
"It has been a sell out of the highest proportions, you don't just give away a resource this important without the scientific rigour which it should have had."
The Liberals are urging federal independent MPs to reject the deal.
…
• What the TFGA says about the deal
TFGA slams forest agreement
The Tasmanian Farmers and Graziers Association (TFGA) today accused the federal and Tasmanian Labor governments of reneging on a pledge that private forests would not be affected by the new forest agreement.
The TFGA remains resolutely opposed to the agreement, for the unnecessary trade-off it imposes by way of forest lock-ups in return for compensation to workers and regional development incentives.
"Tasmanians are being expected to trade off a valuable job-creating industry that delivers significant economic value and supports regional communities in return for a meagre assistance package," TFGA chief executive Jan Davis said.
"As importantly for farmers, the agreement signals an intention to add another layer of regulation that will further threaten the viability of forestry on private land.
"We were told throughout the process that private forests would not be affected, and reassured that there was no need for us to be concerned about any flow-on effects to the private sector.
"Yet, once again, private foresters have been done over by governments seeking to appease Green demands. Clause 31 of the IGA imposes a requirement for private forestry operations to reach one of two high certification standards or, presumably, they will be denied access to processors and markets.
"That is a direct intrusion into a free market. We cannot tolerate that. It would also make us answerable to a new forestry regime elite, none of whom have invested their own hard-earned money in owning and managing forestry resources.
"This is a very short-sighted decision by the two governments, given that modeling provided to both by Forestry Tasmania also shows it simply does not add up.
"The Greens feign outrage at the lack of formal reserves in the agreement but they have what they want, so far. They have already flagged that their agenda will inevitably move on to private forests and bans on plantations. So what certainty does the private forestry sector have?
"Both Governments need to understand that private foresters will not accept this further erosion of their assets and their rights without appropriate compensation," Ms Davis said.
• What FT's Bob Gordon told staff
Colleagues,
Over the weekend, the Prime Minister and the Premier signed the Tasmanian Forests Intergovernmental Agreement. We are in the process of working through in a quite clinical manner the implications of the Agreement for FT and our capacity to supply customers.
The Agreement proposes to reserve a further 430,000 hectares of State forests. Today, we have 13 contractors working in coupes within that 430,000 hectares and we have provided advice to government that we will require access to 80 coupes in that area before Christmas to meet our contractual obligations, particularly for peeler billets.
In short, we have consistently advised stakeholders that we could not afford to reserve more than an additional 300,000 hectares if we were expected to provide 265,00 cubic metres of peeler billets and 155,00 cubic metres of sawlogs.
Over the next few days, we will be taking a hard look at the Agreement and what it means for us, including our legal obligations.
I will keep you informed as we move through the process. The Intergovernmental Agreement can be found on the intranet.
Bob Gordon
Managing Director
• Lead, says Nick McKim
LEADERSHIP NEEDED TO DELIVER FORESTS IGA PACKAGE
Destabilising Could Cost State
Nick McKim MP
Greens Leader
The Tasmanian Greens today said that the Tasmanian Forests Intergovernmental Agreement (IGA) needs to be considered as an integrated package, and called for leadership from those seeking to destabilise the Agreement.
Greens Leader Nick McKim MP said that while the IGA is not perfect, attempts to destabilise its capacity to drive conservation and industry restructuring outcomes, could cost Tasmania dearly.
"The original Statement of Principles, signed by representatives from industry, unions and conservation groups, always intended there to be an integrated package which would provide exit with dignity for contractors, protection of identified high conservation value forest, an industry transition and a boost for regional development," Mr McKim said.
"While none of the signatories would claim that the IGA signed by the Prime Minister and the Premier perfectly represents their constituencies, it has moved forward to a fairer representation of the Statement of Principles' intent, than the problematic Heads of Agreement of a fortnight ago."
"Those who are arguing against the IGA are in affect arguing against immediate assistance for contractors, against further exit with dignity packages, against a guarantee of current existing contracts, and against the promised injection of $120 million for regional development to stimulate local economies around the state."
"The IGA provides outcomes for the forest industry, however the certainty for conservation outcomes is delayed for possibly another twelve months before any conservation legislation may be passed by the Parliament."
"Let's be clear, the map released by Federal Minister Tony Burke identifies that only about a third of current state production forests is covered by the eNGOS identified 572, 000 hectares for protection, leaving two- thirds as production forest."
"The Greens urge that Legislative Councillors consider the package as a whole, and demonstrate leadership and vision to see how the industry and conservation measures could further Tasmania's economic transition onto a sustainable footing."
Mr McKim also said that the Greens were not signatories to the Statement of Principles, or the IGA.
Reference: The Tasmanian Forests Intergovernmental Agreement, 7 August 2011, (including the map of proposed protected forest area) can be found on the Federal Minister for Environment's website- http://www.environment.gov.au/minister/burke/2011/mr20110807.html
• Richard Colbeck
SENATOR THE HON RICHARD COLBECK
Senator for Tasmania
Shadow Parliamentary Secretary for Fisheries and Forestry
Shadow Parliamentary Secretary for Innovation, Industry and Science
M E D I A R E L E A S E
8 August 2011
Forest deal has no legitimacy
The Tasmanian forestry Heads of Agreement has no legitimacy because Labor has grossly deceived the Tasmanian community.
"State and Federal Labor have flagrantly misled the Tasmanian forest community and the Intergovernmental Agreement merely documents Labor's capitulation to the Greens," Coalition forestry spokesman Senator Richard Colbeck said.
"The deception by Labor, and also the environment groups and unions, throughout this process is frankly disgraceful.
"This deal is based on a lie and on continued misleading of the Tasmanian community.
"Tasmanians were promised all through this process that it was a negotiation to find a peaceful and productive future for Tasmania's forest resources.
"Environmental extremists couldn't even wait for the ink to dry before launching a new round of workplace invasions at Smithton today, so it is clear the objective of finding peace has failed.
"And the forest industry will face significant challenges without resource security after this crucial clause was reneged at the eleventh hour in a desperate bid to win Bob Brown and Nick McKim's support.
"The resource security back flip is outrageous and Prime Minister Gillard should be held to account for her part in this shameless deception.
"During the past two weeks the forest industry had been negotiating in good faith based on Prime Minister Gillard's commitment that resource security was guaranteed.
"Labor and the Greens must be condemned for facilitating a disastrous deal that will gut $700 million a year from Tasmania's forest industry," Senator Colbeck said.
SATURDAY, Mercury, Emma Hope:
A MALAYSIAN parliamentarian has visited Tasmania's native forests with a warning over timber company Ta Ann's business operations in his home country.
Baru Bian from the Justice Party in Sarawak, Malaysia, was in Hobart yesterday speaking about Ta Ann and a subsidiary company, Gran Perfect.
Ta Ann owns 30 per cent of shares in Gran Perfect, which is facing court action in Malaysia over illegal logging.
Mr Bian said he was shocked the company was operating in Tasmania's native forests.
"You need to scrutinise it in the light of what is happening in Malaysia. I'm very surprised Ta Ann can come in to Tasmania," he said.
"When they were saying it was cheaper to buy here, I thought there was definitely something interesting in it."
Senator Bob Brown said Ta Ann was buying Tasmanian native timber at a discounted rate, with government-owned Forestry Tasmania subsidising the price.
"I've got no doubt that Ta Ann were brought to Tasmania in the first place as a trojan horse to get the woodchip industry into these beautiful native forests in Tasmania. So it was simply a set-up to justify the woodchipping," he said.
"Ta Ann should never have been allowed in Tasmania's native forests, Senator Brown said.Ta Ann Tasmania hit back at the claim that it was buying wood at a reduced price.
"Our business is based on low-quality, pulpwood-grade logs which are otherwise made into woodchips and we pay a premium," said Ta Ann director David Ridley.
"We use low quality logs to make high quality veneer for the international market."
Mr Ridley said Ta Ann employed 160 people and anticipated putting $45 million into the Tasmanian economy this year.
Mr Ridley would not comment about the claims regarding court action in Malaysia because he did not know the specifics of the case, he said.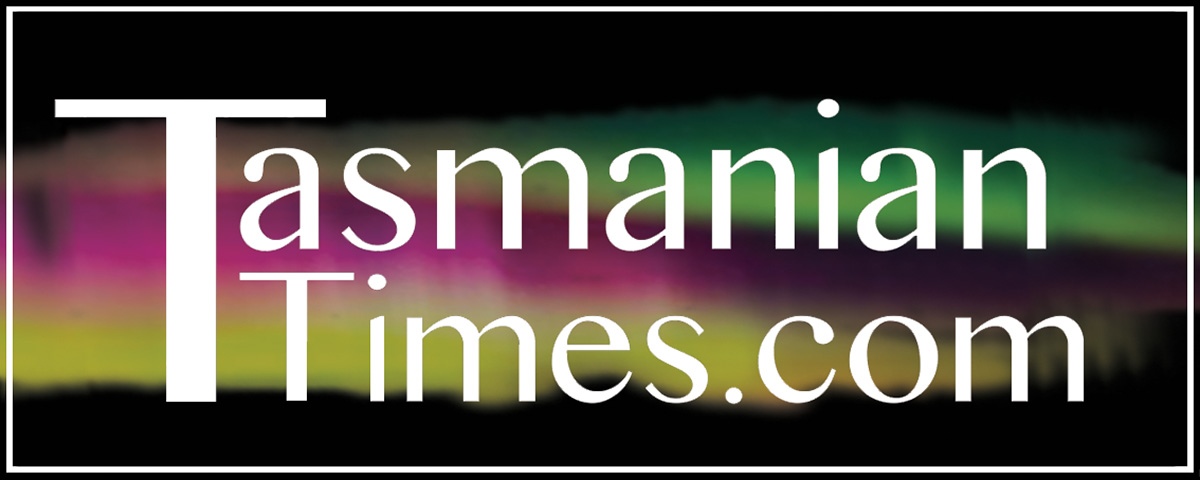 Author Credits: [show_post_categories parent="no" parentcategory="writers" show = "category" hyperlink="yes"]