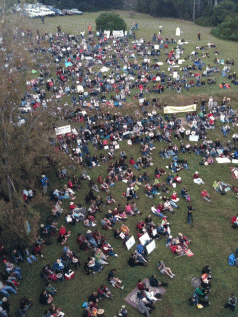 Seven long years ago Paul Lennon and John Gay decided they would build their pulp mill. The people did not agree. They tried to silence us, to intimidate us, to threaten us, to break us and destroy us. Lately they've even tried to flatter us and to divide us.
And after seven long years I am here today to say Gunns has still not won. And I am here today to say if it takes another seven years Gunns will never win.
For seven long years we have had arrayed against us on all sides the immense power of great parties, of governments, of unions, of paid up cronies in media and front groups.
And all that combined power was in craven servitude to the wealth of one company. That wealth was stolen from our forests and our taxes, and it was made from the selling of our soul.
To get their mill in the face of the people's opposition, they perverted Parliament, they cowed the public service, they sued some, assassinated the characters of others, they spat on our laws and even had their lawyers write new ones that placed their mill beyond the law, they stacked every sphere of public life, every board and department, with their despicable bullying cronies.
Yet the paradox is that this battle destroyed not us, but them. It destroyed Paul Lennon. It destroyed Robin Gray. It destroyed John Gay. It will destroy Greg L'Estrange. But we are still here. And, after seven long years, we are stronger than ever. Gunns did not win then, they will not win now, and they will never win.
To agree to this mill is to say to everyone in Tasmania—every man, woman and child—that in the end might is right, greed is good, that the only law is the dollar, and that the corruption of our public life is not just acceptable but the only way to get anything done in Tasmania.
We find ourselves then in a great struggle, the path through which is far from clear, the horizon of defeat constantly in view. The power of Gunns remains considerable, and its motive for mischief, for deceit, for unscrupulous action is enhanced and not diminished by the perilous state they find themselves in.
But we have discovered within ourselves a power greater than their money. It is the power of the powerless. And it is a simple thing of terrible beauty. It is the power to say, No; I do not agree.
It is the power manifested by a welder in a Gdansk shipyard in 1980. It is the power shown by an imprisoned playwright in Prague in 1989. It is the power of a fruit seller in Tunisia three months ago, of the crowds who kept returning to a Cairo square two months ago, and it is the power this very day of those patriots in Benghazi standing up to a murdeous dictator.
It is the power against which nothing can ultimately prevail, the moment a people withdraw their consent. It is the power against which armies, states, and tyrannies ultimately crumble. It is the power that again and again and again changes history.
And it is this power of the powerless, of the many who say, No, I do not agree, that will ensure that John Gay's dream and Greg L'Estrange's million dollar bonus all end up as ash.
It is the power that has already reduced Gunns, once so powerful, to their knees. Their share price is terrible, they cannot even pay their millions of dollars of debt to Forestry Tasmania. The clock is ticking against them. The one chance Gunns have is getting another company to sign up as a joint venture partner and invest hundreds of millions of dollars in this folly of a mill.
This is our message today to any prospective financier. If it takes Tasmanians going to jail to stop this mill, then, if we must, we will go to jail. We will go to jail in our tens, we will go to jail in our hundreds, and we will go to jail in our thousands, and we will keep going to jail until this mill is stopped.
So in the weeks and months to come, when you feel despair arise again—as inevitably it will— when you see their money and deceit once more being trumpeted in the media, do not fear. Remember what you share with so many others, that act of not agreeing with what you know to be wrong.
And know that is our power, that is our strength, that is the rock they cannot and will not break and because of it, because we do not agree, this mill will never ever be built.
This is a battle for the soul of our island and we will endure. We have stayed the course for seven years, and if it takes another seven long years we will prevail because it is our island and not theirs, because it is our air and our water and our future and we will back our island home with the strength of our love and the example of our lives.
Thank you.
First published: 2011-03-20 11:39 AM
Pictures: Matthew Newton: http://www.matthewnewton.com.au/#/Commercial/People/1
Below: Pictures by Garry Stannus

Lucy Landon-Lane, Pulp The Mill
Anti-pulp mill Protest at Batman Bridge
Over 1600 protesters gathered at the Batman Bridge Reserve today to voice their continued opposition to the Tamar Valley pulp mill.
The Peaceful Community Protest, organised by Pulp the Mill, included speakers from all the anti-pulp mill groups as well as Peter Cundall, Richard Flanagan and Kim Booth, in a show of unity and strength.
Lucy Landon-Lane, spokeswoman from Pulp the Mill said, "Today was a fantastic show of community strength and unity in the fight against the pulp mill. As a symbolic act of crossing these troubled waters to success, all protesters walked along the Batman Bridge with their banners. There were so many people that when we spanned the bridge, we couldn't fit everyone on and had to start coming back the other side."
"Peter Cundall and Richard Flanagan both received a standing ovation from an enthusiastic and vocal crowd, sending a loud message to Gunns, potential joint venture partners and the Government that the community is gathering momentum and solidarity for the final phase of the campaign and will not stop until this pulp mill is dead." she said.
"We will never give up! Never. never give up!" said Peter Cundall to an adoring crowd.
Kim Booth
PULP MILL MESSAGE LOUD & STRONG!
Kim Booth MP
Greens Forestry spokesperson and Member for Bass
The Tasmanian Greens today pledged to continue to fight against the controversial Gunns' pulp mill proposal in the Tamar Valley, saying that they stand strong with the community.
Greens Forestry spokesperson Member for Bass Kim Booth MP, who addressed today's rally in Launceston, said concerned citizens now needed to pressure both Labor and Liberal representatives to support the Greens' move to repeal the Pulp Mill Assessment Act 2007.
Mr Booth also congratulated everyone who organised and participated in today's rally, saying that people taking to the streets should never be underestimated.
"On behalf of all five Greens MPs I urge the community to not give up, to continue to take a strong stand against this toxic mill, and to lobby their Labor and Liberal representatives to vote to repeal the Pulp Mill Assessment Act 2007," Mr Booth said.
"It is a clear matter of public record and a statement of fact that there are critical unassessed areas related to Gunns' pulp mill proposal, including the site selection, air pollution, noise pollution and impact on our coastal waters. Each one of these areas is serious enough to stop this mill in its own right."
"It is utterly irresponsible and negligent to turn a blind eye in an attempt to facilitate this mill to proceed."
"There are 10 non-Greens' Members of the House of Assembly who were not in the Parliament at the time that the Pulp Mill Assessment Act 2007 was rammed through, and they need to hear from the public that blind acceptance of their respective party line is not good enough."
"These new Labor and Liberal MPs must not just follow blindly and compound the mistake made by their parties before they were elected, instead they need to inform themselves of the critical unassessed areas, the appalling betrayal of the public with the undemocratic ramming though of the Act, and the negative impact on other local and small businesses."
"When the Greens bring on for debate our Bill to repeal the pulp mill, these new MPs will not be able to resort to the excuse that this all happened before their time, that they are not across these matters and therefore they can only stick to their party line."
"These concerns cannot be relegated as historic, they are real and they are now. Every MP in the House will have to take responsibility if they vote to allow this travesty to continue," Mr Booth said.
Anne Layton-Bennett, Friends of the Tamar Valley
MARCH 20 Action at Batman Bridge Reserve– for Friends of the Tamar Valley
I didn't know Lucy before this pulp mill campaign, but now I count her as a friend. Someone who will – I hope – remain a friend long after this fight is over, and we can all resume our normal everyday lives without the dark cloud of a stinking pulp mill hanging over our every waking moment.
Lucy indicated the theme for today's rally was 'Unite For The Betterment of Tasmania', an idea that fits perfectly with the philosophy of Friends of the Tamar Valley, a group that – while currently committed and focussed absolutely on ensuring a pulp mill is never, ever built in the Tamar Valley, also sees a role for itself into the future. One that seeks to ensure the Tamar Valley is never again threatened by other massive, inappropriate and corruptly approved developments that risk jeopardising the environmental, economic and social health of the region. Or jeopardise its natural beauty.
Like most people here I never expected this fight would go on so long, steal so much of my life, or result in me standing here today speaking to such a wonderful crowd of people who are all dedicated to stopping this appalling mill.
This fight has ejected me well and truly out of my comfort zone. Maybe the same is true for you.
As you are all fully aware this battle has been long and hard. The years of uncertainty have taken a huge emotional toll, and nobody will emerge from it unscathed. Tasmania is such a close-knit community, and we all have friends, colleagues and family members that have been stressed beyond what is healthy during the last seven years of uncertainty.
Couples have delayed having children, business owners have delayed plans to expand their businesses, while others have had to put their retirement plans on hold indefinitely because they've been unable to sell their properties.
Many people – including those who work in the forestry industry – have been forced to simply mark time, trapped in situations over which they have no control, yet are unable to leave. Trapped in homes and businesses they cannot sell, and whose values have plummeted – because why would anyone risk buying into a region and a way of life that may soon disappear under clouds of noxious fumes. Toxic emissions that will spew forth on a daily basis from the chimney stack of the 'world's fourth largest pulp mill', threatening our collective health and wellbeing.
That said this fight has not been all bad. It has allowed me to meet some amazing, wonderful and inspiring people, whose friendships I will always value.
So this pulp mill has achieved something positive. It's brought us all together. And now that we've met each other, and our community has been well and truly forged in the fires of this fight, let's ensure we remain close, connected and ready to protect our lovely valley.
Let's take a moment to stop and think about what we have here, and what we want to have here in the future, so that we ensure our magnificent, stunningly beautiful island state is never again threatened by corporate selfish greed, and self-serving political recklessness.
Stop the pulp mill. We can, and we will.
© 2011 Anne L-B
Pictures, Watch video of the Flanagan speech: HERE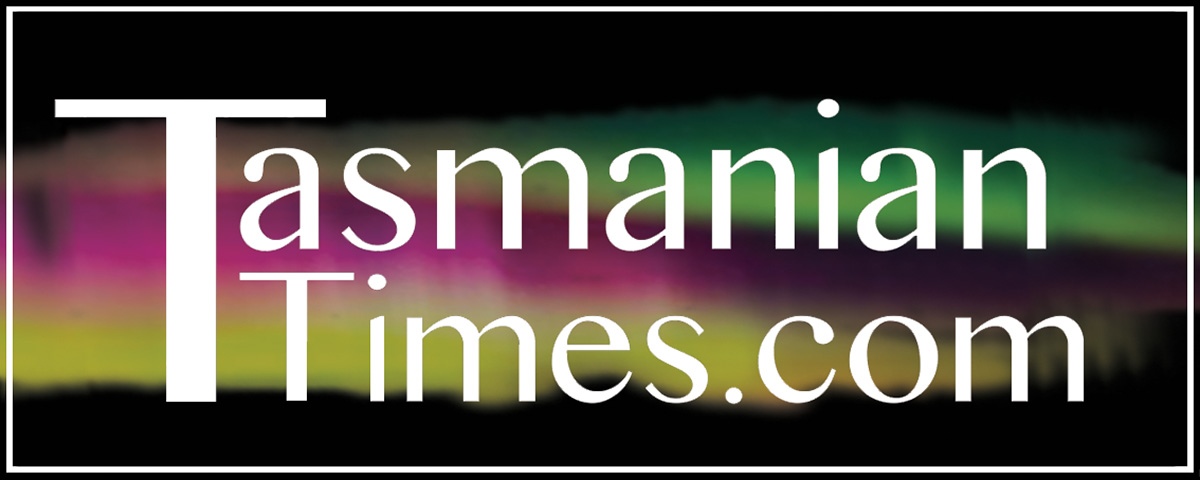 Author Credits: [show_post_categories parent="no" parentcategory="writers" show = "category" hyperlink="yes"]