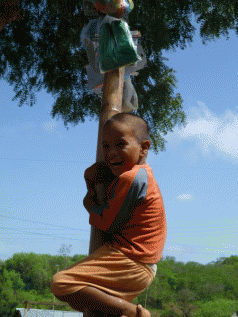 It is fitting that this being the 27th and final Donkey, it has a donkey tale. Marcelo, a local friend, who through his generosity, lack of lust for money and his community spirit, is like the unofficial mayor of his very poor village Bellavista, which is on the outskirts of Bahia. Bellavista is an area of land where landless peasants illegally established huts around twenty years ago. A few years ago the government finally recognized the rights of the residents and issued land titles to them. Marcelo´s father was the local vet when Marcelo was born about 40 years ago. This was a very fortunate profession, given the lack of health services in the area at that time, when Marcelo came into the world in his parents cane house at just six months. Marcelo´s father quickly constructed an incubator for his tiny son and fed him donkey milk. Today Marcelo is an athletic bloke and a passionate social and environmental actionist.
A Canadian guest at our hostal donated some money for the community of Bellavista and its dogs (dogs in poverty stricken areas tend to be very sick and mangy). With Marcelo and a couple other guests we spent the money vaccinating the local dogs and having a party for the local kids. The party was at the school with lots of food, games and ear to ear smiles.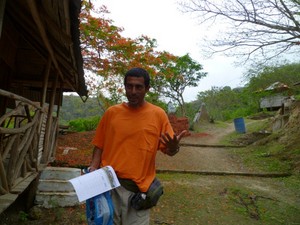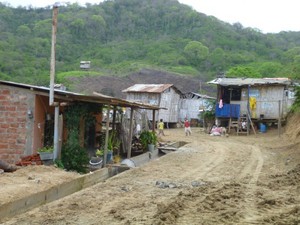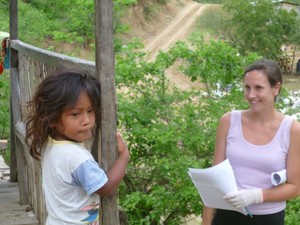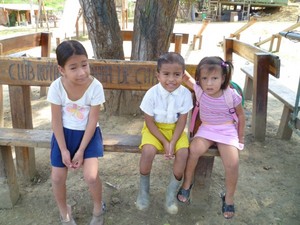 Marcelo and Bellavista
We felt at home very quickly in Bahia for several reasons. Firstly, Baheños are amazingly relaxed and friendly people who always have time to stop what they are doing for a little chat. International tourism has not yet hit Bahia in a big way, and the locals are generally comfortable with and welcoming toward foreigners.
Secondly, Bahia is small meaning not only to you get to know it intimately very quickly but you begin to see the same faces regularly.
Thirdly, running a small business instantly forces you to be part of the local community and its economy. We had to purchase tankers of water (partly because town water rarely came probably because the mayor owns one of the water tanker companies), pay our employee Gustavo´s pension and wages, pay electricity, water, internet, cable, and do the banking, all at different places and every month. When you are purely earning and spending within the country´s economy, rather than with funds saved from Australia, you instantly begin thinking in the local economy, which is to say in cents, rather than dollars.
Ecuador´s currency is the US dollar and it´s sad seeing US presidents on Ecuador´s money. We were told by one man that when they lost their old currency, the Sucre, for the US dollar it was like losing a little part of their soul.
We had to go to the market every morning at about 7am to get food for preparing the hostal breakfasts. Two large papayas, three pineapples, 20 oranges, 12 croissant-ish breads, 10 eggs, a litre of milk and some strawberries set us back about seven dollars. The market is a wonderful place, bursting with activity, smells, colours and voices, not to mention the best and freshest fruit and vegetables you´re likely to find anywhere. We soon established our favorite sellers and became regulars, visiting every day for our purchases and a chat.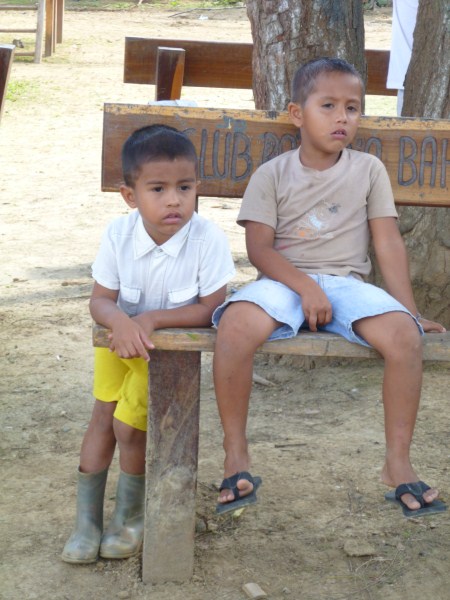 Bellavista locals – fun is tiring!
People came to us to sell their goods as well. A local fisherman, Freddy, dropped by every second day with fish, prawns and depending on the tide, oysters. Gonzalo, an older man dropped round every day selling homemade empanadas, and other people who dropped by selling anything from live turkeys to honey.
Shortly after starting at the hostal Modesto, a man of early fifties delivered 20 pounds of his fresh organic coffee. He had spent over three hours getting to us with his backpack of coffee, for which we would pay $60. We got talking with Modesto and he invited us to his village to see where our coffee came from.
A week later we caught a two hour bus inland to Portoviejo, then an hour bus into the rounded hills of jungle somewhere around Santa Ana where we got off the bus, seemingly in the middle of nowhere, where five of us managed to balance on two little scooters for another half an hour up and down a winding and rocky dirt track. Finally we made it to the tiny hidden village of La Pita, which is also the name of the coffee. It was a shock for us after spending a few months in Chile and Argentina and then Bahia, which are all much more affluent than most parts of Latin America. Suddenly it felt like being back in El Salvador or Bolivia, the village was definitely well under $2 a day territory.

Mountain of fresh roasted coffee
Modesto and his daughter showed us the coffee plants, the roaster, grinder and packing system. They were able to start their operation thanks to a $7,000 donation from a Spanish NGO, which enabled them to by the roaster and grinder. Now twenty people in the community help and receive a small income from the coffee. Modesto then took us to his house for lunch and sadly kept apologizing for his home and the simplicity of the food. The meals of Anna and I had some little pieces of meat with our rice. No one else in the family of around eight had any meat, it is an unaffordable luxury.
Modesto kept saying how honored he was that we came to his village and ate with his family and again apologizing for the basic nature of the food. I hope he believed us when we told him that we were extremely honored to be invited and to feel so welcome in his home, and that it was one of the most special meals we had ever had, because it was.
Fast forward a couple months and we had to say goodbye to Modesto. He caught us completely off guard when he started crying and saying that he couldn´t believe a couple from so far away had come and visited his community and become friends of his family. We tearfully promised to return some day.
Bahia was the host for the 2010 Manabi Province School Olympics so for a week we had ten ten year old boys and several teachers staying at the hostal. The boys were from a little inland town and none of them had travelled much and were very excited. One of the coolest things about the ten year olds Olympics is that chess is one of the sports.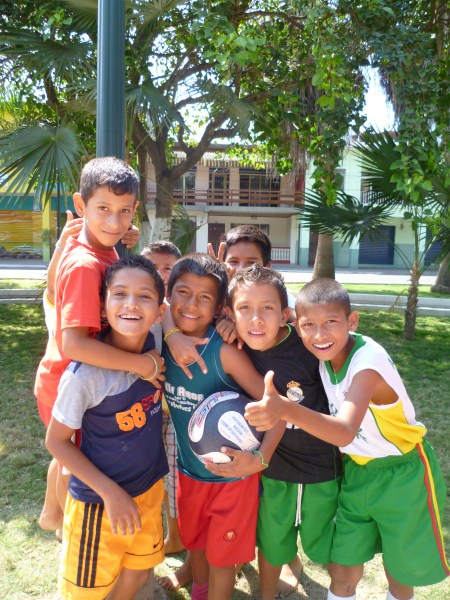 Ten year old olympians
Christmas and New Year were busy but fun times at the hostal. In times of national holidays the hostal fills with Ecuadorans who are generally much more fun and easy to have around than North Americans. Christmas day we escaped and walked a 30 kilometre loop along the coast and back through the jungle, picnicking on a quiet stretch of beach.
Christmas Eve, late and inebriated, I had to make a call to six year old Isaac (otherwise known as Chino even to his mother due to his eyes). In Latin America people don´t take offense or show disrespect by naming someone according to their appearance, whether it due to size, shape, skin colour or race. Chino´s mother had given me a script to phone Chino pretending I was Santa Claus. It all went fine and apparently he was entranced. When I struggled with the Spanish I explained to him that we speak another language in the North Pole. But a few days later Chino said to his mum, ´´Santa Claus sounded like that foreigner at the hostal.´´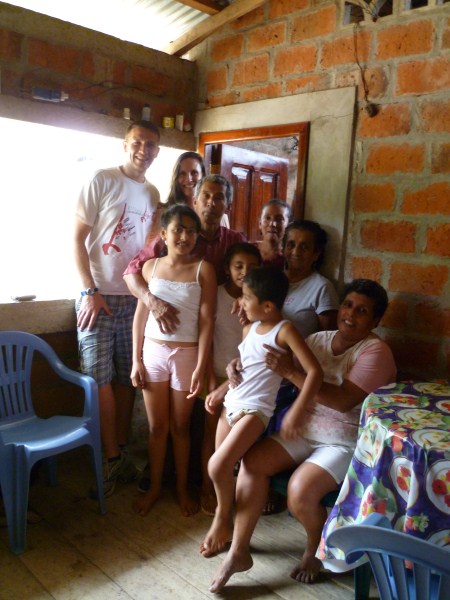 Modesto and family
New Year was hilarious and a pyromaniac´s wet dream. The whole town became a street party of dancing and drinking. Everyone had fireworks and let them off anywhere. It was a small miracle no one got injured. Everyone had also made or bought paper maché figures of things they wanted to celebrate or to send off from the past year. There was everything from a life size Hugo Chavez to Shrek, Airplanes to dogs. At midnight the figures were set on fire, generally stuffed full of fireworks, which flew out in all directions.
A very drunk father and son spotted the two foreigners and gave us the perfect goodbye from Latin America. In loud and slurring Spanish, they called us over, asked us where we were from and made us take shots of their fire water. One of them shouted at us, spraying us in ´fire saliva´.
´´ALWAYS COME BACK! D´YOU KNOW WHY?? CAUSE YOU´RE MARVELLOUS!!´´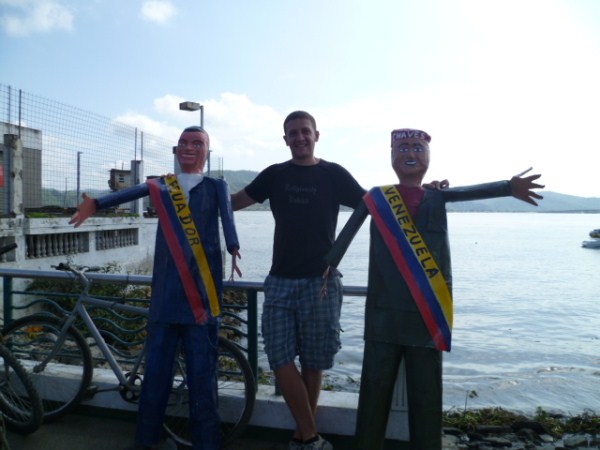 Presidents Correa (Ecuador) and Chavez (Venezuela) waiting to burn
I fear for the future of Bahia. Much of the land in the area is being bought up by foreigners, predominantly North Americans, which is inflating values well beyond most locals. Though many of the North Americans we met there were wonderful people, full of respect for Ecuadorans and a desire to integrate, others seemed to have little respect and were busy complaining about every local cultural traits and building their home within the newly forming exclusively expat areas.
Meeting many people from the United States, who were drawn to the hostal, was an interesting insight in to some of that country´s internal problems. Several of those we met said they were moving because they couldn´t stand their country anymore, others were buying property in Ecuador because they wanted their savings out of the US fearing that their economy is on the point of collapse, others had lost their job and found it was cheaper to rent there house out and live in Ecuador than to try to get by in the States, and sadly, some just seemed to be older men with spare money who realized that it could get them a beautiful young partner in Ecuador. The latter seem to capitalize on the motherly instinct of the young women, who will put up with rude and pathetic men to clothe and school their children.
It was time for us to leave Bahia and the hostal, and though it was with sadness, this was outweighed by the relief of no longer being responsible for the hostal and excitement of going home. We couldn´t get a bus to Quito because of a bus crash just before Christmas that led the President shutting down the company that ran the service pending an investigation. Around fifty people died in the crash, including a family of eight. The bus had a capacity of 40 people and was carrying 82, mostly people coming home for Christmas. The driver didn´t have a license of any kind.
In the end we shared a ute with three others and after six hours on the road to Quito, which is far more frightening than Bolivia´s ´´World´s Most Dangerous Road´´, we made it to the Capital. We were happy to have a couple days back in the beautiful city of Quito who welcomed us with a torrential down pour. We were able to return to the wonderful Guayasamin museums and wander around the city. We taxied to the airport in darkness and rain at 6am. The yellow street lights reflecting on the wet roads made our journey one of glittering golden streets. Upon leaving we finally saw Quito as it was once named – ´The Lost City of Gold´.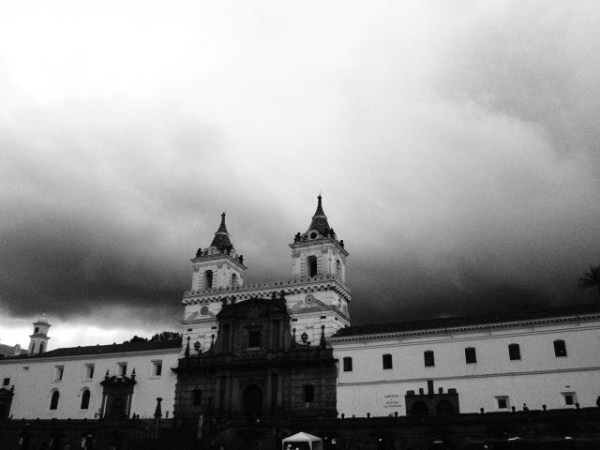 Brooding storm in Quito
My long term dream of going home via Easter Island, that microcosm of human delusion and short-term thinking lost in the middle of the Pacific could not be. It would have cost double to come home via Easter Island as opposed to Fiji. So the cheapest route home turned out to be Quito – Houston – Los Angeles – Nadi – Sydney – Melbourne – Launceston.
Travel insurance had run out a while back so we were praying to the Incan Gods for a smooth trip. They almost let us down. Arriving at the airport in Quito with half an hour to spare, they wouldn´t check us in. No one had mentioned that you now need a US visa just to pass through their airports. Fortunately we managed to race to an internet café and complete the two applications on line and they let us through. Soon we were on our way to George W Bush airport Texas.
We arrived and followed the signs for those ´in transit´, only to find out we were only ´in transit´ in reality, whereas under their new system no one is ´in transit´ for their first entry into the USA. So I had to be escorted by a security guard who was told before me, in no uncertain terms that he was never to be more than one metre from me, to collect our bags. The bags were then x-rayed and fortunately they didn´t seem to notice the two foot long machete or the boxes of coca tea. Then the bags were put back into ´in transit´ and we joined a huge slow line of stressed and frustrated travelers waiting for the personal security check. They now have all my fingerprints and due to the hideous new scanning machines, probably know whether I am circumcised or not.
A year in Latin America, seeing the misery that is caused and sponsored by the US, makes it very difficult not to harbor ill-feeling toward that ill country. A visit to George W Bush Airport was the icing on the cake.
Even after the poverty I´ve witnessed this year, I couldn´t resist blowing two weeks wages of a Bolivian miner on a bottle of duty free single malt. We had begun to hear Australian accents in Fiji, which always sound hilarious when arriving home after time away. They got stronger and stronger as we neared home. Fiji was great apart from the gift of Staphylococcus in all the mosquito bites on my legs. So the first morning back in Tasmania was a visit to Launceston Hospital.
Because of thick cloud we couldn´t see anything of Tasmania as our plane descended. But as soon as we arrived we were almost overwhelmed by familiarity, an emotion rarely awoken in the past year. We were sad to have left Latin America, but joyous to be home. Latin America has given us so much more than we dared hope for. Her arms opened and embraced these two eager foreigners who desperately wanted to know her. There will be so much to miss from the tragic, beautiful, overwhelming, and above all, real, continent and its people. But Tassie too, our wonderful and fortunate little island, has given us so much and we are ready to embrace and be embraced by her.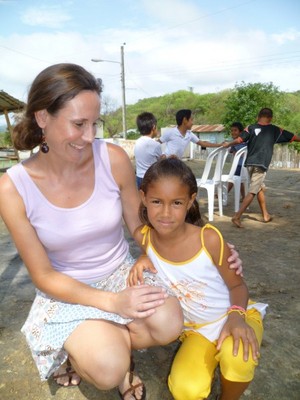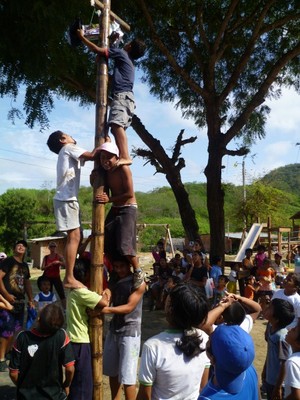 Thanks to Europe and the US Latin Americans need to learn from an early age to climb the greasy pole, Anna and a friend in Bellavista
In another year away little would have changed, but this year there has been the loss of very dear ones, the entrance of very dear ones, the flowering of new relationships and the first steps on to new paths by many.
We weren´t quite home yet, for me the image of being home is when travelling south on the Midlands you reach the top of the hill at Pontville, and you see before you Mount Wellington. From there we simply drive toward the Mountain to our flat on her foothill and we are home.
Hobart, so many times larger than Bahia, feels quiet. Walking around midweek it seems that everyone is on their way to or from work, or running some errands in a break. Bahia is small but the streets buzz with unrushed social interaction and with being. There are a lot of people just being in public places. This is one of the biggest differences in Latin America. People stand on the street or in a doorway, talking or waiting to talk with passersby, or just watching the world pass by. Our culture doesn´t celebrate the art of just being in the same way, we tend to think we are doing it in front of the television, or that we need a holiday or a coffee shop to do it. We find it hard to simply be, we need to do. As an old friend once said, ´´we´re human beings not human doings.´´
Beautiful island home, fortunately and unfortunately, I oscillate, it seems little you have changed, but you are home and I´m glad you are.

´Donkey, I kiss you, and say goodbye. ´
PS: Thank you Anna the gorgeous for such a wonderful year xx.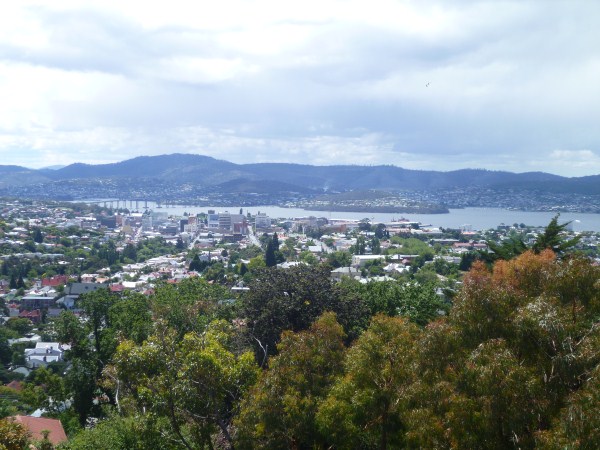 Home, beautiful home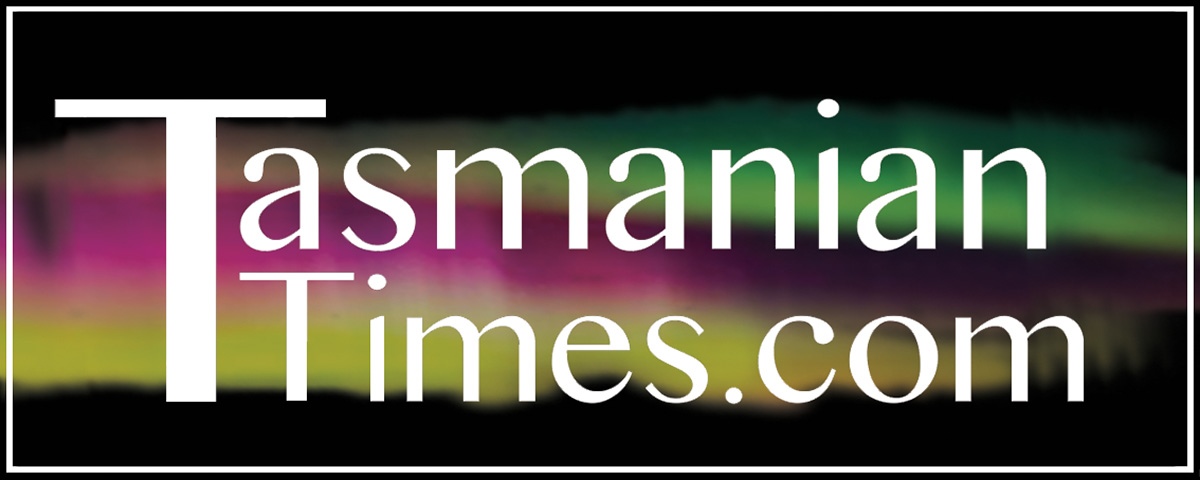 Author Credits: [show_post_categories parent="no" parentcategory="writers" show = "category" hyperlink="yes"]