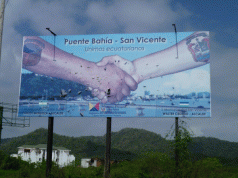 After Santiago, which by the way translates to Saint James, the donkey bolted. We had left ourselves six days to get from Santiago to Bahia de Caraquez, a small town close to the equator on the Ecuadorian coast. This basically meant spending six days on a bus and submitting to the onslaught of mental and physical paralysis. Beforehand you kid yourself on that it will be fine, you just need some good books and it will actually be quite fun travelling 5000 kilometers on a bus. But after a couple days you both just stare like a serial killer who´s overdosed on ketamine, an empty mind only interrupted by flashes of scenes from any one of the half films you´ve seen so far on the journey. Yes, half films. Almost every film ended at some point before the end due to the quality of the burnt dvds.
When we passed through Bahia on our way south six months ago we stayed at Coco Bongo Hostal for two nights and got talking with the owner who asked us if we would be interested in running it for a few months while she visited family in Australia. We thought about it, adjusted our travel plans, and said yes, which was fortunate given we´d run out of money by the time we arrived back.
All we had heard about Ecuador in the four months since we left was that there had been an attempted coup a few weeks ago. It had been portrayed as police rebelling due to unhappiness over some systemic changes, but as more details began to surface it appeared to be another right wing group attempting to overthrow another American government, planned, as they so often are, in Miami. It was a poor effort and Correa managed to come out of it looking like a bit of a hero.
With the help of tear gas a group of men, mostly police, managed to get President Correa held up in a police building. Correa was witnessed opening his shirt and effectively egging on the coup plotters to shoot him, saying, ´´I´m leaving hear as President or as a corpse.´´ He was eventually rescued by special police and the coup fell apart.
Correa is probably most famous in the West for his response when the US recently tried to renew their free lease and military base in Manta, not far from us on the coast of Ecuador. Correa replied that of course they could, as long as Ecuador could build one in Miami, simply making the point to US media that if there is no problem allowing a foreign nation to have a military base in one country, then it should be no problem in reverse.
We left Santiago drunk and at night so when light arrived we were well into the huge seemingly lifeless desert that spans most of the Peruvian coast and the northern coast of Chile. The film torture began early in the morning, a large screen right in front of us and piercing volume meant there was no chance to ignore the films and read. The half films, however bad, would have to be embraced. I felt like I was in Clockwork Orange with my eyes taped open. We passed Antofogasta, quite a large fishing town where huge breakers were smashing the shore. The Antofogasta Bus Station was our evening dinner stop, we had twenty minutes and the place was virtually devoid of food. I dined on seven plain croissants whilst Anna dined on five.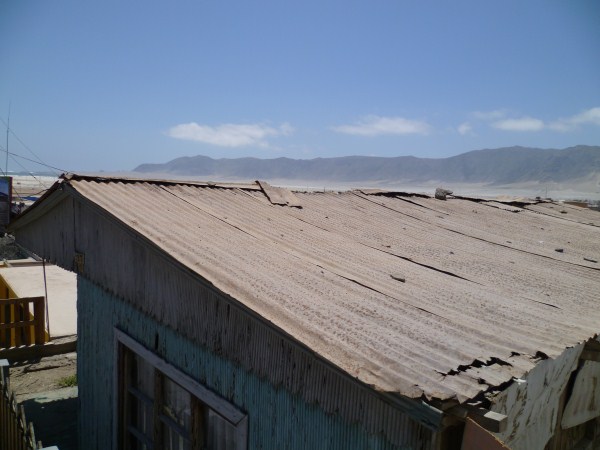 Desert town in northern Chile
The next morning we arrived in Arica where we had to ditch the bus and share a car with an old Peruvian couple for an hour to get to the border, and again for about half an hour after the border to get to Tacna, in Peru. We had four hours to kill in Tacna and the highlights were undoubtedly standing, walking, eating and breathing air. Then we were back on the bus heading for Lima. The next day we made it to Lima. After spending the last three nights ´sleeping´ on buses and not having showered for four days we headed to a hostel hoping to peel our skins off and start again.
We had skipped Lima on our way down, so as well as being a necessary rest it was a good opportunity to see a bit of the Peruvian capital. Lima is a big city of around 9 million inhabitants located halfway up the coast of Peru. Lima was once the heart of the Viceroyalty of Peru and as such arguably the most important city in the Spanish Empire, including Madrid. Accordingly, Lima has a grand colonial centre that dwarfs that of most other cities in the Americas. In other old colonial cities such as Potosí, which was once one of the largest cities in the world, I am often struck by how small the colonial heart is, reminding me of the immense population growth of the past few hundred years. The reverse occurred in Lima.
For the pre-colonisation peoples of Lima the ocean was god with sharks and sea lions being represented as sacred animals in their art and architecture. Not far from the centre of Lima lies the huge adobe Pyramid Huaca Huallamarca and the remains of the village for the elite that once surrounded it. It is entirely made of small mud bricks arranged in a diagonal formation to withstand earthquakes. Though made of mud brick the site is remarkably well preserved due to the fact that it never rains in Lima. The remains are of a pre-Inca culture whose architecture and beliefs are very different to that of the Incas and inspired by the Pacific Ocean rather than the Andes.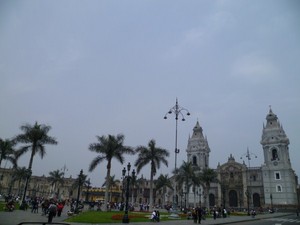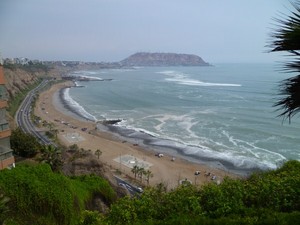 Plaza de Armas, Lima & Pacific Ocean meets Lima
Often in Latin America you notice that the culture of repair is still alive and well reminding you how accustomed we are to throwing things out and replacing them if they become worn or damaged. For me one of the most beautiful places we passed was a football repair shop. A tiny run down little space with an older man sitting sewing in front of a pile of old footballs that reached the ceiling, a huge worn pile of immeasurable past and future joy.
Soon we were back on the bus heading to Guayaquil, Ecuador´s largest city. After passing the poor outskirts of Lima we were back in the desert, until, after another night passed on a bus, almost level with the border with Ecuador the landscape suddenly turned to lush green jungle, rice paddies and banana plantations. Border crossings can be a bit stressful, especially when you´ve spent several days incarcerated on a bus and are sleep deprived. It´s easy to get a little paranoid and start thinking, ´´Shit, maybe I did put a couple AK-47s and a kilo of cocaine in my pack and I´ve forgotten about it.´´ Fortunately they didn´t check our packs and I remembered after the crossing that we weren´t traffickers.
We were wary of Guayaquil, a huge port city of over two million inhabitants, because last time we were in Ecuador the news every night and the papers every morning seemed to predominantly consist of people getting shot in Quayaquil.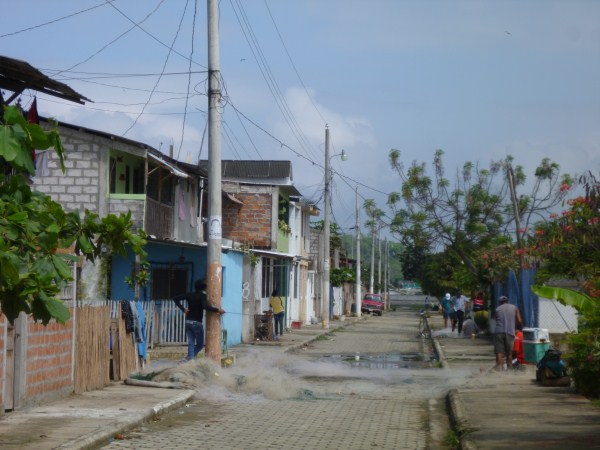 Fishing nets drying, Bahia
Ecuador´s two main cities are a little like Scotland´s. Like Edinburgh in relation to Glasgow, Quito is the capital, but only is only half the size of Guayaquil. Like Glasgow, Guayaquil has been a large industrial city, a port, and traditionally more working class than the capital. Like Edinburgh, Quito is much more stunning to look at, surrounded by mountains and filled with historic building and sites. Like Scotland there is also a strong rivalry between the two cities. Quiteños refer to people from Guayaquil as monkeys and those from Guayaquil consider Quiteños to be snobby.
We arrived at night, found a place for dinner and hit the sack. We had a few hours the next morning to have a quick wander around the city and the recently revamped waterfront area, which includes a small tropical jungle to walk through. Then, having not been shot, it was time to board the final bus for a six hour trip to Bahia de Caraquez.
Finally, at about six in the evening we made it. The first thing we noticed when we arrived was that the two kilometer long bridge (the longest in Ecuador) that six months ago we had joked about being finished in five years time, appeared to be almost complete. Indeed, the taxi driver from the bus terminal informed us it would be finished in a few days to coincide with the city´s week long fiestas and that President Rafael Correa was coming to open it. It was to be massive.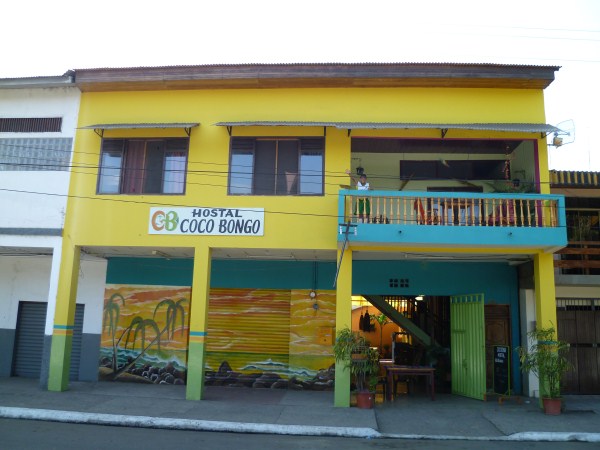 Coco Bongo Hostal
Susie, the owner of Coco Bongo was as relieved to see us, as we were her, and after a first night of beer, we launched into a day and a half of learning the ropes. We were happy when she left and it was down to us to run the place. Learning new things is generally more enjoyable when you´re not being taught.
The same day Susie left thousands began flooding into the little town of about 10,000 people. For our whole first week there was not a spare bed in the hostal. The bridge completion and inauguration was to coincide with the final day of the town´s fiestas. We had Ecuadoran families, foreign travelers and bridge workmen sharing the hostal, which was a nice mix.
We were informed by every local we talked to that Bahia has never experienced this number of visitors. It was easy to believe this given that we had to turn away hundreds every day and that families were forced to sleep in cars, parks and streets during the week. The big day came and the bridge (predominantly engineered and built by the Ecuadoran military) opened on schedule. We knew exactly what was going on because we had members of the military media team staying at the hostal. President Correa arrived a couple hours late (which is early in Ecuador) and first drove across the bridge on the back of an old truck and then joined the festivities even singing with the band playing near the bridge. After the recent coup attempt we were expecting intense military security, but it was actually pretty relaxed, if anyone there had have wanted to kill the President it would have been pretty easy.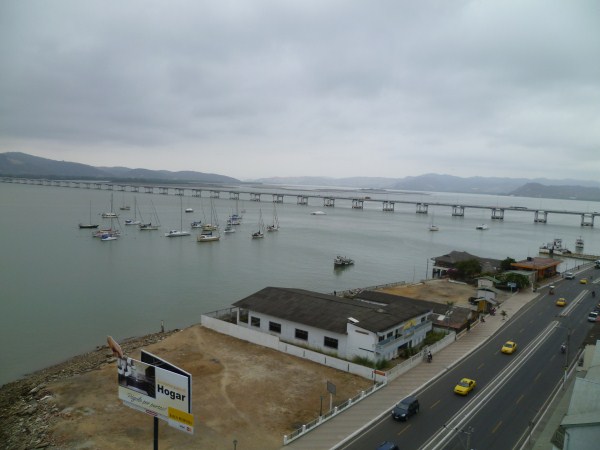 The new bridge from Bahia de Caraquez to San Vicente
The next day things quickly went back to normal in Bahia, apart from the topics of conversation and levels of excitement in the locals. One guy told me he had been waiting 500 years for them to build the bridge. The bridge is quite a big deal, taking between two and three hours of many routes that pass through this part of the country. The level of infrastructure investment by the Correa government, which took power in 2007, is astonishing. Every part of the country we have travelled roads are being built or upgraded. The roads are normally cement, which is not quite as smooth as bitumen but much longer lasting.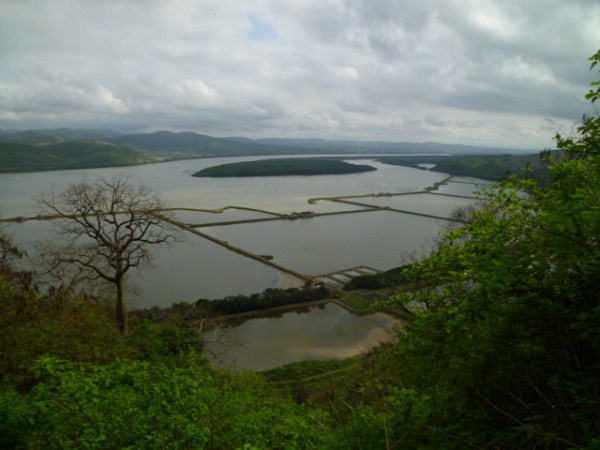 Shrimp farms and mangrove forests near Bahia
Another striking feature of the landscape that has changed under the Correa government is its productivity. Bussing from Bahia to Portoviejo on almost all land that is not forested one can see small to medium crops of rice, passion fruit, banana, plantain, corn, yuca, papaya, onion, pineapple, amongst many others. Locals told me five years ago this area didn´t produce anything. Correa brought in a law similar to that in Venezuela that allows the government to confiscate unproductive land. Fortunately, forest is considered productive.
Six months prior we lived for a month about 150 kilometers further north on the coast of Ecuador doing volunteer work. We discovered in conversation, then verified by searching old news reports on the web, that when there we had been daily passing something very unusual. A week after we left the Ecuadoran military discovered three tones of cocaine and 12 kilograms of heroin buried under the beach we walked (and cleaned) every day, as well as a homemade submarine capable of carrying four tones, hidden off shore. I couldn´t believe our bad luck, just one kilo would have been sufficient for the rest of our travels and the homemade submarine would have enabled us to go to the Galapagos Islands without facing the prohibitive costs. The value of the haul is close to $200 million in the USA.
We were to find that in Bahia de Caraquez it doesn´t take long to feel like a local…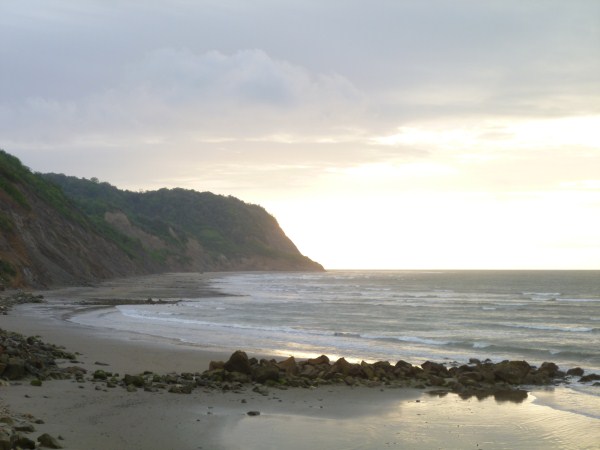 Sunset in Bahia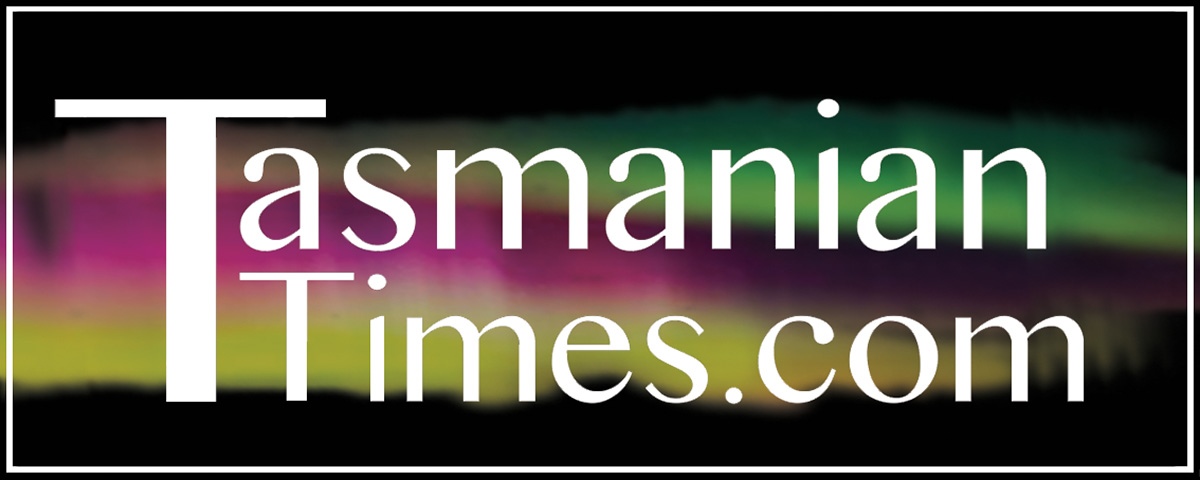 Author Credits: [show_post_categories parent="no" parentcategory="writers" show = "category" hyperlink="yes"]