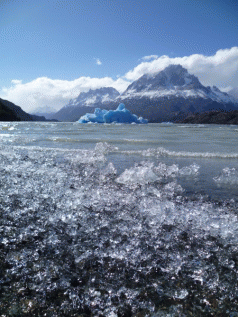 Many place names in this part of the world help to tell the history, especially that of early interactions between the European world with the area´s indigenous. Patagonia, for example, basically means ´the land of people with big feet. ´ European explorers had seen very large human footprints on the shores of Patagonia, and in fact the Tehuelche people were at that time arguably the tallest people in the world, with an average male height around six foot. Myths were created by the exaggerated stories of explorers about a ´race of giants´ in the southern lands that became known as Patagonia.
Tierra del Fuego means ´land of fire´ in Spanish. It is called this because the indigenous of those cold southern islands lit large fires on their beaches as emergency signals when the ships of explorers passed. Thanks to the name of a nice Patagonian beer, I even discovered something as an Australian I should have already known, that ´austral´ means south or southern.
Anyway, from Bariloche we had to bus to Rio Gallegos, even though we were trying to get to El Calafate, as buses only go that far down Ruta 40 (Route 40) in the summer months. After close to 40 hours, including a five hour break in Caleta Oliva, we arrived in Rio Gallegos at around 2am. Fortunately, we managed to get a taxi to a very basic hostel in this pretty unattractive little industrial town. We jumped straight into the barely warm shower and washed off another long bus trip. The stop in Caleta Oliva was short, but worth it. Despite the ugliness of the little petroleum town, it was quite likeable.
As we got further south, the building material of choice was beginning to change from cheap light bricks to sheets of tin. We had a day in Rio Gallegos, which unless you are a trout fisherman, is probably enough. It was time to reluctantly board another epic bus trip as we had a schedule to keep and were trying to get to El Calafate as quickly as possible.

Glacier Perito Moreno
El Calafate is a touristy little town sustained by the hoards of travelers who come, primarily to see the Perito Moreno glacier. That said, it was quite quiet when we were there with lots of businesses closed for the off season. The landscapes en route from El Calafate to Perito Moreno had touches of Scotland about them, except for the icebergs floating in the lakes. For one who had never seen a glacier before, the first glimpse of the glacier was mind blowing. It is so huge, so old and so active. It is worth just sitting and watching the huge face of Perito Moreno. We never had to wait more than ten minutes before huge pieces of ice broke off and crashed into the lake with the sound of a gunshot. When they were large enough, they sent a semicircular wave across the surface of the lake.
We then headed to El Chalten, a couple of hours away. El Chalten is a nice little village of around 400 residents sheltered on all sides by rocky cliffs and the foothills of larger mountains. It is effectively base camp for Fitz Roy, a spectacular granite peak high on the to-do list of most climbers. For our first couple of days there, the weather was atrocious, drenching us within five minutes of leaving shelter. It improved slightly, from torrential downpour to light rain, so we attempted to walk to the actual base camp for climbers attempting Fitz Roy, to catch a glimpse of the famous peak. But as we neared the camp it was obvious there would be no view that day. However, the next day we tried again with clearer weather and got a view of the mountain that was worth the wait.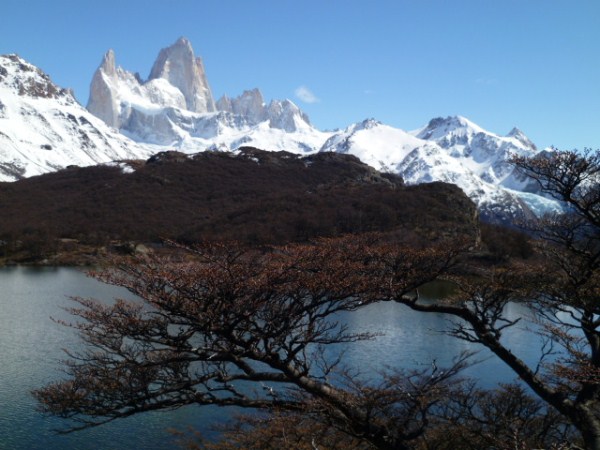 Fitz Roy, Argentina
From El Chalten we headed across the Chilean border to Puerto Natales, which is the nearest town to hiking Mecca, the Torres del Paine National Park. The long flat plains and the roaming emus as we headed towards Puerto Natales could have been the Australian outback, were it not for the flamingos standing in the shallow lakes, the guanacos, and the snowy peaks of the Andes in the distance. I was amazed at the brightness of the flamingo´s pink plumage. A few days later I happened to be checking the BBC news and noticed that;
´´ Flamingos in the wild use pigments as "cosmetics" to enhance the colour of their plumage, according to scientists.´´
http://news.bbc.co.uk/earth/hi/earth_news/newsid_9135000/9135454.stm
Puerto Natales is a small town, but one of biggest in the region. Almost all the houses are made from tin sheeting and are painted in all sorts of colours. This style continued as we headed further south.
En Route to the National Park we saw lots of huge condors, that sacred bird of the Andes, somehow converting the gale force winds into elegance and grace. The bad weather increases your chances of seeing condors because they come down from the mountain tops. We passed thousands of guanacos, which are now a protected species. They are related to the llama and alpaca, but are sleeker and always the same colour (cream and light brown). They make very easy work of jumping over six foot high fences.

Glacial cave near Torres del Paine, Chile
´Paine´ is an indigenous word meaning blue. The Torres (towers) often appear blue as the granite reflects the sky. The bluest feature though, is the glacial ice and the lakes of glacial melt. I am not sure what gives them the colour, but they are almost luminescent in blue or turquoise.
Then it was on to the windswept city of Punta Arenas (still within Chile) to splash out on a hire car and ferry across to Tierra del Fuego. Punta Arenas has over 100,000 inhabitants and is a little run down looking as the wind and the salt it carries scar the predominantly tin buildings. It is a great place for sea food, especially King Crab.
After two hours driving around the coast, we made it to the cheaper and shorter ferry crossing. From the other side we had another two hours on an empty dirt road to Porvenir, the main Chilean village on Tierra del Fuego. All the other vehicles on the ferry must have been heading for the larger settlements of Rio Grande and Ushuaia, which are on the Argentine side of the island. When we arrived in Porvenir we found a little village in a semi-sheltered bay with very little in the way of a tourist industry. There was however, one small grocery store and a hotel.
Porvenir (which means ´future´ in Spanish) made us feel like we were starting to get close to ´the end of the world.´ Sunset over the multi-coloured ramshackle tin houses was beautiful, the village almost looking organic.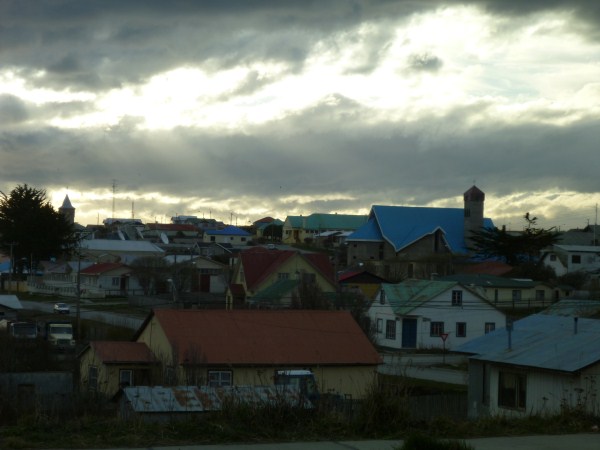 Porvenir, Tierra del Fuego (Chilean Side)
Porvenir has a great little museum that focuses on the area´s indigenous history and the influx of Croatians in last century. Tierra del Fuego has quite a Croatian influence, and even tiny Porvenir has a Croatian Club/ Croatian restaurant.
Tierra del Fuego has much in common with Tasmania. Isla Grande, the main island of Tierra del Fuego is about two thirds the size of Tasmania, the northern part of which mostly consists of sheep farms and looks a little like the midlands of Tasmania. The south is much more dramatic, both the jagged snowy mountains looking down over their glaciers and the rocky coastline, which, in places surprises you with beaches of pale green sand. Ushuaia even reminded me of Hobart, sitting on the south coast of the island with Antarctic ice breakers sitting in its harbor.
The main industries appear to be plantation forestry, farming and grazing, fisheries, tourism, and all the spin-offs that come with Ushuaia being the Argentine port for Antarctic expeditions. Ushuaia is also famous for having been home to Argentina´s most feared and distant prison, leaving Tierra del Fuego with a similar convict legacy to Tasmania.
The sad story of the meeting of the European world with that of the indigenous is similar to that of Tasmania and was happening around the same time and even later. There were four distinct tribes, or ethnic groups, of indigenous peoples on and around Tierra del Fuego; the Selk´nam; the Yamana (Yagan); the Haush; and the Alakaluf (Kawéskar). There are still communities that are strongly descendent of these cultures, but in a pure sense, they were wiped out by ´European´ settlement and attitudes.

Street murals telling some Fuegan history, not unlike Tasmania, focussing on prisoners sent from elsewhere and brutality towards the indigenous people
As I learned about the various indigenous groups of Southern Patagonia and Tierra del Fuego, I kept thinking about South West Tasmania´s Aborigines. It has always amazed me that they managed to thrive in the harsh conditions of rain and cold that define the South West. The Indigenous of Tierra del Fuego lived a similar life but in even harsher conditions being as far as 55 degrees south (around 1500 kilometers further south than Tasmania) and many of them lived predominantly bare-skinned.
They didn´t use clothes mainly because they lived a nomadic lifestyle and never constructed permanent shelters, meaning they had nowhere to store their clothing away from humidity and snow. Their clothes would never have been dry. Naked skin on the other hand, often coated with grease and oil, was easily dried by the fire after each rain or snow fall. The grease on their skin and their fires in temporary huts and canoes took the place of clothes.
Yes, I did say fires in their canoes!
The Yamanas of the Magellanic Archipelago and the Alakaluf of the southern tip of Chile basically lived in their canoes. Photographs of the Yamana show people with weak legs and skin sagging around the knees, yet a highly developed upper body, the result of life spent in canoes. Their canoes were built of beech bark and vegetable fibres. The men hunted marine mammals, fish, sea birds and shellfish, while the women rowed and the children tended to the fire that had to be kept burning inside the canoe.

Sea lions chilling, south of Isla Grande
Always facing the sea, they slept in tents made of branches and skins. They had no chiefs and men and women had equal rights. Children lived with their parents until marriage, and only then could they have their own canoe. Though the Yamana led a primitive lifestyle, they had an amazingly complex language compared to most in the Americas, which had over 35,000 words.
Local tribes such as the Yamana didn´t awaken interest in Europeans for a long time as they didn´t produce raw materials or goods for commerce. As such, they were left in peace for centuries. However, in the late 19th Century European interaction with the indigenous of Tierra del Fuego intensified as the land started to be used by sheep ranchers and gold was discovered. The Selk´nam tribes were the first to be affected. Settlers reacted brutally to the loss of small numbers of sheep to roaming tribes by hunting the Selk´nam and even paying rewards for their corpses. Some were caught and displayed as live exhibits at zoological fairs in Paris, London and Buenos Aires.
The South American Missionary Society was a non-profit organization established in the mid-nineteenth century. Missions were established all over Latin America in order to evangelise the Indians. In 1869 a mission was established in Ushuaia, Tierra del Fuego, to work with the Yamana Indians. It closed in 1907, when there were almost no Indians left.
There are some excellent small museums to tell you about the indigenous history and present of the Fuegian islands. At times the translations from Spanish can be quite funny, for example, one large display describing the early interactions between missionaries and the Yamana tribe, which described the tribe as being ´´so pissed off.´´ They did however, relay very well some of the overarching factors of Latin American history, such as:
The European way of life has been impossible to ignore by other cultures. The gratification of tastes and desires through consumerism, though often fleeting in nature, is also immediate and hard to resist by most people. This has undermined the strength of other cultures, whose riches are not so easily perceived or readily acquired.

Tin houses, Patagonia
In the 15th and 16th centuries technological advances allowed long distance voyages, which coincided with much greater European demand for resources, especially gold. Trade had previously been done through middlemen due to the distances, which helped to keep cultures distinct from one another. In Europe different races and languages shared the same technology, used the same products and had a similar way of life, which assisted the belief that their way of life was superior. Europeans, supported by this belief of superiority in their way of life, religion and know-how began going straight to the source. This eliminated the buffer zones created by the need for middlemen, which had helped to preserve the strength and integrity of different cultures. This arguably, was the beginning of globalization as we know it.
This era caused a psychological shift in the natives of Latin America. They had always basically known who their neighbours were and what their customs were, but suddenly, day by day, strange people kept arriving, as if by magic, from huge ships or on the backs of unknown animals (horses). They lost forever a world where they knew the rules and dangers, and entered a world of new rules and dangers, which were unknown and unpredictable. When they realized that their own way of life was powerless to embrace or contain or control the new people who arrived, their own sense of worth was affected and their confidence in themselves tottered. This helped the Spanish conquest of the Americas, (from an Ushuaia museum).
The European discovery of the Americas under a commercial treaty between Columbus and the Spanish monarchs set the tone for the relationship between Spain and the ´New World.´ Latin America was like a bank for Spain to withdraw resources from until they were exhausted, rather than a source of production to be cultivated and developed. Spain´s management of the incredible riches they were stealing from the Americas was somewhat reminiscent of a cocaine addict on a bender in Las Vegas. Britain and Holland profited much more than Spain. While Spain was squandering its wealth on goods and services bought from others and often merely for the decadent lifestyles of their parasitic ruling class, Britain and Holland were selling to them and investing in their growing productive and industrial strength.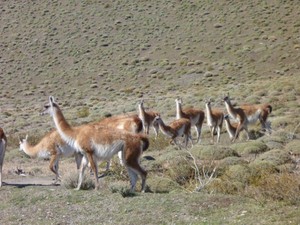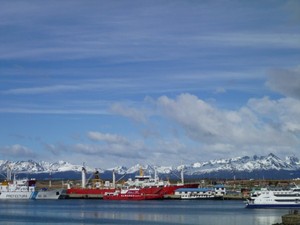 Guanacos and Ushuaia
But back to here and now. There is a wonderful national park a little south of Ushuaia where you walk amongst the ancient beech forest and along the green and rocky beaches looking out over the rugged little islands further south. Sitting within a forest of beech that looks remarkably similar to alpine Tasmania´s deciduous beech, I am again reminded that we are cousins with this land via our ancient continental unity of Gondwana. Watching the enormous glacier crack and break as it pushed against the side of the valley, surrounded by beech, made me wonder if this is what parts of Tasmania would have looked like during the last ice age.
Ten months ago we were standing on a volcano watching molten lava flow out of a hole in its side. This volcano in Guatamala was the furthest north we got to in Latin America and since then we have been slowly moving south. 8,000 kilometers away, in a straight line (well over double this taking our zig-zagging route) we were suddenly as far south as we were going to get and staring in amazement at huge glaciers inching through the valleys they´ve carved over millenia. The glaciers almost seem to have more in common with lava than with water, being solid, yet flowing.
We sat half freezing, on a cliff on the southern coast of Tierra del Fuego sharing a one dollar bottle of red, looking out towards Cape Horn pondering the journey from Guatemalan volcano to Fuegian glacier. What an amazing and life-changing continent, and after the best part of a year travelling within it, when I follow our journey on a map, I feel we have only scratched the surface.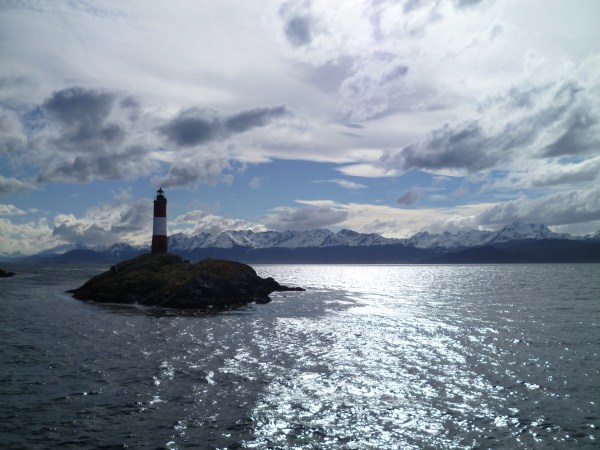 Lighthouse south of Isla Grande, the main island of Tierra del Fuego (the furthest south we got)
It was time to bomb the hire car back across hundreds of kilometers of mostly poor dirt roads, through Rio Grande, the second biggest city on the island, which feels like a big flat industrial sprawl, to the Hertz office in Puntas Arenas to be greeted with the news that a tiny chip in the windscreen was going to increase our mortgage by $600. After another night there we headed to the local airport for a five hour flight to Santiago, our first flight since leaving Caracas in April.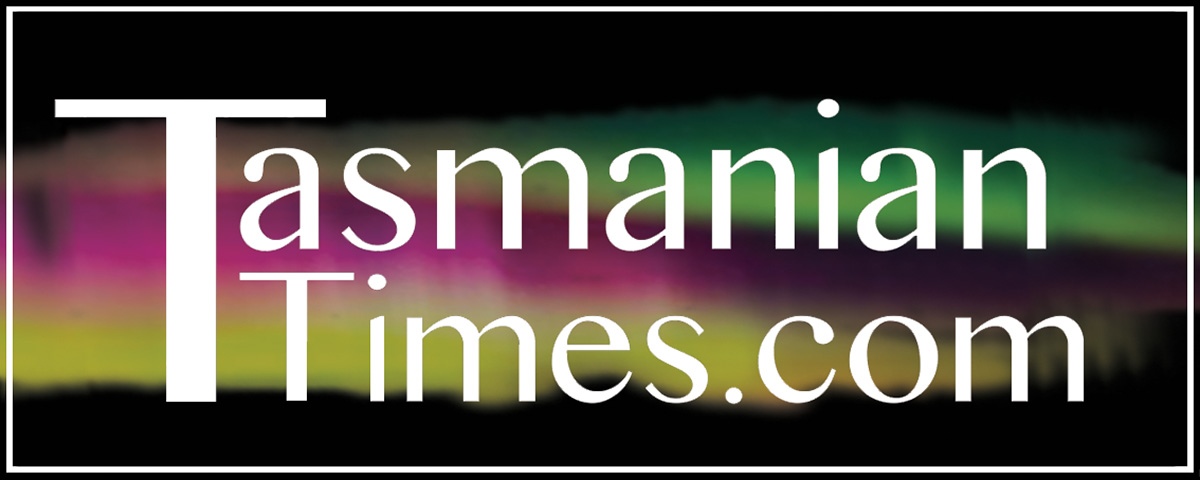 Author Credits: [show_post_categories parent="no" parentcategory="writers" show = "category" hyperlink="yes"]