Often art achieves more social progress than politics, and often artists are greater leaders than presidents or prime ministers. Art is not confined by the same stifling boundaries that incarcerate both the creators and the recipients of politics. In my opinion, there are three great artists, each very different and from very different countries, who have arguably done as much for the Latin American struggle as any politician or leader, independence heroes such as Símon Bolivar included.
From Ecuador, there is Oswaldo Guayasamin, painter, sculpture and writer, amongst other things. Guayasamin was mentioned in the fourth Donkey from Ecuador. His work showed the plight, but also the strength and beauty of indigenous and the poor of his country and continent, the majority, that for so long were held down and rarely celebrated or honored.
From Uruguay, Eduardo Galeano, is the only one of my chosen three still living, and though he is a prolific writer, he would have qualified with one book specifically. By the time Galeano was 30 years old the young journalist had written Open Veins of Latin America: Five Centuries of the Pillage of a Continent. The book is incredibly well researched and analyses Latin American history, from European ´discovery´ to present day. For one book, and one that is so flowing to read, it gives you an amazingly in depth understanding of that history, and of the depth of European and US economic manipulation and political dominance in the region.
Galeano had to flee to Argentina when a military dictatorship began in Uruguay, and then to Spain when the same thing happened in Argentina. The book was banned under the right wing military dictatorships of Brazil, Argentina, Uruguay and Chile. Truth telling was a serious crime.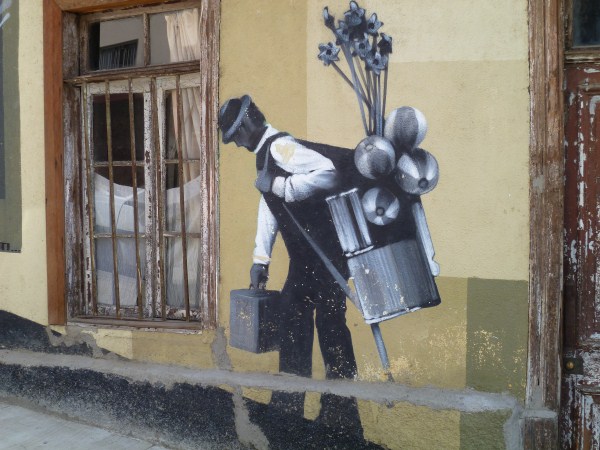 Graffiti, Valparaiso
The famous yellow book has an almost biblical status for many Latin Americans. Some people may also remember it as the book that Hugo Chavez presented to Barack Obama at the Fifth Summit of the Americas. In his speech at the 2009 annual White House Correspondents dinner Obama made reference to the book given to him by Chavez:
"Now, let me be clear, just because he handed me a copy of Peter Pan does not mean that I'm going to read it — (laughter) — but it's good diplomatic practice to just accept these gifts". Source: wikipedia.org
Obama would have been wiser to read the book, rather than to make an ignorant and insulting joke out of a book that details an often tragic history of hundreds of millions of Latin Americans. It´s also a shame that the leader of the most powerful country in the Americas has seemingly not even heard of a book that should be compulsory reading prior to taking office.
Now, since we are in Chile, to the third of my Latin Americans who has left deep and positive footprints on their land and beyond – Pablo Neruda. Neruda, a great poet, was also a renowned diplomat, politician, writer and thinker. Neruda´s ´´song´´ has reached millions worldwide, singing truth about the past and present of Chile and the Americas, and of hope for the future. Neruda held diplomatic posts in Burma, Indonesia, Singapore, Argentina, Spain and Mexico, and was a senator for the Chilean Communist Party, but it remains his poetry and his romantic and joyful character that he is best known for.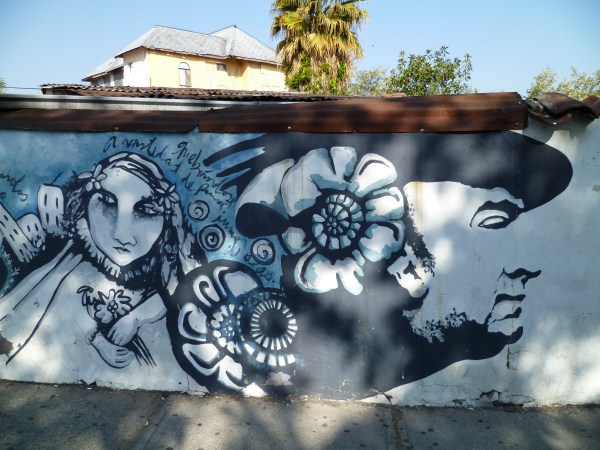 Graffiti of Neruda near his Santiago home
Neruda was hidden for months in a basement in Valparaiso before fleeing on horseback over the Andes to Argentina when, in 1948, communism was outlawed. Whilst living in exile in Mexico in 1950, Neruda published his epic Canto General (General Song). At once a book of many poems, yet one huge poem, the book explores the Latin American story, with special focus on Neruda´s homeland of Chile. Neruda always wrote poetry in green ink because ´´green is the colour of hope and life.´´
Late in life, Neruda was a close associate of Salvador Allende, who was president of Chile from 1970 until 1973, when an extremely violent US-backed coup caused Allende´s death and put the infamously brutal Pinochet at the helm of yet another far right military dictatorship in the Americas. Kissinger and Nixon had been doing everything they could ´´to hurt him and bring him down´´, even before he formally came to power. 1 Nixon famously ordered Kissinger to ´´make the economy scream´´ in order to bring the democratically elected Allende Government down, which in reality means, make the poor majority of Chileans scream.
Neruda died of a heart attack 12 days after the coup, devastated by the death of Allende and the violence sweeping his country. Neruda´s funeral became the first public protest against the coup. He was denied a public funeral by General Pinochet, but as his wife Matilde, close family and friends and diplomats from the French and Swedish embassies began walking to the cemetery, more and more people began to join them until there were some 8,000 people demonstrating their love, grief and anger in the face of severe threats.
It says much about the illness of the United States that Latin America´s champions of dignity and equality almost always appear on US-backed death squad lists and are either killed or forced into exile via an illegal coup. When researching US involvement in toppling Latin American governments to ensure they maintain strong economic and political influence over each country, the School of the Americas constantly rears its ugly head. Now called Western Hemisphere Institute for Security Cooperation, the School of the Americas is a United States Department of Defense facility located in the state of Georgia, where the US trains military from all over the Americas in the arts of genocide, massacres of civilians, motivation by fear, bounties for enemy dead, false imprisonment, torture, execution, and the kidnapping a target's family members.
In countries that we have visited on this trip graduates from the School of the Americas are known to be responsible for grave human rights atrocities in Guatemala, El Salvador, Panama, Argentina, Bolivia, Ecuador, Peru and Chile. One of Chile´s graduates from the School, Raul Neumann, was deputy director of the Chilean secret police under Pinochet´s reign. Nuemann was in charge of a secret detention centre known as Venda Sexy (Sexy Blindfold) and La Discotheque (the Disco) – named as such for the sexual abuse inflicted on blindfolded prisoners as loud music hid their screaming.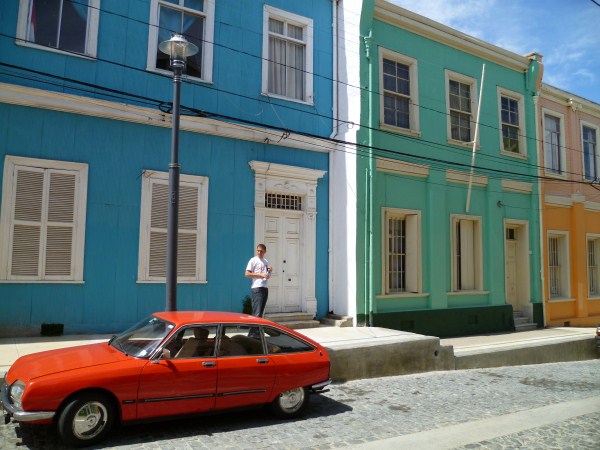 Valparaiso
We flew into Santiago, which is about halfway up Chile, from Punta Arenas, which is way down south. Arriving at night we headed straight to the hostal, which became another one of many who had confirmed our booking, but then knew nothing of it when we arrived. Fortunately, they had a spare room for the evening. The hostal was on London Street, off Paris Street, in a little central zone of dimly lit, curving cobbled streets, which indeed could have been in London or Paris.
The next day we visited Neruda´s former Santiago residence. He called it ´´La Chascona´´, which in Quechua, means woman with messy hair, in honour of his wife Matilde. Like all his houses, it was built very gradually and packed full of all sorts of random things that he had collected or been given. The house was fascinating and made me want to collect things, any things. Sadly, one of the most interesting rooms would have been his library, but in 1973 when the US-backed military, led by Pinochet, shot and bombed its way to power the military came to Neruda´s house while he lay in hospital and burned all his books. Apparently, at an earlier search by the military of his house at Isla Negra, at which he was present, he remarked, ´´Look around—there's only one thing of danger for you here—poetry.´´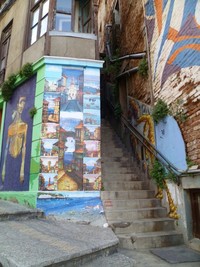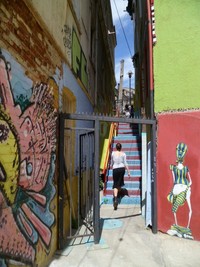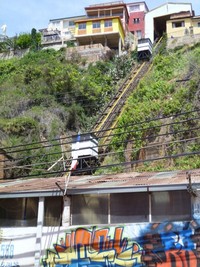 Valparaiso
We wandered around Santiago and found it to be a great city. One thing we were particularly interested in was the monuments and museums dedicated to the dark years of dictatorship that followed the killing of Allende. There is a huge and very new museum dedicated to remembrance and the motto of nunca mas (never again), which also functions as an international museum for human rights and truth commissions. Here you can read, watch and listen to the original reports during the coup and you can listen to Allende´s final speech.
There is something very moving in hearing the final words of someone who knew they were about to die. Here´s some of Allende´s final words, speaking to Radio Magellanes from the Presidential Palace while it was being surrounded by tanks and sprayed with bullets, shortly before his body was found by the treacherous military (some believe after suicide while others believe the military shot him):
My friends,
Surely this will be the last opportunity for me to address you…
… I am not going to resign! Placed in a historic transition, I will pay for loyalty to the people with my life. And I say to them that I am certain that the seeds which we have planted in the good conscience of thousands and thousands of Chileans will not be shriveled forever.
They have force and will be able to dominate us, but social processes can be arrested by neither crime nor force. History is ours, and people make history…
…The people must defend themselves, but they must not sacrifice themselves. The people must not let themselves be destroyed or riddled with bullets, but they cannot be humiliated either…
… Other men will overcome this dark and bitter moment when treason seeks to prevail. Go forward knowing that, sooner rather than later, the great avenues will open again and free men will walk through them to construct a better society…
…These are my last words, and I am certain that my sacrifice will not be in vain, I am certain that, at the very least, it will be a moral lesson that will punish felony, cowardice, and treason.
Santiago de Chile, 11 September 1973
Afterwards, after much walking and misreading of maps, we eventually found a small art museum with a wonderful collection of international pieces donated in memory of Allende. Fittingly, the building had been the intelligence headquarters during the Pinochet dictatorship.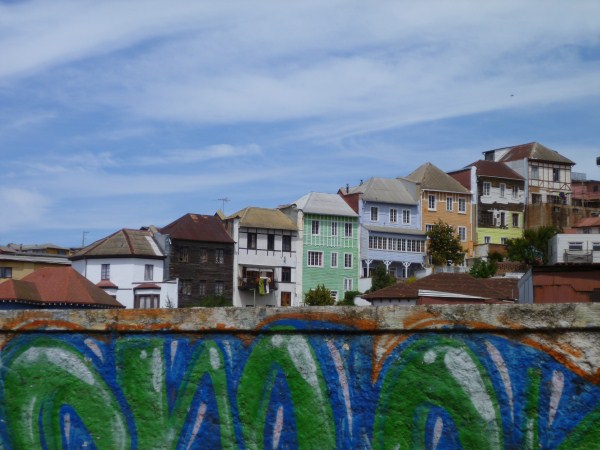 Valparaiso
From Santiago we headed to Valparaiso, a couple hours away from Santiago on the coast. It has been a very important port for Chile and was the home town of Salvador Allende. What an amazing place! I would love to live in Valparaiso for a time. Every couple hundred metres there are old funiculars to transport pedestrians up the steep hills. It's a small immensely colourful and artistic city steeply rising up from the shore of the Pacific. Unlike most cities, Valparaiso doesn´t hide its creativity in studios and galleries, it is everywhere, for all to see, at any time. The city is beautifully adorned by diverse and striking graffiti, sculpture and other works of art.
Valparaiso is home to another of Neruda´s former houses now converted into a museum and tribute to him. This one was gradually built with elements of a ship, with the bedroom at the top looking over the Pacific Ocean as if from the wheelhouse of a ship. If in Valparaiso paila marina (seafood stew) must be eaten. Head to a little restaurant that looks slightly unhygienic and where they haven´t bothered spending much on interior design, and you should get a fantastic (and huge) seafood stew for a couple dollars.
After Valparaiso we had a day trip to the little coastal village of Isla Negra. The village is famous because Neruda lived there, and indeed we went there to complete the trilogy of former Neruda residences. This home was perhaps the most special. It sits right on the edge of the ocean that inspired so much of his song, and that he loved so much. It was such a peaceful setting, even as the huge pacific waves smashed against the rocky shore below his home.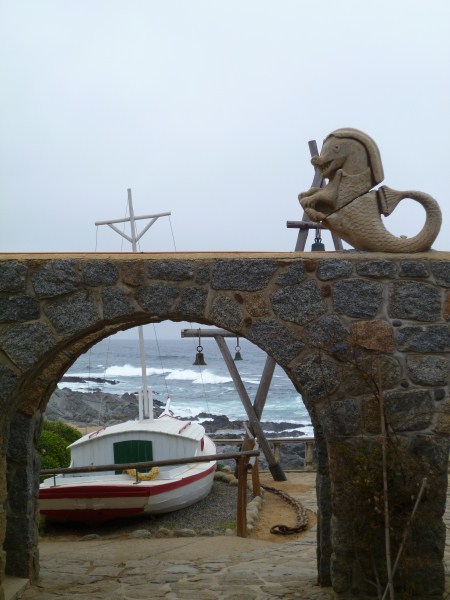 Looking to the Pacific from Neruda´s Isla Negra home
I leave you with a poem from Canto General and some more pictures of Valparaiso:
United Fruit Co.
When the trumpet sounded
everything was prepared on earth,
and Jehovah gave the world
to Coca-Cola Inc., Anaconda,
Ford Motors, and other corporations.
The United Fruit Company
reserved for itself the most juicy
piece, the central coast of my world,
the delicate waist of America.
It rebaptized these countries
Banana Republics,
and over the sleeping dead,
over the unquiet heroes
who won greatness,
liberty, and banners,
it established an opera buffa:
it abolished free will,
gave out imperial crowns,
encouraged envy, attracted
the dictatorship of flies:
Trujillo flies, Tachos flies
Carias flies, Martinez flies,
Ubico flies, flies sticky with
submissive blood and marmalade,
drunken flies that buzz over
the tombs of the people,
circus flies, wise flies
expert at tyranny.
With the bloodthirsty flies
came the Fruit Company,
amassed coffee and fruit
in ships which put to sea like
overloaded trays with the treasures
from our sunken lands.
Meanwhile the Indians fall
into the sugared depths of the
harbors and are buried in the
morning mists;
a corpse rolls, a thing without
name, a discarded number,
a bunch of rotten fruit
thrown on the garbage heap.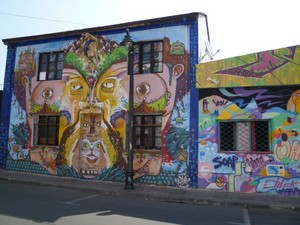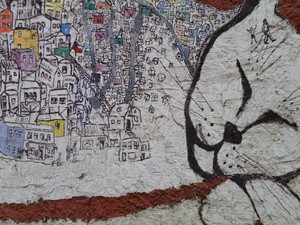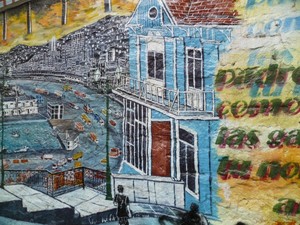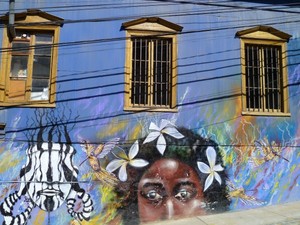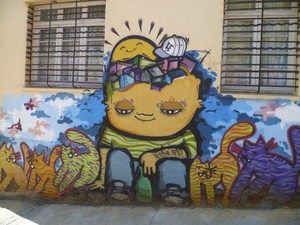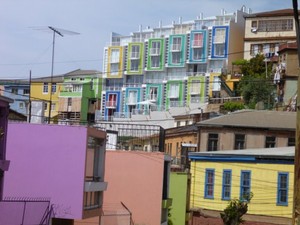 More of Valparaiso
References:

1. Declassified National Security Archive documents – (http://cryptome.org/chile-plot.htm).
2. Claudia Lagos and Patrick J. McDonneln Pinochet-era general is caught, Los Angeles Times, August 3, 2007 (http://en.wikipedia.org/wiki/Ra%C3%BAl_Iturriaga#cite_note-LAT-0).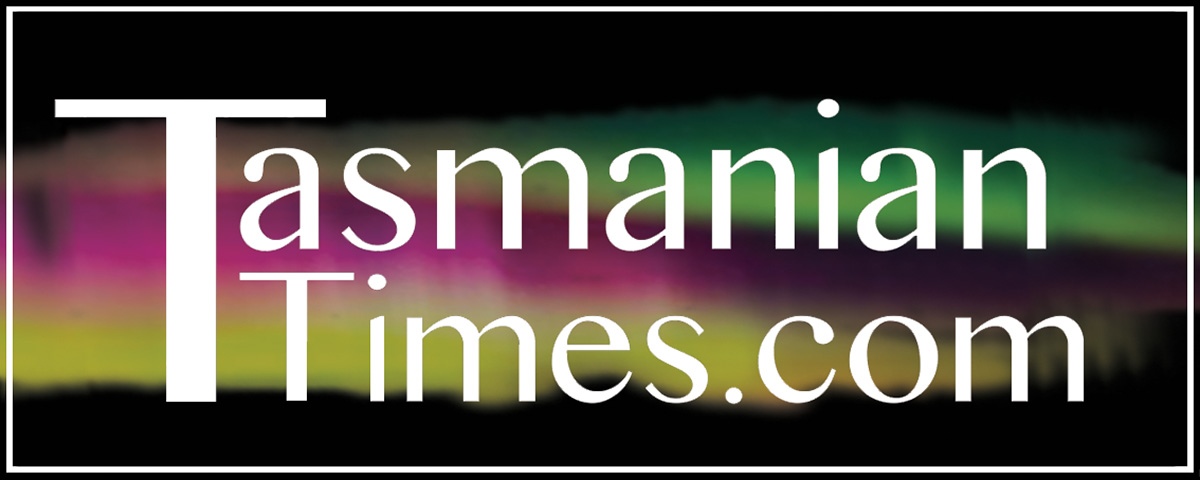 Author Credits: [show_post_categories parent="no" parentcategory="writers" show = "category" hyperlink="yes"]