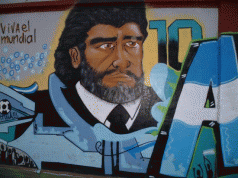 AFTER waiting four hours for a bus, then realizing, too late, we should have only waited for three, we discovered Argentina is an hour ahead of Bolivia. Crossing the border from Bolivia into Argentina was like crossing from the third world to the first, instantly. Waiting near the customs office were taxis, Fiats and Peugeots, new ones, and they took just the two of us to the nearest town, rather than waiting until there was seven in the car. Mind you the cost of the trip was more than double what it would have been north of the border. For the entire journey of an hour or so, we were on a straight sealed road and were passing large productive-looking farms of various fruits and vegetables. All the land appeared productive and satisfied with investment, whereas most parts of Bolivia we saw, were baron and undeveloped.
It´s not that Argentina is that wealthy – its per capita gross domestic product is still two and a half times smaller than that of Australia, even with adjustment for ´purchasing power parity´. However, it is still four times higher than that of Bolivia.
Argentina owes its name to Bolivia, specifically, to Potosí. The word ´Argentina´ originates from argentums, which is Latin for silver. The huge Rio Plata (River Plate) also owes its name to Potosí, plata meaning silver in Spanish. The reason is that the vast majority of the silver taken from Potosí to Europe was transported from the Rio Plata, predominantly from the ports of Buenos Aires.
By land area, Argentina is the eighth largest country in the world and is generally considered to be the wealthiest, per capita, Latin American country. It has a population of 40 million and is one of the G-20 countries, being considered a major economy.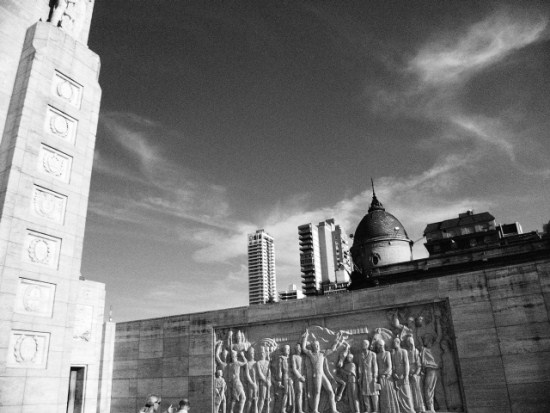 Independence memorial – Rosario
The Inca Empire only managed to conquer the northwest of Argentina. Argentina had a large number of distinct indigenous groups, probably due the size and geographic diversity of the country, but these indigenous groups were more nomadic and primitive than the likes of the Incas to the north and today, predominantly live in the remorseful pages of history books. The tragic and shameful history regarding the interaction of white settlers in the southern parts of Argentina with the indigenous is not that dissimilar to that of Australia. Much of it is surprisingly recent. The indigenous groups of much of Patagonia and Tierra del Fuego were living relatively undisturbed until the late 19th century.
Crossing borders is strange when you´ve spent most of your life on an island state of an island country. The idea of walking across a bridge and suddenly being somewhere people speak differently, eat different foods, have different customs and have a completely different economy, can be a bit alien to us Australians.
We went for a cheap bus station meal and decided to keep heading for Salta. Salta is a northern city of around a million inhabitants with a beautiful centre surrounded by the typical sprawl of cheap and easy to construct housing. I woke the next morning with my first proper case of food poisoning since Guatemala eight months ago. After a four hour bus trip witnessing some of the most stunning scenery and coloured rock formations I have ever seen (when I wasn´t looking into a plastic bag) we arrived in Cafayate. We got off the bus in the middle of a hot swirling dust storm, which was just what I needed after the most nauseous few hours of my life. I was so sick that a doctor had to visit our empty hostel.
I don´t know what he gave me, but by the next morning I was able to peel myself out of bed to find that the dust had settled and revealed the perfect little village for a few days of recovery. Cafayate is situated on a flat area surrounded by vineyards, which are surrounded by strange multi-coloured hills.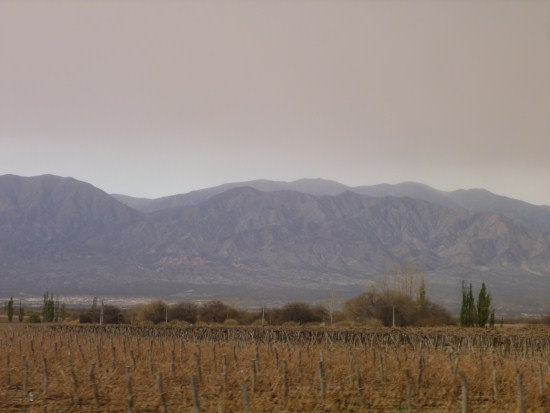 Dust storm settling over the vineyards of Cafayate
After stopping briefly in Tucuman, a reasonably uninspiring city of around a million inhabitants and a complete lack of banks or ATMs that accept Visa cards, we arrived in Cordoba, which is said to be ´´the cultural capital of South America.´´ Cordoba was a nice place to spend a few days. There are interesting galleries and historical sites, including former Jesuit churches and convents. We tried Fernet, which though made in Italy, is almost the national drink in Argentina. It is herb-based liquor of about 40 per cent alcohol and is generally drunk with cola. It has a pretty bitter taste and is disgusting without cola. Neither of us felt the need for a second (jug, that is).
During our journey towards Buenos Aires, we saw many Peugeot 504s and old Fiats on the road, making it feel like the south of France or Italy. Argentines also make Spanish sound completely different, more embellished and smooth, like Italian and French, which is frustrating for me as it is more difficult to understand. The people are all very friendly and seem much more confident than Bolivians.
For a few days I even had daft thoughts in my head like, ´´the adventure is over.´´ But as we walked around a former detention and torture centre just off the main square in Cordoba, I was reminded that while it is not as ´in your face´ different to Australia as Bolivia, Venezuela or El Salvador is, it has a history, and a present that is very different to Australia´s.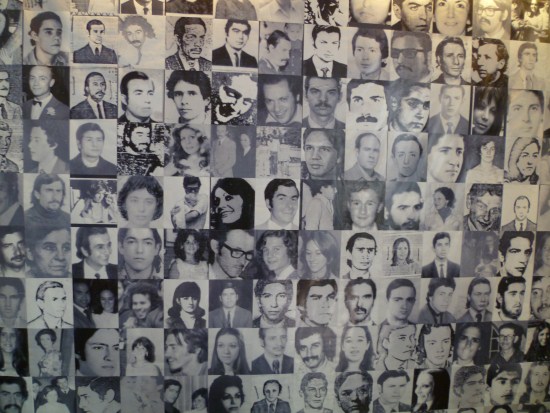 Pictures of the some of the ´disappeared´ from 1976
In 1974, after Juan Peron died a year into his second term, his third wife Isabel succeeded him as President of Argentina. Major conflict between left and right ensued in conjunction with financial crisis. It came to a head in 1976 when a coup d´état removed her from office.
The National Reorganization Process waged ´´The Dirty War´´ on anyone who disagreed or even expressed doubts regarding their governance. Thousands of people were tortured and never seen again. As is always the case regarding far right military dictatorships in Latin America, the abuses were assisted by the CIA under Operation Condor, and many of the military leaders that took part in the abuses were trained in the infamous School of the Americas.
Argentina suffered deeply under the dictatorship not just socially, but economically too, until the government finally collapsed in 1983 after Britain defeated Argentina in the Islas Malvinas (Falkland Islands). It appears that the dictatorship attempted to take the Falklands as it was an opportunity to play the nationalist card and distract their citizens from internal problems. Equally, the over-the-top reaction from Thatcher was likely her attempt to play the same card to distract the British public from its own internal problems.
The push for exposure of truth regarding the dark period of Argentina´s recent history is highly visible around the country. It seems to have come both from the people pushing their politicians and politicians leading their public, as opposed to the more normal bottom up only pressure. Argentina is now in the process of holding trials for some of the worst crimes of this period.
The pursuit of truth seems to have provoked a hope and positivity that is much more than victims´ desire for justice or revenge. The feeling I had whilst witnessing these public displays of truth was more like that of a dark chapter finally being permitted its closing paragraph, and the thoughts of a new chapter already visible on the following page.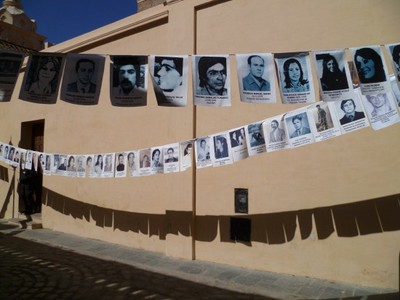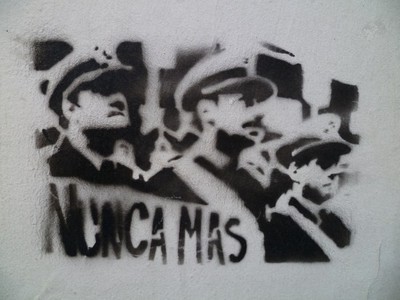 Disappeared people displayed off the main plaza of Codoba, and street graffiti about the dictatorship ´´nunca mas´´ (never again).
Cordoba was a nice city but I wouldn´t have thought it was ´´the cultural capital of South America´´ unless I had read it. In fact Rosario, a similar sized city of around a million people, further south, had a much more interesting feel and will leave a deeper print in my memory. The city has some impressive monuments, and the birth place of Che Guevara, but the best thing about it is simply the atmosphere when wandering about. Even our impressively rank hostel couldn´t detract from the positive vibe of Rosario.
Rosario is situated on one side of the huge Paraná River. Between the river and the city is a wide strip of public space, most of which is parkland but including skate parks, restaurants and bars. We arrived on a Sunday and this area was packed with thousands of locals, old and young, but almost all them, had a flask, special cup and metal straw to enable permanent drinking of maté (an Argentine herbal tea). It is truly amazing how inseparable from their maté Argentines are.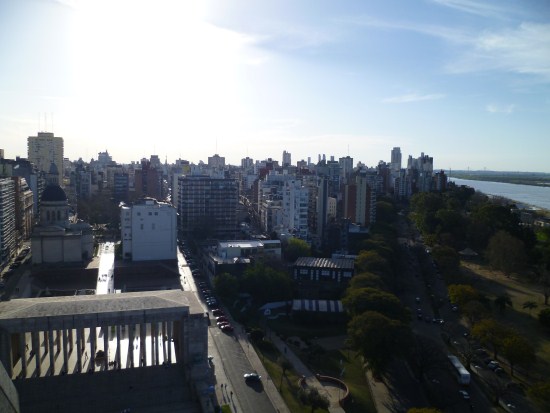 Rosario skyline
I had thought the World Cup, and particularly Maradona, may have been a touchy subject here, after the national team (in my opinion with a group of players that was only rivaled in quality by Spain) was knocked out by a 4 – 0 thrashing by Germany. I knew that Maradona almost had the status of a god here, and gods don´t get beaten 4 – 0 by Germany. I was worried for the crazy little man, who seems to operate purely on emotion rather than thought, when he took the job of coach, thinking how much further gods have to fall than mere mortals. However, from my gentle questioning it would appear Argentines have taken it in their mellow stride, simply explaining that a genius player doesn´t always make a genius coach.
After about the tenth conversation about Maradona and recent World Cup failure, we boarded a bus for Buenos Aires. It was our first time in a truly large and truly modern city for quite some time, and where we were lucky enough to meet my parents to travel together for a few weeks.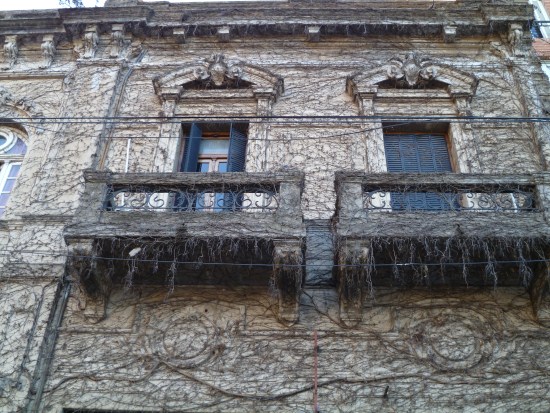 Cordoba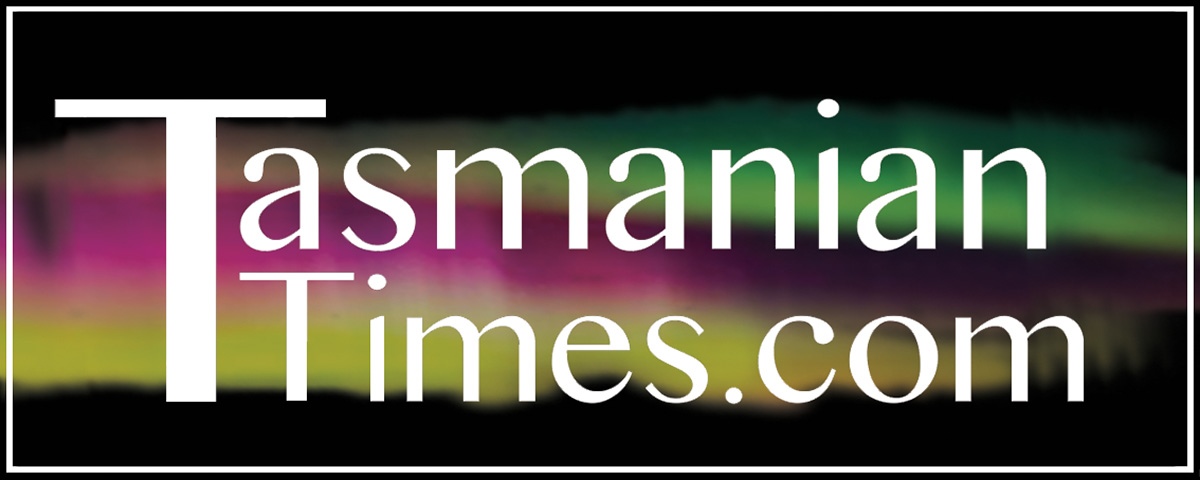 Author Credits: [show_post_categories parent="no" parentcategory="writers" show = "category" hyperlink="yes"]