I AM starting to get used to the heat now. If I have a cold shower and then walk very slowing straight in front of the old fan and don't move, I can go a couple minutes without sweating. Of course, this does not work between 10am and 4pm as its too hot, and by cold shower I mean pouring bowls of cool water from a drum over myself in our 'bathroom'.
So we have made it to El Salvador where we've met up with a friend of a friend. Our friend Rene is a Salvadoran living in South Hobart and through him we have hooked up with Francisco, aka Chico, who has lived in Melbourne for the past 25 years. Both Rene and Chico were accepted by Australia as refugees during the 12 year civil war that began in 1980. Chico has left his comfortable life in Australia to try to help alleviate poverty in this rural part of El Salvador, mostly through establishing grass-roots projects and co-operatives. Anna and I have come here for about 10 weeks to help with various projects and to document and write about this place, its people and the changes taking place.
We arrived in the country not knowing what to expect and were met at the airport by Chico and two boys, Rene (17) and Victor (14). Being used to the comparative nanny-state of Australia, I was a little surprised when myself, Rene and Victor were instructed to ride on the back of Chico's ute, especially when I knew where we were to be living was about an hour and a half's drive away. It was extremely hot and by the time we arrived I was pretty sun burnt and dehydrated.

Fallen legends of the left – politics is everywhere in El Salvador
On the drive I managed to communicate a bit in Spanish with Rene, who was making a great effort to educate me about everything we passed. However, Spanish here almost sounds like a different language to the Spanish of Spain. We passed a multitude of people along the road trying to make a living selling all sorts of things from dried beans to water, from tortillas to mangos. The visibility of poverty was constant throughout the journey, though it was worse in some areas than others. It was not just the activities people were engaged in, but the obvious malnutrition and ill-health of people we passed by.
We passed a couple of sleeping volcanoes on the way, one of which I have since discovered, erupted in 1932 killing many and leaving many more homeless. This was not a good year for the country, also being the year that the National Guard massacred approximately 30,000 peasants, the "Matanza." The majority of those massacred were indigenous people who had begun to rebel for agrarian reform and the most basic of human rights. Many see this as the main reason indigenous culture is all but invisible in El Salvador now, with many older indigenous people still afraid to admit their race for fear of retribution.
Throughout the journey I still had no idea where we were staying, but Chico had told us in an email some time back, that he had a place lined up for us. I had images of a simple little apartment with a fridge and basic cooking facilities, perhaps a quiet balcony and simple furnishings. Perhaps Anna knew by now, as she was in the front of the pick-up with Chico. As the homes became more and more dispersed and we passed through large sugar cane plantations, we were nearing our destination, the tiny village of Los Marranitos.

Local houses
When we arrived Anna explained to me that we were staying with the two boys and their mother, Erica. We enter our new home which is more like an unfinished Australian shed. It is made of brick with a tin roof and is about 50 square metres, making it one of the best houses in the area. They don't try to shut off the outside here, so the roof sits on top with a large gap between it and the top of the walls.
The house has three rooms. The two boys share one, Anna and I share one and Erica sleeps in a hammock in the kitchen/dining room/living room. The only furnishing other than the three beds is two plastic chairs and a table in the kitchen section where all the utensils, food and a two-burner gas stove live. There is an old fridge, which is never very cold as it is always switched off over night.
Electricity in this area is confined to the main road only, which fortunately we are on, though there are frequent black-outs. There is no supply of drinking water in this area and the closest supply is 25km away. Because very few people have cars and petrol is as expensive as in Australia, a lot of people drink dirty water. Toilets are drop-pits in the garden.
We have a little 'bathroom' in our room. This consists of a blue drum of water and a bowl. The others wash outside. It was a bit of a shock at first and sleeping was difficult the first night with the heat and a fair level of paranoia about the insects in our room and the warnings about not aggravating scorpions when they crawl on you in your sleep. However, within a couple days coming back to our room feels like coming home and we sleep very well here.
There are two older men who seem to eat at our house each day. Ramon looks very old and Luis looks about seventy and only has one arm. We have already seen about ten older men in this area with an arm missing and can only assume they were lost in the civil war of the eighties and early nineties.
We have spent the first week getting up at 5.45am to start work at 6.30am visiting simple community projects and learning more about how they work and talking to the people who are benefitting from them. There is no need for an alarm as the chickens wake us up at about 5am. We don't normally work between 11am and 3pm, as it is simply too hot. We spent three days installing a drip irrigation system and planting vegetables on about a hectare of land where they have recently installed a pump thanks to overseas aid. It is so dry that we are constantly brown with dirt and have a gurgle in the throat from inhaling the dust.
We have visited many little villages, many of which consist of houses entirely made from either mud and sticks or black plastic sheeting and sticks. Some houses are built with randomly shaped pieces of scrap corrugated roofing iron. It feels strange visiting these places and standing out so much, even though we are visiting with locals and helping them with their work of selling fish or helping to grow plants. Though people stare at us a lot we have not once felt threatened in any way. Most people are very inquisitive and once we break the ice and say hello, very friendly.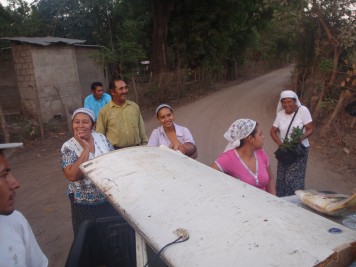 Selling fish in nearby village
Many people in our local village knew that we were coming and why and have shown us immense gratitude and respect. Though they express that they are simply grateful that we are interested in them and not because they think we can provide huge sums of money or major help, we do hope that we can leave having helped in a tangible way. We are seeing lives that we could not live. But in addition to seeing the pain of poverty, we are extremely touched by how welcome, safe and at home we feel here considering it is a world we failed to imagine until we arrived.
I have now seen my first dead body as here it is a show of respect to come and view the body of the recently deceased and talk to the bereaved family for a while. While listening to the dead man's grieving wife speak of his last few days, it struck me how different death is here, without hospitals, doctors, nurses and pain killers. The poor lady had been nursing him for months and had to endure him screaming in pain during his last few days.

Weekly meeting of community leaders
We have attended the weekly meeting of community leaders from the 16 communities around Los Marranitos where issues are raised, discussed and appropriate actions taken. The outcomes of these meetings pass their way up the governmental chain when necessary. Again we were made to feel very welcome by the community leaders. The meeting struck me as highly democratic and made me wonder how it would work taking Australian democracy to such a local level.
The children here are gorgeous and very interested in us. It is strange being able to make a child luminously happy by giving them an orange, as opposed to a Playstation. We are already getting pre-emptive bouts of sadness about having to say goodbye to some of them as we've developed close bonds very quickly. I even feel somewhat paternal toward many of them as most of the children we are meeting have lost their fathers for various reasons.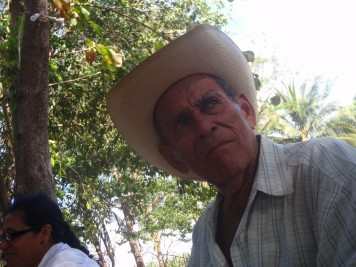 Don Felipe pondering one of the many issues at the weekly meeting
I was invited by a Member of Parliament and former Priest and guerrilla, David Rodriguez, to play in a regional football tournament last weekend. Much to my horror, I was introduced to all over the loud speaker as a great Australian striker. After Anna kicked the ball off to officially start the tournament, which was to raise awareness about problems with alcohol, gangs and to give young men something positive to do on a Saturday arvo, we were into it. For me, playing at about noon under the full strength of the sun and breathing in what felt like pure dust was tough. Fortunately the game was only half an hour and we lost 1 – 0 and (in secret relief to me) my team was eliminated.
We are starting to get used to seeing men carrying machetes everywhere. They use them for everything here! I commented to Anna at the football tournament that is fortunate everyone is so calm here, when you have a few hundred men with machetes watching football. There will be more on that ill-timed comment in the second Salvadoran postcard to TasTimes.

Local kids and the essential machete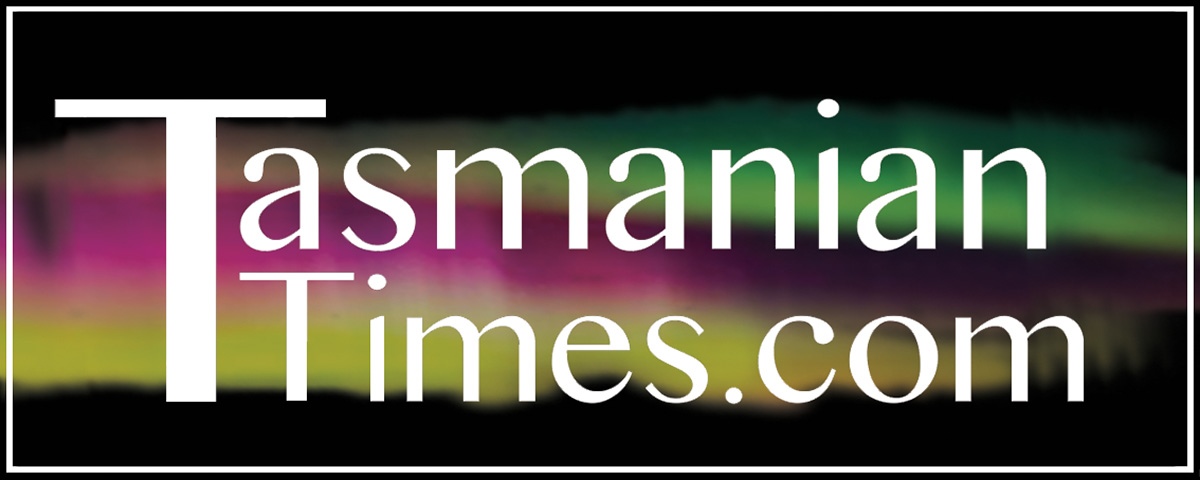 Author Credits: [show_post_categories parent="no" parentcategory="writers" show = "category" hyperlink="yes"]