Amidst growing concern that the recent appointment of Jason Browne to the position of General Manager for the Huon Valley Council (HVC) is deeply flawed, there is total silence from Mayor Enders.
Enders, in her role as mayor, is the only person permitted to speak on behalf of council, however despite numerous attempts by phone and email there is not even a 'no comment' coming out of council.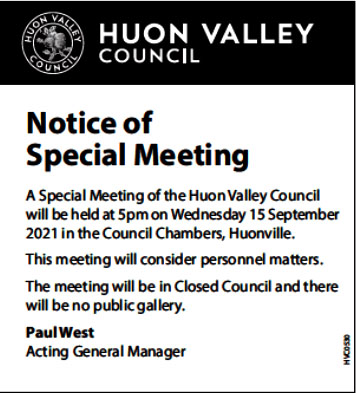 The placement of an advertisement in the Mercury Friday 10 September 2021 is the only suggestion that council is now rallying; perhaps in an attempt to have all councillors sing from the same song sheet.
It seems likely HVC will have engaged external legal advice over a significant failure of governance that should never have come to this. This will mean even more expense for the ratepayers.
From the mayor's media release of 17 August 2021 we know that Joanne Inches from recruitment agency Red Giant received 85 applications and without any council involvement she summarily dismissed 38. Then from the remaining 47 applicants, Inches culled this list down to just 14 candidates for consideration by Council.
Crucially, this list included her partner Jason Browne.
Council must have asked the consultant at engagement if there were any conflicts of interest, because Mayor Enders has publicly stated "no conflicts existed at the time of appointment."
In the Huon News 1 September 2021, Mayor Enders stated:
"I can assure the community that at the time of appointing Red Giant to assist the Council with its recruitment of a new General Manager, Council was not aware of any potential conflict of interest relating to the recruitment agent or potential candidates."
Council however must at least subsequently have known that a conflict existed, because Browne was one of the 14 candidates submitted to the GM recruitment Panel.
Council has therefore participated in a flawed process and is possibly in breach of the Criminal Code Act 1924.
Without any input from council Red Giant dismissed 71 candidate applications. Candidates from across Australia that had given serious consideration to be considered eligible for the role of General Manager of the Huon Valley Council. Candidates that felt themselves worthy and who were prepared to change careers, to uproot themselves, and possibly their families, and to relocate to the southernmost council in Australia.
In removing these applicants, Inches increased the chances of her partner Browne securing the vacant position.
The apprehension of bias in this matter is blatant.
Because Inches has a conflict of interest with Browne, the question must be raised: were there any applicants in the 71 that may be well suited to the advertised position that quite possibly should have had the attention of the Council GM recruitment panel?
If Inches had her partner in mind, was her judgement clouded as she sifted through the resumes?
A reasonable apprehension of bias is where an informed person, viewing the matter realistically and practically and having thought the matter through, would think it more likely than not that the decision maker would unconsciously or consciously decide the issue unfairly.
For this reason alone the HVC GM recruitment process is completely flawed.
Not because Inches is incapable of performing her duties, but because Inches is conflicted with one of the applicants, an applicant (Browne) that one assumes she would want to be the HVC General Manager. Regardless of what she might have wanted, the appointment stood to benefit her partner to the tune of some $1,000,000 over 5 years, over above her own Red Giant recruitment fees which could be in the vicinity of $60,000 plus costs.
Furthermore, if the date of Browne's application is outside of the original closing date of 17 May 2021, could this be the reason for change to the closing date?
The position was initially advertised 4 May 2021 with a closing date of 17 May 2021. For a yet to be explained reason, the closing date was then changed to 24 May and then to 26 May 2021 which is still showing on the Red Giant job page.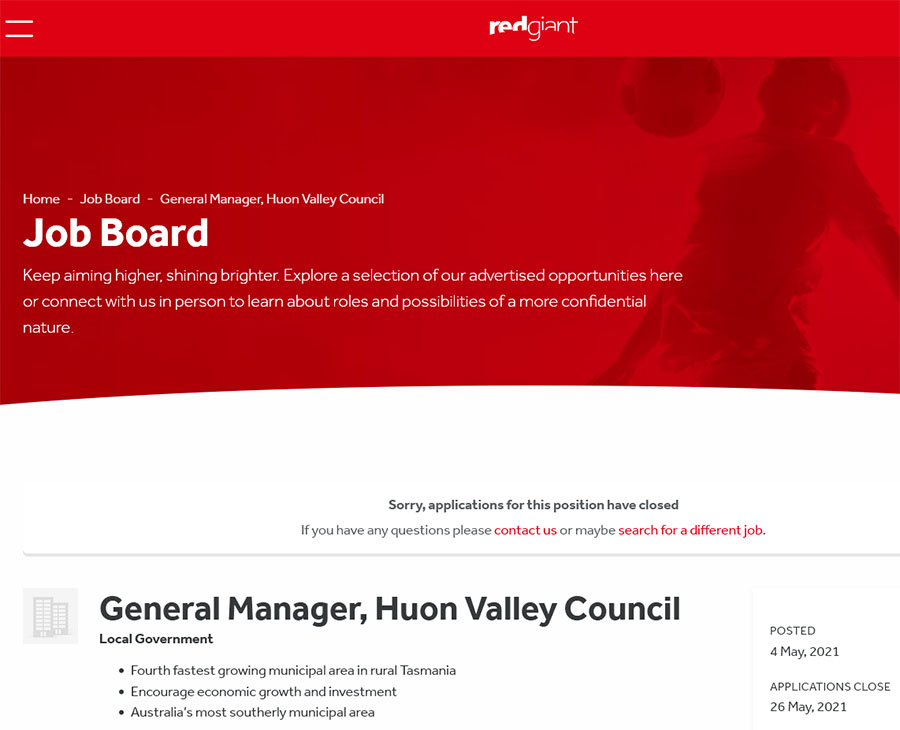 When was Council made aware of the conflict of interest between Browne and Inches?
This is a question Enders has refused to answer during public question time at the 23 June 2021 Ordinary Meeting of Council; and in subsequent questions from the media.
It is important because, the question is then back onto council as to why they did not then consider the implications of employing a General Manager who is conflicted with the recruitment agency, and the Red Giant Managing Director who has controlled the process from the outset.
Why did Huon Valley Council not there and then immediately declare the recruitment process invalid, replace Red Giant as the recruiting agency and/or remove Browne from the list of possible candidates?
There is also the possibility, which is again where an apprehension of bias exists, that Browne's rise to the top has been engineered from the outset, and there is the distinct possibility that other parties may also have been in the loop all along.
These are speculative theories only, but wherever there is apprehended bias, then all such possibilities, and more, are on the table. Such suspicions will never go away.
The selection and employment of a Council General Manager is the most important duty to be performed by the elected councillors.
The GM role is to manage the Council budget [$28,000,000], all council staff [160] and he/she has significant statutory and legal decisions to manage on behalf of the ratepayers, to include ratepayer owned assets and their money. In terms of management positions in Tasmania, a GM position with one of the state's 29 councils is a well-regarded position and is amongst some of the highest paying jobs in this state.
The GM is also expected to perform his/her role without any bias or prejudice at all times, which is especially important when dealing with contracts, planning and development, investments of ratepayer funds and the important function of providing the community with confidence that everything is legal and above board with all decisions of council.
Once the position of the General Manager is tainted in any way, not only are the ratepayers forever wondering, but spare a thought for the hard-working staff of council, and their families.
Decisions about their future are in the hands of their GM. Can they ever be certain a conflicted GM, who has accepted his part to play in a seriously flawed recruitment process can be trusted in any of his future decision making tasks?
It is my view, as a resident and ratepayer of the Huon Valley, that given the evidence already to hand, before we even hear from our mayor or any council lawyers, that the appointment of Mr Jason Browne is untenable.
No matter whether his qualifications appear well suited, or whether our councillors think this is all acceptable (on behalf of we the ratepayers), this appointment will forever be beneath a dark cloud of doubt, and questions of what if.
Our mayor and councillors now have no option but to immediately cancel any contracts on the basis of apprehended bias, they must appoint another recruitment agency and begin the costly, but most important process all over again.
We may well hear from our mayor after her briefing from council's lawyer in coming days that the matter has been considered, that a conflict of interest was declared at a certain point in time, and that it was discussed and that all parties felt the matter was under control and acceptable. Nothing to see here.
Council's lawyer may possibly say, council put in place appropriate conflict management procedures once it became aware of the conflict. This will ignore the fact that the contracted consultant, Red Giant assessed 85 applications whilst conflicted. The consultant participated and allowed a flawed process.
We may also hear in due course why one of the councillors on the Recruitment Panel resigned because of apparent concerns about the recruitment process. It is however highly likely that whatever comes out from any councillor over this matter will be highly censured in keeping with what our elected councillors can and cannot say without the permission of the mayor.
Should any councillor choose to break ranks it will take some serious backbone and possibly even independent legal advice.
This debacle does not pass the pub test.
In a Facebook comment looking into the ongoing developments, one commentator said:
"Having worked In HR in Local Gov I cannot understand why this recruitment was not stopped unless the relationship was covered up. If the Mayor was aware of the relationship she must be removed. Rate payers' money again wasted. As far as Jason Browne is concerned, he may well be between a rock and a hard place. What a bloody mess!"
Once under contract to a council, a General Manager is almost impossible to remove unless there are criminal proceedings. Our councillors cannot remove the GM, neither can the Director of nor the Minister for Local Government.
One of the only possible options for the ratepayers of the Huon Valley, if there are enough ratepayers in the community concerned about good governance, ethics and morals; is to petition the new GM to resign his position and to allow the process to start all over again.
This entire fiasco may well see another Board of Inquiry into the council. There may be investigations into this process in accordance with the Criminal Code Act 1924.
Our councillors may well be culpable in their actions with respect to the very clear legislation in the Local Government Act 1993 with respect to conflict of interest.
Mayor Enders ought to consider whether her poor performance throughout this affair means it's time to resign her position.
But no matter what transpires over the coming days, the apprehension of bias in this entire process cannot be avoided regardless of any carefully-worded future media release from the mayor.
Footnote:
Tasmanian Times is open to receive contact from any of the other 84 applicants in this recruitment process. Information will be accepted in total confidence. Email [email protected]
In articles of investigative journalism all sources of information are protected under our Code of Conduct, and are generally provided under confidentiality of non-disclosure. Tasmanian Times takes this position very seriously. Whilst not being prepared to disclose our information sources we can advise there has been no information forthcoming directly to Tasmanian Times from any members of the four person GM Recruitment Panel.
---
Geoffrey Swan is an investigative journalist with Tasmanian Times, but first and foremost he is a resident and ratepayer in the Huon Valley. He has been closely following Local Government in Tasmania for a number of years and has been involved in matters of the Huon Valley Council since 2015, to include the Board of Inquiry, the two year period with a Commissioner, and the current Council of new representatives elected in October 2018.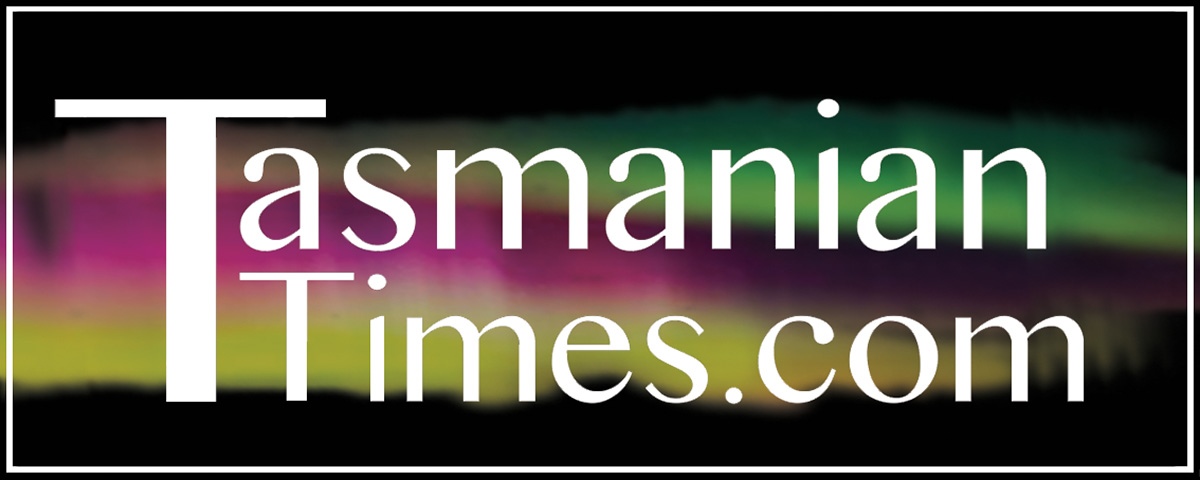 Author Credits: [show_post_categories parent="no" parentcategory="writers" show = "category" hyperlink="yes"]