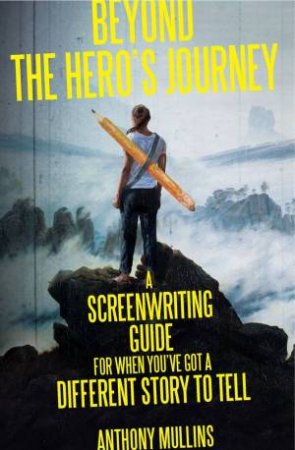 This book by Anthony Mullins, Beyond the Heroes Journey – A Screenwriting Guide For When You've Got a Different Story to Tell, was recently published by New South Publishing.
Tasmanian writer Ben Marshall was kind enough to give us a run-down of the new publication.
---
I'll keep this review succinct, like the book in question.
Do you recommend it? Yes.
Who is the book for?  Storytellers in any medium.
Wait, the title says it's for screenwriters. Yes, but I'm going to recommend it for every type of writer.
Is it useful for beginners, or for experienced and published writers? Both.
What's the gist? Know your character and their arc throughout the narrative and you'll be good to go in pretty much any kind of storytelling, from Hollywood three-act style to, well, David Lynch.
Can you break it down to a thumbnail so I don't have to buy the book?  Yes, but you'll miss Mullins' unpretentious insights and context that really pull it all together.
Come on, I'm broke.  Please? Okay, fine. Writers attending fully to character and their arcs have the freedom to work within, and step beyond, the traditional Heroes' Journey or three-act style of narrative. By keeping their focus on character, the changes that occur to and around their characters, their external and internal conflicts, and the choices they make, the writer will have a solid understanding of the project they're working on, one that doesn't bind them to genre or painful, complicated analysis.
That's it? No, of course not. It's not a long book but there's not a wasted word, and all of it is useful. If you're serious about story, buy it. And read my longer review here:
I'm a television scriptwriter and, last year, a debut novelist. I make my living from writing, as does Mullins – except he's famous and successful with an international career and I am none of those things. But, apart from that, like me, Mullins' television work has informed all his writing, including for feature film and novels.
In television, a largely collaborative exercise, writers compete with ideas. Sitting around a table in a writers' room, a better idea gains fast group approval, then gets a plot-twist which takes it to another level, leaving previous ideas kicked to the curb. That doesn't mean the discarded ideas are bad, just that they were the necessary steps that led to the good idea. Bad idea sparks good idea, which sparks better idea.
In the same way, you, labouring in your garret over your novel, play, epic poem, feature script or hip-hop opera, will perform the same process but over a much longer period of time.

The voices in your head will whisper, grumble, argue, sulk, shout and sing. Vague ideas will emerge from the fog and, eventually, they'll begin to make sense as they coalesce around a character, or an ensemble of characters.
Mullins takes all standard processes used to create story, whether from television, film or novel, and distils the most critical element that drives story – character, and their interaction with themselves and their world over time.  That, in a nutshell, is what story is.
Mullins uses a diverse range of feature films to provide examples (and counter-examples) of what he's describing, and doesn't bang on. Idea, examples, context, insights and tips. Next chapter.
If you've thought that giving primary attention to character is stating the obvious, you're right. But there are many different stories, and many different ways of telling them. Mullins' focus on characters, their choices, conflicts and changes seems obvious, but as I've learned in television, it takes a while before it becomes instinctive. If you're an experienced writer, Mullins work is still highly useful, especially if you're working in more than one format, or branching out from novel to film. If you're an emerging writer, Mullins work is simple, unpretentious and direct from one of the most professional and experienced storytellers around.
It shouldn't be the only book on storytelling you have on your shelves, but I'd pick this one first because it's so straightforward. It'll provide your early ideas and thinking with a simple focus on which to build something cohesive and worthwhile. I'd also recommend it for film buffs because it's well-written, entertaining and you'll enjoy comparing notes with Mullins on a score of films he references, plus gain insights into the creation of the format you love.
---
B.P. Marshall is a television scriptwriter (Shortland Street, SBS) and debut award-winning novelist (The Last Circus on Earth) writing on Northern tribes First Nation land. He can be found at benmarshallwriter.com.
Technical information
RRP AU$32.99; NZ$37.99, published July 2021, ISBN 9781742236995
Paperback, 256 pages, dimensions 153 x 234mm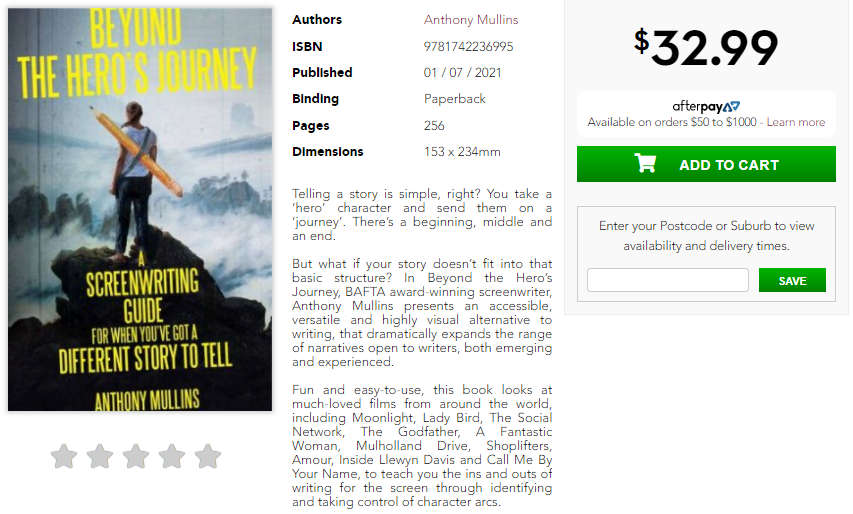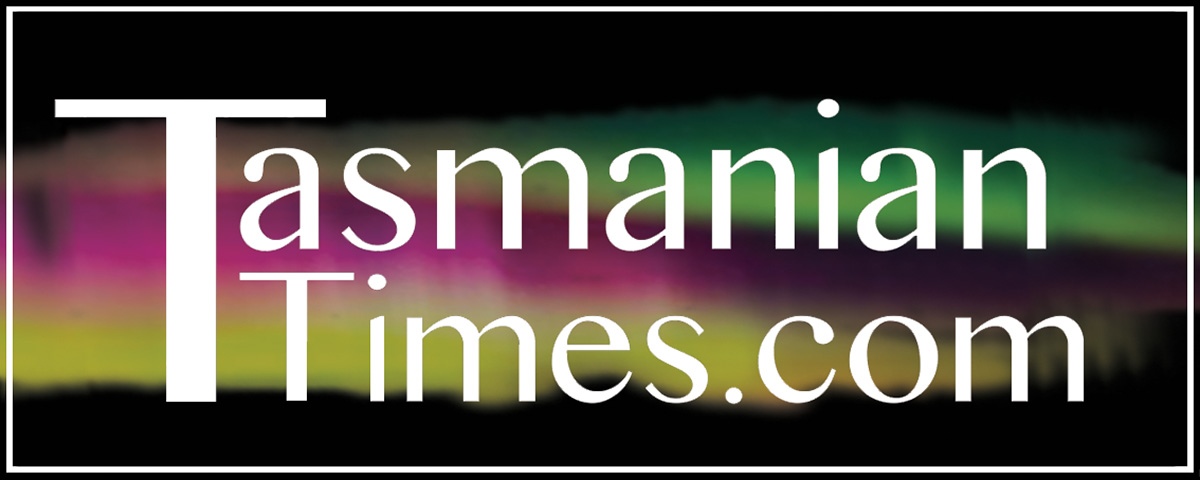 Author Credits: [show_post_categories parent="no" parentcategory="writers" show = "category" hyperlink="yes"]