hospitality workers – Minister for Small Business, Hospitality and Events Sarah Courtney urged the public to be patient with hospitality workers as things transition back towards normal. "Hospitality staff are working hard to keep people safe by managing booking arrival and departure times as well as undertaking additional cleaning," she said. "This is necessary to keep patrons healthy and safe." She said was 'very disappointed' to learn of recent instances where staff who are enforcing the rules have been abused by patrons. "Tasmanians have demonstrated a strong sense of unity through the pandemic and have banded together to protect one another. Those in the hospitality industry have been some of the most impacted and I urge Tasmanians to continue to be kind and tolerant as staff implement the rules. Please continue to support your favourite pub or restaurant and be patient and understanding as they work hard to keep you safe."
Meanwhile Labor Leader Rebecca White said setting Friday 24 July for re-opening Tasmania's borders will provide "the clarity businesses have been asking for" so they can start taking bookings to welcome visitors to Tasmania again. "This announcement is particularly important for the hospitality and tourism sectors which have suffered some of the biggest job losses throughout the pandemic," she said. She urged the Premier to expedite discussions with airlines to secure direct flights to states that have successfully suppressed the virus.
greenhouse accounts – the latest national, and state and territory, greenhouse accounts were issued recently. They describe the situation as in 2018 and you can read the full report here. The graphs reproduced below do a fairly good job of telling the story. The good news is that Tasmania has net negative carbon dioxide emissions.
Tasmanian Times received several media releases regarding the data.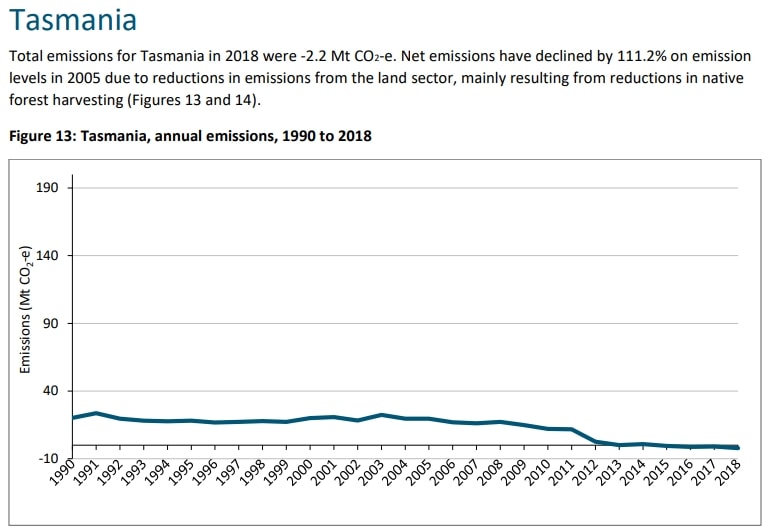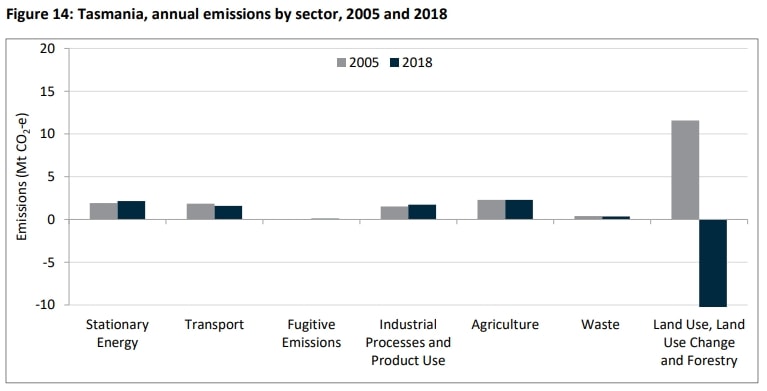 parks and reserves funding – a number of building and maintenance priority projects identified as 'screwdriver ready' are already underway are about to be implemented.  These include:
$450k for priority road maintenance works – statewide;
$200k for maintenance works at Hastings Caves State Reserve;
$250k for general maintenance and renovation of the Ranger Station and Field Centre at Cradle Mountain;
$150k for heritage maintenance works at the Shot Tower at Taroona;
$100K on track works on a second Wineglass Bay lookout at Freycinet;
$150K to heritage maintenance works at the Richmond Gaol; and
$150K split across each of the 3 regions for statewide priority signage replacement works.
Minister for Parks and Environment Roger Jaensch said these works are in addition to significant upgrades to parks visitor infrastructure across Tasmania committed to by the government, which are around $80 million over a four year period. "The government has instructed that, wherever possible, those investments should be brought forward to act as an additional stimulus for the economy at a time when Tasmania needs it most," he said.
gender law reform – Tasmanian Law Reform Institute issued a report that says Tasmania's new gender laws are some of the most progressive in the world, and have had a beneficial impact since they were enacted over a year ago, without any of the 'unintended consequences' feared by the state government (for an explainer article, see here). The TLRI also recommends criminalising non-consenting surgery on intersex children and compensation for harm arising from non-consenting surgery.
Equality Tasmania spokesperson, Charlie Burton, said, "Tasmania's world-leading reforms have been given a legal tick of approval and we urge other states to follow our lead. Now we can move on to address other issues so that trans, gender diverse and intersex Tasmanians are free from discrimination in all aspects of life, issues like banning unnecessary surgery on intersex children and giving appropriate support to younger Tasmanians who are transitioning."
According to Simone-lisa Anderson, Intersex Peer Support Australia (IPSA) representative for Tasmania, "unnecessary medical interventions on infants and children with variations in their sex characteristics can cause life-long harm." The Law Reform Institute recommendations aim to end non-consenting medical interventions. "This is something I welcome as do many in this community, given everyone has the human right of body autonomy no matter what age we are."
Tullamarine – the worsening COVID-19 situation in Victoria has been cause for concern. Madeleine Ogilvie MP, Independent Member for Clark, called on the state government to establish safe transit arrangements through Tullamarine Airport. "It is positive that the Tasmanian government is considering travel bubbles to COVID safe states such as South Australia and Queensland, but there is a real risk Tasmania may face challenges in securing direct flights," she said. "Tullamarine is one of the busiest transit hubs for Tasmanians seeking to travel around the country and for other Australians to visit our state." She said that with Victoria facing challenges from a resurgence in the coronavirus, Tasmania needs to look at measures that will allow travellers to access Tullamarine safely. "I am calling on the Tasmanian Government to consider establishing arrangements that will allow travellers to pass safely through the Tullamarine Airport without needing to quarantine when they arrive in Tasmania."
Premier Peter Gutwein said the government was aware of the issue and was making arrangements. "We will continue our engagement with airlines in regards to direct flights, wherever possible, to states and territories that are currently COVID-free, and we will work with the Victorian government to understand the measures that are currently  in place to ensure a safe transition through Tullamarine, should that be necessary depending on Victoria's situation," he said.
ice seizure – a 25 y.o. man and a 32 y.o. woman were arrested and charged following a significant seizure of methylamphetamine (ICE) yesterday with a street value of around $1 million. Approximately 1kg of the highly addictive drug ICE was concealed in mail packages intercepted by members of Tasmania Police, in cooperation with Australia Post. Investigations by Southern Drug Investigation Services, and with assistance from various other units across Southern District, resulted in searches being conducted and further evidence being seized.
"This seizure takes approximately 1 million street 'deals' of methylamphetamine out of the hands of vulnerable Tasmanians and demonstrates Tasmania Police's ongoing commitment to reducing harm caused by illicit substances in the Tasmanian community," said Commander Tony Cerritelli. "The seizure of $1 million worth of ice last night sends a strong message to criminals involved in bringing drugs into our state. "Just because Tasmania Police has been dealing with COVID-19 emergency, does not mean that we won't continue to do our core business of targeting crime and holding criminals to account." He said the Police are committed to preventing the importation and distribution of illicit substances in Tasmania.
ABC cuts – the federal government's 'ideological war on the ABC' has cost another 250 jobs and further weakened Australia's media, which is already on its knees, according to Clark MHR Andrew Wilkie. "The ABC is especially vital to providing people in rural and regional Australia a comprehensive news service, and people living outside Sydney will now be poorer due to the government's cuts to the broadcaster," he said. He said there is a clear link between journalism and the broader civic health of communities. "Like the rest of the country, the last decade has seen newsrooms around Tasmania shrink and lose valuable corporate knowledge," Wilkie said. "The ABC job cuts will only heighten this decline. The whole media industry is struggling with rapidly changing revenue and advertising models and shifting audience behaviour. The government should be investing in the ABC and local journalism at this time, not sentencing it to a death by a thousand cuts."
A Launceston newspaper predicted that the ABC cuts would lead to job losses in Tasmania.
roads and related infrastructure – projects were announced by Minister for Infrastructure and Transport Michael Ferguson this week. He said the  Tasmanian and Australian governments are working together to deliver even more economic stimulus to reboot Tasmania's economy and support jobs. "Together, we are delivering $46 million worth of shovel-ready infrastructure projects and urgent road safety upgrades across the state." There is $34.3 million of federal money while the state government is contributing $11.7 million for this new package of nine projects, which includes:
Shoulder widenings: Railton Main Road, Richmond Road
Road surfacing upgrades: Bass Highway, Arthur Highway, West Tamar Highway, Channel Highway, Bell Bay Main Road, Bridport Main Road
Pedestrian underpass on the Midland Highway at Campbell Town
Bridge strengthening upgrades at Blythe River and Barossa Creek
Electronic school zone signs
Heavy vehicle rest areas
Roadside barriers
Huon Highway/Sandfly Road junction
dashboards – Tasmania's latest elective surgery waiting lists confirm worsening surgical delays before COVID-19 according to Shadow Health Minister Sarah Lovell. She said surgery waiting lists hit another record high in the three months to the end of March – prior to the impact of COVID-19. "Tasmania's elective surgery waiting lists were already at record high numbers at the end of 2019, with more than 11,100 people waiting for surgery," Lovell said, referring to the latest Tasmanian Health Dashboard figures. "That trend worsened in the three months to the end of March, with the waiting list rising by 201 to 11,307 – another record." For urgent Category 1 surgeries, the waiting list rose by 98 to 849, and average overdue waiting times were up across all categories. Outpatient waiting lists were also up – by 2,501 – to 40,023.  Oral health waiting lists rose by almost 1,000 to 14,855. "While the government needs to prioritise the response to the impact of COVID-19, these figures clearly demonstrate the need for an overarching plan to catch up on the state's backlog of surgeries and improve the health system generally," Lovell said. "Tasmanians have been waiting too long for surgery and they deserve a comprehensive plan to get them off the waiting lists and into hospital beds."
The government meanwhile about 'improvements in a number of areas' reflected in the Dashboard update. Roger Jaensch, Minister for Human Services and Minister for Housing, pointed to the average time to house priority applicants declining from 65 weeks to 59 weeks. The number of households assisted through the Private Rental Assistance Program has also increased when compared to the December Quarter. "Our record investment into affordable housing is helping Tasmanians access safe and secure accommodation sooner, and we will continue doing everything we can to increase housing stock across the state and help those Tasmanians that need it," he said.
In the area of Children and Youth Services, the number of children referred for investigation has remained stable. "Pleasingly, the number of children in active transition has decreased to just seven- the lowest level ever recorded," Jaensch said. "These sustained improvements reflect the ongoing positive impacts of the Strong Families, Safe Kids reforms, which focuses on supporting families to stay together where it is safe to do so." The dashboard can be viewed here.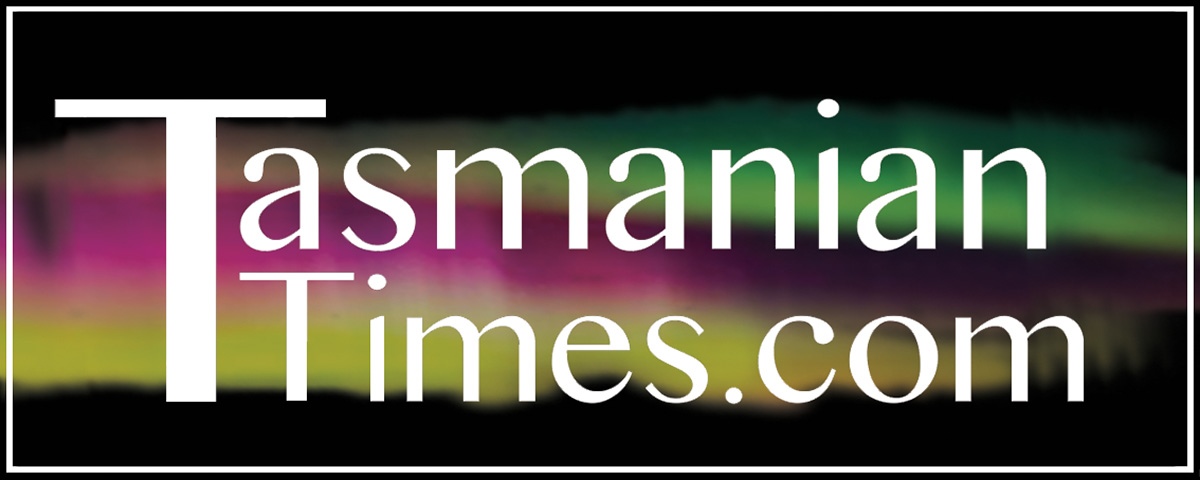 Author Credits: [show_post_categories parent="no" parentcategory="writers" show = "category" hyperlink="yes"]