Swimming pools are a major part of Australian culture. Pools are where many Australian kids spend most of their summer.
The Memory Pool, edited by Therese Spruhan and published late last year (2019), is made up of 28 stories that celebrate pools. They were told to Spruhan by Australians aged from 28 to 97, and then transcribed into book form by Spruhan herself.
According to the book's introduction:
"The stories take a deep dive into the inner world of the pool, a place of daring, competition, belonging, solitude, fantasy, freedom, escape, sex and love. There are common threads of learning to swim, warm concrete, hot chips and chlorine, bombs and the brush of skin on skin. There are also many examples of how a simple structure like the local pool could inspire imaginations, build courage, fulfil dreams and provide refuge."
The book is split into the following sections:
suburban pools;
bay pools;
sea pools;
building pools;
historic pools;
champions of the pool; and
country pools.
The Memory Pool features the stories of three Tasmanians: David Bartlett (one of our former Premiers), Jo-Anne Larter, and Shane Gould (a former Olympic champion who is now a resident of Bicheno).
David Bartlett
David Bartlett was fostered by the Bartlett family in Moonah since he was 40-days-old. In 1973, the family moved to Mount Nelson. Then, in 1980 (when David was 12-years-old), the family decided to put a pool into their backyard.
David and his foster siblings were in the pool as soon as it was completed. They didn't even wait for chlorine to be put into the water, or for the heating system to be installed.
The pool was 11 metres long and about 5 or 6 metres wide. It was a standard rectangle shape, with a slight curve on one side of the triangle cut into corner where there were steps. To save money, the pavers were put in by David's foster father himself, but they ended up being uneven and some sank to varying levels around the pool. David says: "The measure of a good summer for me was how many stubbed toes I had."
David goes on to explain that his pool was popular, because it was one of only two in the neighbourhood. He and his best friend Owain used to hold diving competitions in the pool.
Themes like identity, friendship, and family are evident in David's story, but I found that it lacked depth. It certainly had potential to have it, but things like David struggling with his identity during high school were just brushed over.
Overall, though, the story offers a lot of insight into our former Premier's love of swimming.
Jo-Anne Larter
Jo-Anne lived near the Cataract Gorge in Launceston during the 1960s and '70s, when she was young.
A pool had been built right next to the South Esk River in 1937, and it was later enlarged in 1950. It was called the First Basin Pool because it was right beside the river basin. In summer, Jo-Anne would swim at the pool every day after school.
Rite of passage is a major theme in Jo-Anne's story. She explains how she started swimming in the shallow pool before graduating to the deep pool, and then later swimming in the 'basin' (the natural waterhole in the South Esk River itself).
Another theme in the story is rebellion: Jo-Anne would dive from Hog's Bottom (a famous spot where there was a diving board, which was eventually removed due to safety concerns), despite her mother not wanting her to.
Like David Bartlett's story, Jo-Anne's story lacks depth, but it was still enjoyable to read.
Other stories
Another story in The Memory Pool is of Trent Dalton from Queensland, who used to frequent his local swimming pool. He explains that the pool was his paradise. It is a very engaging story, and I felt I could relate to Trent (though my life is completely different to his).
Another one tells of the journey of Yusra Metwally, a Muslim woman. She loved swimming as a child, but when she started wearing burkas, swimming became difficult. She initially didn't like the design of burkinis, so she tried wearing alternate swimwear to the pool, but was told she couldn't go in because the swimwear was not appropriate. She didn't swim for several years after that, but got back into it again after her boss organised a lunchtime swim for the staff. She now swims regularly. I think it's an inspirational story.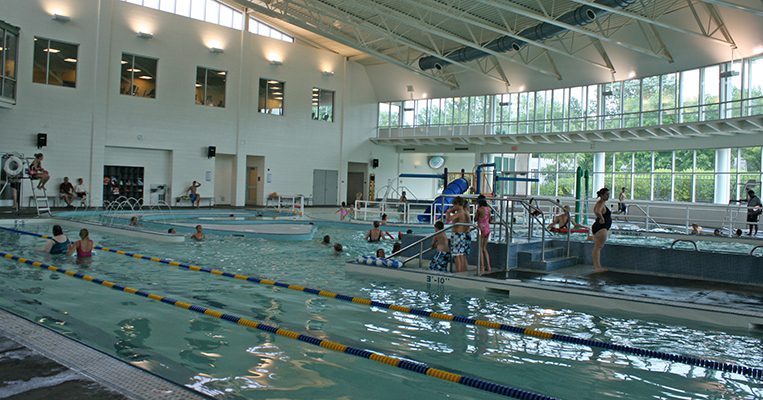 Conclusion
Even though The Memory Pool offers pool stories that are lovely, unique, and sometimes inspiring, the individual voices of the people who told them unfortunately don't come through. They all sound the same. I therefore couldn't really connect with them.
I also think more description of every pool was needed. I found it hard to visualise each one as I was reading the book.
Despite all this, I commend Therese Spruhan for managing to put together a book that is, in my opinion, uniquely Australian.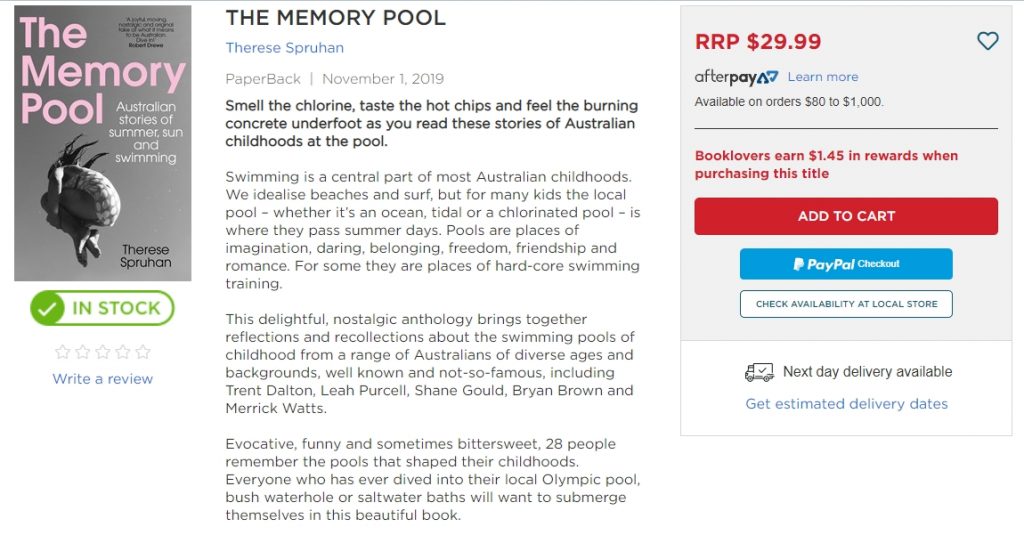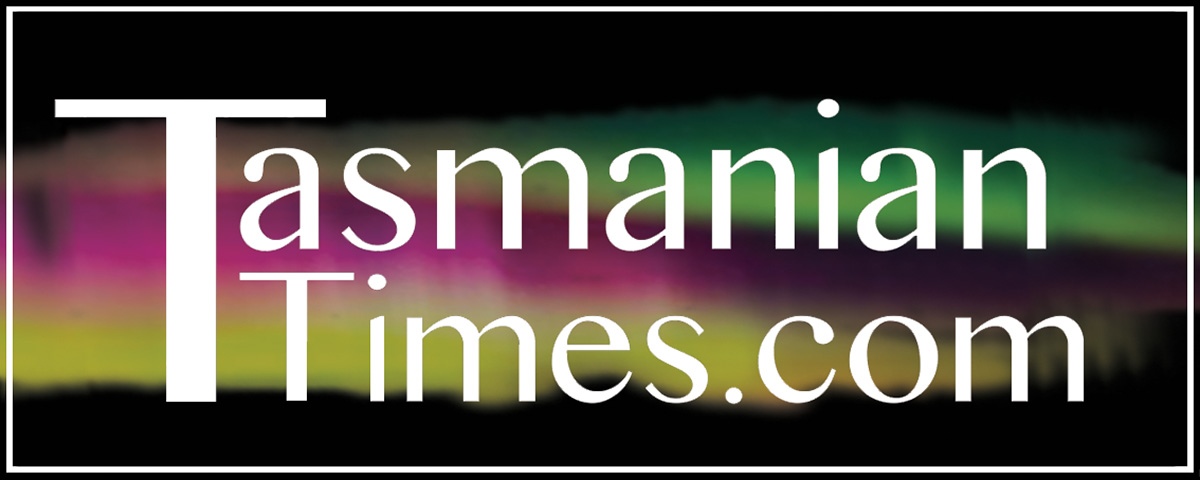 Author Credits: [show_post_categories parent="no" parentcategory="writers" show = "category" hyperlink="yes"]