The lives of 53 transplant recipients were saved in 2019, due to the generosity of 18 Tasmanian organ donors and their families.
Many other people's lives were transformed by the gift of restored or improved sight from 12 Tasmanian deceased eye donors.
With the 2019 figures just released, DonateLife Tasmania had a year of record outcomes. These were combined increases in donor referrals, the number of families providing consent for donation to proceed, and the number of donation and transplant outcomes.
In a report released by The Organ And Tissue Authority, the donation and transplantation statistics from 2019 show Tasmania is achieving outcomes well above the national average.
The number of Tasmanian organ donors in 2019 was 29% higher than in 2018, when 14 donors saved the lives of 40 transplant recipients.
The latest statistics confirm Tasmanians are very generous by nature, with the state achieving the highest rate of 33.7 donors per million people in 2019, compared to a national average of 21.6.
Nationally 1,683 Australian lives were saved by organ transplants in 2019, made possible through the generosity of 787 deceased and living organ donors and their families.
Unfortunately, not everyone can become an organ donor, with only around 2% of people who die in hospital who have the rare opportunity to be able to donate.
"We need more Tasmanians to register their decision to donate, and talk to their family about organ and tissue donation, so that more people can benefit from a lifesaving and life changing transplant," said DonateLife State Medical Director Dr Andrew Turner.
At the end of 2019 almost 210,000 Tasmanians (209,822) or 48% of people aged 16 years and over are registered on the Australian Organ Donor Register, the second highest % per state population in the country after South Australia.
"Registration is important because it leaves families in no doubt about their loved one's decision to donate," Dr Turner explained to TT. "In Australia the families of potential donors must agree before organ donation can proceed."
Data shows that registering to be a donor has a considerable impact on family consent, he said. Nine out of 10 families agree to donation when their loved one is registered on the Australian Organ Donor Register. The rate falls to six out of 10 when families were unaware of their loved-one's wishes regarding organ donation.
"This is why it's so important that more Tasmanians join the donor register," urged Dr Turner.
Registering as a donor is quicker than ever, it takes less than 2 minutes online at donateLife.gov.au
Background data & info from Report
Donor registration
TAS AODR registrations 31 December 2019                           209,822
TAS AODR as a % of 16+ population                                          48%
TAS Donation outcomes:
TAS 2019 organ donors                                                                 18
TAS 2018 organ donors                                                                 14
TAS 2018-19 % change                                                                   29% increase (2nd highest percentage change in Aust)
TAS 2019 DPMP (donors per million population)                33.7 (highest rate in Aust, with the national DPMP being 21.6)
TAS 2018 DPMP                                                                              26.5
TAS 2019 consent rate                                                                   69.0% (2nd highest in Aust)
TAS 2018 Consent rate                                                                  66.7%
 
TAS Transplantation outcomes:
TAS 2019 transplant recipients by state of donation          53 (highest % change nationally, up 33% from 2018)
TAS 2018 transplant recipients by state of donation          40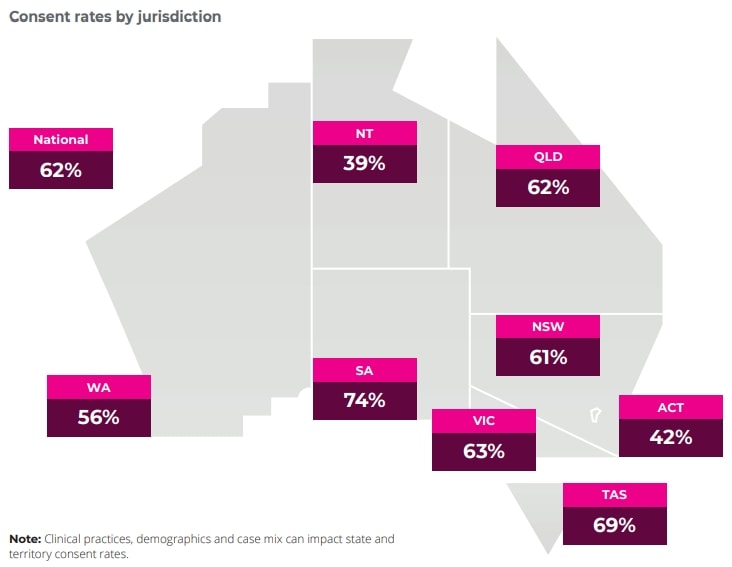 National outcomes
548 deceased donors generously donated their organs to 1444 transplant recipients
Additional 238 living kidney donors and 1 living liver donor
Combined deceased + living donors = 787 people who saved and improved the lives of 1683 transplant recipients
Factors contributing to growth in Tasmania
Organ donation is firmly embedded in our Tasmanian Health Service as an end of life option
Hospital based specialist donation staff encourage world's best practice to increase donation rates
Improving hospital systems contribute to increasing rates of potential donor patient referrals to DonateLife
Increasing community awareness leads to more people registering as a donor and taking to their families about donor registration
Greater awareness and higher rates of donor registration contribute to increasing consent rates
Donation is a rare opportunity
Being able to donate is still a rare opportunity, with only around 2% of people who die in hospital die in a way where they could potentially donate their organs.
This rarity reinforces why it is so important not to miss a donation or transplant opportunity
The need for a transplant continues to exceed the availability of donated organs
1500 Australians currently waiting for a transplant
A further 12,000 people are on kidney dialysis who could benefit from a transplant
The trend over time
DonateLife Tasmanian was established as a statewide service in 2010
The baseline rate between 2000 – 2008 was 4 donors per year
The donation rate in 2009 was 5
There has been a steady increase in donation rates since then.
Based on population, an average annual donation rate for Tasmania could be expected to be between 12-15 donors per year
Each year donation rates fluctuate due to the unpredictable number of people who die in circumstances where donation might be possible
Improvements in hospital systems, specialised staff training, support for families and increasing donor registration should see the trend of growth in donation continue.
Continuing growth into the future
There is always room for improvement to increase rates of donation
Increasing consent rates will increase our donor numbers and the availability of organs for transplant
There is a direct relationship between donor registration and consent rates
Families who know their loved one was a registered donor or wanted to donate find it easier to provide consent for donation to proceed.
Families who are sensitively supported through the donation process by trained donation specialist doctors and nurses are more likely to agree to donation
We want more Tasmanians to talk about organ and tissue donation and to join the Australian Organ Donor Register at donatelife.gov.au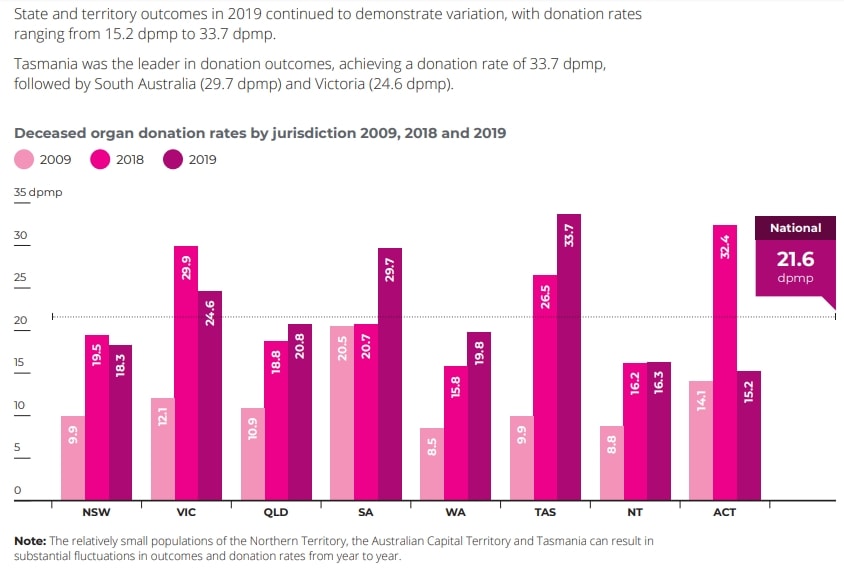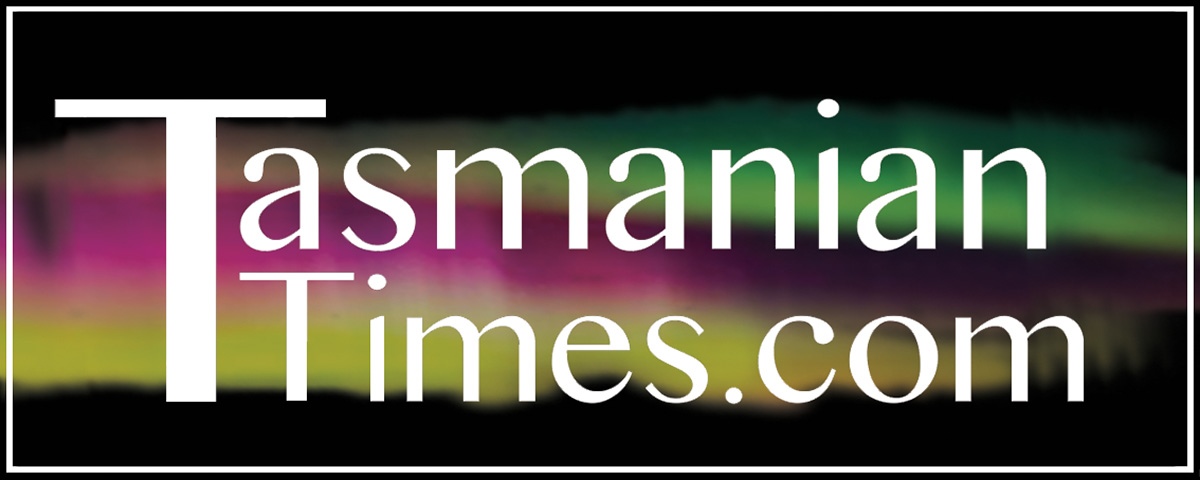 Author Credits: [show_post_categories parent="no" parentcategory="writers" show = "category" hyperlink="yes"]