Pressure is building for poker machine venues to be closed. A number of public health and gambling experts made the call almost a week ago and yet slot machine venues remain open across Tasmania.
Rumours are circulating that 3,000 venues may be shut down in New South Wales and Victoria, however the Tasmanian government has made no firm commitments to what will happen here.
"In terms of mass gatherings which would include pubs, clubs, restaurants, coffee shops, those sorts of areas where people gather…we will discussing these matters tonight at National Cabinet," said Premier Peter Gutwein in his Sunday media conference. "If it means that we can make our community safer, then as I've said before I would act in a heartbeat."
"In our view, casinos and other gambling venues operating electronic gambling machines (EGMs) are highly risky environments for the transmission of COVID-19," the experts said in a joint statement on 16 March.
They noted that precautionary measures have already been taken in other countries with closure of EGM venues and casinos.
One of their concerns is that the EGM venue environment involves repetitive tapping of buttons or use of touch screens in a public environment "where cleaning between successive users is difficult if not impossible." They observed that users typically move from machine to machine regularly and often rapidly.
"EGM venues in Australia are ubiquitous, utilised by many older people (who are at much heightened risk of serious illness and death), and unfortunately frequented by many people who, because of addiction or habituation, may often be unable to exercise rational decision-making, and avoid these venues," the experts said.
Clubs ACT responded at the time by saying "An anti-gambling 'academic' is calling for clubs to close because pokies pose virus spread threat… more so I guess than any door handle to a business or toilet, the self-checkout service at our local supermarket or a petrol pump. Why is the tax payer funding these people?"
Currently pokies venues in Tasmania are required to abide by the rules that apply to non-essential gatherings indoors, with a maximum of 100 persons and a minimum of 4 square metres of space per person.
"They must be closed immediately to save lives," demanded Greens Leader Cassy O'Connor.
"It is reckless negligence towards at-risk people for poker machine venues to continue to operate EGMs during a lethal, global pandemic."
She said casino and venue owners have a clear duty of care to their patrons to shut down the pokies until the COVID-19 threat passes.
She doubted whether Tasmanian casinos, pubs and clubs are operating lawfully under the new guidelines.
"Pokies venues expose gamblers to unacceptable risk of coronavirus infection. We join the call of medical professionals for them to close," O'Connor said.
Tasmanian Labor spokesperson said their view was that "gaming venues are expected to abide by the same rules as other venues."
---

---
Author and anti-pokies campaigner James Boyce said it appeared cleaning protocols were only 'advice' that clubs were 'encouraged' to follow, (see example above, from Clubs NSW).
"Its a sad sign of the ethical degradation of Australian public life that this Sabbath, while churches, theatres, museums, concert halls & other places of life & love will be shut for public safety, the new sacred shrines called casinos will remain unashamedly open," he said.
He also urged for pokie venues shut down before $750 stimulus payments flow from 31 March. "Problem gamblers (usually about half of turnover, now presumably almost all of it) will not be able to self-isolate, and will put themselves, their families and the community at risk."
Wrest Point Casino's information page on Electronic Gambling currently has no health advice about distancing measures or hygiene. The page touts 'ease of movement from one game to another', precisely the problem identified by the health experts. Touching machines is also depicted in a promotional photo (reproduced below) on the Network Gaming web page.
Owners Federal Group have posted a page of COVID-19 changes on the company website. Measures listed include:
"Social distancing has been implemented in the gaming venues, with every second electronic gaming machine deactivated
Only seated players may wager at a gaming table"
The page also states that "Federal Group has been closely monitoring Federal and State Health Service announcements, following stringent guidelines from these agencies and implementing new initiatives to ensure our guests, employees and communities remain as safe as possible."

Experts signing the open letter (reproduced in full further down)
Prof. Peter Miller, Deakin University
Emeritus Prof. Simon Chapman, University of Sydney
Prof. Murat Yucel, Monash University
Emeritus Prof. Mike Daube, Curtin University
Prof. Fran Baume, Flinders University
Prof. Kyp Kypri, University of Newcastle
Prof. Samantha Thomas, Deakin University
Assoc. Prof. Matt Browne, Central Queensland University
Assoc. Prof. Charles Livingstone, Monash University
Dr Francis Markham, Australian National University
Dr Matt Stevens, Menzies School of Health Research
Disclosure – Dr Stevens is a personal friend of the Chief Editor of Tasmanian Times, and not a bad cricketer.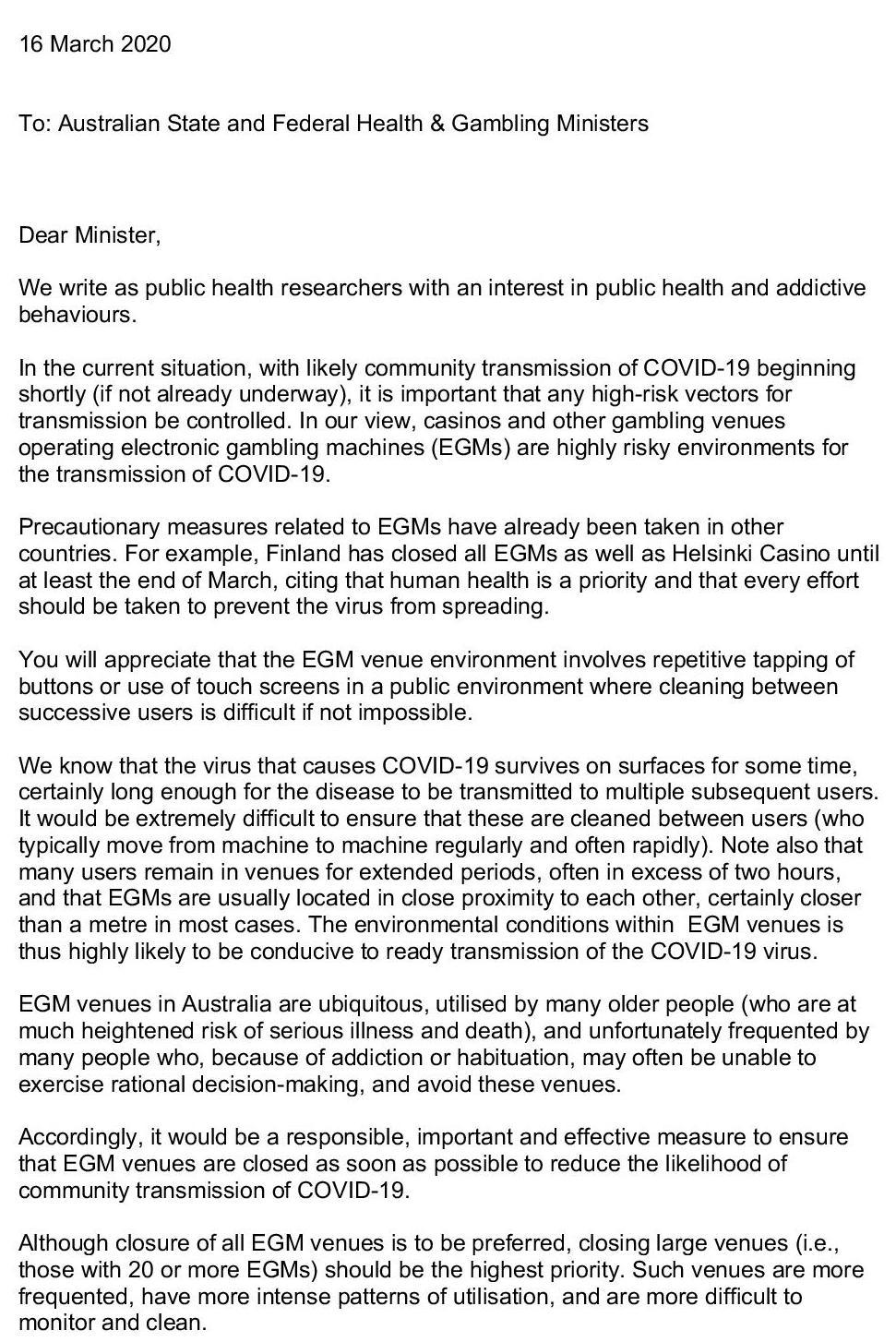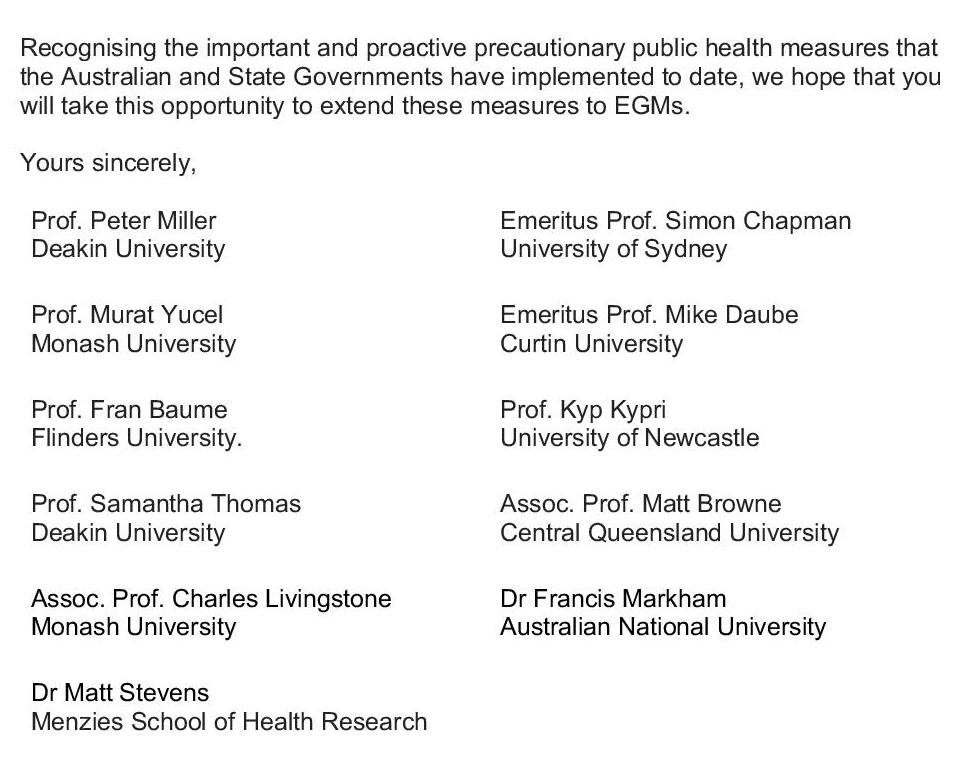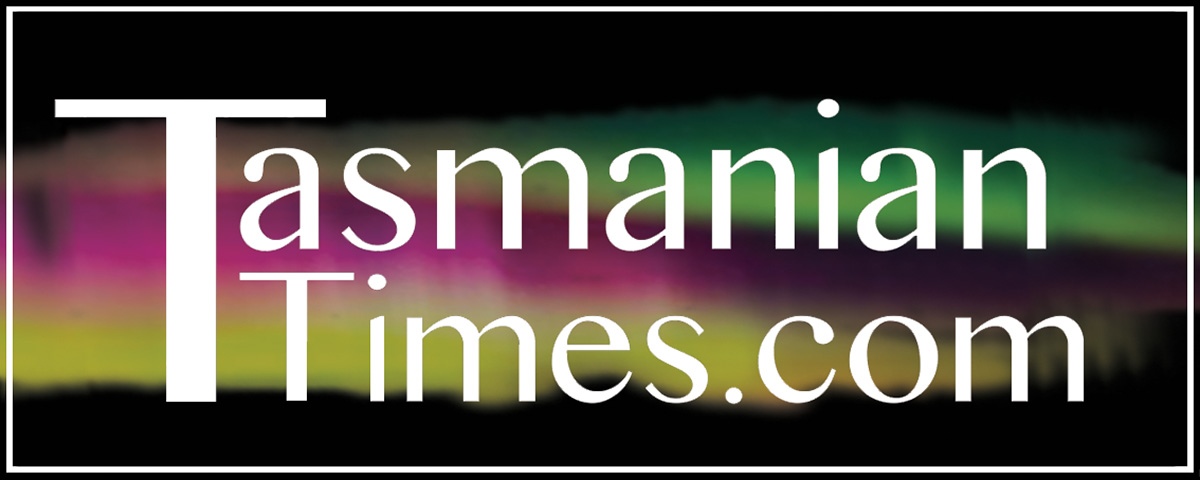 Author Credits: [show_post_categories parent="no" parentcategory="writers" show = "category" hyperlink="yes"]