The Australian government has advised against 'non-essential', organised events of 500 people or more, starting Monday 16 March.
The ruling does not apply to schools, universities, public transport, shopping centres and so on. It is not a formal ban, and there is no projected finishing date.

The Prime Minister said it was a preventative measure to slow 'community transmission' of coronavirus after increasing evidence of such transmission occurring.
50 new cases of the illness were detected on Friday as the national total surged to 209. A fourth Tasmanian case was reported in Launceston, reportedly a woman in her 40s who returned to Tasmania from the Philippines. Public Health director Mark Veitch clarfied that her case is unrelated to the three previous cases on the island.
The most high profile case is Home Affairs Peter Dutton, who tested positive to the virus and is now in hospital in Queensland.
Australians are also urged to reconsider all overseas travel. The advice is for all people regardless of age, health or destination. More information is on the

Smart Traveller website.
The Prime Minister also announced the formation of a National Cabinet to manage the crisis which now has health, social and economic impacts. One issue for them to address is the provision of medical materials with international supply chains being interrupted.
The no-gatherings decision was taken by the National Health Protection Principles Committee.
"We seek to manage how the coronavirus impacts across Australia," said Prime Minister Scott Morrison. "As we slow it, as we manage it, state and territory health systems will be able to accommodate the increasing demands we are expecting to see."
The slowing, he said, is being achieved through containment measures and self-isolation.
"We've always known the numbers of cases will rise," he said. "We'll get through this with the help of a world-class health system that will seek to minimise the level of disruption to the Australian population."
He expected there would be many issues to work through regarding implementation of the no-gatherings ruling. He thanked all the Premiers and Chief Ministers at the meeting today.
The PM promised a consistent and coordinated response to the crisis.
Chief Medical Officer Professor Brendan Murphy said Australia had always been 'ahead of the curve' in the coronavirus outbreak. "We have been very effectively responding to the second wave (after China) of imported cases." he said.
"We're still not saying there's a significant risk to Australian community. But the international evidence suggests that if you have some community transmission, the way in which it can be spread very rapidly is in very large events."
He described the no-gatherings advice as a precautionary measure based on increasing case figures over recent weeks. "We're not suggesting people should interrupt their normal daily work," Professor Murphy advised.
The risk to the Australian community in general still remains low, he emphasised.
National Emergency
The Australian Medical Association Federal Council has declared the coronavirus outbreak a national public health emergency.
AMA President Dr Tony Bartone said the AMA calls on all Australian governments to act urgently on all public health measures to prevent community transmission of Covid-19.
"The Covid-19 outbreak is a national public health emergency," Dr Bartone said.
He asked the government to ensure that frontline medical and health workers are provided with the best possible information and equipment to protect the health of Australians.
"The Government's public health advertising campaign must provide consistent and clear messages to allow Australians to guard against transmission and to go about their daily lives," Dr Bartone said.
Cancellations
A number of events around Tasmania have been cancelled. The Tasmanian Symphony has suspended all performances and will review the situation in April.
The Cancer Council have cancelled all events in Tasmania including Relay For Life events planned for this weekend.
The one day international cricket match between Australia and New Zealand will go ahead in Hobart on Friday, however without spectators.
Dark Mofo, as reported earlier in the week, will not go ahead apart from the Bon Iver concert for which tickets have already been sold. That concert would now appear to be in doubt.
---
With the cancellation of the Dark Mofo festival, Australian Grand Prix, concert tours,and the playing of cricket internationals behind closed doors, the question arises of whether it is time to ban all mass gatherings. Below Australian experts respond. 
Associate Professor Adam Kamradt-Scott is an expert in the spread and control of infectious diseases at the Centre for International Security Studies at the University of Sydney
"I understand there are a number of prominent medical staff calling for cancellation of all mass gatherings and events across the country. To be clear though, our nation has been preparing for the possibility of a pandemic for decades. Our plans are nuanced, and permit variation to allow for a proportionate response to the threat we face.
This is not a situation where blanket policies and measures are helpful. Each jurisdiction needs to have the flexibility and capacity to respond to an evolving situation – both when cases increase, as well as when they will decrease. Further, they need the flexibility to be able to respond to situations where one area is affected while another is not.
Our leaders and senior public health officials are receiving some of the best medical and public health advice that is available, informed by people who have been working on the possibility of this very scenario for years. I would appeal, therefore, to all commentators that we trust in our leaders, noting that they are being advised by some of the best experts in the world."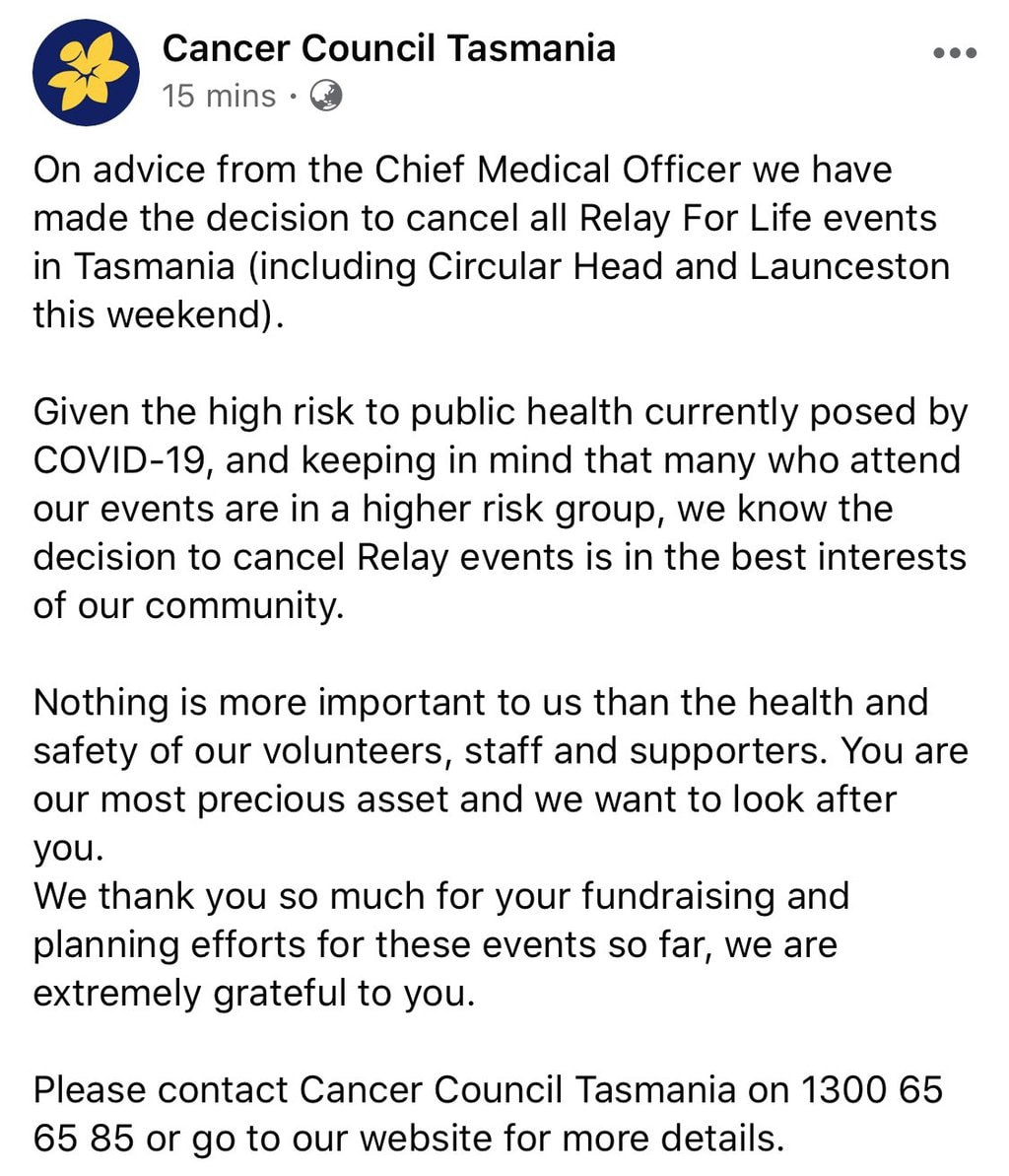 Professor Robert Booy is an Infectious Disease expert from the University of Sydney and Chairman of the Immunisation Coalition
"Vulnerable people should keep their exposures down to small numbers. People with respiratory symptoms should stay home – watch for cough, fever and shortness of breath. If you are concerned call health direct or your GP.
If you're healthy but live with an elderly or chronic illness afflicted relative, don't go looking for the virus.
Many events are cancelling anyway. If you decide to go, keep at least a metre from other fans – smile at them, but no touching or kissing. "
Dr Kathryn Snow is an infectious disease epidemiologist at the University of Melbourne.
"At the moment, there are concerns are about very large events which involve many international visitors, such as conferences and sporting events. Many of these events are being cancelled currently around the world. There has now been at least one incident in the United States in which a few people with the virus at a conference passed it on to dozens of other people. The state and federal departments of health are the most up to date source of information about what types of gatherings are of greatest concern, and their advice may change as the situation evolves.
At the same time, many employers and individuals will have their own personal considerations and worries. Some people who are elderly or immuno-compromised may feel that they want to be extra careful and avoid crowded events or places, which is understandable.
Some workplaces are advising people to limit travel and to work from home, which seems wise to me personally while the situation is so uncertain. These types of 'social distancing' measures have been successful in helping some countries control the virus, and we may see broader recommendations about these types of measures in Australia in the coming weeks and months."
---
Media Release – Sarah Lovell MLC, Shadow Minister for Health, 13 March 2020
Information vacuum creates community anxiety
The Liberals must do more to ensure Tasmanians have access to the best information to help them effectively respond to the threat of coronavirus.
Shadow Minister for Health Sarah Lovell said there's widespread confusion about whether activities should be cancelled or are safe to proceed.
"On one hand we see community groups cancelling events such as the Estia Greek Festival, and on the other we have the organisers of Agfest saying the rural fair will absolutely proceed.
"What's common in all these cases is that community leaders don't have clear advice from the government about whether it's safe to hold large gatherings.
"Tasmanians need to know what social distancing measures are appropriate as this rapidly evolving situation unfolds.
"That means information flow to communities needs to keep pace with the changing advice from medical experts. That's not what we're seeing in Tasmania."
Ms Lovell said Labor offices have been inundated with calls from community members, who are either worried by or angry about the lack of clear guidance form the government.
"At a time like this, government should be working closely with community leaders and making use of the connections they have to ensure the dissemination of good advice.
"Instead, people are getting information from the internet or social media and using that to guide their decisions, but it's difficult to be sure how much of that is credible information.
"The things people are worried about are whether communities should prepare for school closures, whether they'll be able to access medical care, and whether it's safe to attend public events where many people are gathered.
"All sides of politics in Tasmania should be coming together to deliver an effective response; Labor wants to work with the Liberals to keep to a minimum the impact of coronavirus on our state.
"Sarah Courtney and Peter Gutwein must show leadership by taking up this offer of collaboration at a time when the community most needs reassurance and clear advice."
---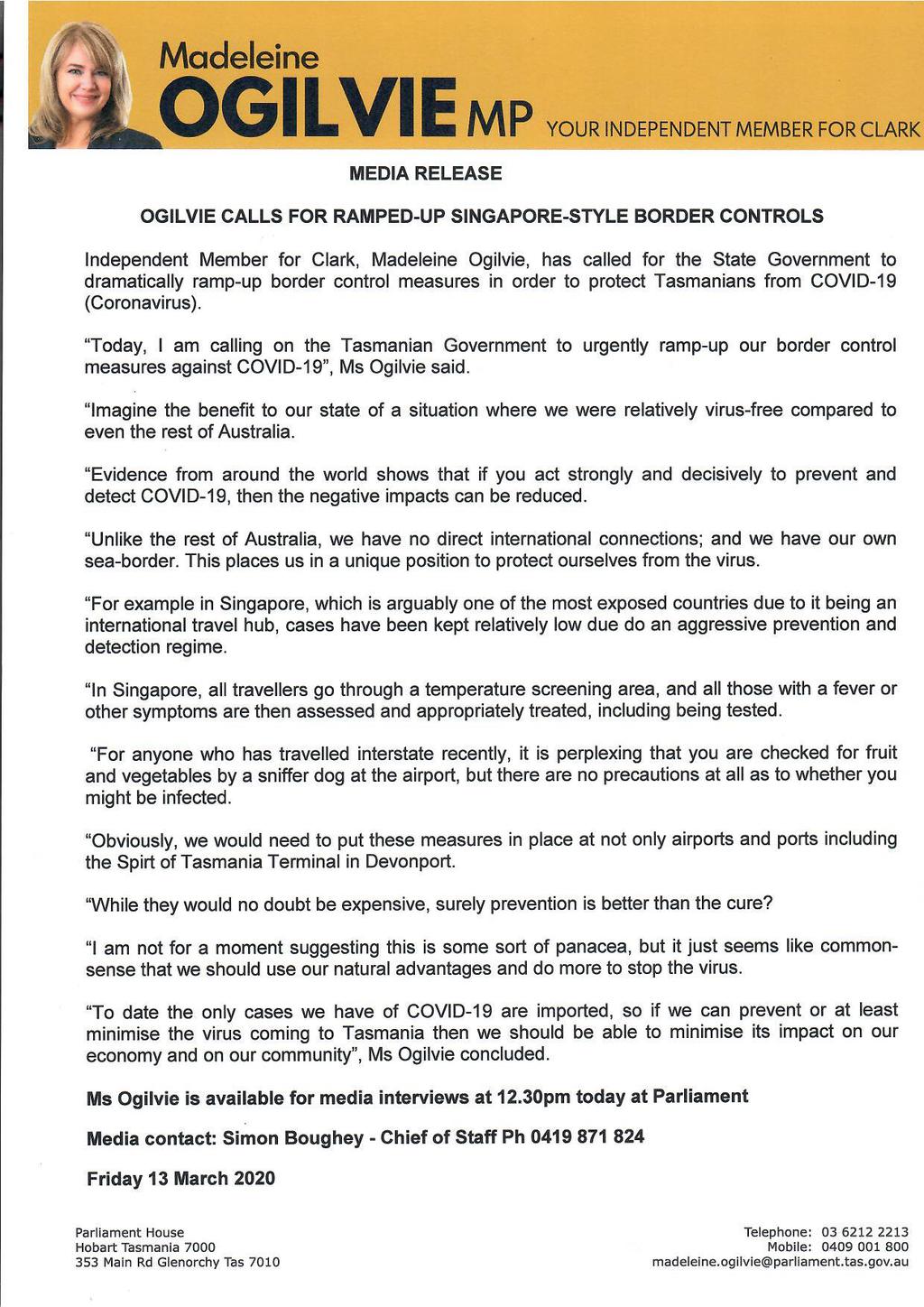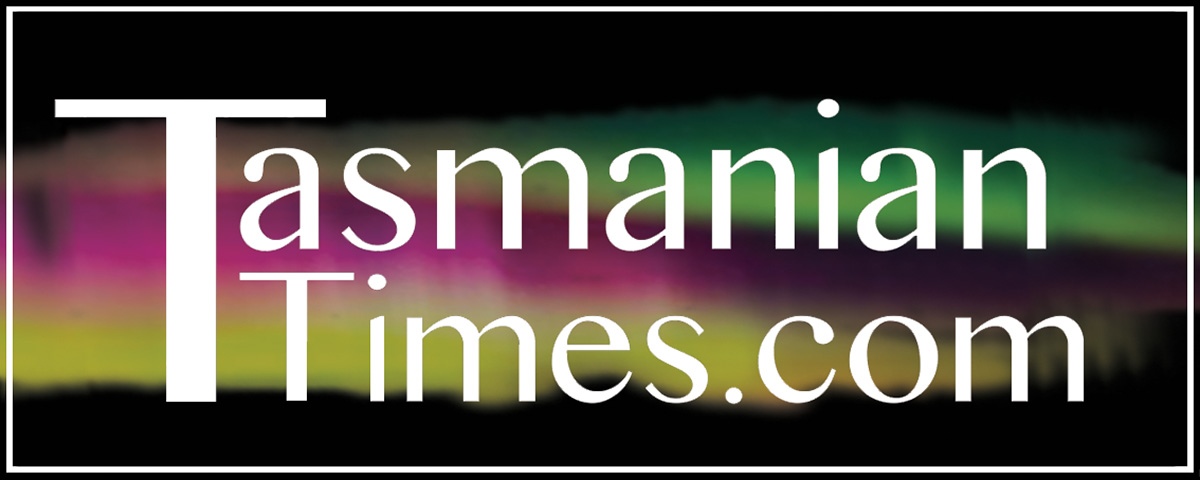 Author Credits: [show_post_categories parent="no" parentcategory="writers" show = "category" hyperlink="yes"]