With the AFL men's  game about to return for the 2020 season – we hope! – we're proud to present this marvellous four-part series by Greg Cure on the golden age of Tasmanian football.
Grab a pie and stay with us for this delightful footy journey of nostalgia, highlights and history lived large. 
Part 1 – From Whence We Came.
Part 2 – Tasmanian Football – Tall Tales and True.
Part 3 – NWFU football in the 50s & 60's
The NWFU competition after World War two was as strong as any competition in the state and this probably lasted until 1967, with the debacle of the State grand Final ending the season so spectacularly. It is bookended by the early and late careers of Darrel Baldock. It splits reasonably conveniently into four eras.
Era 1: Ulverstone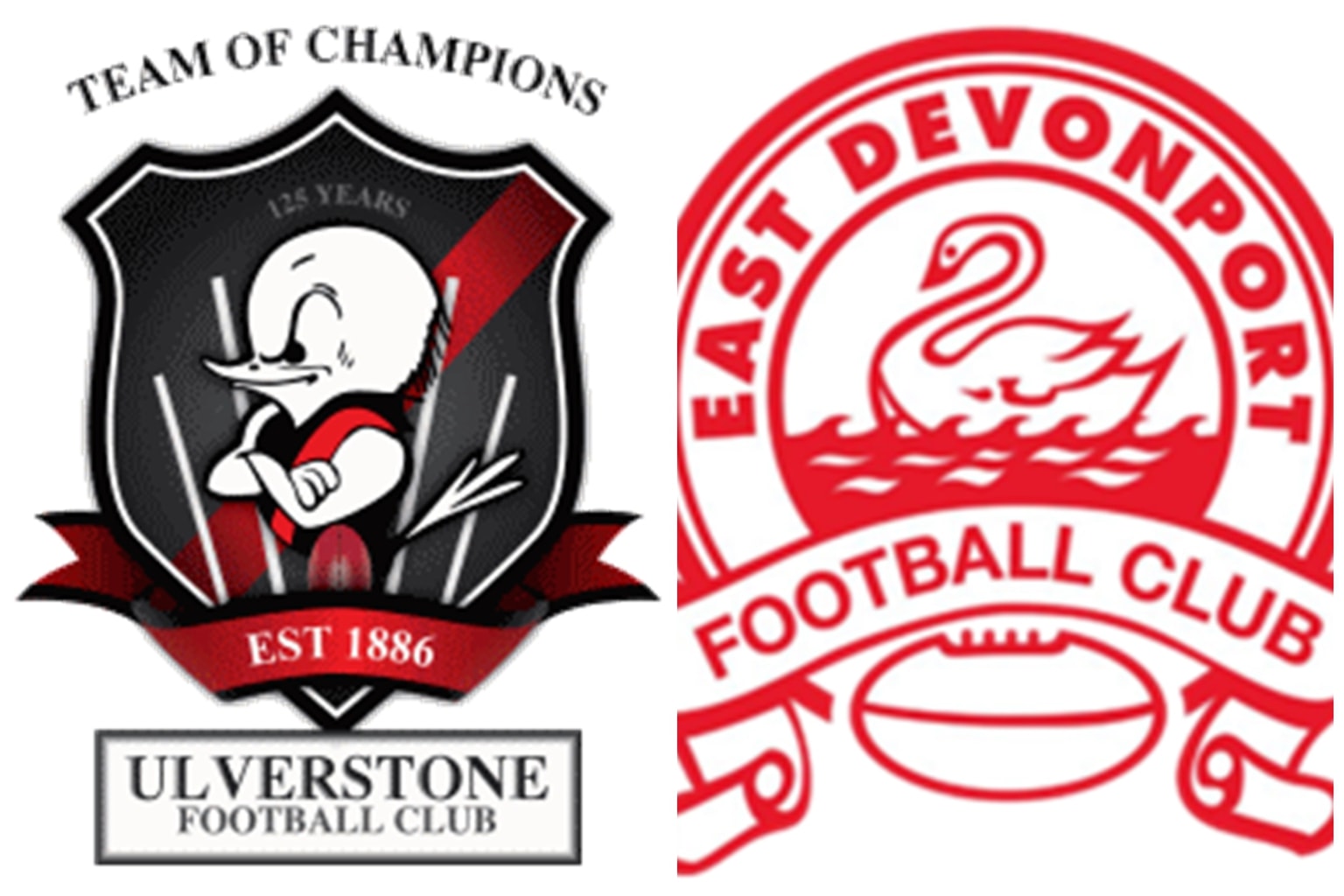 The period just after the war saw the dominance of Ulverstone boosted by recruiting former Queenstown footballer Arthur Hodgson, known as the Black Knight. A great talent who was the only player selected in a Tasmanian side to come directly from a minor association the WTFA. He had played 70 odd games with Carlton in the VFL prior to signing with Ulverstone.
My mother – a proud West Coaster – loved to watch Hodgson play. Ulverstone was so strong they made seven grand final appearances in eight seasons of which six resulted in premierships, namely 1950, 1951, 1953 and 1955-57. Four key players made this possible: Hodgson, Jack Rough, the indomitable Chum Saltmarsh and the wily GB 'Paddy' Martin.
Era 2 Football power moves West – The great Burnie teams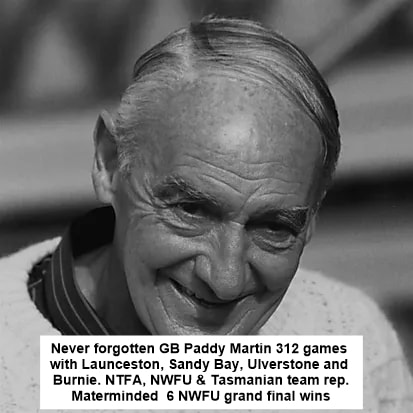 My family used to attend the football at West Park, on the alternative Saturdays when Dad was not required to work. In those days everybody had a connection to football or a player. Burnie wingman Warren Parker lived over the road. We all barracked extra hard for Warren no matter where our loyalties lay. The Munroe family provided a lot of players for Burnie, with John possibly the best. Mr Monroe senior had a milk bar over the road from our school and made his own blue heaven icy poles that were much in demand. Sadly, as the great Burnie era was commencing the career of champion Burnie player Ray Stokes was coming to an end. Stokes was a great all-round sportsman and excelled at cricket. Burnie enticed Paddy Martin from Ulverstone, as captain coach – he spearheaded the beginning of a great era for Burnie, who in the seven years from 1958 won six premierships. Martin's tactical prowess and the possession of a great ruck rover combination of Terry Shadbolt and Kevin Symons were the key ingredients in Burnies success.
Era 3 -The emergence of Cooee
In describing the emergence of Cooee as the new powerhouse of NWFU football it is important to note the phenomenon in the NWFU known as the town premiership. At the same time Burnie would play Cooee along the coast, Devonport would play East Devonport. These inter-town rivalries were fierce and at times ill-tempered. A melee, which I personally observed as a very young man, started by a burly Burnie FC trainer, saw hundreds of spectators brawling on West Park at a Burnie-Cooee match.
How do I know this? All things Cooee were discussed by my barber Clarrie Kelly who operated a small salon on the second floor of an ill-lit building on Marine Terrace. Clarrie lay the blame directly on a certain Burnie trainer.
Cooee for many years were considered lightweights when compared to the powerful Burnie teams. Even in the era of great Cooee teams Burnie was Cooee's main rival. With two strong teams in the first half of the 1960's the town of Burnie was a Tasmanian football stronghold. Sadly, this year Burnie could not provide a team for the state-wide league such has been the decline in some traditional football centres in Tasmania.
In 1960, Collingwood back man Ron Kingston took on the role of captain-coach at Cooee, where he spent the last four seasons of his playing career. In 1961 he steered the Bulldogs to a five-point Grand Final win over Burnie, their maiden NWFU premiership. Earlier Champions such as Len Hayes, Dale Anderson and Lou Redman never saw premiership success. Smarting over losing to traditional 'easy-beats' Cooee, Burnie fought back to win the next two flags.
Former Tasmanian–born Geelong star Brian Lowe returned to Tasmania for the 1964 as captain-coach of Cooee. In his first season with the Bulldogs, Lowe led the club to the NWFU flag and their first Tasmanian State premiership triumph. Yet although the history books will credit Kingston and Lowe with facilitating Cooees rise, the real driving force and motivator -in chief for most of the golden years was Harold 'tiger" Dowling, about whom I have previously written in this series. Cooee went back-to-back in 1965.
Cooee is a village of a few hundred people, yet in 21 years it produced 6 NWFU and 2 Tasmanian State premierships. It has also produced the following AFL/VFL players: Graeme Shephard, John Greening (Collingwood), Steven Beaumont (Essendon), John Bonney (St Kilda) and Ray Groom (Melbourne). Technically Ray Groom was born in Victoria but moved to Tasmania at a very early age. Shephard's son Heath also played for Collingwood and Brody, the son of former Cooee player Jack Mihocek, was the leading goal scorer for Collingwood in 2019.
John Greening went to my high school and we played school cricket together; it was clear he would have been a test level cricketer had he not elected to go to Collingwood in the VFL. He was a modest and humble young sportsman. Felled in an infamous behind the play incident in 1972 and was put into a coma John didn't regain consciousness for a few days, was considered fortunate not to die.
He was never the same footballer ever again despite playing on for several years. His Brownlow medal polling suggests had he not suffered that injury and continued the same form tangent he would have easily won the Brownlow that year.
Era 4. Latrobe under Baldock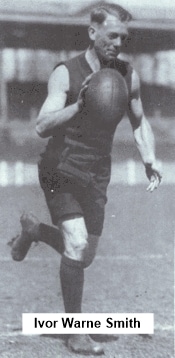 The great era of NWFU football probably ends in 1972 with Latrobe's last NWFU premiership. When Darrel Baldock arrived back from St Kilda in 1969 the Diehards had not won a flag since 1933. They had strong teams in the 1960's, with great players like Len Lawson and Wally Clark: Latrobe players often polled well or won competition- wide awards but they could not nail down a premiership. Baldock was often referred to colloquially as 'Mr Magic' and lived up to that name by ensuring he led Latrobe to the next four consecutive flags, including a state final win over Clarence in 1970.
Today there is a statue of Baldock and associated signage at the main entrance to the Latrobe Recreation ground, now renamed Darrel Baldock Oval.
The Latrobe Football Club rooms are highly recommended if you can secure a visit, for the walls contain photographs and memorabilia of bygone champions like Harry Coventry and the legendary Ivor Warne Smith, who at the height of his VFL success spent a few years at Latrobe in the 1920's leading them to two premierships. Warne -Smith a remarkable man, who served in both world wars, then returned to the VFL where he resumed his playing career with Melbourne, picking up two Brownlow medals. Other legends adorn the wall the incomparable Joe Murphy, Len Lawson, and of course the Doc himself.
Penguin
The first Penguin football ground was a small paddock behind the pub. In 1905, the traditional ground was established, with the existing grandstand going up in 1960. In 2017 the club played its last game at the ground before moving to a new complex at Dial Park.
There were two stands, one of which burnt down and was later replaced with a simple shelter shed named in honour of club champion and all-time games record holder, Bill Fielding, who played 432 games in 'two blues' stripes.
The 1977 North West Football Union premiership win against Cooee was just the club's third flag, and the first in 45 years. The club also won the coveted state premiership that year against northern powerhouse Scottsdale.
Legend has it that the celebrations in 1977 were so big that they put hessian down on the floor at the new basketball stadium to catch all the beer spills. The party was so big that a truck had to be despatched to Burnie at 8pm to get more beer.
Premiership player and club stalwart Terry Owens even recalls that the driver who got those vital supplies through was named Dudley Whittle.
My all-time NWFU Golden era -side
Making comparisons between eras is fraught with danger but I will say three quick things: Darrel Baldock would still shine if he were to play today because he had what all great sports people have – exceptional balance; GB Paddy Martin was a tactical genius and would have made a great modern day AFL coach; and lastly why the late Ray Stokes is not in the Tasmanian Team of the Century is beyond me. There are a couple of players named in that team, he would have thrashed with one hand behind his back. I am also certain Stokes would have played Sheffield Shield Cricket for Tasmania had we been in that competition at that time.
Anyway here is my NWFU Golden era side, Tassie-born too, but there may be a couple of glitches, because I think, for example, Kevin Symons was born in Victoria.
1

Darryl Baldock*(C)

Latrobe

2

Brick Loring

Cooee

3

Noel Atkins

East Devonport

4

Len Hayes

Cooee/APPM

1

5

Ray Stokes (VC)

Burnie

6

Don Gail*

Wynyard

7

Chum Saltmarsh

Ulverstone

8

Arthur Hodgson

Ulverstone/Lyell

2

9

Neil Conlan*

Devonport

10

Lance Cox

Devonport

11

Terry Shadbolt

Burnie

12

Lindsay Webb

East Devonport

13

Paddy Martin

Ulverstone/Burnie

14

Kevin Symons

Burnie

15

Graeme 'Gypsy' Lee *

East Devonport

3

16

Col Moore

Penguin

17

Barry Strange

Penguin

18

Tiger Dowling

Cooee

19th

Carnival George Mason

Cooee

20th

Barry Flint

Wynyard

1

st

em.

Don Harrington

Penguin

2

nd

em.

Barney Howard

Ulverstone
*Denotes All Australian
The club denotes the club the player is best known or played the most matches; both Darryl Baldock and Tiger Dowling played early games for East Devonport for example, Paddy Martin spent long periods at both Ulverstone and Burnie.
1 = APPM the former pulp mill at Burnie fielded an NWFU team for several years after the war.
2= Arthur Hodgson was the only player to play for Tasmania plucked directly form a minor league, from the gravel oval at Queenstown into the Tassie team. Some feat for the ex Carlton and Ulverstone champion.
3= Graeme Lee was the first indigenous Tasmanian to play VFL football.
Some well-known Tasmanian indigenous footballers

Graeme Lee
Wynyard/ St Kilda
Darrel West
North Launceston
Neil Maynard
North Launceston
Derek Peardon
Richmond /City South
Michael Mansell
North Hobart
Andy Lovell
Glenorchy/Melbourne
Liam Jones
North Hobart/Carlton

The 1960 Golden Tassie team that beat Victoria (& contained many NW footballers)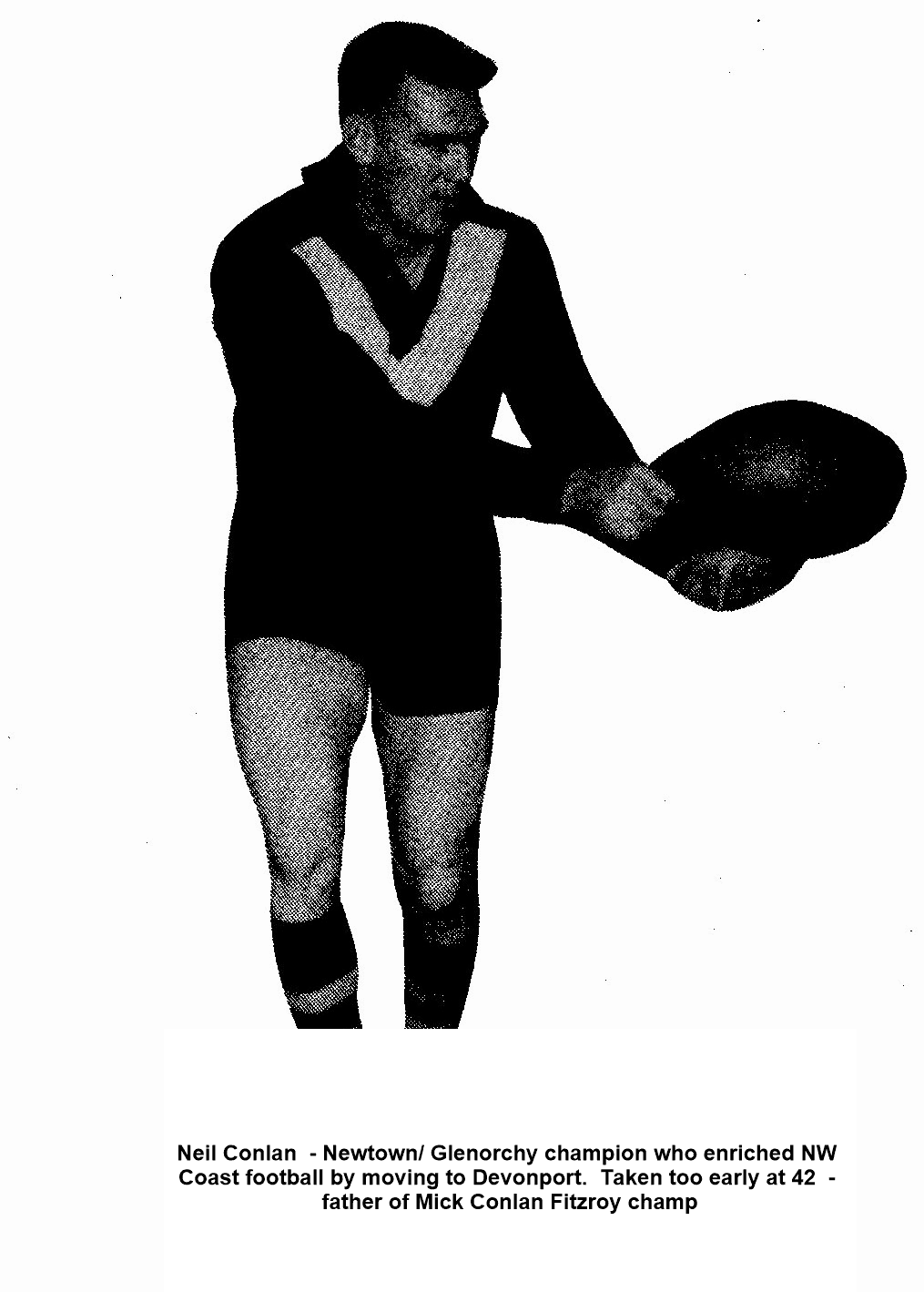 B: Casey Lawrence, Brian Loring, Don Gale
HB: Max Kelleher, Barry Strange, Murray Steele
C: John Fitzallen, Ken Sheehan, Dicky Lester
HF: Neil Conlan, John Hawksley, Colin Moore
F: Burnie Payne, Athol Webb, Garth Smith
Ruck: Rex Geard, Terry Shadbolt, Stuart Spencer
Res. George Mason, Bob Withers
Coach: Jack Metherall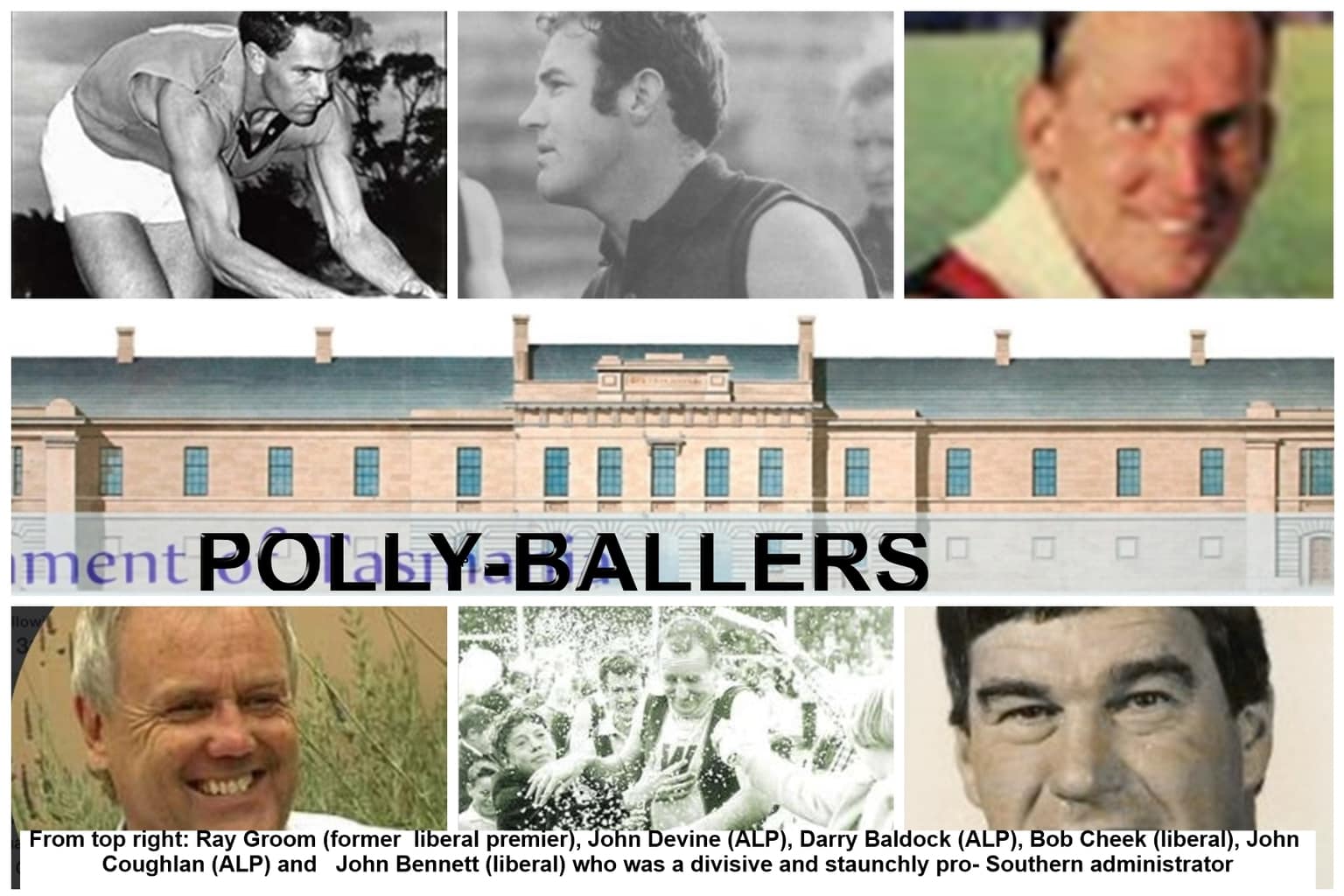 Part 4 – A Life in Football.
Reference: Emotional farewell looms for Penguin's charming and historic footy ground.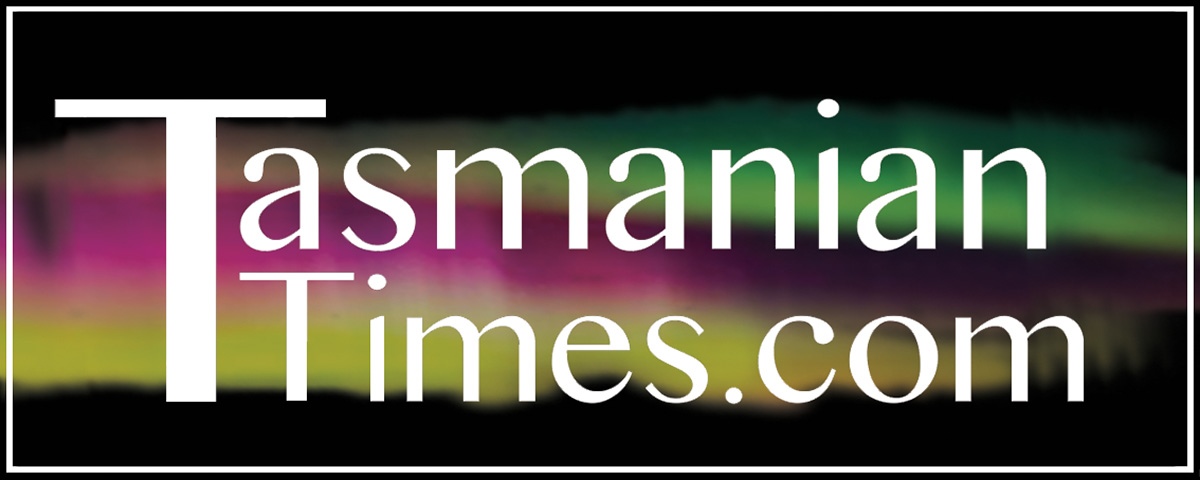 Author Credits: [show_post_categories parent="no" parentcategory="writers" show = "category" hyperlink="yes"]