This poem was first published by Tasmanian and Port Dalrymple Advertiser on Wednesday, 23rd February 1825. The author is unknown.
---
Disappointed Love
Credula res amor est — Ovid. Met.
When the beamings of love had enraptur'd my breast,
A breast free from care and from sorrow ;
Suspicion unconscious ask calmly to rest,
On the ominous lap of to-morrow.
But Mary deceiv'd me, and flew from my arms,
And from this a kind lesson I'll borrow ;
When Cupid again throws around me his charms,
l'll bid him begone till to-morrow.
When tomorrow arrives, with the sternness of Jove,
And the coldness of icy December,
I'll say to him, " Cupid. I ne'er more can love,
Until I can cease to remember.
Until all remembrance for ever depart,
Of a being so faithless, oh ! never
Again can impression be made on this heart, a love which no mortal can sever."
Alone and neglected, I'll pine in the shade,
For I hate the gay world and its pleasures ;
Unknown in seclusion I'll lay down my head,
Nor envy the miser his treasures.
The breezes of morning I'll daily inhale,
Ere the sun shall have silver'd the billow ;
To yon list'ning mountains I'll tell my sad tale,
And relate it again on my pillow.
When I'm dead, let a grave- stone be rear'd o'er my corse,
To relate the sad tale of my sorrow ;
Then sigh, ye sweet gales, for the sons of re- morse,
And your shadows, ye trees, let me borrow.
I ask but the pitying sigh while I live,
(For compassion's a comfort in sorrow 😉
When dead, o'er the green mound which covers me, give,
A tear to my mem'ry to-morrow !
Lostwithiel.
Disappointed Love. Tasmanian and Port Dalrymple Advertiser (Launceston, Tas. : 1825), 23rd February 1825, page 4. Retrieved 13th January 2020, from https://trove.nla.gov.au/newspaper/article/84675716
---
Poet's Corner is a quaint and quirky section of The Tasmanian Times. It has been designed to offer a haven to those who relish and immerse themselves in the sheer joy and pleasure emanating from English verse. Our idea is to share poems published in Tasmania during the early years of British arrival.
We would also like you to share your poetry with us. Submissions can be sent to arts@tasmaniantimes.com. Please see www.tasmaniantimes.com/contact for general submission guidelines.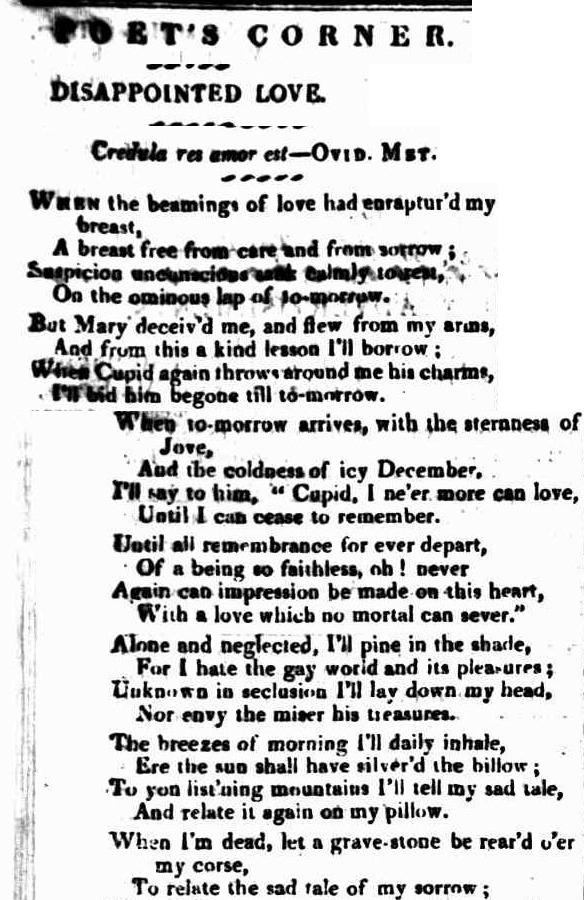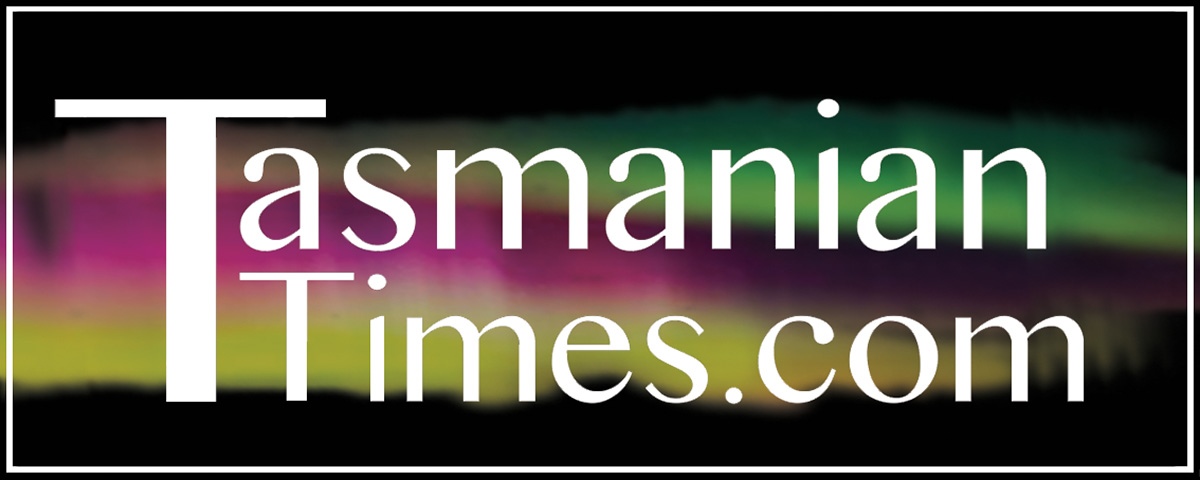 Author Credits: [show_post_categories parent="no" parentcategory="writers" show = "category" hyperlink="yes"]