Introduction:
On Friday the 15th of February, Tasmanian Liberal Party senator Eric Abetz visited John Opie House in Hobart, alongside Claire Chandler, Dean Young, Jane Howlett and Simon Behrakis [1]
John Opie House is one of many locations around the country that provide support services for patients undertaking medical treatment, as well as their carers or guardians. In particular, these services include providing accommodation for patients during their treatment.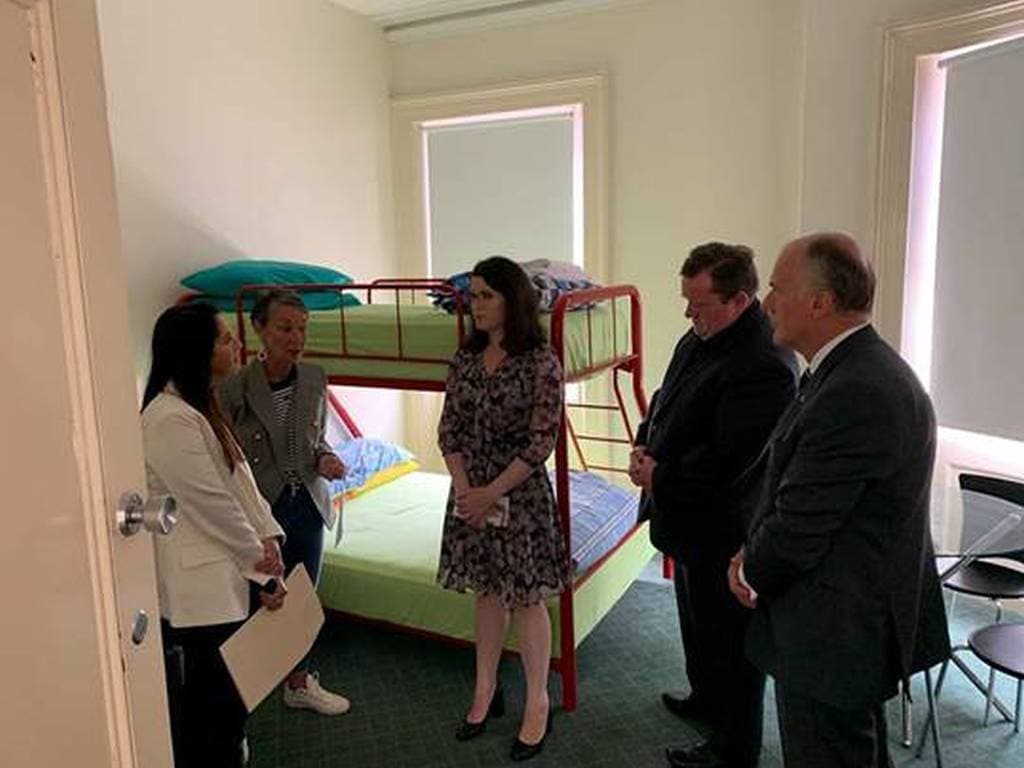 Above: Eric Abetz and others visit John Opie House (Source: Facebook)
There is no doubt that that the services provided at JOH are extremely important. These kind of support networks are critical, as anyone living in rural or regional Australia could explain.
The basic difficulties that can accompany treatment, such as accommodation, access to properly equipped medical facilities, and even emergency transport, can make even the most seemingly benign of conditions potentially much more dangerous, painful, or otherwise extremely uncomfortable or embarrassing.
I have been raising these exact concerns directly with the office of Senator Eric Abetz for the last few months, but in a somewhat different context.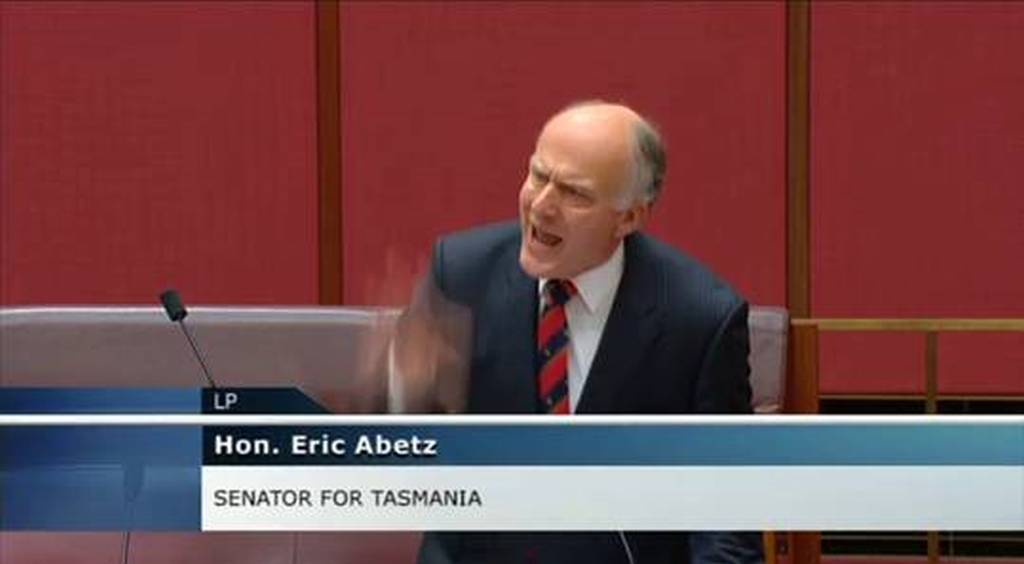 Above: Eric Abetz speaking in the senate, 2018. (Source: APH Website)
At the end of last year, I came across a video posted on Facebook by Tasmanian Liberal Senator Eric Abetz [2].
Initially, I came across this footage whilst researching material [0] entirely unrelated to refugees or Nauru, and knew little on the subject at all. However, after listening to Eric Abetz's speech, I have since had a hard time letting this issue go.
I suppose I should thank him for motivating me to write this article.
The clip in question featured Eric Abetz speaking in the Senate, on the subject of an emergency medical transfer for a 19-year-old Iranian girl from Nauru to a hospital in Brisbane:
"Let's have a look at the medical evacuations that certain people are trying to manipulate when they gain Australia's generosity. This is a real case, and I invite the Greens and Senator Storer and others to listen in. Recently, international doctors on Nauru demanded an Iranian asylum seeker be medically evacuated to Australia because she was in so much pain. It cost $100,000 for the Australian taxpayer. The medical people thought, 'If there's so much pain, put her on a commercial flight.' But, no, Maurice Blackburn, that well-known Labor law firm got involved and sought a court order that she be transported by air ambulance. She was transported by air ambulance to Brisbane on 22 October and taken to a hospital. After a number of tests she was discharged, having been diagnosed with constipation—a medical emergency that required air ambulance! This is the gaming of Australian generosity in a completely unprincipled manner. Guess what? She found herself in Australia and she remains in Australia, and it is expected that a Federal Court injunction will be filed on her behalf. This is the gaming of the system. It is a real, live case—a real example."
Link: https://www.youtube.com/watch?v=OsCFwHuRyYs
As I continued to find more footage of senators speaking on the subject of Refugees on Nauru, I was horrified to discover the level of rhetoric being used to argue against the proposed Medevac Bill, let alone the almost contemptuous way in which senators such as Eric Abetz spoke about the people in these detention centers.
NSW Liberal Senator Concetta Fierravanti-Wells: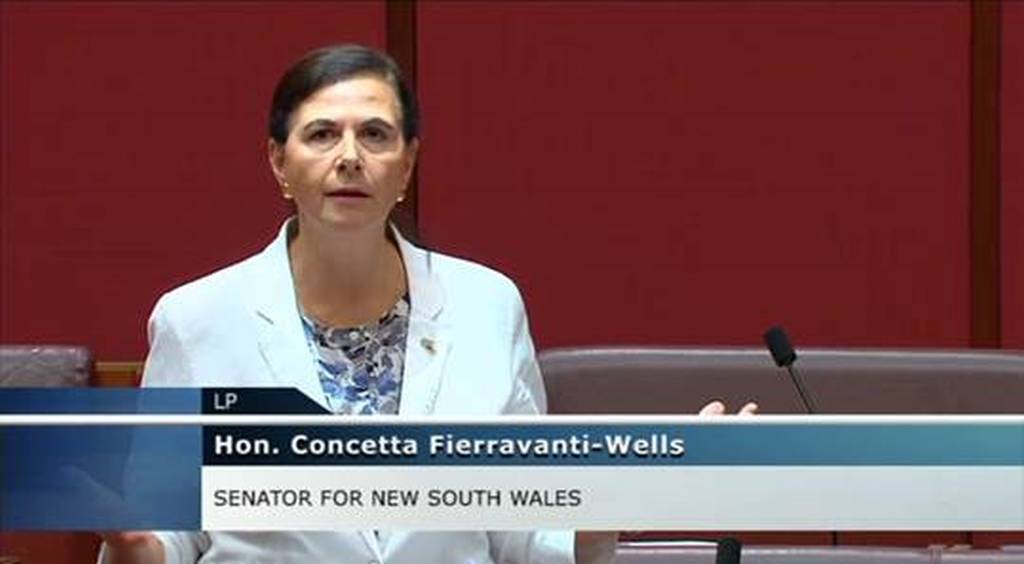 Above: Concetta Fierravanti-Wells speaking in the senate, 2018. (Source: APH Website)
"Now often those opposite wish to portray children behind wire fences. Well one of the biggest problems on Nauru has been that dogs roam around the island, and regrettably the introduction of aggressive dogs into the dog population has resulted in more dog attacks. Indeed, on one- On my visit, a young disabled girl had been mauled by a dog and later died. Fences are crucial for protection purposes."
– Concetta Fierravanti-Wells, 6/12/2018.
Link: https://www.youtube.com/watch?v=sOa9uOFY2MY
I am not sure how Concetta Fieravanti-Wells would back up her claim that it was the "introduction of aggressive dogs into the dog population" that has led to horrific incidents such as these taking place.
A cynical person might say that Senator Wells is openly engaging in a bit of "dog-whistling" with such specific use of language whilst on the subject of immigration, border policy and refugees.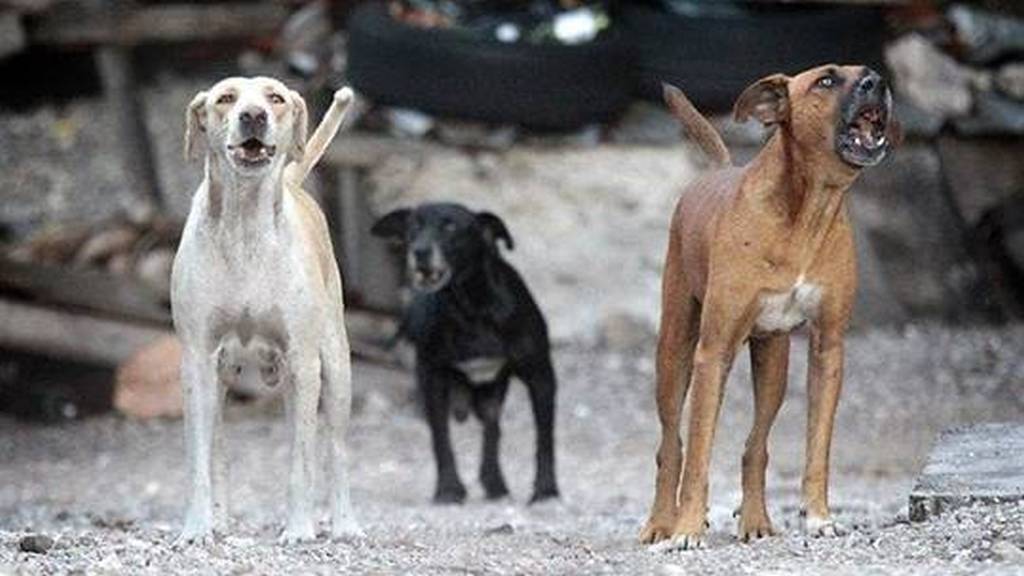 Above: Wild dogs on Nauru (Source: The Daily Telegraph)
Unfortunately, young children are not the only targets of these packs of wild dogs. According to The Guardian in 2014 [3]:
Last year New Matilda revealed that Salvation Army staff working in the detention centre were attacked by stray dogs on their way to a local hotel.
Leaked internal minutes revealed staff were "advised to carry sticks … as a deterrent"
On Wednesday, three Nauru politicians were suspended from parliament for "talking too much to foreign media".
According to a 2012 article in The Daily Telegraph [4]:
Soldiers sent to Nauru to rebuild Australia's latest offshore processing centre have been warned to carry a stick or stones when out walking because of savage dogs.
The menacing animals could also limit the movement of asylum seekers around the 21sq km-island with the wild canines roving in packs.
Defence personnel and Australian government officials were handed information cards on a military flight to Nauru last week.
It carried the warning: "Be very careful of dogs. Carry a stick or rocks if jogging or walking."
The advice was put together by the Department of Foreign Affairs and included the names of restaurants to eat at and transport options around Nauru.
Disturbingly, the article by The Telegraph also highlighted that:
As well as the wild dog threat, immigration workers and asylum seekers sent to PNG and Nauru face serious disease threats, some of which cannot be prevented with vaccinations. There are also concerns people sent offshore may at first be only partially protected against hepatitis, Japanese encephalitis and, in the case of Manus Island, rabies.
Vaccines for those illnesses are given over the course of a month while asylum seekers sent to PNG will have daily or weekly anti-malaria tablets to take, which are not always reliable in preventing contracting the disease.
Those sent to either country would need immunisation against typhoid and tetanus, with those acting within 10 days.
The US government Centre of Disease control recommends getting vaccinations four to six weeks before travelling to PNG, where HIV, cholera Dengue fever and tuberculosis are also common.
Exactly why Concetta Fieravanti-Wells chose to highlight that Nauru has packs of wild dogs roaming around the island mauling children to death, I still cannot comprehend.
If her role was to attempt to portray the conditions on Nauru as being less dystopian for the children behind those wire fences, then she failed miserably at her task.
SA Conservative Party Senator Cory Bernardi: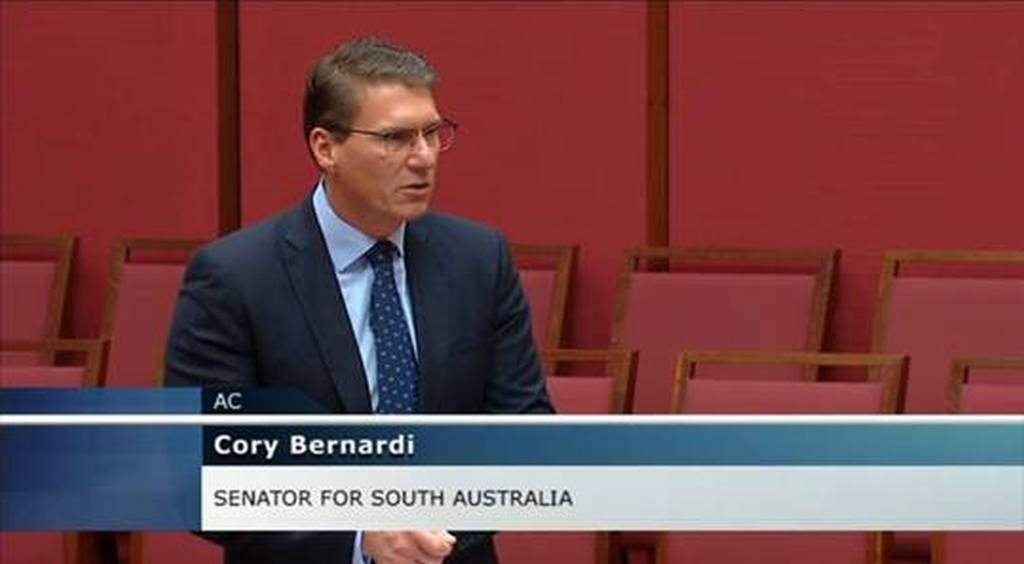 Above: Cory Bernardi speaking in the senate, 2018. (Source: APH Website)
"Let's face the facts: not everyone wants to live on a tropical island paradise. I understand that—not everyone does. But, if you're going to be living on Nauru—I'm not going to demean Nauru or diminish the land or the people as others in this place will do—and the Australian government is educating your children and providing you with accommodation, a safe place to be and freedom to go out and about wherever you like, and is feeding you and providing you with free medical care and attention, that's better than many communities have it in Australia. Yet I don't hear the posturing and I don't hear the condemnation of what's happening in some of our Indigenous communities, where kids are being abused every single day. They're excused by the same people who are claiming to stick up for those who are on Nauru because they've paid the people smugglers. They want to open the people-smuggler system. They want to help a bunch of people over there in Nauru who are being cared for better than the First Australians, in many instances."
– Cory Bernardi, 6/12/2018.
Link: https://www.youtube.com/watch?v=0jQNkbmzUWU
If the people smugglers are indeed watching Australian politicians very closely in order to gauge when to "restart their trade", it will be speeches like this that will be influencing their decision.
To adopt the language of his fellow senators, who sarcastically say things like this in order to display an image of strength, the people-smugglers won't care about the "nuance" of Cory Bernardi's smug sarcasm.
Smugglers can easily use this footage to present Nauru as a 5-Star Resort without their "clients" ever needing to step foot on Australian soil at all.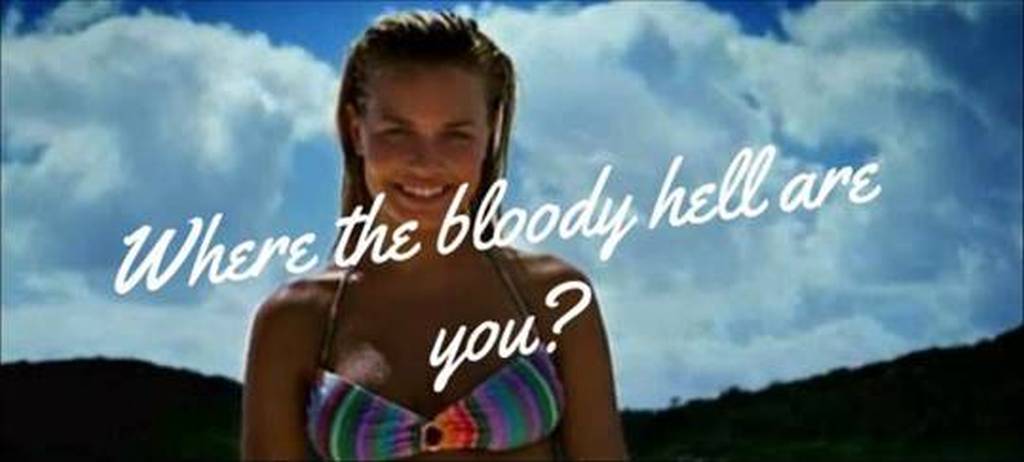 Above: "Where the bloody hell are you?" (Source: Tourism Australia)
This only highlights how these politicians have created a situation where they cannot defend these facilities or treatment of asylum seekers in this hyperbolic manner without sending an extremely contradictory (and inviting) message to people smugglers themselves.
For example, if these facilities really have been providing better medical support than Rural Australians receive, then perhaps screaming that over and over again will only incentivise the people-smuggling industry that they are trying to intimidate.
Worse yet, it is this same logic that means that these camps must not, by design, be more comfortable or hospitable than they absolutely have to be, in order to deter people from attempting to make the same journey to Australia by boat [5].
Link: https://www.youtube.com/watch?v=hGlNslGILck
The image of "strength" that Cory Bernardi is desperately attempting to project is not just overcompensation on his part, but strategically counterproductive to his own position.
One Nation Party Senator Pauline Hanson: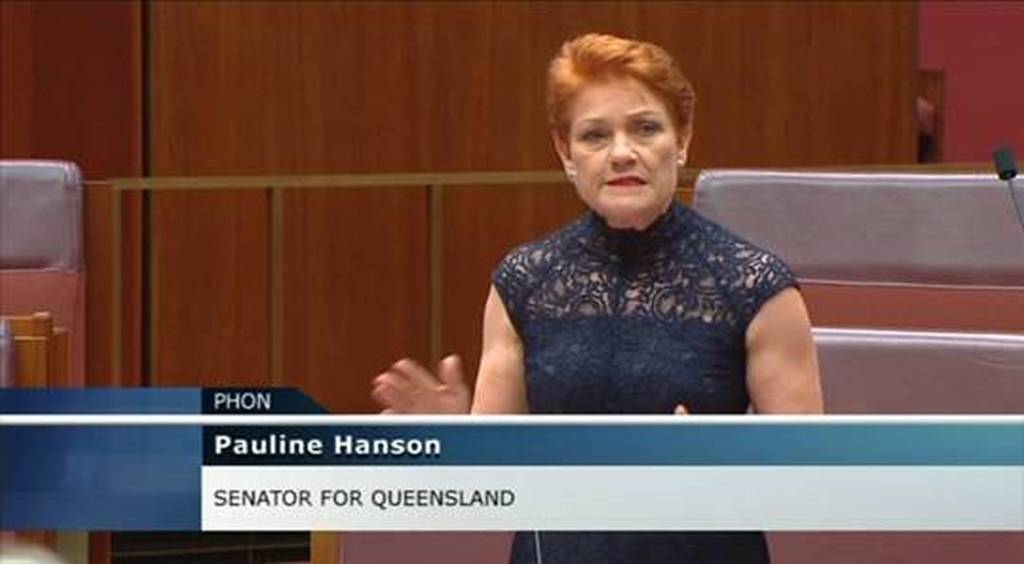 Above: Pauline Hanson speaking in the senate, 2018. (Source: APH Website)
"And they've got 61 doctors. That's for every 8 refugees over there, is 1 doctor to every 8 refugees. I can't even get doctors out to rural and regional areas in Australia. And we're providing that number of doctors at a cost of 450 million dollars a year to the taxpayers?"
– Pauline Hanson, 6/12/2018.
Link: https://www.youtube.com/watch?v=TbvASifZyvk
Pauline Hanson's usual brand of rhetoric on the subject of immigration (to which we have all become quite accustomed to over the years) almost seems like low-hanging fruit at this point.
One Nation are not necessarily held to the same … standards as political parties like the Liberals, Labor or the Greens.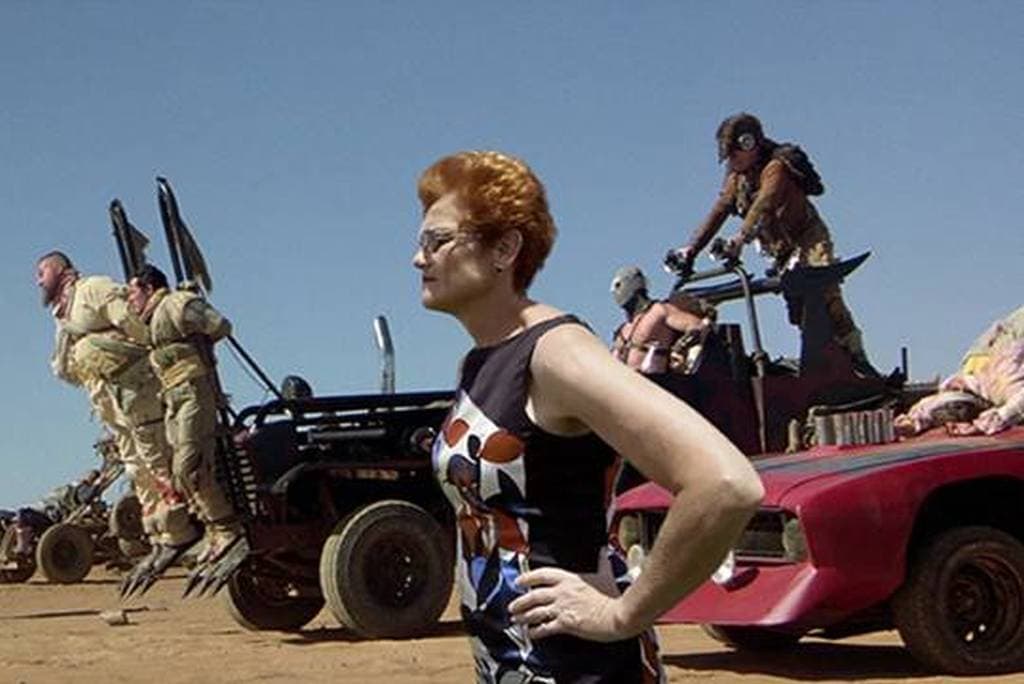 Above: Pauline Hanson (Source: Terror Nullius, 2018)
However, this bizarre ratio of doctors to refugees on Nauru has been brought up several times in the last few months, not only by Pauline Hanson, but also by Liberal senators such as Jim Molan and Eric Abetz, and even by Prime Minister Scott Morrison.
"The uh, 'illegal maritime arrivals' on Nauru are being looked after extraordinarily well. Now, we all know that its tough being there for them and they would rather be somewhere else, but there are 31 medical staff there including doctors, paramedics, nurses, there are 34 mental health staff on the island, there's 1 psych and there are 11 admin staff. The ratio of admin- Uh, of- The ratio of medical staff to individuals is 1 as to 11. You find me one town in this nation which has 60 plus people for 652 population. 60 plus medical practitioners for 652."
– Jim Molan on Wake Up Australia, 2018 [6].
BRIAN CARLTON: "My understanding that there are some 60 medical professionals on Nauru. Is that Correct?"
ERIC ABETZ: "Yes, look, we have literally dozens of medical professionals… Some of these people get easier and quicker access to medical support than some of the people in our rural and regional areas." – Tasmanian Liberal Senator Eric Abetz on "Tasmania Talks with Brian Carlton", 13/2/2019.
– Eric Abetz, on Tasmania Talks with Brian Carlton, 2018 [7].
"There are more than 60 medical professionals on Nauru for 420 people. If that says there is no medical facilities available on Nauru, then that is ridiculous. Tell me another part of this country that has 1 medical professional for every 7 people. There is in fact 1 medical- I should say mental health professional for every 14 people on Nauru. On top of that, there is no one in detention on Nauru. Not one person."
– Scott Morrison, Press Conference, 2019 [8].
Once again, a recurring theme within these comments is the comparative lack of access of medical care to rural and regional areas in Australia, when compared to the services being provided to refugees in detention centers.
I believe there are many people living in rural and regional areas of Australia who are indeed facing serious and legitimate problems when it comes to accessing the medical care and support that they need, and that these people are listening very closely when politicians such as Pauline Hanson make these comparisons.
However, Pauline Hanson scapegoating these problems onto refugees, whilst knowing full well that the cost of offshore detention centers will always be extraordinarily high, or that the issue of refugees and asylum seekers will never go away, does nothing to alleviate the problems that these rural and regional Australians face.
And as developing nations around the world continue to struggle with the impact of global climate change, these issues will only continue to get worse as time goes on.
In regards to the number of doctors and medical staff on Nauru, I have my own suspicions on how the numbers are being counted here, in particular the possibility that administrative staff are being counted when adding up the numbers for this ratio.
There is also the question of how temporary workers, who fly-in and fly-out on rotation to these detention facilities, are also being counted.
I may of course be wrong, but in order to fully understand how these numbers are being counted (and the roles that these staff are playing) that information will need to be made available to the Australian public.
I have had a hard time finding anything concrete thus far, but it seems as though these politicians are deeply committed to promoting the idea that the medical facilities and health-care available to asylum seekers at these detention centers have been broadly comparable to those available in Australia.
Independent Senator Tim Storer (SA):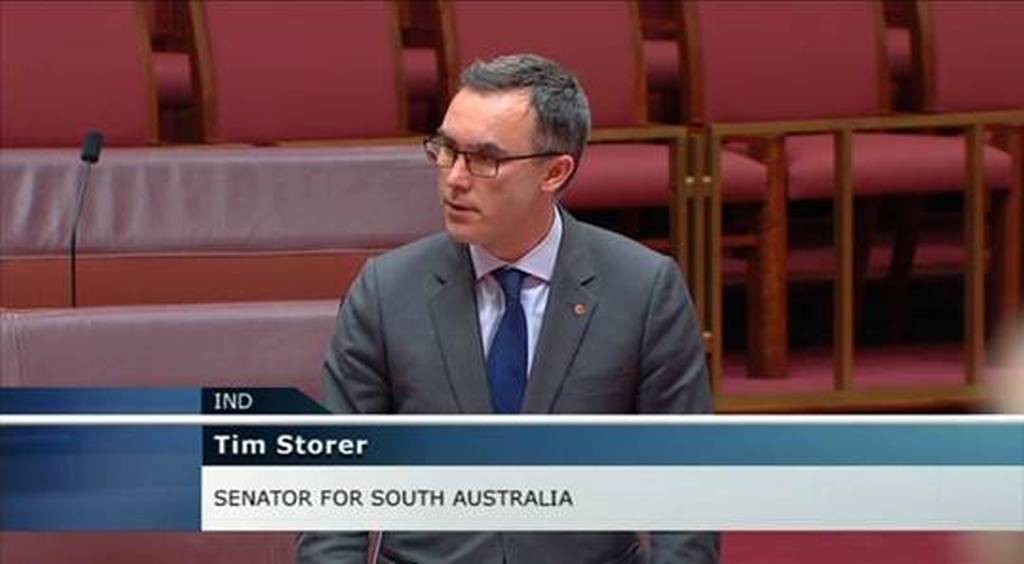 Above: Tim Storer speaking in the senate, 2018. (Source: APH Website)
"The crisis surrounding the health and wellbeing of asylum seekers on Nauru and PNG has gone on too long. The United Nations describes the situation as 'dire and untenable'. Doctors Without Borders describe the situation as 'beyond desperate'. We must heed those warnings. Twelve people have died in offshore detention since the regime began five years ago. There are possibly—it's not clear—1,224 people detained on Nauru and PNG and, according to the latest reports, 12 children, pregnant women and unaccompanied minors. The vast majority of these people have been found to be refugees. Many of them have been in these camps for at least five years.
A coronial inquest into the death of Hamid Khazaei, who died after being medevaced to Queensland from PNG in 2014, found his death from septicaemia was preventable and was due to failure to provide appropriate medical treatment and transfer to specialist care."
– Tim Storer, 6/12/2018.
Link: https://www.youtube.com/watch?v=J8ThbrFY0gg
Unlike the other senators in this article, Tim Storer stood out as the only one to show real strength during this debate. He seemed out of place in the senate, and I mean that as a genuine compliment.
In 2014 the senior medical advisor on Nauru at the time, doctor Marten Muis, attempted to organise the transfer of Mr Khazaei to Port Morseby when his condition became critical, but was unable to do so because they "hadn't obtained a visa".
According to the ABC [9]:
Dr Muis said he was told, "I'm very sorry but you're on your own and you'll have to keep this man overnight".
When asked what his response was, Mr Muis said, "What can you do?".
Dr Muis said when he arrived at the clinic the next day, Mr Khazaei had rapidly deteriorated and looked completely different.
"He was just grey, blue."
Dr Muis said Mr Khazaei was breathing very rapidly, seemed confused and had ripped out his IV lines.
"I've never seen anyone deteriorate that fast," he said.
During the Coronial inquest [10] into the death of Hamid Khazaei, Queensland Coroner Terry Ryan stated that:
 "No antibiotic was available at the Manus Island Regional Processing Center Clinic, to safely and effectively treat the range of infections commonly found in a tropical setting, including the infection suffered by Mr. Khazaei. There was no recording system in place at the Manus Island Regional Processing Center Clinic to comprehensively track and review Mr. Khazaei's deteriorating clinical observations."
This should only further highlight the incredible poor taste of Cory Bernardi's "tropical island paradise" routine mentioned earlier.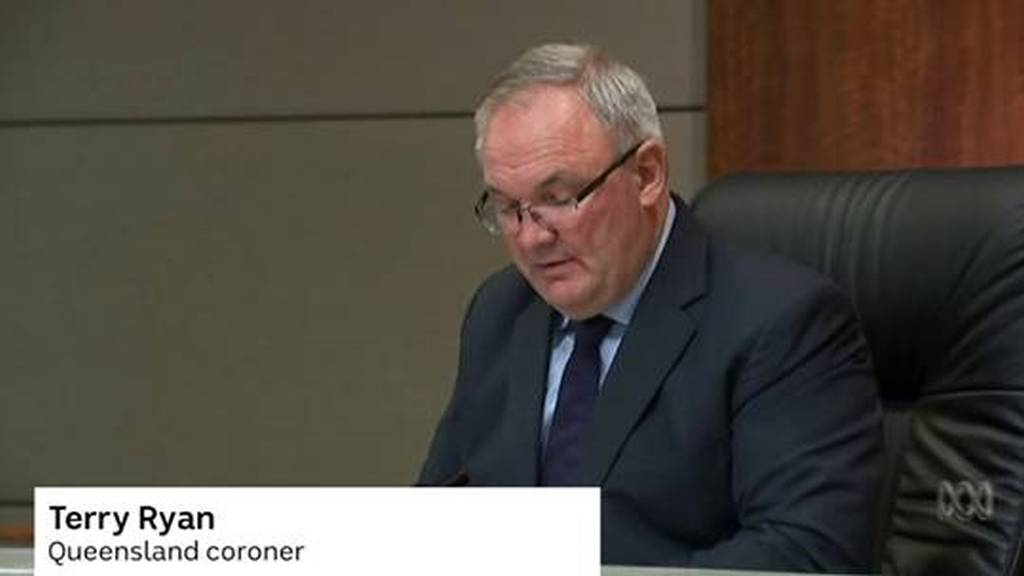 Above: Coroner Terry Ryan (Source: ABC News)
Coroner Terry Ryan continues:
"I am satisfied that if Mr. Khazaei's clinical deterioration was recognised and responded to in a timely way at the Manus Island Regional Processing Center Clinic and he was evacuated to Australia within 24 hours of developing severe sepsis he would have survived."
Despite the frequent comparisons to the quality of medical care in rural and regional Australia previously mentioned above, Mr. Ryan noted that:
 "The Australian Government had not met its responsibility to detainees such as Mr Khazaei to provide health care that was "broadly comparable" to that available in Australia."
This finally leads us back full circle to Tasmanian Senator Eric Abetz.
Senator Abetz, who repeatedly referenced Senator Storer throughout his speech, and instead of directly addressing the ill-equipped medical facilities on Nauru (and the death of 24-year-old-Hamid Khazaei) chose to lash out at a teenage asylum seeker from Iran.
Someone whose condition, if left untreated, could have developed into something even more severe than the crippling abdominal pain they were already experiencing.
"I listened to Senator Storer's contribution, and he talked about the crisis of health on Nauru. Well, the number of medical practitioners funded by the Australian taxpayer on Nauru would be the envy of most Australians, especially in regional areas of Australia. They are being exceptionally well serviced. Senator Storer referred to the 12 people who died in offshore detention. Strangely, he omitted the 100 times that number—1,200 people—who drowned at the hands of criminal people smugglers. But these figures, these matters, are just airbrushed out of the debate, out of the public discourse, so that people can continue their virtue-signaling."
– Eric Abetz, 6/12/2018.
Link: https://www.youtube.com/watch?v=SnAcL5MlulA
Although he seems to take great pains to avoid directly stating so, Eric Abetz is making it quite clear that these deaths are essentially an acceptable cost. It would appear that he has worked through the numbers and decided that, in order to prevent even more deaths at sea, we must seemingly ignore the deaths that take place on Nauru.
We must not hold the government in any way responsible for these deaths, much in the same way we cannot blame the ocean for those lives lost at sea.
The 12,000 deaths are a tragedy, but those 12 deaths are collateral damage.
To use his own analogy, these are the lives that Eric Abetz is trying to "airbrush" out of public discourse.
If this is the cost of the detention centers on Nauru, not only the financial cost but the cost in human lives, by what right does Eric Abetz have to pretend that this is somehow, in any way shape or form, a reflection of the medical services available to rural and regional Australians?
This is, after all, the cost in both lives and taxpayer dollars that his own administration has deemed to be a necessity.
To back out now would only be admitting to some perceived "defeat" on their part, and so to the detriment of everyone involved (including themselves) senators like Eric Abetz can only double down on their outrageous bluffs.
They are too afraid of looking weak to take responsibility for the repercussions of their own actions.
And as for the supposed criminality of the passengers on these boats?
Perhaps it should be pointed out to Mr. Abetz that we are a nation famous for openly embracing the rich history of criminality within our own culture, fascinated with individuals such as Ned Kelly and Mark "Chopper" Read, TV shows such as the Underbelly series, our own history as a nation essentially founded by convicts, and even the song Waltzing Matilda's roguish main character.
Similarly, another famous aspect of the Australian cultural-stereotype is being known for embracing the kind of language than can at times only be described as being "colorful". The kind of language that would make Senator Abetz blush, despite his frequent calls for "robust" debate.
Simply moderating his language to be more "polite" does nothing to make Eric Abetz's comments any less distasteful.
No More Plausible Deniability:
As I said at the beginning of this article, I have been raising every concern highlighted above with the office of Eric Abetz since the end of last year.
I have stopped by his office on at least half a dozen occasions, and have consistently spoken with the same staff member who has heard my concerns repeatedly and at length, both in person and over the phone.
In particular, I have repeatedly questioned this staffer on whether Eric Abetz specifically believed that the 19-year-old Iranian asylum seeker he had spoken of had faked their condition to come to Australia.
To put it another way, whether Abetz was claiming that she was "chucking a sickie".
Despite the blazingly obvious insinuations made by Abetz, and weeks of phone calls and repeated visits to his office and this particular staffer, I was unable to get anything more firm than a series of limp "no comment" type responses. They made it clear they did not agree with my own interpretation of Eric Abetz's comments.
I'd be lying if I said that I don't let my frustration occasionally get the better of me, and this stonewalling eventually culminated in a heated argument on the merits of "robust debate" the "limits of democracy" and, in particular, the influence of money in politics.
Ultimately, I was kicked out of Eric Abetz's office entirely by another staff member.
I found that the individual with whom I spoke consistently with to be intelligent, quick thinking, seemingly quite considerate, and fully capable of understanding my concerns both quickly and clearly.
Arguably, this only makes the lack of any real response over such a period of time to be so much more disturbing.
To be fair, I had thoroughly tested the limits of "robust debate" during our conversations, and likewise I made no attempt to hide my open and honest disrespect for Eric Abetz, a man for whom this staffer respected very much.
Likewise however, I made it clear that Eric Abetz regularly spoke with similar disdain and disrespect towards a wide variety of people on an almost regular basis, if dressed up in more "polite" terminology.
I emphasized this point throughout.
Could you imagine having a discussion with Eric Abetz in the same way he speaks in the senate?
Shouting, barbed insults, sniping comments, and quite literal arm-waving?
Although he is absolutely not the first politician to behave like this, these maneuvers are nothing short of theatrics, each shout and arm-wave carefully choreographed for full effect, and I wouldn't expect Senator Eric Abetz to tolerate his own behavior when confronted with it for very long.
Likewise, could you imagine having such an extremely personal medical condition abused like this, with exactly zero regard for your personal dignity?
Then you might understand why I felt little compulsion to hold back very much, both then and now.
The only reason I am choosing not to specifically identify who this representative of Eric Abetz is, is because I assured them that I would do so from the beginning.
However, I know that the Tasmanian public would be very interested in hearing their thoughts on this subject much more than my own, as their name carries considerably more weight.
I only hope they consider being as public expressing their own views of Senator Eric Abetz's behavior in the senate as I am.
I am curious to see which direction their "moral compass" points.
Personally, I feel that this individual does not fully comprehend that by building a political career through the mentorship of Eric Abetz, and being in a literal position of speaking for him for so long, he will be answering for that man's actions for years to come.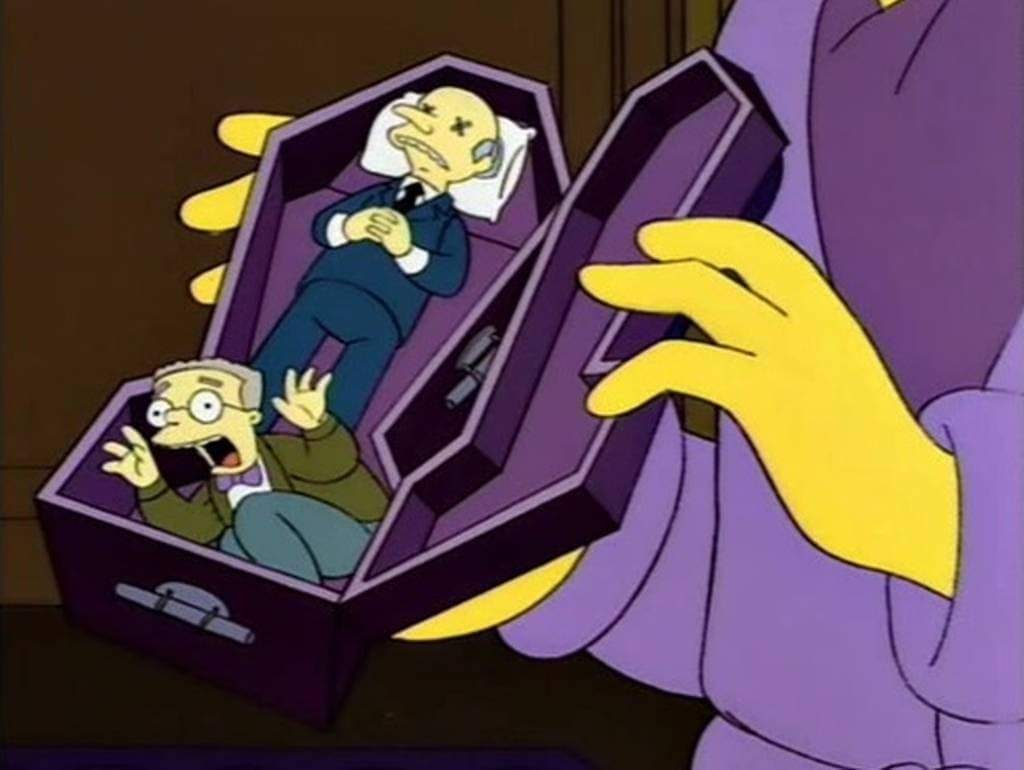 Above: An apt metaphor? (Picture: The Simpsons). Mr. Burns & Waylon Smithers from The Simpsons, Season 5, Episode 18: "Burns' Heir".
Source: https://simpsons.fandom.com/wiki/Burns%27_Heir 
Conclusion:
To return to my earlier question, whether Eric Abetz was arguing that this teenage girl was faking her medically diagnosed condition, it turns out I need only have waited.
Eric Abetz had gone on to speak with Brian Carlton on Tasmania Talks, in an interview titled "ABETZ: Asylum seekers can 'chuck a sickie' and come Australia thanks to medivac bill", where he doubled down on his suspicions regarding this Iranian asylum seeker's medical transfer from Nauru [7].
The irony is that for all his callous bluster in the senate and during this interview, Eric Abetz was in reality too timid to do anything more than make vague insinuations about the legitimacy of the medically diagnosed pain experienced by a vulnerable teenage girl.
He is fortunate if he has never experienced firsthand the humiliation or pain caused by such an experience.
At the end of the day, I can't help but wonder if Eric Abetz's visit to John Opie House was less to do with his carefully crafted public image in response to the medevac bill, or if it was simply to ease whatever passes for his own broken "moral compass".
Sam Mazur is an atheist who (NORMALLY) has an interest in paranormal and supernatural claims and conspiracy theories, as well as alternative spiritual beliefs, cults and con-artists. Sam promotes critical-thinking and general awareness towards these subjects within the community. 
If you have questions or concerns regarding Eric Abetz's statements in the senate last year, you can contact his Tasmanian office on (03) 6224 3707, or write a (polite) email via senator.abetz@aph.gov.au
For more information on the ongoing refugee crisis, visit the Asylum Seeker Resource Centre at www.asrc.org.au  
Reference List:
[1] Link: https://www.facebook.com/sbehrakis/posts/374871539735612
[2] Link: https://www.facebook.com/SenatorAbetz/videos/748819038818163/
[3] Girl aged 11 dies on Nauru beach after being attacked by stray dogs
Published by The Guardian, May 15th, 2014.
Link: https://www.theguardian.com/world/2014/may/15/girl-dies-nauru-attacked-stray-dogs
[4] Soldiers on Nauru armed with sticks and rocks to fend off feral dogs
Published by The Daily Telegraph, August 26th, 2012.
Link: https://www.dailytelegraph.com.au/soldiers-on-nauru-armed-with-sticks-and-rocks-to-fend-off-feral-dogs/news-story/4962f30054c94bbe0724100d0c084c3b
Link: https://www.news.com.au/national/soldiers-on-nauru-armed-with-sticks-and-rocks-to-fend-off-feral-dogs/news-story/4962f30054c94bbe0724100d0c084c3b
[5] "Australia keeps refugees in radio silence"
Published by CNET, August 18th, 2016.
Link: https://www.youtube.com/watch?v=hGlNslGILck
[6] "60 plus medical practitioners to a population of 652": Senator Molan defends Nauru's offshore detention
Uploaded by Wake Up Australia With Michael McLaren, October 29th, 2018.
Link: https://www.2gb.com/60-plus-medical-practitioners-to-652-population-senator-molan-defends-naurus-offshore-detention/
[7] ABETZ: Asylum seekers can 'chuck a sickie' and come Australia thanks to medivac bill,
Uploaded by Tasmania Talks with Brian Carlton, February 13th, 2019.
Link: https://www.tasmaniatalks.com.au/the-show/36090-abetz-asylum-seekers-can-chuck-a-sickie-and-come-to-australia-thanks-to-medivac-bill
[8] Prime Minister Scott Morrison's Press Conference
February 13th, 2019.
Link: https://www.youtube.com/watch?v=M3i2I4BziEs&fbclid=IwAR3IMvJ5xFZa_Lger8yqPwOr9JbDSbced_8DwNBgBVwAZQI9cpFoUjnPn1E
[9] Hamid Khazaei: Sick Iranian asylum seeker stuck on Manus Island 'deteriorated fast', doctor says
Published by ABC News, July 30th, 2018
https://www.abc.net.au/news/2016-11-30/hamid-khazaei-inquest-asylum-seeker-deteriorated-fast-doctor/8079234
[10] Asylum seeker Hamid Khazaei's death from leg infection was preventable, Queensland coroner finds
Published by ABC News, July 30th, 2018.
Link: https://www.abc.net.au/news/2018-07-30/asylum-seeker-hamid-khazaei-coronial-inquest-death-preventable/10050512
[0] Talking Point: Nursing a desire to join cut and thrust of a political campaign
Published by The Mercury, June 29, 2019.
Link: https://www.themercury.com.au/news/opinion/talking-point-nursing-a-desire-to-join-cut-and-thrust-of-a-political-campaign/news-story/1ac10ae2fff80f45b3294a0eb3341a4c
(Note: For full disclosure, I was originally researching Eric Abetz's views on issues such as abortion, as well as his political relationship with Amanda-Sue Markham. Amanda-Sue Markham is married to Hobart Pastor Campbell Markham, with whom I was involved in a previous dispute. I feel it is important to be up front about this. I would not include this reference above, were it not for the fact that it directly relates to the issues of misrepresenting medical professionals for political benefit, and misunderstanding the difference between registered and qualified health practitioners).
See also:
Manus Detainee Aziz Muhamat on ABC's Q&A (4/12/2017)
Link: https://www.youtube.com/watch?v=kJnvHfJ_uaY
Source: https://www.abc.net.au/qanda/human-rights-and-harassment/10649854
Dog Whistle | Shaun Micallef's MAD AS HELL | Wednesdays, 8pm, ABC1
Uploaded to YouTube by madashellabctv, March 7th, 2013.
Link: https://www.youtube.com/watch?v=_iCS0xssncQ
The refugees stuck on Manus: five years and counting
Uploaded by The Guardian Australia, November 15th, 2018.
Link: https://www.youtube.com/watch?v=fsIaAvORnDg
Australian diplomat on refugee policy: 'We are not inhumane' | DW English
Uploaded by DW News, December 7th, 2017.
Link: https://www.youtube.com/watch?v=v8nrs8fb6Z8
Talk to Al Jazeera – Peter Dutton: Behind Australia's tough border policies
Uploaded by Al-Jazeera News, September 17th, 2016.
Link: https://www.youtube.com/watch?v=ccLeOilzR4Q
How Greek parliamantarians react to the Medivac legislation
Published by Greek Edition, February 16th, 2019.
Link: https://neoskosmos.com/en/129496/how-greek-parliamantarians-react-to-the-medevac-legislation/
Full Senate Speeches (in order):
#1. Concetta Fierravanti-Wells
Link: https://www.youtube.com/watch?v=aX17kd0sRU0
#2. Tim Storer
Link: https://www.youtube.com/watch?v=J8ThbrFY0gg
#3. Cory Bernardi
Link: https://www.youtube.com/watch?v=MgZ3KXDlkVQ
#4. Eric Abetz
Link: https://www.youtube.com/watch?v=SnAcL5MlulA
#5. Pauline Hanson
Link: https://www.youtube.com/watch?v=wzTG1WHOIHM
Transcript: https://www.openaustralia.org.au/senate/?id=2018-12-06.85.2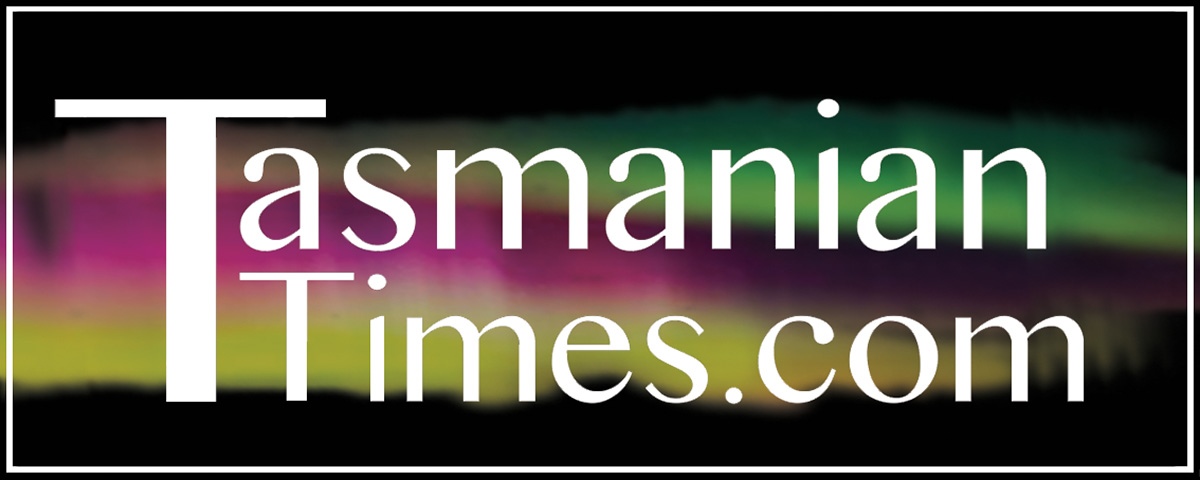 Author Credits: [show_post_categories parent="no" parentcategory="writers" show = "category" hyperlink="yes"]