(First published March 5)
… the end of Tassie Times …
Nothing lasts forever, we're in our 18th year and it's time to call it quits.
I'm exhausted…
It's been an enormous pleasure providing a service to you guyz over those 18 years.
It has been an enormous privilege, particularly from those who are regular supporters, both in terms of contributors and cash.
First, I'd like to  thank Susan Muffin, wife and mother of all the little Muffins: Richard, Rachael and Thomas.
Richard was very sensible over the years; an admirable trait of first borns; Rache for her advice over the years (and Rache was all prepped to go mad on advertising, she's a marketeer) and Tom, 'cause he set up the entire Tassie Times system. He's in IT in Gothenberg, Sweden.
Son-in-law Travers Nuttall for his very sensible suggestions.
Shame I didn't listen…
I want say a very big thankyou to the moderators over the years: xxxx xxxxx, Bob Burton, James Dryburgh, Peter Fagan.
xxxx xxxxx enforced Bob Burton's code of conduct (https://tasmaniantimes.com/the-legal-bits/). I'm very grateful he did so …
Mike Ward, for setting up the original jurassic site: http://cdn-src.tasmaniantimes.com.s3.amazonaws.com/archive/jurassic/index.html . I knew nothing about IT. Wardy did … so this was the result … I'm sooooooooooooooooo grateful to him …
And Peter Cox for his amazing aid over the years … including setting up a table. And his IT aid …
Also, a grateful thanks to all those who have helped with the IT side of things, including the two times we have redesigned the site from the ground up: I'm very grateful to Andrew Greirson at Pixel Key …

And Andrew Preece at Andrew Preece (andrew@aandcp.com). Andrew, years ago, designed the Expression Engine site and was ALWAYS available for uploading absolutely anything.
And Simon and JD at Total Networks: http://www.totalnetworks.com.au/ . Always available …
There are sooooooooo many memories…
I had prepared a lengthy screed as a farewell note. But the KISS principle has applied, with lots of links to earlier articles.
A potted history of TT…
The inspiration for TT came some 20 years ago when I was on a panel with Phillip Adams: http://oldtt.pixelkey.biz/index.php/article/tt-as-embryo-on-late-night-live
Then there was the editorial written by me (I was already disillusioned with The Mercury and accidentally found myself in charge of the editorial joystick).
Alone among Rupert Murdoch's some 144 newspapers worldwide, The Mercury editorial opposed George W. Bush's invasion of Iraq.
A quote from that editorial:
"It would be wrong for the US to pre-emptively attack Iraq. It would be wrong for Australia to ride shotgun to any unilateral US assault on the hated regime of Saddam Hussein. The consequences of a pre-emptive strike are so unpredictable, so unknown that every avenue towards other solutions must be fully explored. And the United Nations holds the key – despite its failure in the past four years to gain access to Iraq for its teams of weapons inspectors. Australia must side with those nations urging President George W. Bush not to abandon the 50-year political doctrine which has underpinned the interests of the West.In the case of Iraq this has been the policy of containment – backed by the threat of force; force carrying the ultimate sanction of the UN."
http://oldtt.pixelkey.biz/index.php/article/murdochs-war
But the inspiration for TT didn't happen till I was running off a hangover. My original plan had been to create a newspaper to sell at Salamanca Market on a Saturday. Problem was I had no money (and still don't). As I jogged along, I thought "The internet is free … why not use it". Within months I had converted these thoughts into action, put some words together and released them to the aether.
Here's the first edition of TT: http://cdn-src.tasmaniantimes.com.s3.amazonaws.com/archive/jurassic/index.html . Scroll to archives and see edition 1.
I asked some (free) writers to contribute and ended up with 2014 Booker winner Richard Flanagan, Julian Burnside, Pete Hay, Bob Brown, Hilary McPhee, Natasha Cica, Danielle Wood and Greg Barns.
That is so enormously long ago. A few dozen read it … then a few dozen more and now the little site has grown to get 50,000 unique visitors a month and 3.5 million general page hits … and that was even before the wonderful redesign to make it mobile-friendly. Now we get, for the three months from October to December 120,000 unique users and for the three months from October to December, 10 million general page hits …
There are soooooooooo many memories. I honestly couldn't count em …
There were my incursions into journalism. Here's a quote from a piece called "The Great Spin Machine"
"No Way. Difficult buggers, the whistleblowers or the journos questioning and writing outside the tent are dealt with in very specific ways. Let's call it the Four-Step Response. Response Number One:  Deny the issue oxygen. The issue doesn't exist, ignore it. Response Number Two: It's not going away, so threaten it. Toe the line or you don't work in Tasmania. Issue a veiled legal threat; verbal initially, then written.  (Tasmanian Times' first experience as a fledgling website was perfectly ridiculous … an absurd email from Premier Jim Bacon's minder Ken Jefferies threatening legal action (Kenny became a spinner after being senior ABC parliamentary reporter, for the ABC he was very good ). The alleged crime: Reprinting a translation of an article on — you guessed it — forestry, from the great French morning daily newspaper, Le Figaro. Kenny was insistent it be taken down forthwith because of its defamation of the Premier; "Jim would be happy" if this was done; This was accompanied by a further threat that I would be dealt with by a government lawyer, one Simon Cooper, who I later discovered happened to be overseas at the time. I asked what Kenny was planning to do with Le Figaro. He replied that that was a tad more difficult. Kenny was thanked for his request, which was then politely refused. I'm still waiting for the writ.  Response Number Three: Still around … still not doing as you are told …  invite the Dissenting One to a private briefing which involves releasing selected private information which locks the Dissenter into confidentiality. Response Number Four:  Ostracise. Send the Dissenting One to the gulag, withdrew all contracts and contacts. General Response: Allow free rein to the Rumour Mill. She/He is: Eccentric, uncooperative, unwell, lost the plot, drinking too much, using drugs, gone all religious, relationship/marriage is in trouble etc, etc, etc. Over a long, sometimes chaotic career filled with a myriad sordid pecadilloes and little enhanced reputation (which as Richard Flanagan once elegantly put it,  is, anyway, a soul-crushing notion of how we ought live, of who we might be), I do confess to most of these sins, except for a marriage in trouble …" 
Then there was proper investigative journalism in association with good mate, Margaretta Pos:
http://oldtt.pixelkey.biz/index.php/article/the-curious-case-of-dr-raj-mattu-and-tasmanian-health-department-head-david 
A quote from Anthem for Beaconsfield:
"David Llewellyn  — Minister for Gunns — as Peter Henning so eloquently puts it, and I once dressed up as Anglican Lay Readers at St Thomas the Apostle Howrah.  It was another time and another place. Thank God we change. Or some of us do … I'm far more fringe-dwelling liberal Christian bordering on Dissolute Buddhist Pagan these days (is there such a category?); with a string of pecadilloes trailing after me like the sordid tail of a comet. David, meanwhile, remains a powerful establishment figure; perhaps most representative of a corporatist Labor elite loathed and derided by thinking Tasmanians desperate for a paradigm shift in the island's philosophy; a shift away from Cargo-Cult, Golden Calf of corporate, extractive and consumer dominance. It is a loathing and a derision which will have a powerful expression in Beaconsfield on Sunday: A confrontation with the State Government is set for Beaconsfield on October 4th "
Then, there was the time the three of us (Bob Burton, James Dryburgh and I) did Tasmanian of the Year awards. The first one was awarded to Dr Alison Bleaney: http://oldtt.pixelkey.biz/index.php/article/alison-you-beauty
They lasted for some six years, then I was just too tired to organise another one…
Then, there was the time I "helped" mate Richard Flanagan write his incredible "Gunns Out of Control": http://oldtt.pixelkey.biz/index.php/article/gunns-out-of-control1 .
"Gunns Out of Control" was also published in the Daily Telegraph in Pomland.
There have been such a rich vein of memories … including those of a more personal nature when I made my first attempt at the Bruny Ultra (64 kilometres): http://oldtt.pixelkey.biz/index.php/article/the-bishops-finger
And of course, I have had to deal with a few threats of defamation over the years: from Greg Barns and the former Forestry chief in Tassie, Evan Rolley, to then Premier Jim Bacon. Much of this occurred in the period when Gunns was on the rise.
And, http://oldtt.pixelkey.biz/index.php/article/here-we-stand1
I don't answer my phone (for obvious reasons) and generally threats of defamation arrive by snail-mail, including three letters from Rolley.
The only one to reach the Supreme Court was the venerable Barns; for a Directions Hearing.
I roped in Tame Beak James Crotty – who has been my free legal advisor for many, many years. He was mates with SC Leigh Sealey who would go on to become Solicitor-General.
Mr Barns said … "Where did you get them?" at the Directions Hearing. Then, he didn't proceed!
My memories are exhausted, but there are so many more. However, now I leave you to a few recollections from some of TT's dear readers and contributors.
It's been an absolute joy and privilege. I only hope that Tassie Times legacy will live on: not just through its archive, but in the continuation of furiously independent media in the State in some form or other.
Linz!x
PS: From today I will no longer be receiving any contributions for posting. If you have already sent me something, I will endeavour to get it up over the next week. If you have begun work on an article and this announcement has caught you off-guard, send it to me, because I do have the ability to post it for the next week. As I said, the site will remain, providing Tasmania with an important news archive.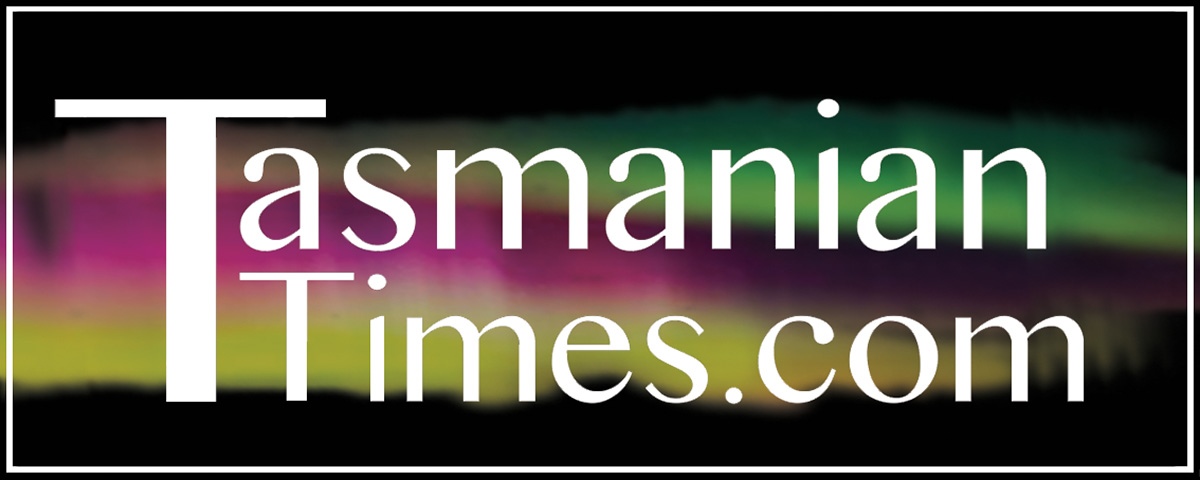 Author Credits: [show_post_categories parent="no" parentcategory="writers" show = "category" hyperlink="yes"]