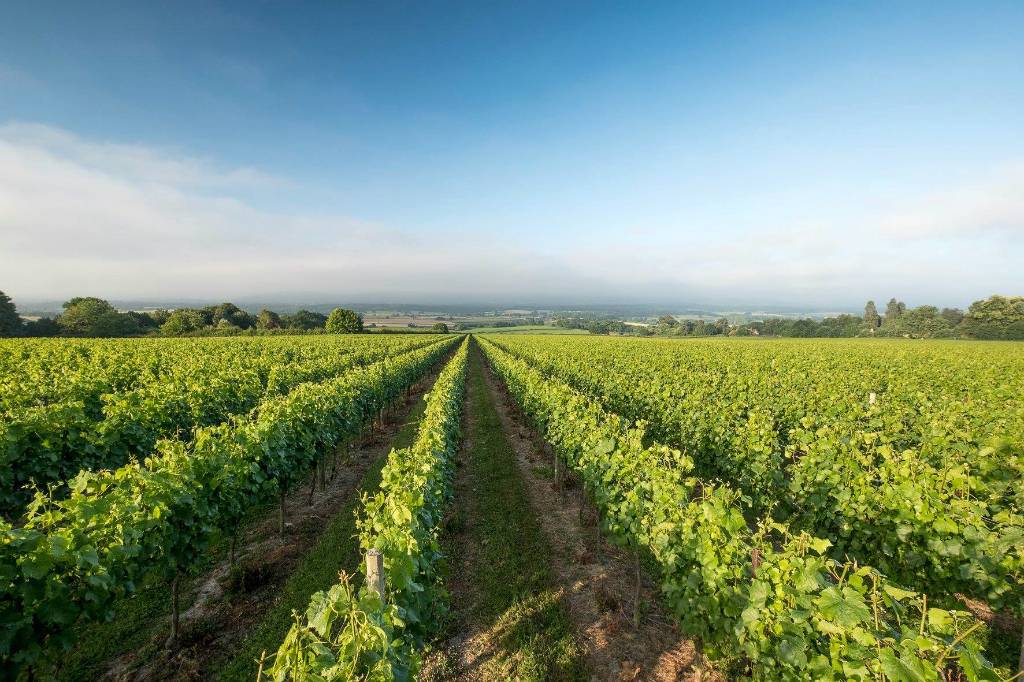 UK vines. Credit: Nyetimber Vineyard.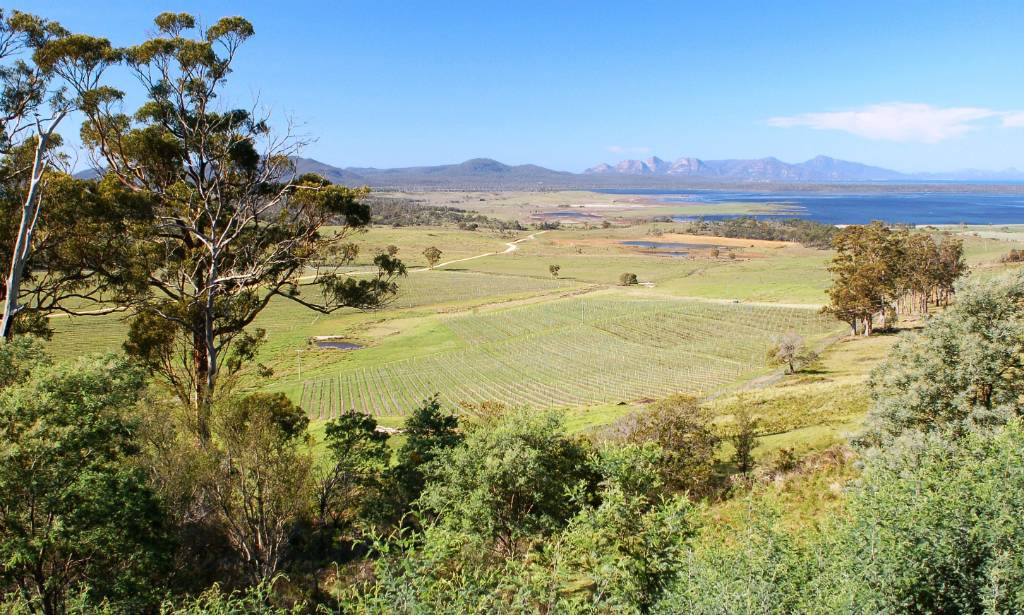 Coombend Vineyard, now Devil's Corner.
"Everybody talks about the weather, but nobody ever does anything about it," wrote American author Mark Twain.
More than a century later, much the same can be said of climate change.
This month's release of the Annual Climate Statement by Australia's Bureau of Meteorology shone fresh light on the country's future climate prospects, and the news wasn't good. It showed 2018 was Australia's third warmest year on record, displacing 2017 from that ranking in the previous Annual Climate Statement.
"Global temperatures have increased by approximately 1.1°C since the pre-industrial period, and no year since 1978 has observed a global mean temperature below the 1961–1990 average," the 2018 Statement noted.
"There's no doubt that climate change in a global context is likely to create considerable human misery," observed renowned viticulturist and 'flying vine doctor' Richard Smart on a recent visit to Tasmania.
"We will see economic, social and political disruptions on an unprecedented scale. The effects of climate change on the world wine industry will be almost trivial by comparison, but they're still important. In fact, I believe the wine sector will be 'the canary in the coal mine' for signalling the likely effects of climate change on world agriculture more generally."
Dr Smart speaks with a voice of authority. Recently elected Fellow of the Australian Society of Viticulture and Oenology, the former Tasmanian resident has enjoyed an outstanding career in education, research and service to the international wine community for more than half a century.
In mid-December, he paid the State a whirlwind visit as part of his self-described role as a 'semi-retired consultant, mentor, researcher, and climate change mitigation advocate.'
Resident in England for the past seven years, Dr Smart spent more than a decade working in Tasmania during the early 2000s. As consultant viticulturist to Josef Chromy's Tamar Ridge, the vine doctor undertook comparative studies of Tasmanian and New Zealand climates.
Following the Gunns Ltd purchase of Tamar Ridge in 2003, that research led directly to the development of vineyards at White Hills, outside Launceston, and at Coombend on Tasmania's East Coast. It also underpinned Dr Smart's recommendations to Professor Jonathan West's 2012 report on Diversifying Tasmania's Economy.
Grapevines have a strict dependency on climate, Smart says, perhaps more so than many other crops. Global warming will have serious implications for vines and wines.
"Existing hot regions will become hotter and many will become unsuitable for wine grapes," he explains.
"Cooler regions may eventually lose their ability to make fine wines as well. The world wine map will need to be redrawn – and be continually re-drawn. If one looks at the near future, however – taking into account the growing global demand for wine and the increasing interest in premium wine – I believe that Tasmania is one of the great areas of the wine world that is ripe for serious investment.
"It's one of only three areas worldwide that stand out. All are located in the Southern Hemisphere. They are Tasmania, New Zealand – particularly the South Island – and the bottom of South America. All are located in parts of the world that will be less affected by climate change than the Northern Hemisphere, because there's more ocean there than there is in the north.
"All three stand out from a climatic point of view. But if you take into account the presence of a mature wine culture and political stability, you're basically left with only two, Tasmania and New Zealand, as key centres for investment. They're about as climate change proof as you can get. They have modern technology-driven wine industries, and they also produce the kinds of wines that the world wants to drink right now.
"That said, I sometimes despair at the lack of foresight shown by the Australian wine industry. Tasmania is just not growing to its full potential. Investment in New Zealand runs rings around what is happening in Tasmania. The UK wine industry is also growing rapidly, especially for sparkling wine production. Ten years ago, it was the same size as Tasmania's. Now it has 2500ha of vines – compared to Tasmania's 2000ha – and more vineyards are being planted each year.
"Global warming is not something that's happening in the future. It is happening right now, and at least for the moment it is working to Tasmania's advantage."
Mark Smith @thatwinesmith. Hobart's Mark Smith wrote his first weekly wine column back in 1994. Now more than 1600 features and 24 years later, he continues to chart the successes of Tasmania's small scale, cool climate wine producers with regular contributions to some of Australia's leading industry publications.
PICK OF THE CROP

2017 Bream Creek Riesling $31
Fred Peacock's Bream Creek had a stellar year in 2018, winning more than 20 gold medals and trophies for its wines in national and international events. The vineyard's Riesling is as reliable as a Swiss watch. The 2017 won gold in Hong Kong and really shines when matched with freshly caught scale fish. Crisp, citrussy, and delicious drinking right now. breamcreekvineyard.com.au

2017 Grey Sands Pinot Blanc $45
Grey Sands at Glengarry is not your average Tamar Valley wine producer. Owners Rita and Bob Richter lived for a while in England in the 1980s and acquired a passion for wines with European character. This dry white would not look out of place in Alsace. It is nicely weighted and textured, with canteloupe and spiced pear elements framed by subtle oak. Partner with roast pork. greysands.com.au

2017 Home Hill Estate Pinot Noir $45
Huon Valley producer Home Hill set a cracking pace on the show circuit in 2018, garnering more than 10 trophies for Pinot Noir. This multi-trophy winner combines superb quality with excellent value. It offers smooth drinking, thanks to its bucketload of intensely flavoured, black cherry-like fruit. Fine tannins and neat acidity are a joy to behold and will serve it well for many years to come. homehillwines.com.au

2017 Mewstone Pinot Noir $60
Jonny and Matt Hughes' Mewstone shot to national prominence mid-year as Best New Winery in the 2019 Halliday Wine Companion. The D'Entrecasteaux site south of Hobart provides a home to a bevy of very interesting single vineyard wines. This plummy, red fruit Pinot Noir really projects its 2017 vintage character. It's somewhat stern and closed now, but should blossom with patient cellaring. A label to watch. mewstonewines.com.au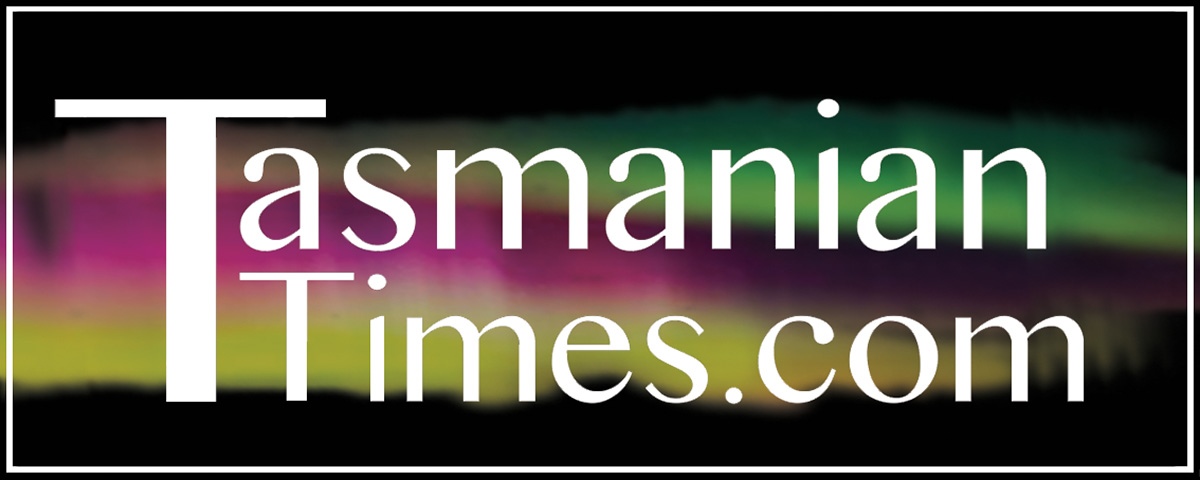 Author Credits: [show_post_categories parent="no" parentcategory="writers" show = "category" hyperlink="yes"]