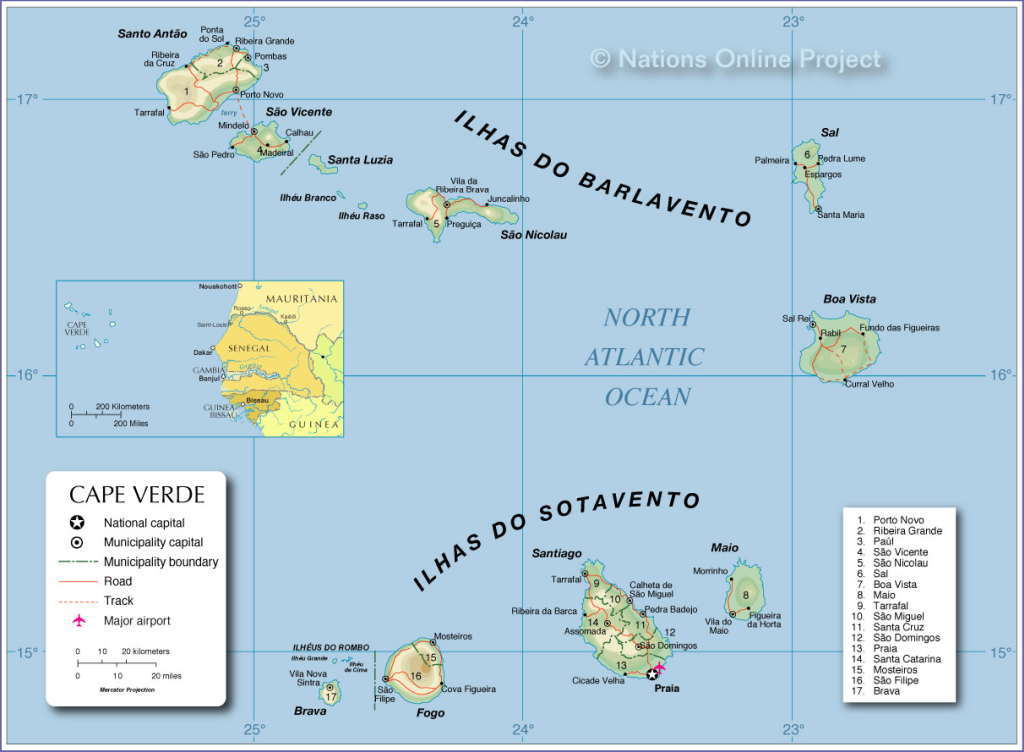 Note that Porto Inglés is called Vila Maio on this map (the people there still refer to it by its original name of Porto Inglés)
Cross-cultural humour can be risky, but when it comes off it breaks down all barriers. I had only been on Maio, one of the nine inhabited islands of Cabo Verde, for half an hour. Having dropped off my luggage at the apartment I went looking for food or, more precisely, my favourite seafood – buzios. Buzios are a type of shellfish, found along the coasts of several Cabo Verde islands.
I had tried them a couple of nights earlier in the 'cultural capital' of Cabo Verde, Mindelo. I first tried them in Casa Morna in Mindelo with a French friend, Sonia, who completely changed my political philosophy concerning environmental issues – but I am digressing, that is another story. The apartment was amazing, it had one of those swimming pools that give the illusion that it drops off into the sea – see photo …
But meanwhile, back to the story. I found a nearby café, overlooking the sea, as everything does in Porto Inglês, and ordered some buzios.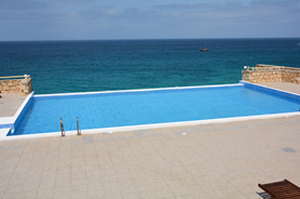 While I was eating my buzios, with the mandatory glass of Cabo Verde rosé, a guy in the next table noticed that I had a camera and asked me to take a shot. 'Shot' may be an inappropriate word to use here – as will become clear later. I obliged by taking individual photos, using my zoom lens, of the two women seated with him.
I went back to my table and said I would give him copies on a USB. He remonstrated and said, "Why didn't you take photos of me?"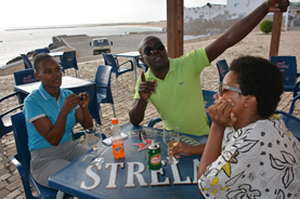 I replied (in Spanish as I cannot speak Portuguese), "Porque hay solamente dos lindas aquí (because there are only two beauties here)". He laughed, there were high fives, so my joke was taken as intended.
Now, the next day, while wandering around I came across a very impressive building in the highest part of the town (population about 3,000). It was the police station (see photo)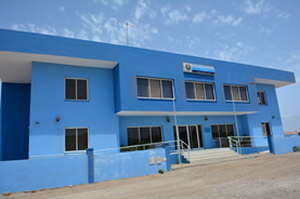 As I was taking this photo a policeman came out and looked at me; I looked back and to my shock realised that this uniformed man in front of me was the person I had almost insulted the day before!
He saw my shocked look, laughed and introduced himself. There were high fives all around again! He was the Chief of Police on Maio. He took me into the building and introduced me to two of his colleagues. I guess there is no harm in knowing the Chief of Police in a small place.
He then asked me to take photos of himself with his daughter – see photo at the end of this story. All the time I was thinking, surely there is no crime in delightfully peaceful Maio.
The only way to get to this small island of 6,000 people is by plane, there is no ferry, and there are only two flights a week. The flight from Praia, the capital of Cabo Verde (on the island of Santiago), to Porto Inglês takes exactly six minutes – surely the shortest, regular airline flight in the world!
Cabo Verde has a population the same size as Tasmania, but spread across nine small islands – and each island is totally different. However, most of the tourists go to the two 'sand islands' of Sal and Boavista – so-called 'fly and flop' tourism. Cabo Verde depends on tourism for 50% of of its GDP, which is an issue in itself, but not for this story.
Only a few tourists come to Maio – which is why I like it. On some of the other islands, such as Sal and Boa Vista, there are so many tourists that I refer to them as 'moscas', which is Spanish for 'flies' – which makes more sense as an Australian metaphor.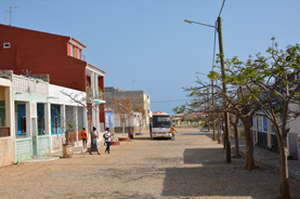 However, there is another part to this story. One of the reasons I went to Maio was to find out more about an incredible program run by the Maio Biodiversity Foundation (FMB). I had no idea where the FMB was located so I went to the office of the Ministry for Environment, had a long talk with the Director, and was later personally shown the way to the office of the FMB, which was only a few blocks away.
There are two fulltime staff and a host of part-time volunteers working with the Maio Biodiversity Foundation – all young people.
The Foundation was established in 2010 to protect biodiversity on the island of Maio and, since that time, it has become one of the most successful conservation NGOs in West Africa. The FMB programs include sea-turtle conservation, bird protection, education in schools and tourism – with the direct involvement of local men and women, especially young people, in marine and coastal biodiversity conservation initiatives. All programs are integrated with school programs and economic and tourism development – Tasmania could learn a great deal from Cabo Verde!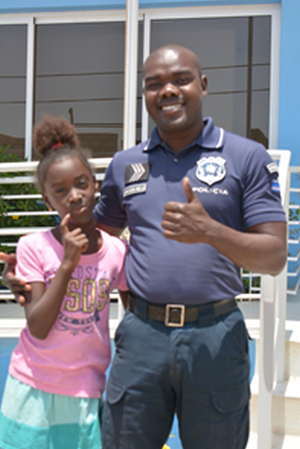 A brief history of Maio, explaining why this place is called 'Port English':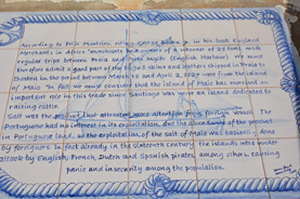 This may have been the first cathedral in Cabo Verde (there is one on the island of São Nicolau as well).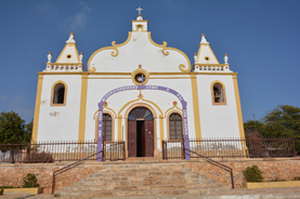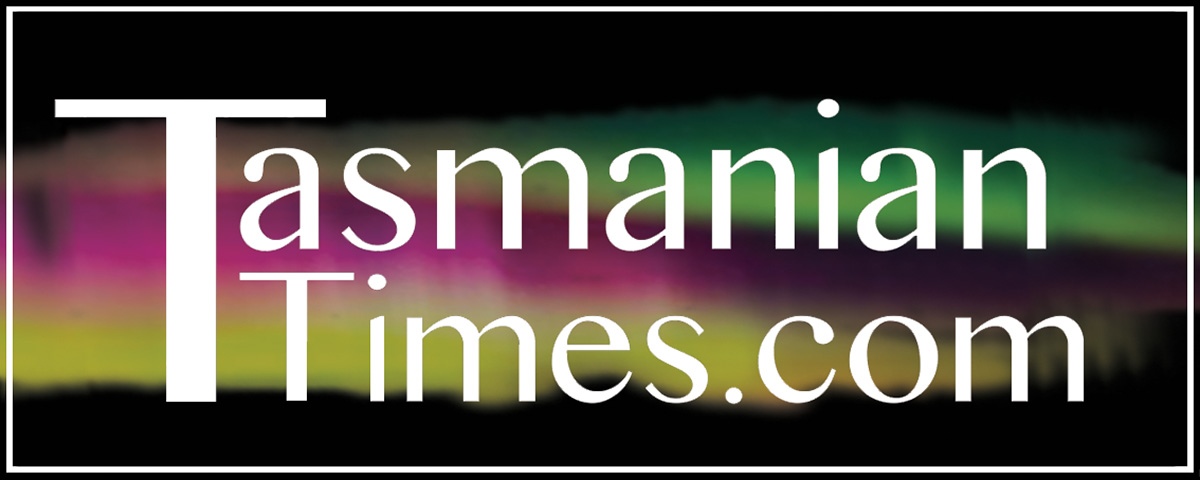 Author Credits: [show_post_categories parent="no" parentcategory="writers" show = "category" hyperlink="yes"]